With the onset of winter, we take out large-knit sweaters, wrap ourselves in thick scarves and drink hot tea to escape the cold. The interior is the same – we want more comfort, even if the house is well heated. More fully nourish the atmosphere with warmth and harmony will help such a technique as integrating a knitted decor into the atmosphere. There are a lot of options for such products – the main thing is to stop in time, because you can link anything. We offer a selection of interesting ideas for including knitted accessories in the interior. 10 ideas of knitted decor in the eco-style of the house.
1. Lampshades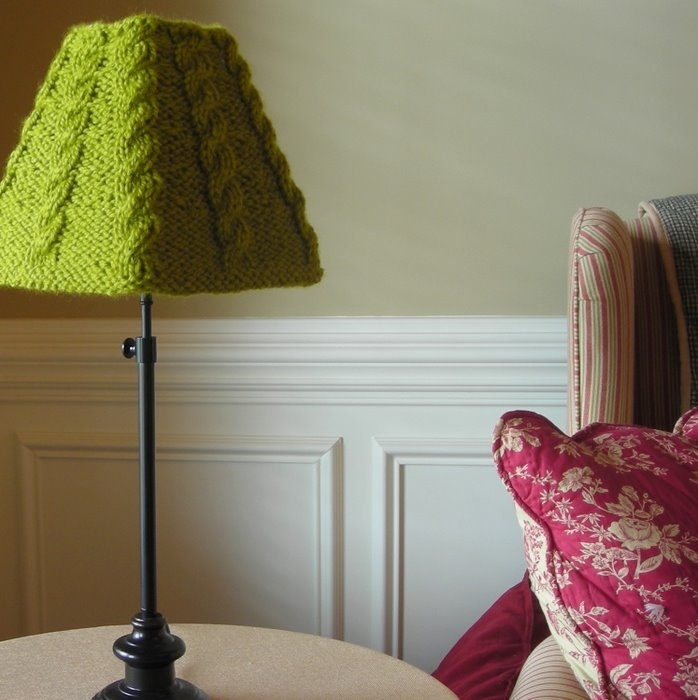 Chandeliers, floor lamps, sconces and table lamps are not just light sources, but also stylish interior elements. The knitted lampshade allows you to beat the lamps in a new way, focusing on warmth and comfort. To implement the idea, you can use not only threads, but also yarn, fabric strips, various decorative cords.
Patterns will suit any, depending on the style of the room and the imagination of the needlewoman. So, lampshades of dense, relief knitting will bring notes of thoroughness to the interior, and openwork will create a romantic atmosphere in the room.
Useful tip: Using a knitted lampshade or a cover for a light bulb, you should not forget about fire safety, since textile materials are a potential source of ignition. The risk is small, but it exists, so it is desirable to treat lampshades with a flame retardant impregnation.
2. Pillows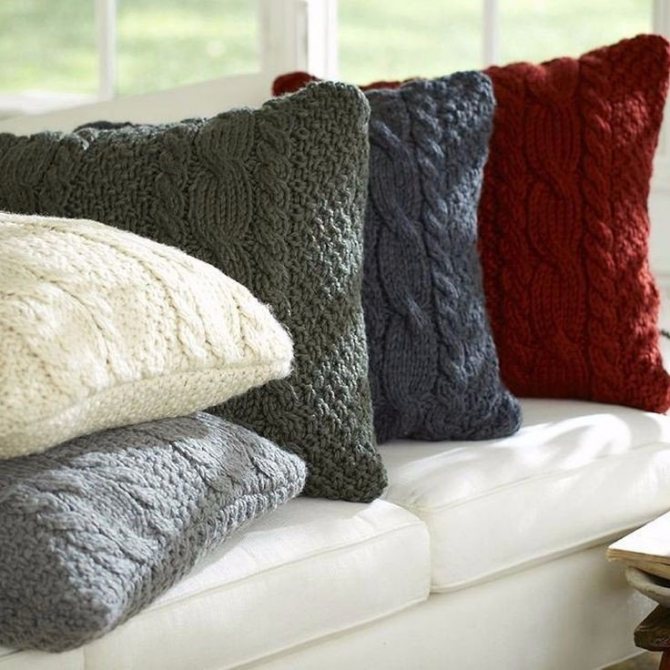 Decorative pillows are the easiest way to update the interior by adding new accents. In winter, knitted options are especially relevant: they create comfort and always look advantageous. You can make the pillow itself and add filler or make covers for existing products and "change" them with the onset of cold weather. And patterns will help to give a different mood to the interior: large knitting will create the effect of earthiness, smooth-cozy elegance.
3. Plaids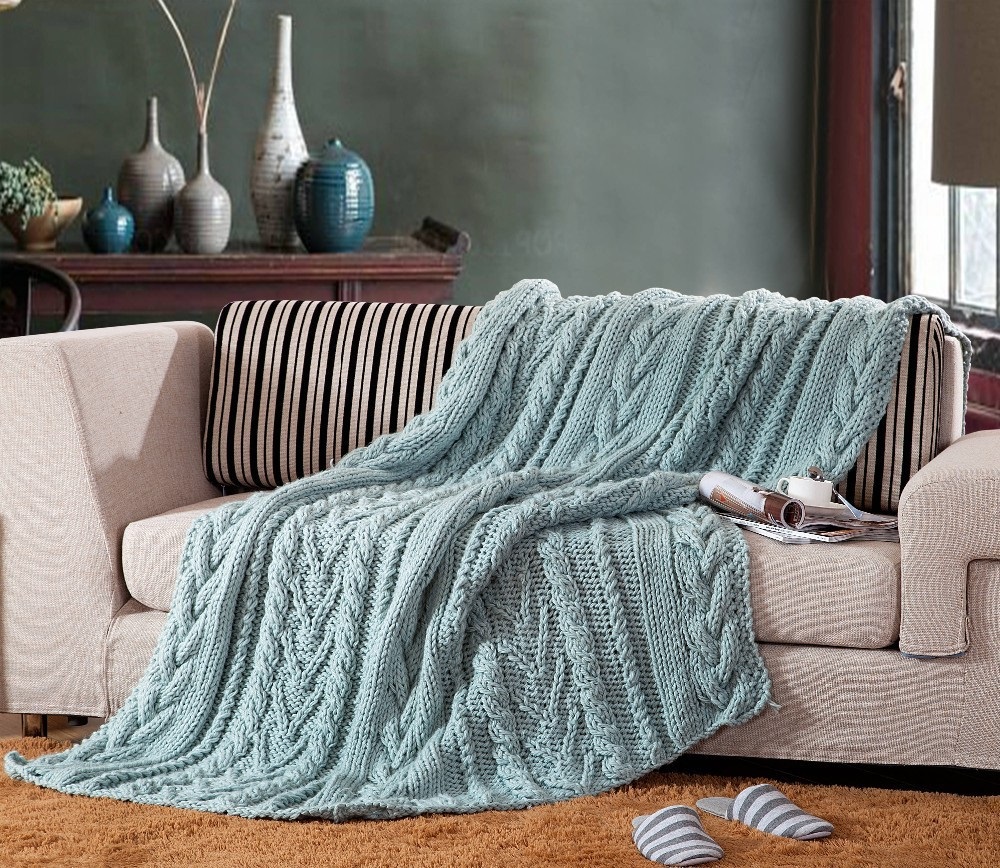 A warm blanket, in which you can wrap yourself – a must have of the winter season. And tied with your own hands, it will be very cozy, and most importantly, unique, in a single copy. Making a blanket does not require much experience, it is enough to know the usual knitting techniques and be patient. The plaid of even the simplest handkerchief knitting will look luxurious due to the voluminous threads and beautifully selected color. You can also dissolve old sweaters and tie small squares, and then combine them into one canvas. You will get an original plaid in the patchwork style.
4. Covers for upholstered furniture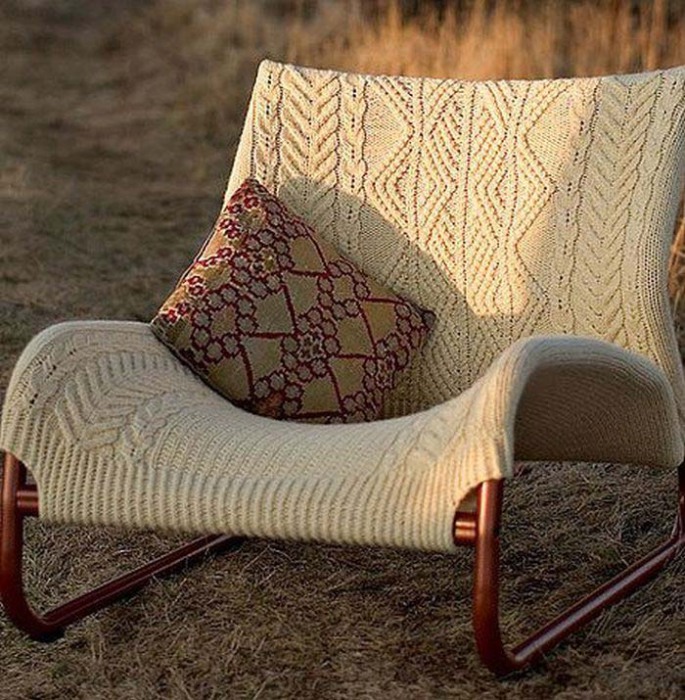 The easiest way to update upholstered furniture is to drag the upholstery or sew new covers. And in winter, knitted "new clothes" will be especially appropriate, making the atmosphere truly homely. To begin with, you can try to make a cover for a stool or ottoman. And then take a swing at larger projects: tie the sofa and chairs. Such an "updated" interior will acquire a special soulfulness and on frosty evenings it will be cozy to sit with a book or a cup of hot tea.
5. Floor Mats
. 10 ideas of knitted decor in the eco-style of the house.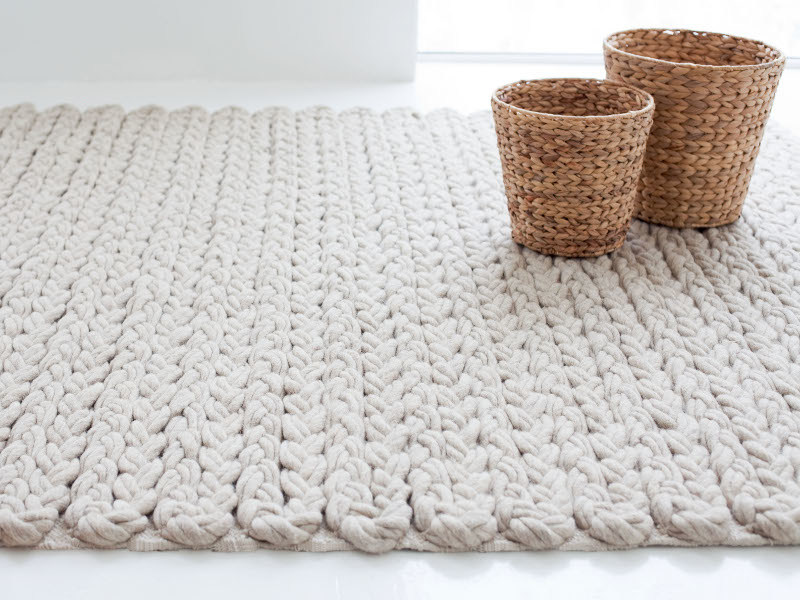 Knitted rugs look great in the interior of both a city apartment and a country house. Oval, round, square, rectangular or non-standard shapes, they make the environment more cozy and fit seamlessly into various styles. Pastel-colored rugs will help soften the austerity of the minimalist design of the room, and colorful rugs will add a playful touch to the interior, designed in the art nouveau style. Knitted products for floor covering also successfully complement the styles of country, loft, eco, provence, boho.
6. Tapestries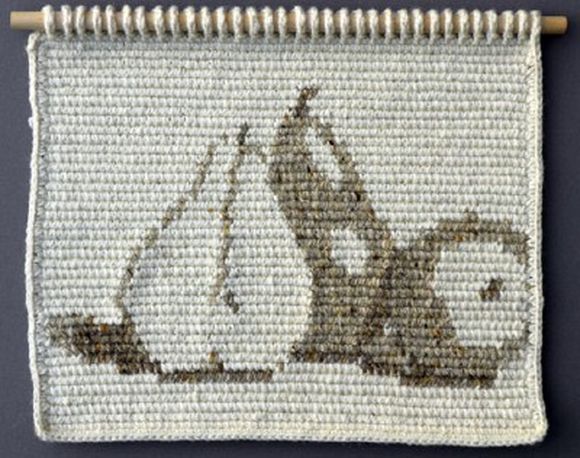 Tapestries are associated with past centuries, but fashion is cyclical and today textile decor organically fits into modern interiors. It can be a canvas on the whole wall of any texture: airy – with openwork patterns, laconic – with a smooth weave, voluminous – with embossed braids and other convex elements. A small tapestry will also be a beautiful decorative accent. It can be hung on a wooden stick or framed like a painting.
7. Storage baskets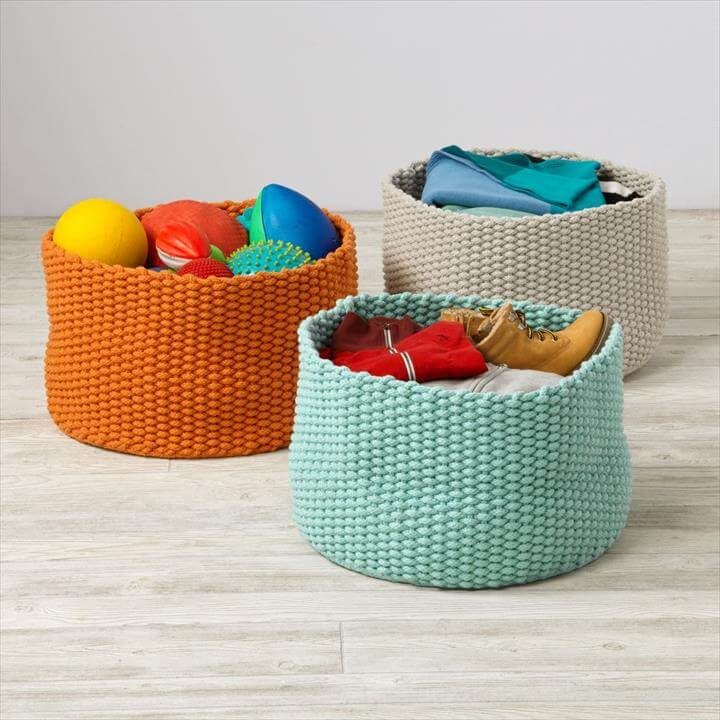 There are not many organizers and knitted baskets will take their rightful place in the interior. They can be any size and make them easy. Baskets are easy to wash, and they look good in any room, both in the bathroom and in the kitchen. They can store a variety of things: from blankets and toys to various small things-cosmetics, stationery, accessories for needlework and other items.
8. Covers for cups and teapots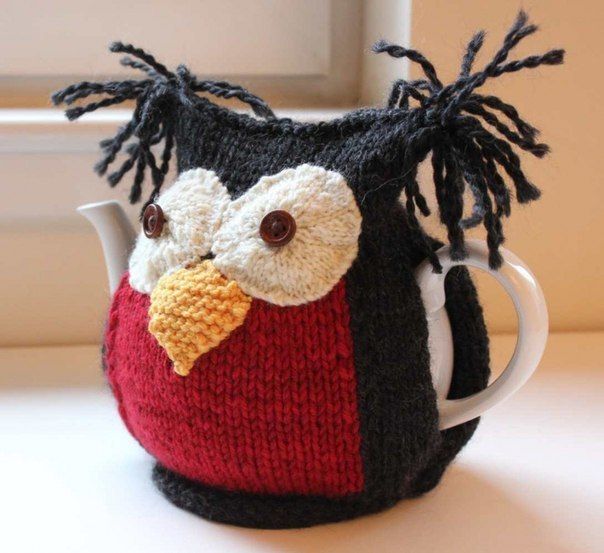 Covers for tea utensils – the perfect winter accessory that creates comfort and retains the warmth of the drink. It is not difficult to knit them, but things made with your own hands have a special charm of uniqueness. They can be decorated as simply knitted patterns, and add beads, buttons and other decorative elements.
9. Cases for various containers
. 10 ideas of knitted decor in the eco-style of the house.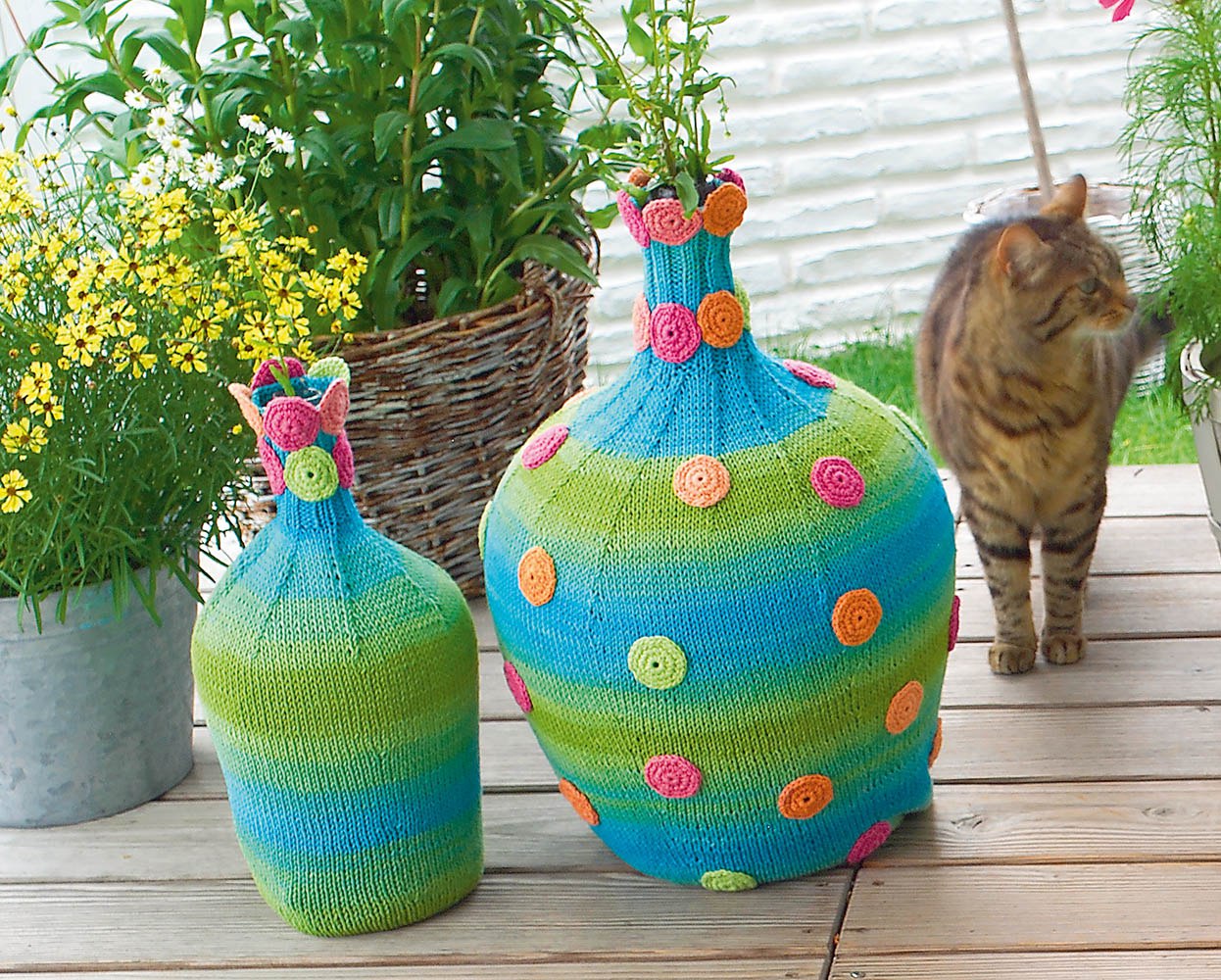 Classic knitted decor-covers for various containers. An ordinary jar turns into a beautiful organizer after dressing in an openwork "outfit", and a bottle of wine served in a knitted case makes the atmosphere at the table more cozy.
The magic of fire echoes the warmth radiated by knitwear, and the knitted decor harmoniously complements the candlesticks made of transparent glasses. Knitting looks beautiful and creates a muted, diffused light.
10. Flower pot covers
. 10 ideas of knitted decor in the eco-style of the house.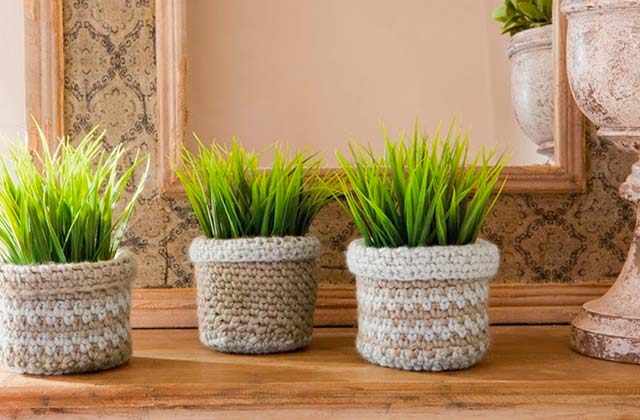 Old pots can be easily updated by wearing knitted covers. If you approach the design with imagination and choose a color scheme that is in harmony with the decor of the room, the accessory will become an original thing that adds style to the interior. And the larger the pot, the more spectacular the cover will look. Especially expressive accent of the interior will be floor vases in a knitted case.
An experienced knitter always has yarn and needles at hand, and has a lot of ideas in her head on how to make the house more comfortable. But it will not be difficult for novice needlewomen to create such things that will warm the cold winter, let summer into the room, and lift the mood. Knitting in the interior is another way to highlight the individuality of your home.