If you want to design a traditional kitchen with the atmosphere of a country house, country style is the perfect solution. What finishing materials and furniture to choose, we tell you in this article. Country or rural Provence impresses with its simplicity, warmth, comfort. In the soul of someone who is in a country kitchen, a light, kind nostalgia awakens. This feature makes the room a truly cozy and warm place to spend time. Floral ornaments, natural colors and textures, natural wood, an abundance of textiles, greenery, fruits, decorative trifles – all this gives a feeling of warmth and harmony. It creates the illusion that outside the window is a warm summer, that the rustic kitchen is located a hundred kilometers from traffic jams, work stresses, exhaust fumes, crowds, noise and bustle. That's exactly why you should choose a country style for kitchen decoration! And the kitchen is one of the most successful rooms for the embodiment of country style in an apartment or house! 5 kitchen ideas for country style.
The country style kitchen is suitable for those who want to relax from the city bustle in a cozy and homely atmosphere. Country style will perfectly fit into the interior of the kitchen in a private house or apartment. It is noteworthy that the design can range from a completely traditional environment, decorated with wood, to more neutral interiors with recognizable elements in the country style.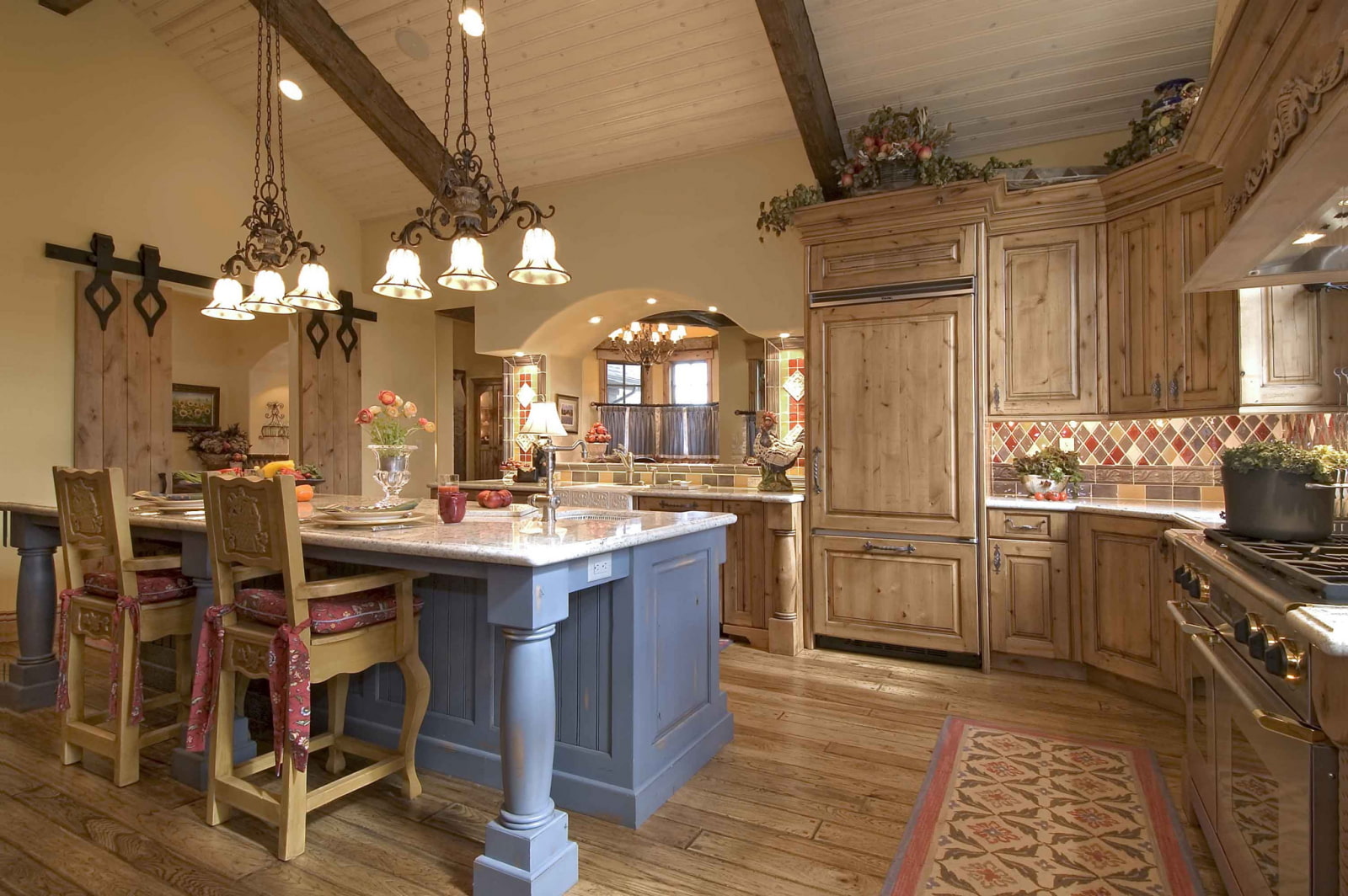 Country kitchen design: 5 features
Natural color palette. Kitchen in a rustic style does not assume a rigid framework when choosing shades and textures. It should not look dull and boring – this is probably the only rule. The combination of juicy natural shades (yellow, brown, green, red), an abundance of ornaments and textures – all this will make the room as colorful and rich as possible. The color palette of the interior mainly depends on the wall decoration. If natural wood prevails, it is better to maintain the interior in muted natural colors-beige, sand, olive. If the walls are light, you can use brighter shades – blue, green, ochre, but no acidic or flashy colors.
Natural material. There is a lot of unpainted wood, stone, and ceramics in the decoration. Plastic, chrome, and synthetic fabrics are not welcome. For a country interior, it is recommended to use a lot of natural wood or finishing materials, the surface of which imitates it. This approach allows you to bring the kitchen interior as close as possible to natural beauty, nature, make it warm and sincere. Wood furniture is another essential element of a country style kitchen.
Some forged elements. You can add brass faucets and lamps, old metal objects to the country-style interior.
Rough and heavy furniture. Country style implies the presence of large wooden tables and chairs, a set of natural wood with an island, if the area of the kitchen allows.
Colorful dishes. It is used not only for its intended purpose, but also as a decoration. These can be ceramic baking dishes, plates, vases with traditional folk patterns.
This traditional material can also look good in a modern kitchen. It has its own advantages — it is natural, pleasant to the touch and moderately functional. When decorating their kitchen facades, choose a concise design to emphasize the beauty of the texture. And in order to do this, for example, the countertop of the bar, use old wooden beams with the processing.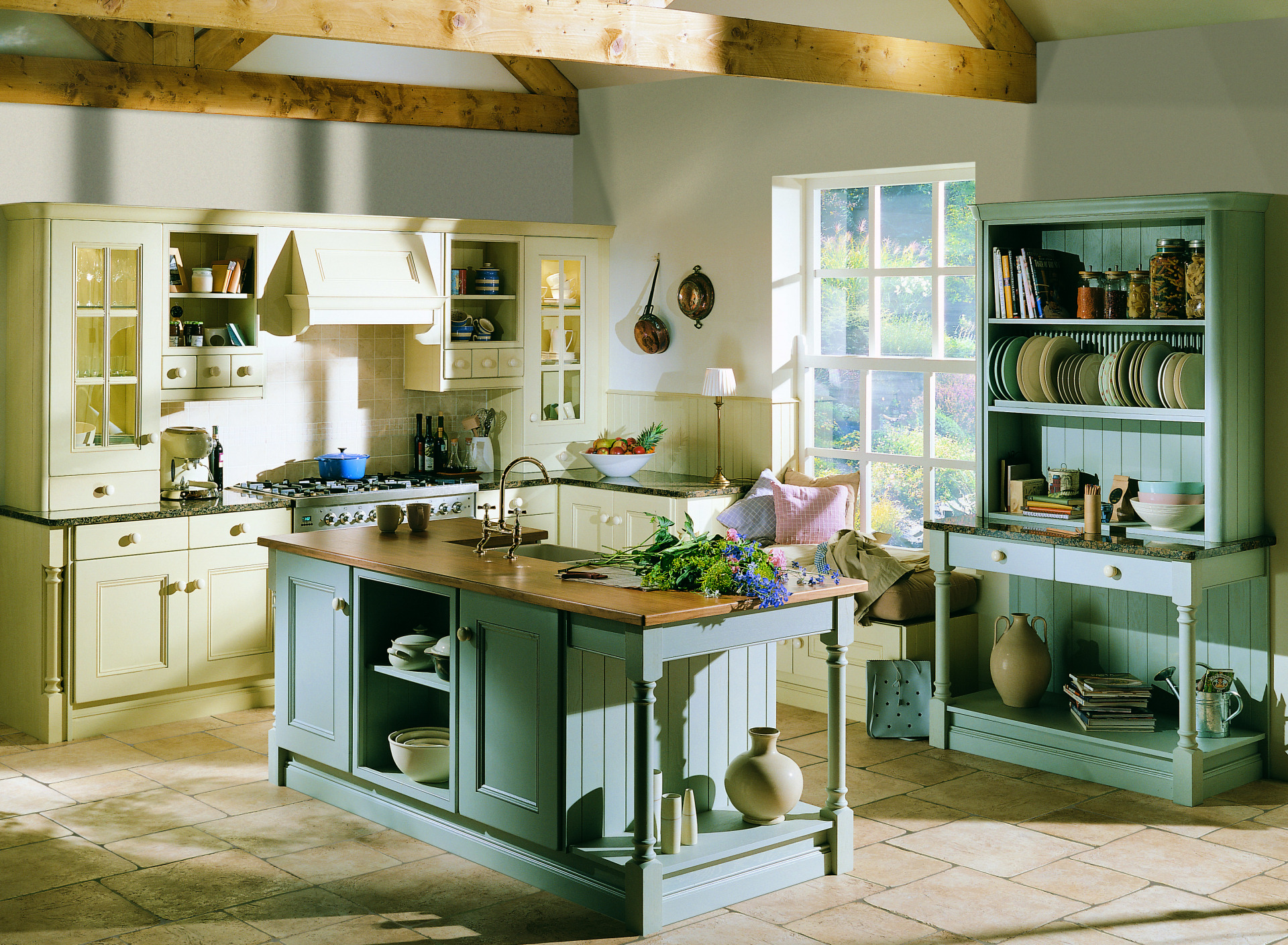 Room decoration
It is easy to recreate the style of country cuisine, if you remember traditional village houses, in them you will not find plastic panels on the walls, plaster moldings and self-leveling floors – only the most simple and at the same time eco-friendly materials.
To finish the floor, take a wooden board with a bright wood texture, for example, with an imitation of an old and aged surface. Also suitable granite with imitation of natural wood – do not forget to provide a underfloor heating system to make the kitchen comfortable all year round.
Wall decoration depends on whether you are making repairs in your house or apartment. Walls made of timber or logs do not need to be covered with additional layers of finishing – on the contrary, natural wood will help to create a more traditional country interior, with a reference to the situation of chalets and hunting lodges. To add light and visually make the space larger, paint the tree in lighter colors. The walls in the kitchen in the apartment can be upholstered with high-quality clapboard and painted or decorated with decorative plaster with the effects of irregularities and aging.
For the dishwashing Area in the country style, a plain white tile of a small size or in the color of the walls with the effect of scuffs, decorative bricks or varnished wood will be suitable. Stone panels and metal brass sheets will look harmonious.
You can leave the ceiling plastered or add beams of natural wood color. Another option is to completely decorate the ceiling with wood or engineering board.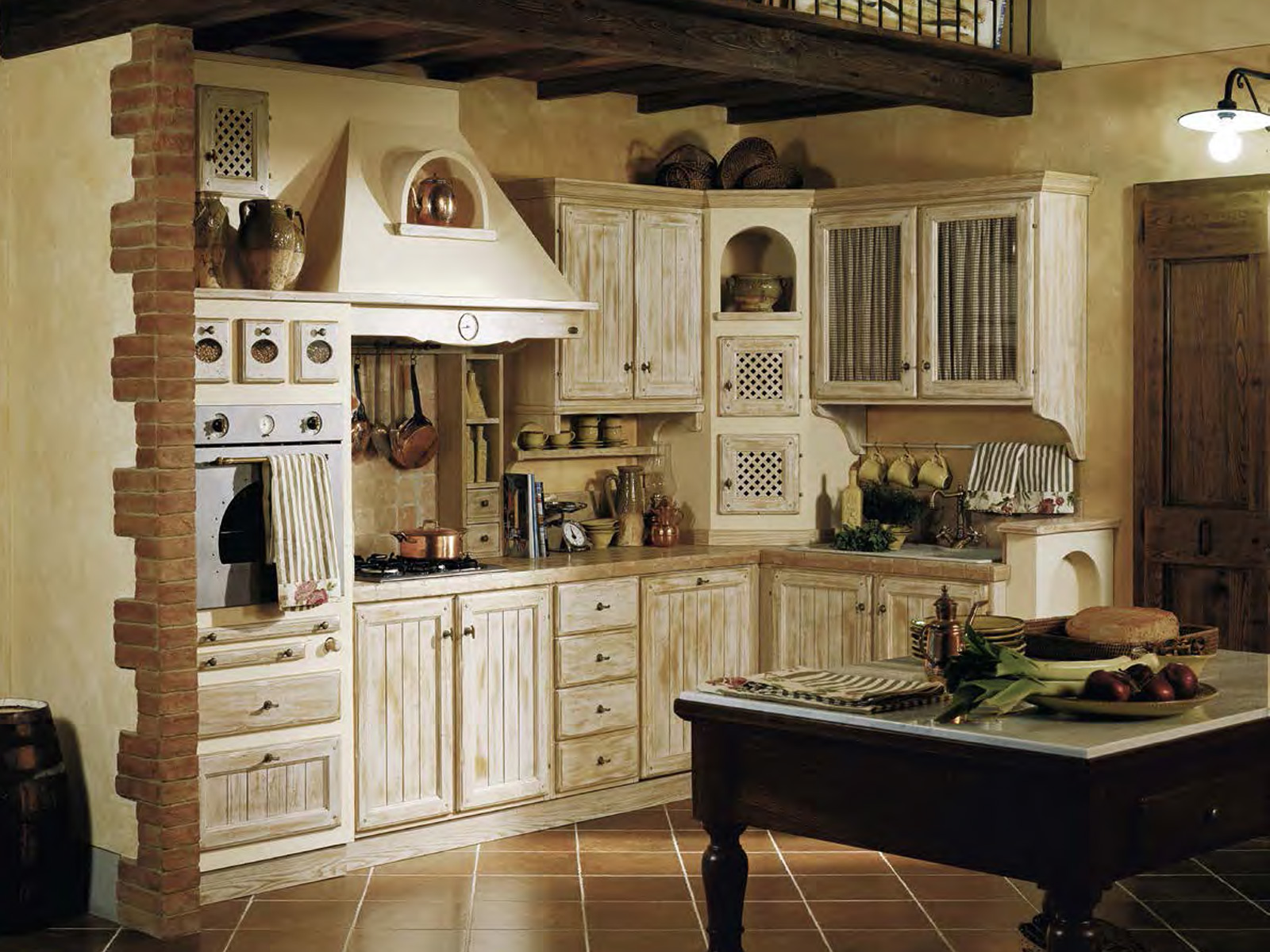 Kitchen furniture
Kitchen set in country style is traditionally made of natural wood. The design of facades ranges from rough wooden panels with an antique effect to more classic facades with panels. If the size of the room allows, do not give up the arrangement of the kitchen island – it will serve as an additional work surface and storage system.
A dining table and chairs made of wood will complete the decor. You can often see country-style kitchens without upper cabinets, then they are replaced by massive shelves on which you can place dishes, kitchen utensils. A small country-style kitchen will also look very cozy: install only the most necessary cabinets in it, and replace the dining table with a wooden countertop.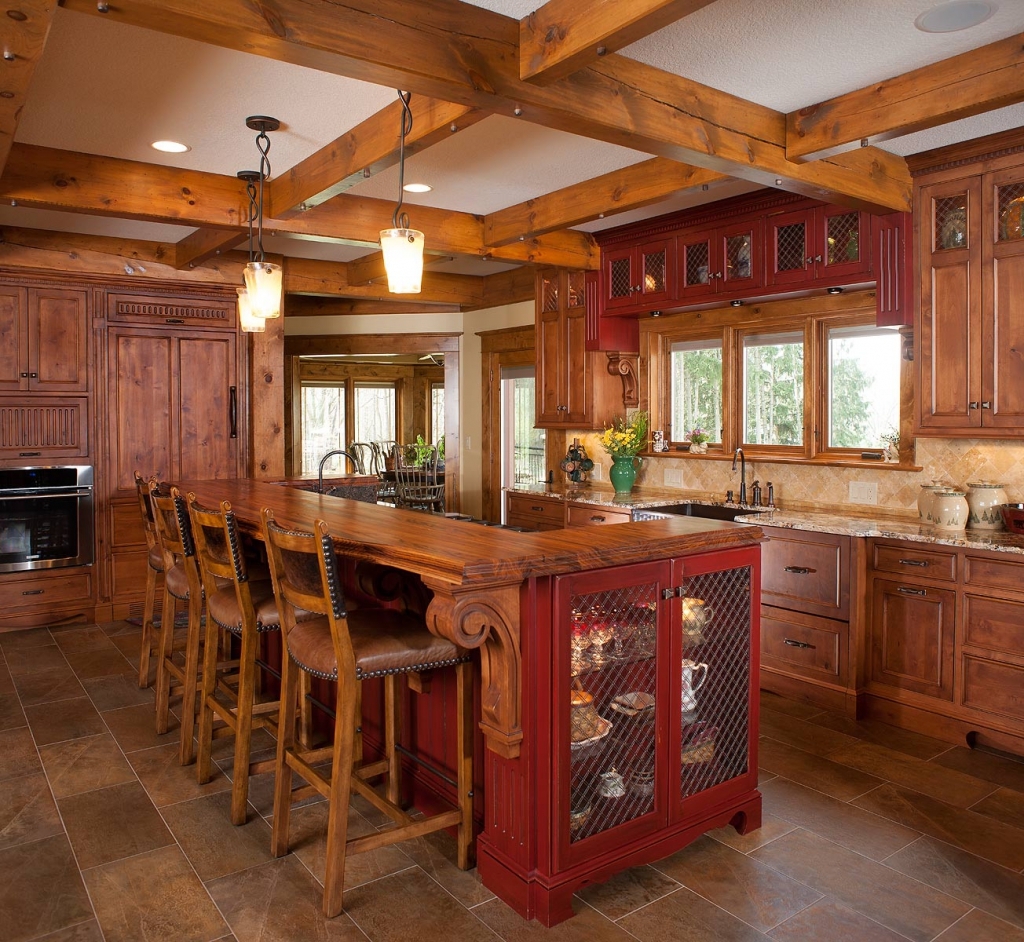 Decor and textiles

. 5 kitchen ideas for country style



The final touch to the design of the kitchen will be decorated in country style and simple textiles. You do not need to buy any special items to decorate the environment, the decor can be the most ordinary things, such as dishes in the technique of one of the national crafts, clay vases and pots, old metal plates, embroidered paintings and herbariums. You can add indoor plants in plain pots or a bouquet of dried herbs.
Curtains, textiles are selected only from natural materials, as the wooden house does not tolerate artificial fabrics. The Windows must have curtains – made of natural cotton or linen, with a floral pattern, with embroidery, or in a cage. We select towels, pillows on chairs and tablecloths in one theme.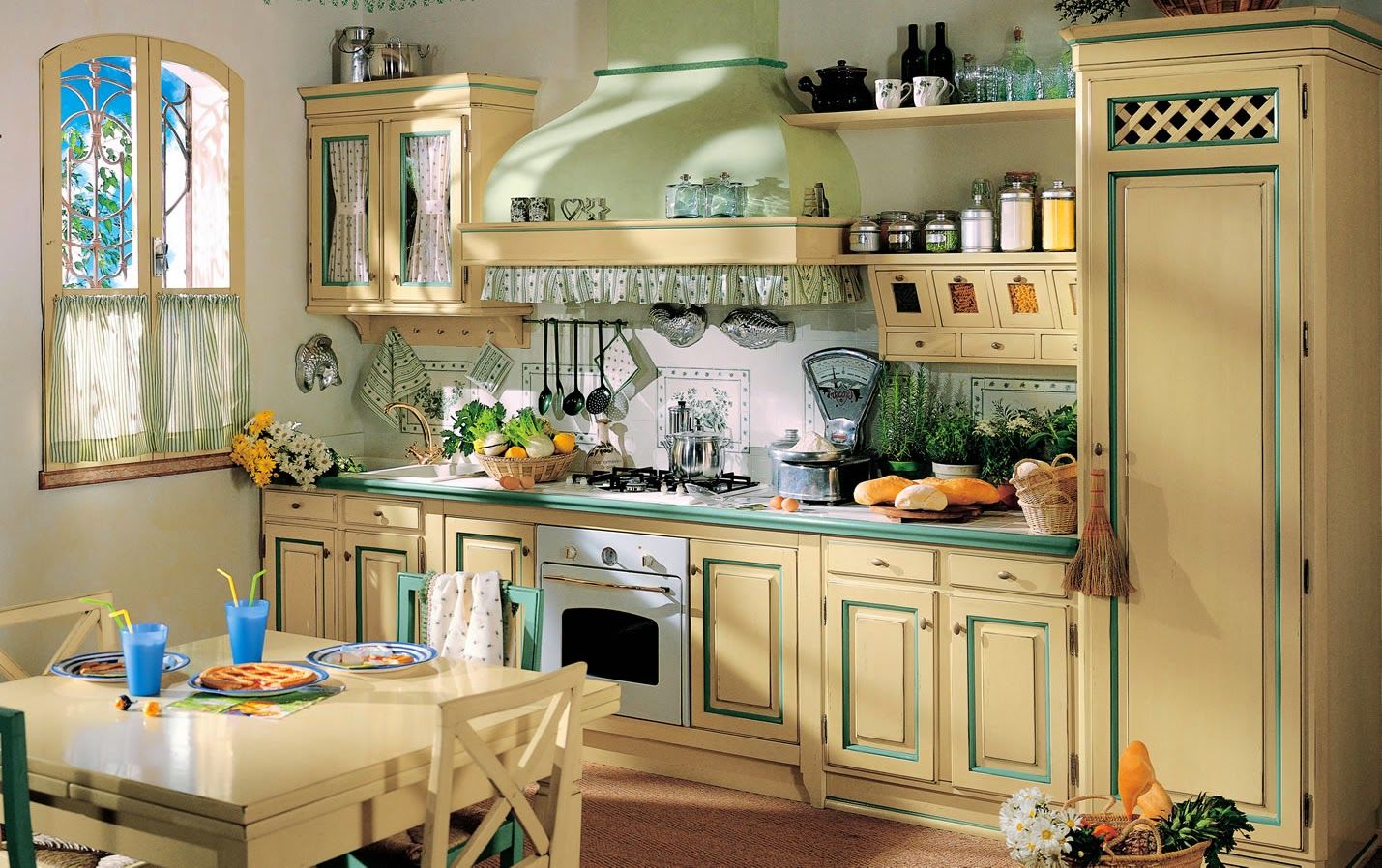 5 more tips on how to make a country-style interior more interesting:
Add black elements to your walls, furniture, and decor. They will add a little austerity to the atmosphere and at the same time charm.
Use mono-decor. For example, place only brown ceramic pots or plates with primitive-style patterns on open shelves.
Add wicker items to the decor. Baskets can be turned into planters or hung from the ceiling, if the height allows. They are also great for storing towels or books with recipes.
Highlight the kitchen stove. Let the area of the hearth will become the centerpiece in the interior.
Combine a light white finish with contrasting dark wood. The interior with such details looks especially impressive. 5 kitchen ideas for country style.