In order for wooden dishes to serve you for a long time, it is important to follow a few simple rules for care. How to properly care for wooden dishes.
If you are buying a wooden cutting Board, spatula, or plate, make sure that the product is cut from a single piece of wood. In the future this will prevent the formation of splits and cracks on the subject;
do not put very hot food in a dish, especially for a long time. Sudden changes and significant temperature increases can deform the material and spoil it.
All appliances should be thoroughly washed and dried after each use. Do not use a hard sponge or detergents containing aggressive chemical components. Use a soft, well-absorbent cloth for wiping.
Do not soak kitchen utensils made of wood.
It is better to store wooden dishes in open drawers or on ventilated shelves; store wooden dishes correctly. Put it in a Cabinet and protect it from direct sunlight, water, or heat. You should not leave food on your plates for a long time, much less put them in the refrigerator. Devices are intended for eating or serving food.
If your favorite teaspoon of wood has darkened over time, don't worry. Ordinary hydrogen peroxide will come to the rescue. Simply wipe the item with a clean cloth soaked in the compound and then rinse in running water.
If options are available, choose to buy wooden dishes made of juniper. This breed has powerful antiseptic properties, which eliminates the appearance of mold and other bacteria on the wood.
Important! Wooden dishes are not intended for heating food in the microwave or cooking in the oven. It should not be subjected to thermal effects.
Coasters have become an attribute that can be found not only in the kitchen, but also in restaurants, offices and customer waiting areas of many companies. They can differ in shape, material, cost, and even be a tool for business promotion, if you put an ad on the stand of the institution.
What is the main function of this accessory? Why do I need a wooden trivets?
The answer is simple enough:
Protects furniture and other surfaces from hot cups, plates, pots and pans;
Even if the dishes are not hot, they can leave scratches or scuffs, which they will also protect you from;
If you choose them correctly for the interior, they can complement it harmoniously, placing bright accents and bringing warmth and comfort to the house;
Your favorite wooden trivet can lift your mood with a beautiful drawing, funny inscription or a healing forest fragrance, if it is made of natural wood.
If you decide to buy dishes made of wood, you can appreciate all its advantages. But to do this, pay attention to the choice, as well as follow all important rules of operation and maintenance. And then the devices will please the eye and serve for a long time.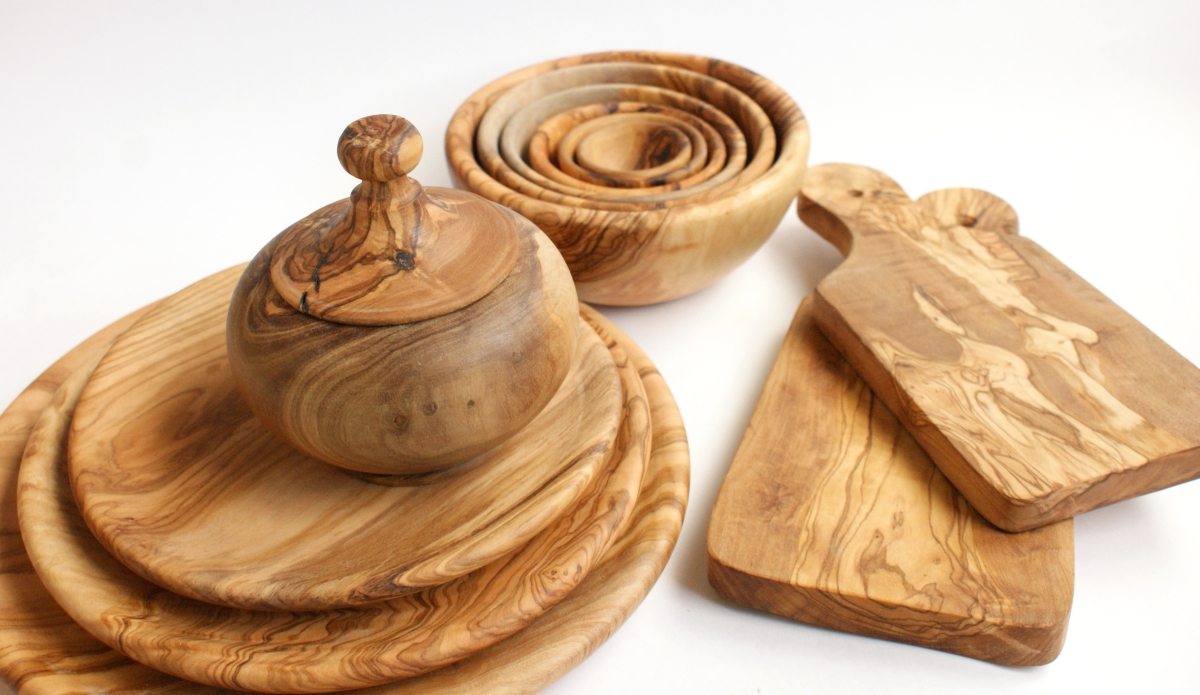 The choice of wood species for wooden dishes is very important
The quality of the finished product and its durability depend on it. Most often, the manufacture of wooden tableware is made of such wood species as: oak, acacia, bamboo, aspen, ash, linden.
Oak is popular in the production of tableware due to its strength and resistance to moisture and temperature changes.
Acacia-has a beautiful color and texture, dishes made of this wood looks great. In addition, acacia has a subtle pleasant and very persistent aroma.
As for bamboo, we can say that it is one of the best materials for the production of tableware. Bamboo has a low weight, high strength, resistant to moisture, does not absorb foreign odors and has a pronounced antiseptic property.
Ash wood is also characterized by a beautiful texture, has a deep dark color. Ash wood tableware is strong and durable.
Linden wood, in addition to its excellent mechanical characteristics and resistance to external influences, also has healing, bactericidal and tonic properties, thanks to the substances that make up its composition.
In addition to the wood species in the production of tableware, an important role is played by a part of the trunk from which it is produced.It is best to use wood from the lowest part of the trunk, it will be the most durable. The structure of the material used must be straight. For the production of tableware, only raw freshly cut wood is used, it is easier to work with it, and products made from it are more durable and stable.As for additional processing, most often wooden dishes are not processed by anything. The exception is the food varnish for wood. How to properly care for wooden dishes.