Modern interior design in eco style is one of the most beautiful and harmonious trends. Finishing with natural materials and neutral interior colors, simplicity and a minimalist approach create spacious, bright and attractive living spaces that are pleasant, eco-friendly and comfortable. 9 modern interior design ideas in eco style.
Eco-friendly interior is comfortable, convenient and healthy. If the living quarters are decorated with natural materials, if there are a lot of living plants in the rooms, then the person relaxes faster, the strength of his body is restored faster.
Today, many people want to create a clean, cozy space around them, free of unnecessary things and artificial materials. The main goal of the new style is to bring people closer to nature. Its image is formed with the help of various components: natural materials are chosen for finishing, the color palette is similar to the color palette of the countryside. And this also helps to implement the main idea.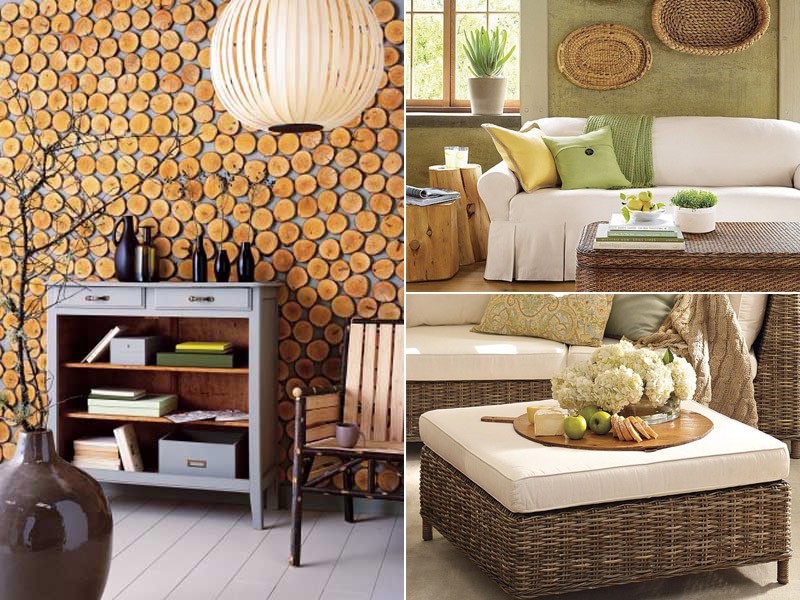 The basic rules of creating
In eco-style, design is not just an interior aesthetic, it is an atmosphere that can completely change a person's lifestyle and worldview. Living in such a space, many people begin to completely abandon everything artificial and take care of the environment.
The interior, decorated in an eco-style, can be designed by adhering to a specific idea. For implementation, you can use the landscapes of the sea coast or rocky mountains, forest edges or endless steppes as a basis. It is difficult to confuse eco style with any other direction. It has well-recognized features.
Experts tend to use objects for interior design that have a shape and color similar to the shape and color of wildlife items. Therefore, in ecological interiors, there may be lamps in the form of a drop of water, chairs suspended from the ceiling in the form of an egg, chairs that imitate rotten stumps.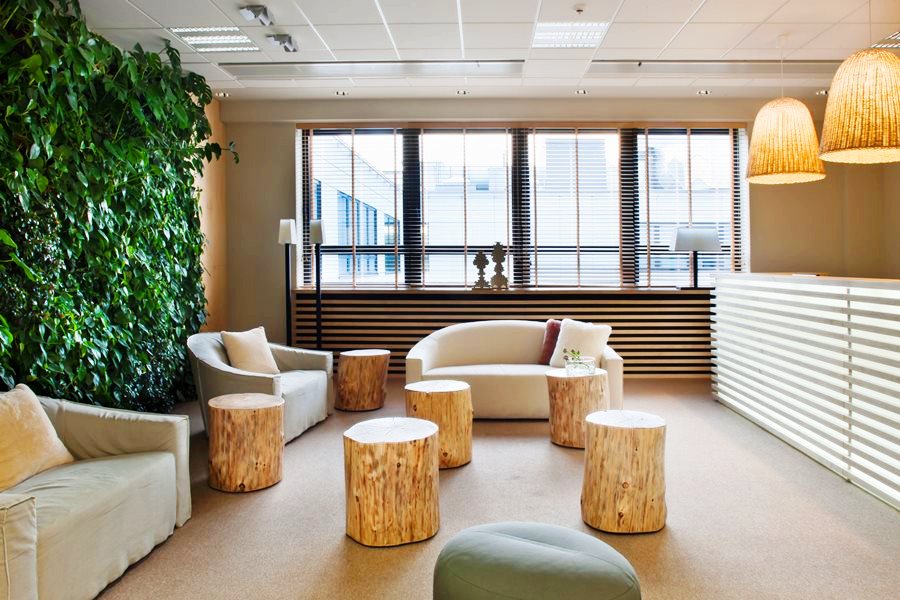 Natural decor
In the interior filling there are no clear geometric lines, there is no pretentious decor, unnecessary details. One central element is taken as a basis, and then all the rest of the design is collected around it.
The design is implemented using natural materials, their color palette, as well as the range of the entire interior as a whole, is as close as possible to the colors of nature itself. Gentle warm shades are perfectly combined with each other and do not cause persistent irritation. You can use different combinations.
All tones of green, gray, brown, white, and black work well. If you choose the right companions, the interior will be very harmonious. It is allowed to use everything that can be associated with the word "nature" – wood, stone, cork, leather.
The main decoration for the walls is paper wallpaper. They are eco-friendly, beautiful, you can easily choose the color and pattern. Alternatively, a natural stone or cork panel finish is perfect. Bamboo and jute fabrics always look good.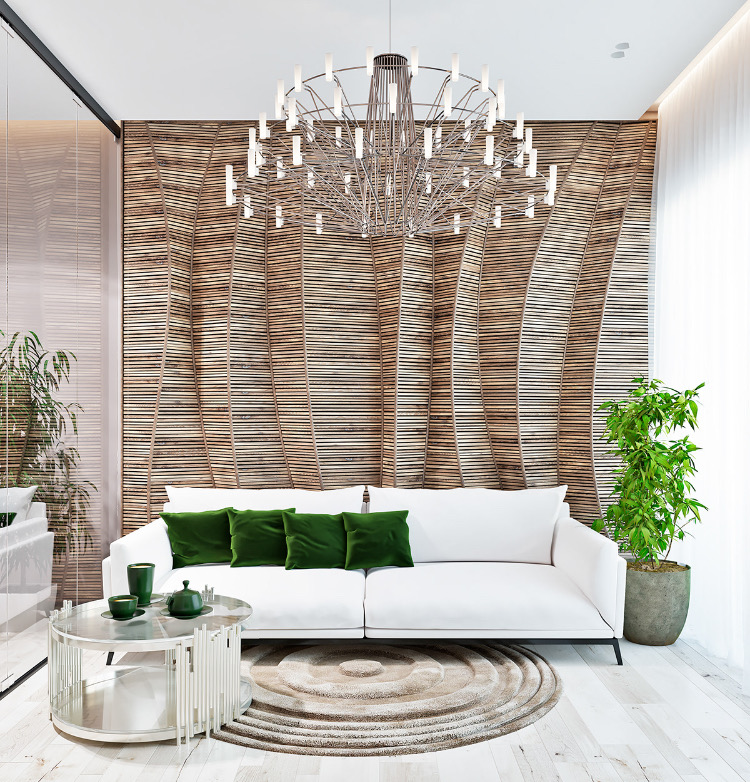 Natural materials
The ceiling can be whitewashed, painted, decorated with wood or limited to the use of wooden beams. Wood or stone tiles on the floor. If you want to throw a soft carpet under your feet, let it be a pleasant cream or light brown light.
The decor is carried out with the help of shells, natural stones, live plants, accessories made from what the surrounding world can give. Wicker baskets and porcelain fruit vases fit seamlessly into the ecological interior. For window decoration, it is better to choose curtains made of fine wool or linen, you can throw embroidered tablecloths on the tables.
To complete the overall picture, you can use live plants, ornamental trees planted in large clay pots, ficus trees and ferns. It's great if the house has a fireplace. It will easily become the central object in the decorative design.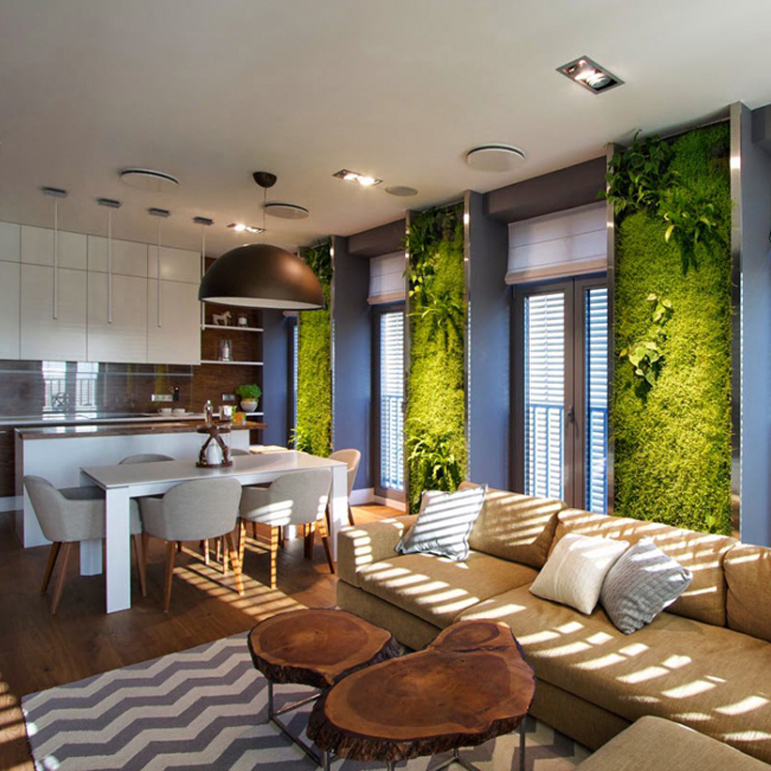 Light
. 9 modern interior design ideas in eco style.
But its abundance is an undoubted advantage of the described style. In order to ensure the penetration of light, you need to install large windows. They will let in a large amount of fresh air and allow you to enjoy the warmth of the sun's rays.
When it is dark, lamps should provide an abundance of light. In this case, the central chandelier and sconces on the walls will have to be abandoned. This scenario is not suitable for the concept of restrained style. Here, only spot lighting, large floor lamps or cylindrical ceiling lamps hanging very low will be more appropriate.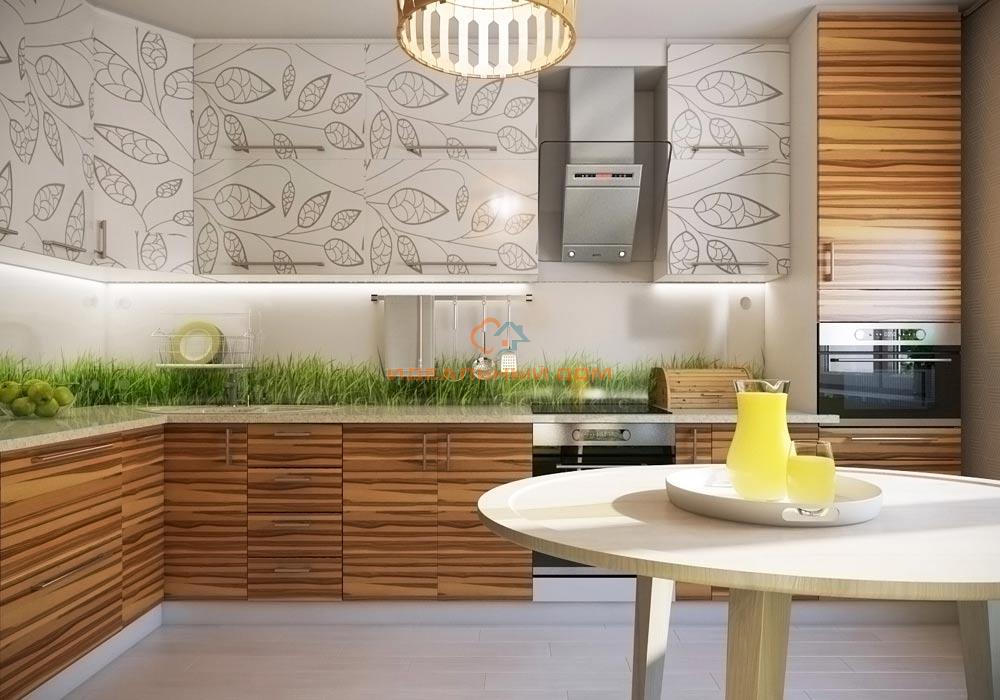 Free layout
. 9 modern interior design ideas in eco style.
Open space is another important condition. There should be a lot of open areas in the rooms. This layout visually relieves the situation and will contribute to the formation of lightness. The main thing here is not to overdo it and not to reduce the interior design to minimalism. The minimum amount of furniture placed along the walls will allow you to free up space, but the room will not become more cozy.
You can solve this problem if you choose furniture made of natural materials for interior filling, in a simple design, in the correct geometric shape. Cabinet furniture made of solid wood looks good in an eco-friendly interior. The soft panel should be upholstered with fabric materials.
A person caught in the bosom of nature, plunges into a state that helps him to have a good rest, restore his mental and physical strength. Therefore, it tends to go there whenever the opportunity arises. Modern construction technologies allow you to recreate the desired atmosphere right in the house or in a city apartment.
To do this, designers use natural finishing materials, soft colors, smooth lines and make interiors that have a lot of light and air. At the same time, they use rules that help implement the concept of a new design direction, called eco-style.