How to choose a pumpkin for dessert? Recipes for healthy pumpkin desserts. A bright and Sunny beauty named pumpkin is a valuable source of nutrients and vitamins. This is a real first aid kit that can protect and prevent a number of ailments. 5 healthy pumpkin desserts.
Pumpkin jelly with orange flavor
I love pumpkin! I cook everything from first courses to desserts. Today I want to introduce you to a recipe for delicious pumpkin jelly and orange juice. Cooking this dessert is very, very simple. I confidently declare that everyone can handle its preparation. Delicious, simple, fast and healthy!
Ingredients
For 3 servings
Pumpkin peeled 7.05oz
Orange juice 1 Cup
Sugar 2 tablespoons
Instant gelatin 1 tablespoon
For decoration:
mint or lemon balm Leaves 10 PCs.
Grated chocolate 1 tablespoon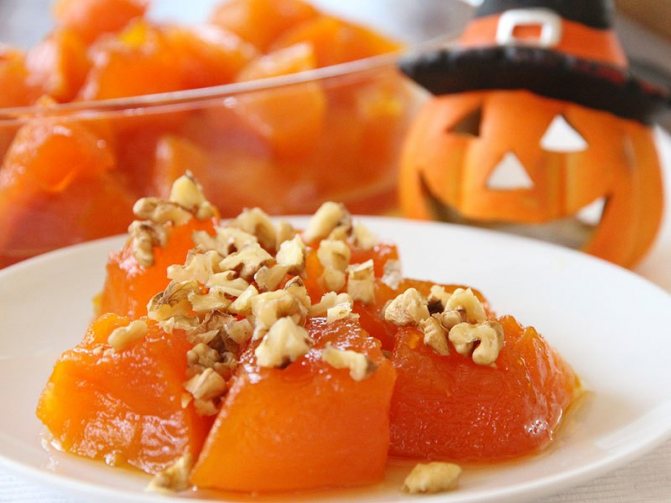 Instruction
Cooking time 1 hour 40 minutes
We prepare the necessary products.
Cut the pumpkin into small pieces and boil until tender. Gelatin pour hot pumpkin broth 3 tablespoons and stir thoroughly.
Add sugar, orange juice, gelatin to the boiled pumpkin without liquid (water is pre-drained) and grind everything with a blender until smooth.
Pour the finished mass into molds and send the pumpkin jelly and orange juice to the refrigerator until completely solidified. I used silicone molds.
Decorate the pumpkin jelly at your discretion. I decorated it with grated chocolate and melissa.
Bon Appetit!
Autumn pumpkin dessert
. 5 healthy pumpkin desserts.
Autumn fragrance – what is it? For me, this is a bright pumpkin and fragrant and warm cinnamon, and the smell of citrus indicates the approach of winter. All this is combined in an easy-to-prepare dessert.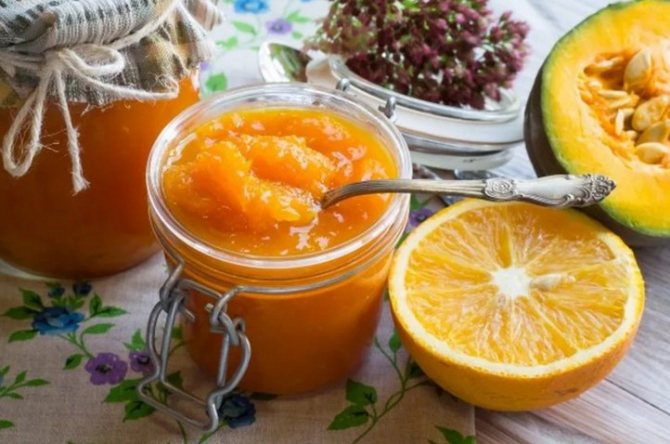 Ingredients
For 2 servings
Pumpkin 10.58oz
Apple 1 PC.
Oranges – 2 PCs.
Sugar 2 tablespoons
Ground cinnamon 1/2 teaspoon
Nuts (or pumpkin seeds) if desired
Instruction
Cooking time 30 minutes
How to prepare a pumpkin dessert:
1. peel the pumpkin, cut it into pieces and put it in a saucepan.
2. With apples to do the same.
3. Grate the zest of oranges, squeeze the juice out of them and add to the saucepan.
4. Add sugar and cinnamon. Bring to a boil and simmer for 10 minutes under the lid, so that the liquid does not evaporate and all the flavors are preserved inside.
5. Cool the contents of the saucepan and grind to a puree in a blender.
6. Dessert pumpkin ready. If desired, you can decorate with nuts or pumpkin seeds, but even without them, the dessert is very good! Bon Appetit!
Pumpkin in lemon caramel
A very simple pumpkin dessert is baked pumpkin in lemon caramel. Delicious and very healthy pumpkin dish.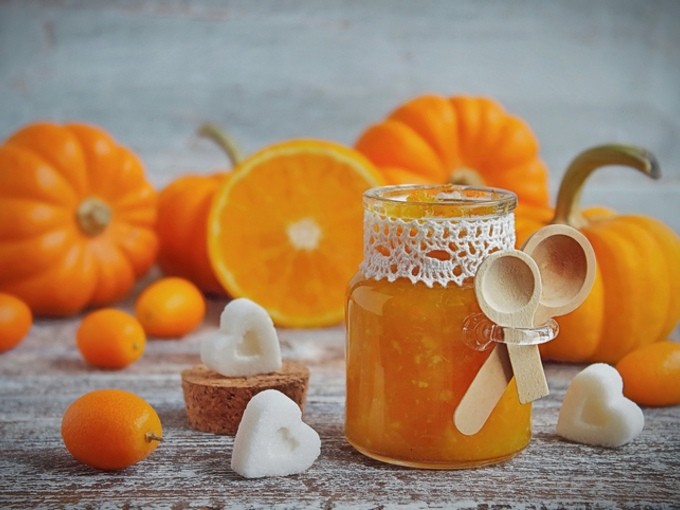 Ingredients
. 5 healthy pumpkin desserts.
for 2 servings
Pumpkin 12.35oz
Sugar 1 tablespoon
Ground cinnamon to taste
Lemon – 1 piece
Honey to taste
Instruction
Cooking time 50 minutes
Prepare ingredients for pumpkin dessert.
Peel the pumpkin. Cut the pumpkin into medium cubes. Send the pumpkin slices to the baking dish. Sprinkle the pumpkin with sugar.
Stir and place in the oven, preheated to 356F degrees. Bake for 25 minutes. Then remove the pumpkin from the oven, sprinkle with cinnamon, grated lemon zest and pour over the lemon juice. Stir.
Put the pumpkin back in the oven for 20 minutes. Baked pumpkin in lemon caramel is ready. The final touch-you need to pour honey on the pumpkin. The taste of pumpkin turns out-like marmalade.
Enjoy your meal!
Pumpkin smoothie
Pumpkin-flavored smoothies are a healthy and delicious breakfast or dessert.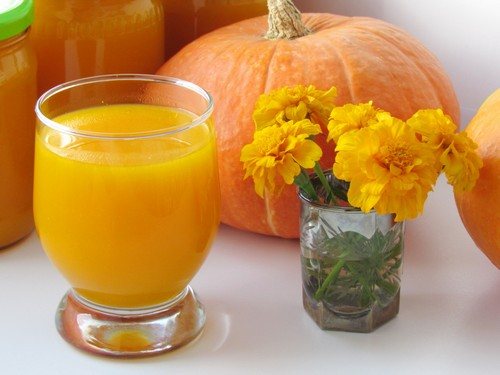 Ingredients
for 3 servings
Pumpkin 10.58oz
Spice mix (cinnamon, ginger, cardamom) 1 teaspoon
Honey 1 teaspoon
1/2 Cup yogurt
Granola with nuts 3 tablespoons
for granola with nuts:
oat Flakes 3.53 oz
Almonds 4.23 oz
Hazelnut 3.17 oz
Raisins 2.82 oz
Honey 2 tablespoons
Instruction
Cooking time 30 minutes
Ingredients for making pumpkin smoothie with granola.
To make the granola, mix the flakes, nuts and raisins. Nuts can be taken to your liking, and also add various dried fruits-dried apricots, dried cherries, cranberries, etc.
Put the pan with the flakes on medium heat and fry for 10-15 minutes, stirring constantly, so that the flakes are browned. Remove from heat and add honey.
Mix the flakes with honey and cool. Pour the granola into a dry jar and use as needed. Cut the pumpkin into pieces and bake in the oven or microwave until soft. Turn the baked pumpkin into a puree using a blender.
Add 1 tablespoon of crushed granola, yogurt and a mixture of spices to the pumpkin puree. Add honey to taste if the pumpkin is not sweet enough. Stir. Put 2-3 tablespoons of granola on the bottom of a glass or cream bowl. Pour the pumpkin puree with spices, sprinkle with cinnamon. Chill the spicy smoothie in the refrigerator for 10 minutes. Delicious and healthy pumpkin smoothie is ready.
Bon Appetit!
Baked pumpkin with nuts and honey
. 5 healthy pumpkin desserts.
Baked pumpkin with nuts and honey is a healthy and delicious dessert.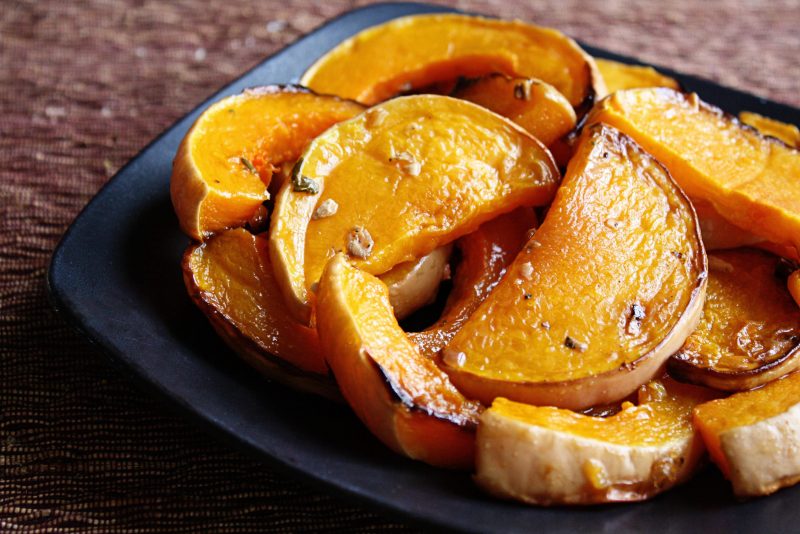 Ingredients
Medium-sized pumpkin 1 PC.
Peeled walnuts 3.53
Natural honey 3.88
Vegetable oil for greasing a baking
Instruction
. 5 healthy pumpkin desserts.
Cooking time 40 minutes
How to prepare a baked pumpkin with nuts and honey:
1. Wash a medium-sized pumpkin, dry it with napkins and cut it into slices and remove the seeds (peel if desired).
2. Grease the baking sheet with a small amount of oil or lay out baking paper, spread the slices on the baking sheet and send them to the oven at 356F degrees for 20-30 minutes. After the time has elapsed, check the pumpkin for softness. If soft, then you can get it, if not very much-leave it for a couple of minutes until ready.
3. After taking the baked pumpkin out of the oven, put it on a plate, pour over the honey and sprinkle with chopped walnuts. It turns out a delicious autumn dessert!
Bon appetit!