In autumn, we want warmth and comfort more and more: drink fragrant cocoa with marshmallows, wrap ourselves in a knitted blanket and enjoy the magical atmosphere in the house. Autumn decor with your own hands which will add warmth and comfort to the interior.
That's just the latter will not be possible to do if you do not decorate your apartment beforehand. We offer to get rid of the blues and do needlework, bringing to life simple ideas for autumn decor.
A beautiful autumn bouquet of leaves
The easiest way to preserve autumn colors is a bouquet of leaves. Just keep in mind that the leaves must be preserved before composing them, otherwise they will quickly wither and lose their beautiful appearance. There are several options for how to preserve their attractiveness and plasticity.
Wax – to implement this method, you will need directly light wax (or paraffin), an old saucepan, which is not a pity, a clothespin or waxed paper. Divide the wax into small fragments, place them in a container and put it on the stove. When the material melts, dip one pre-dried leaf into it. To get a thicker layer, repeat the procedure twice. At the last stage, place the leaves on paper or hang them on a rope using clothespins.
Glycerin – you will need two liters of water, 17.64 oz of glycerin, a colorless and odorless dishwashing detergent, an empty container. It is necessary to pour water into a saucepan, dilute glycerin in it and add five drops of detergent. Then lower the leaves into the resulting mixture and leave for three to four days. After you get the natural material, its color will become brighter and richer.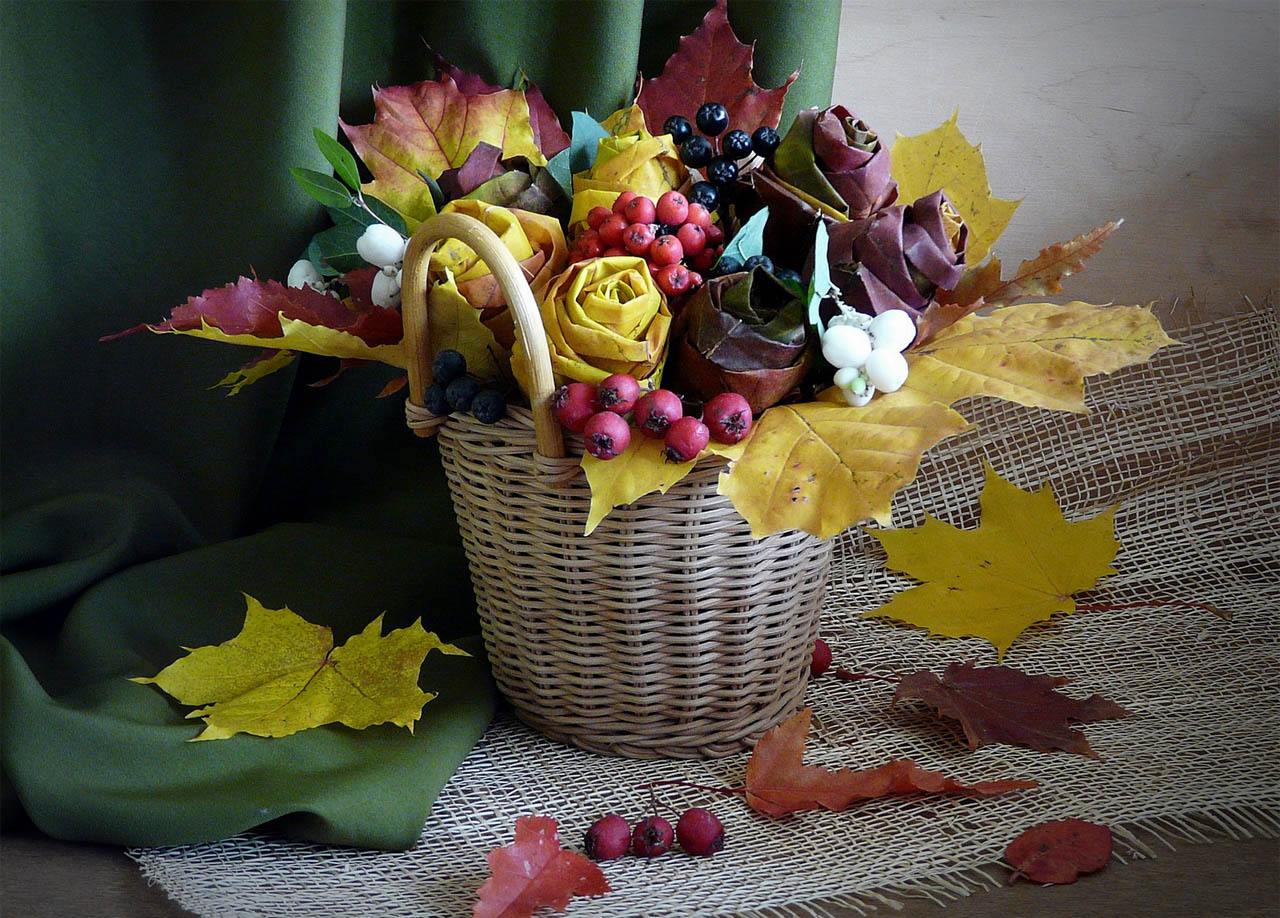 A beautiful decoration for the fireplace
. Autumn decor with your own hands which will add warmth and comfort to the interior.
If you are lucky enough to become a happy owner of a fireplace, it's time to decorate it. A garland of foliage and branches is ideal. It is easy to make it – it is enough to plant the treated leaves on a thread, thin wire or fishing line.
When creating a garland, use leaves of different colors and alternate them with each other to achieve the desired balance. In order not to pierce and accidentally tear the leaves, they can be attached with threads using small clothespins, which are usually used to secure polaroid images. By the way, if you want to make ready-made garlands more voluminous or fragrant, alternate the leaves with pre-dried citrus slices, for example, orange or lemon, as well as cinnamon sticks.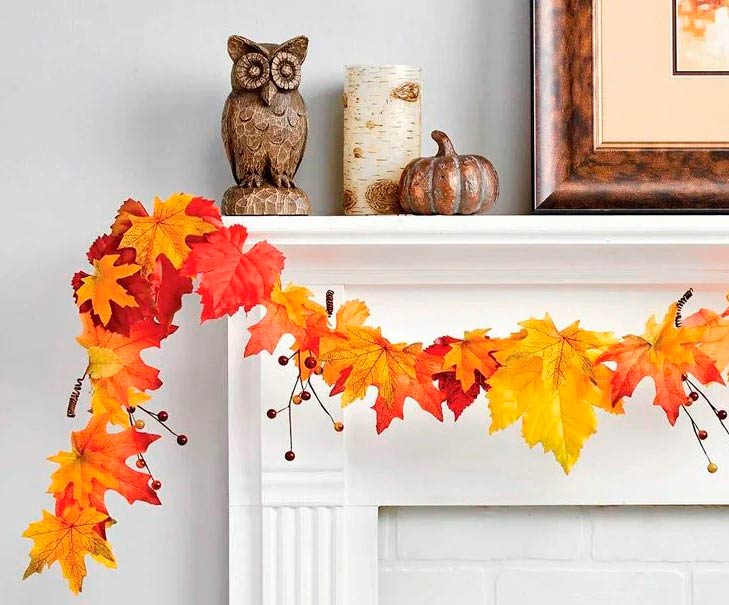 After everything is ready, hang a garland under the mantelpiece, as you usually hang a Christmas tree decor. The fireplace shelf itself will be a great place for a composition of ripe apples, small pumpkins and candles.
Panels and paintings made of leaves
An autumn panel or painting can unobtrusively and subtly convey the atmosphere of warmth, peace and tranquility. To create a panel that fits perfectly into the interior of the room. you will need pre-dried leaves, a sheet of cardboard or plywood, scissors, jigsaw,  glue, brush or sponge, pencil, acrylic paints.
First you need to prepare a sheet of plywood (length and width are selected according to personal preferences) by painting it with black acrylic paint. Then pick up the maple leaves of red, yellow or orange shades, remove the cuttings from them. The next step is to directly glue the leaves onto the plywood, starting from the top.
They should be placed with their tips facing down to create the illusion of free fall. Please note that the closer the lower part of the panel is, the fewer leaves there should be. The finished product can be covered with glass to make a real picture. A work of art is sure to decorate the wall in the living room, coffee table or console.
Note: If the natural color of the leaves seems too intrusive, dull or unsuitable for a future composition, repaint or color them. For this purpose, both acrylic paints and conventional or decoupage markers are suitable.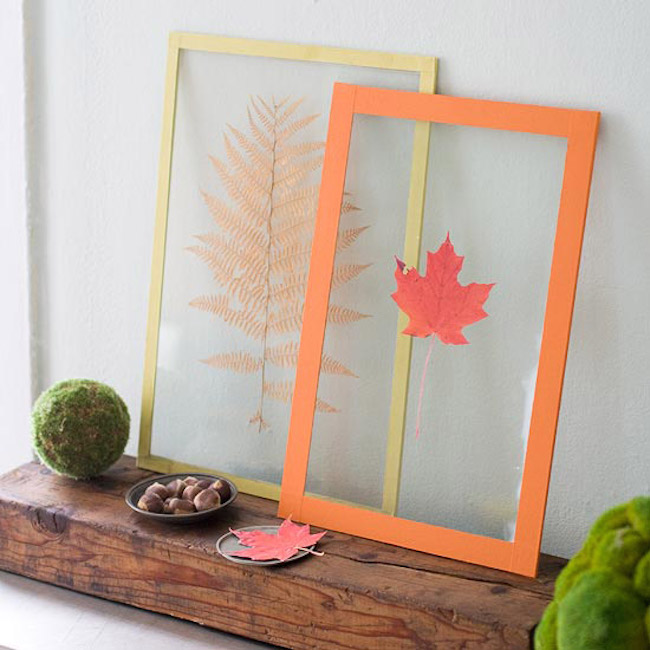 Pumpkin decor elements
. Autumn decor with your own hands which will add warmth and comfort to the interior.
If you think that pumpkins are relevant in the decor of an apartment only for Halloween, we have to argue with you – they can decorate the interior throughout the autumn season. Their positive orange color reminds of the sun, brightens up the grayness outside the window and fills the house with positive emotions. Pumpkin can be used to make a huge variety of products. Let's focus on several options.
A pumpkin planter can be an excellent flowerpot for autumn flowers or exotic succulents – photos found on the Internet will easily confirm this. To make a planter is simple – to do this, cut off the top of the pumpkin, remove its core, and then, filling the resulting hole with moss, lay the plants inside.
Vase – a good option is to use a pumpkin as a vase for autumn flower arrangements. The principle of operation is the same as in the previous paragraph, but instead of moss, the hole will need to be filled with water. For stability and nutrition, leave a little pulp inside the pumpkin, into which you will then stick the stems and branches.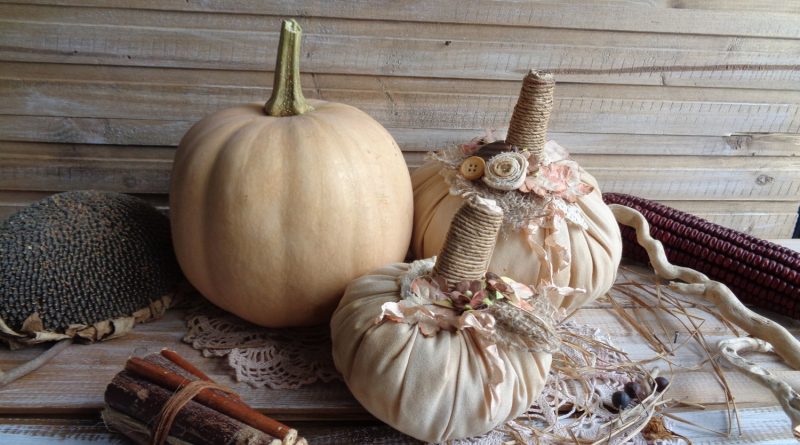 Candlesticks – this decor idea is directly related to Halloween, but we suggest making a kinder and more romantic option that can give a special charm to a family feast. Cut off the tail of the fruit and make a small depression inside the pumpkin so that a glass bowl with candles fits there. If there is not much space left in the hole, you can add moss and a sprig of ivy for beauty.
Bouquet of dried flowers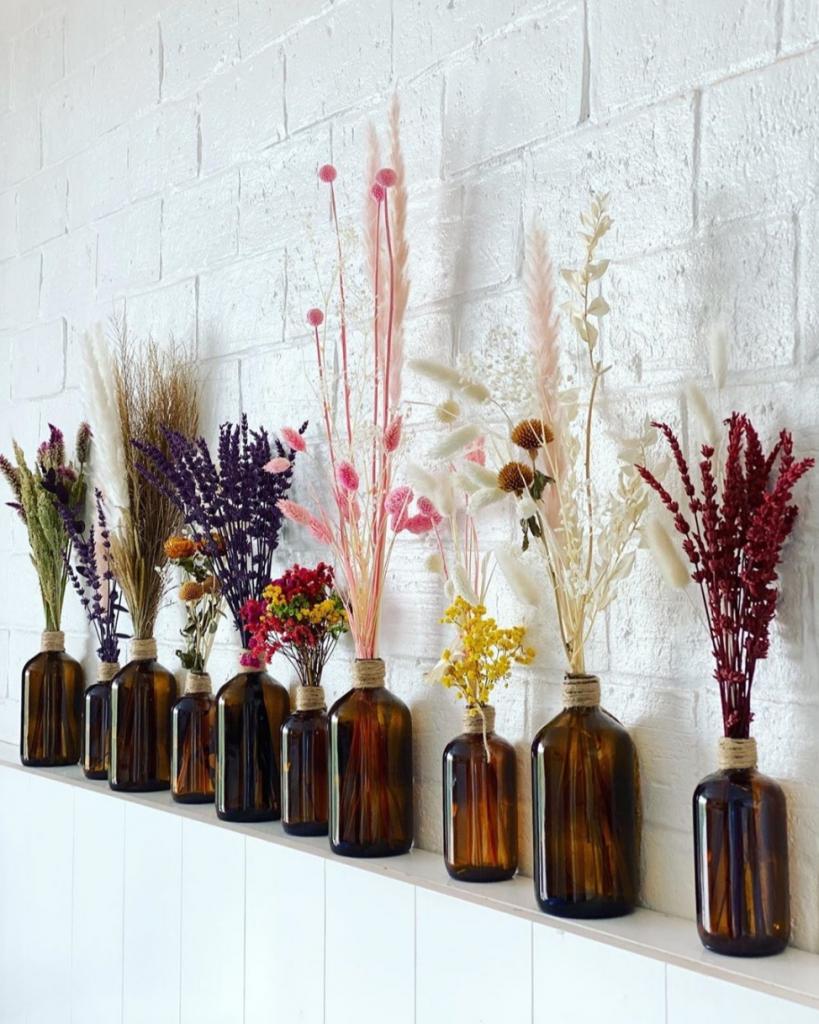 Dried flowers are a real reflection of a warm and cozy autumn, and therefore are ideal for creating crafts. Properly dried plants (in a well-ventilated attic, bunches down) can not lose color and shape for years. They can be painted in a different color, combined in one bouquet with leaves, decorative cereals, herbs, etc.
Field or garden flowers are suitable for composing the composition. you can also use twigs of reeds, shrubs, decorative onions, spikelets, ferns, sedges, reeds.
Vertical suspension of leaves in the interior
Traditional horizontal garlands can look a little defiant and intrusive. But vertical suspensions with strung leaves and buds will look harmoniously in the interior all year round. You can also make a cloud or sky out of leaves.
In the first case, the dry leaves on the suspensions will need to be placed at different heights so that they create an easy, romantic and slightly touching image. The composition will fit perfectly into the window area – especially when it will "flutter" and rustle in the breeze.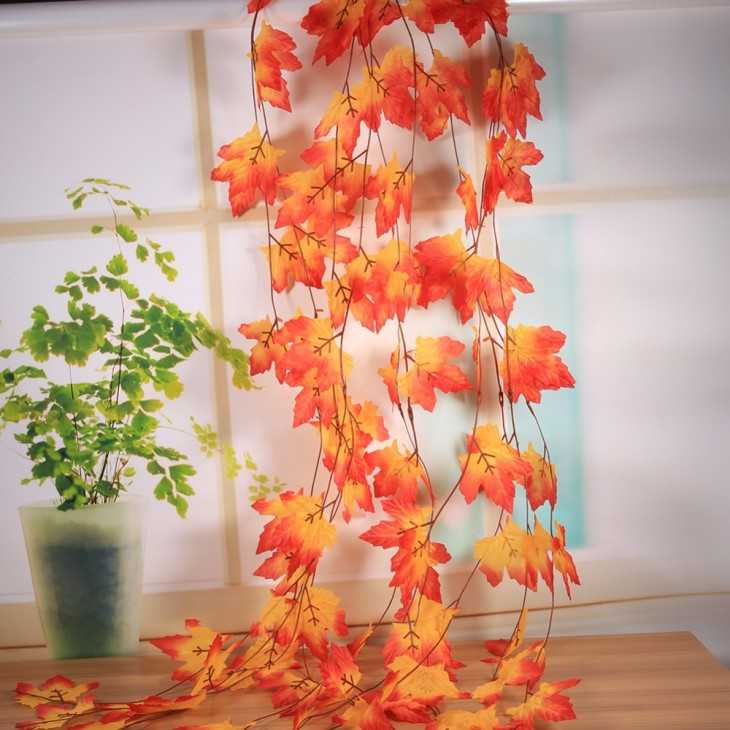 As for the sky made of leaves, this decor will look great in the dining area above the table. Another option is above the crib in the nursery, but in this case you will need to make sure that all the leaves are securely fastened.