Decorating the house on the eve of the New Year, we raise our spirits, create a holiday with our own hands and thoughts. Fans of eco-style will surely appreciate the ideas of New Year's decor made of natural material: twigs, berries, cones, acorns, moss, citrus fruits and various spices. New Year's interior decor in eco-style.
Natural materials will look good in any interior and will fill the house with warmth, comfort and the feeling of a winter fairy tale. Create with pleasure!
Christmas tree
. New Year's interior decor in eco-style.
It is difficult to imagine New Year's holidays without a Christmas tree. Even if your house will be a real big spruce, you can make another smaller one from natural material. Start by making the base. Make a cone out of thick paper or thin cardboard, secure the edges with glue or tape and fill the cone half with mounting foam. The foam will increase in volume and take up the entire inner space of the cone. When it dries, trim the base of the future Christmas tree. Then think about what it will stand on: it can be a wood cut or a pot.
Prepare stabilized moss, cones, small balls, acorns, decorative berries, and dried citrus peel figurines. Using a glue gun, attach the largest decorative elements first, and then fill the entire space between them with moss, fixing it with hot glue. The stand for the Christmas tree can be decorated with jute twine.
First of all, you will need unlimited imagination. And you can make a Christmas tree from almost any improvised means. See for yourself!
1. Christmas tree made of cones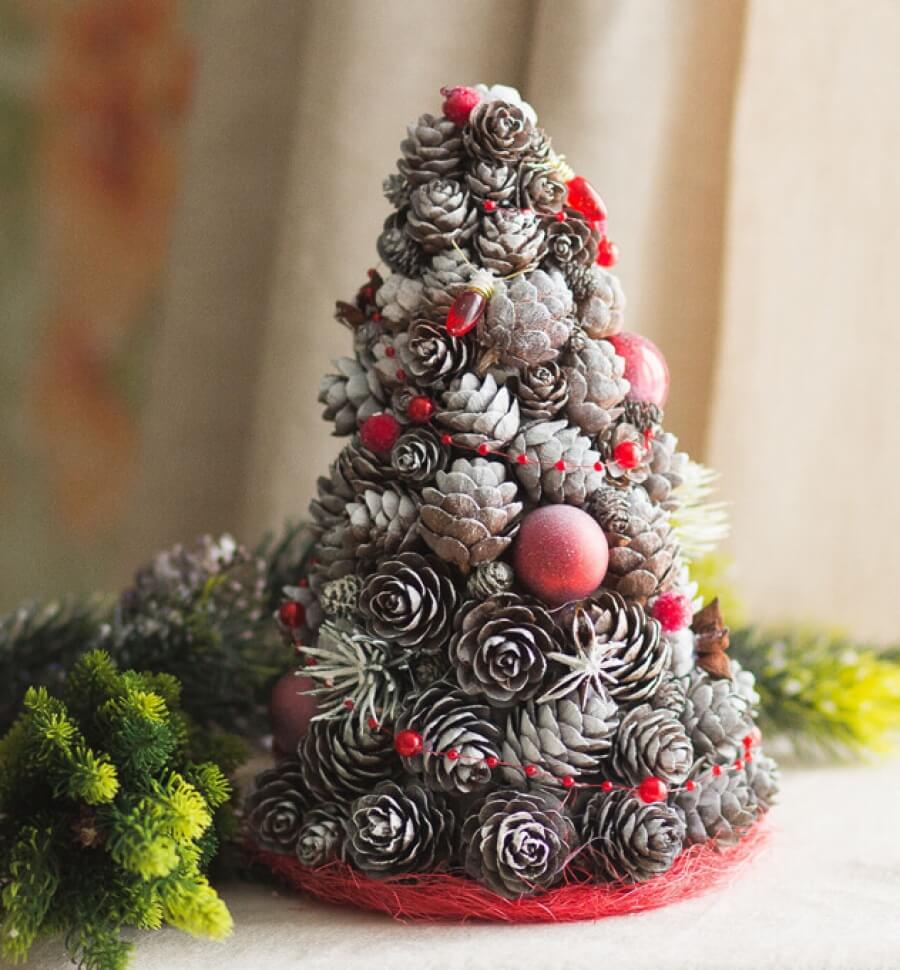 This is the most popular and very budget version of the Christmas tree. Glue the cones of coniferous trees to a cylinder made of cardboard. To heighten the effect, you can paint them with paints (for example, silver from a can), decorate with colored ribbons and beads.
If a long laborious task does not suit you, just place the cones in separate pots filled with forest moss.
2. Tree of jute
Wrap the jute rope around the cone and glue it so that there are no voids between the turns. As a decoration, use roses made of satin ribbon, beads, lace fabric.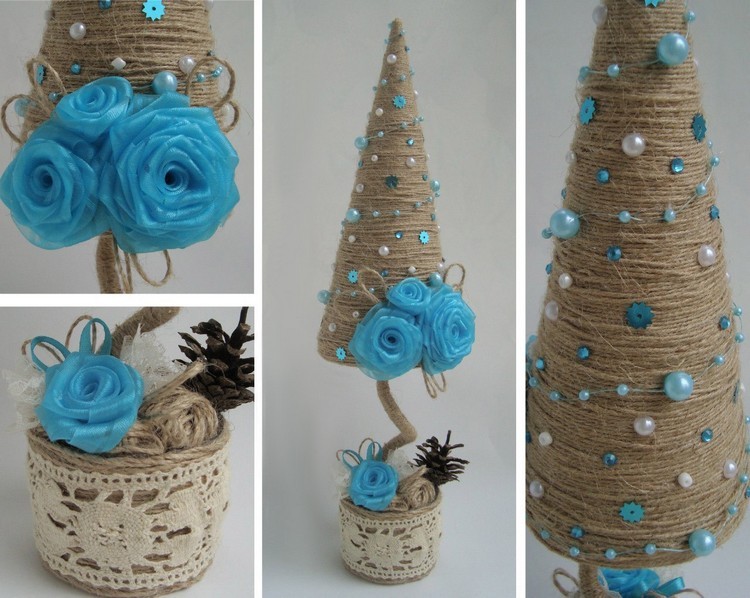 3. Christmas tree made of scraps of fabric
Cut the unwanted fabric into small pieces of the same size and use pins to attach them to a cone made of styrofoam. Also look great Christmas trees made of satin ribbons.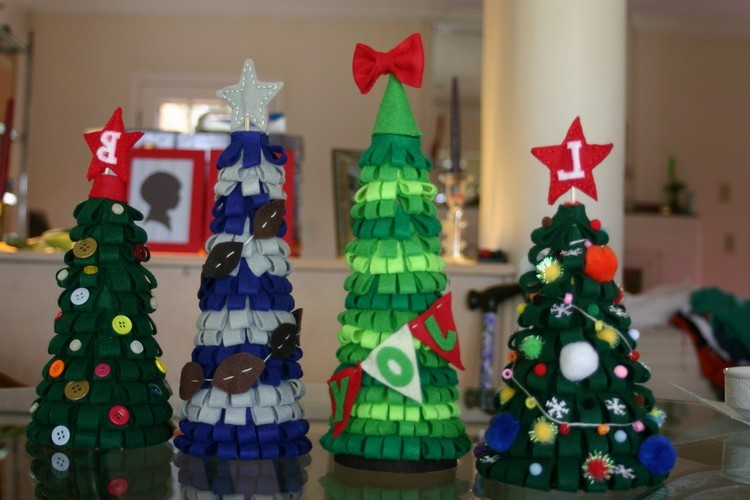 4. Christmas tree made of tinsel.
On the cardboard cone, glue the tinsel of green color – and the unusual Christmas tree is ready. Attach small balls or candies in bright wrappers to it.
Candles and candlesticks with your own hands
Candle lights make the atmosphere of our house truly festive. And if these are natural wax candles made with your own hands, then it is especially pleasant to light them. The easiest way to make candles from wax, which is usually sold together with beekeeping products or in stores for creativity.
To make a candle, you will also need a wick. The thickness of the wick should be proportional to the thickness of the candle. Too thin wick will burn very quickly, and too thick will give a large flame, and the candle will smoke. You can buy a ready-made wick, or you can make it yourself by twisting cotton threads. For thin candles (0.79 inch ), you will need 6-10 threads, for candles with a thickness of 1.19-2.76 inch, take 10-20 threads. Cut a strip of wax, put a wick soaked in wax on the edge, and if you want, add a drop of essential oil. Then tightly roll the wax, forming a candle. Everything is ready! It remains only to decorate the candlestick beautifully.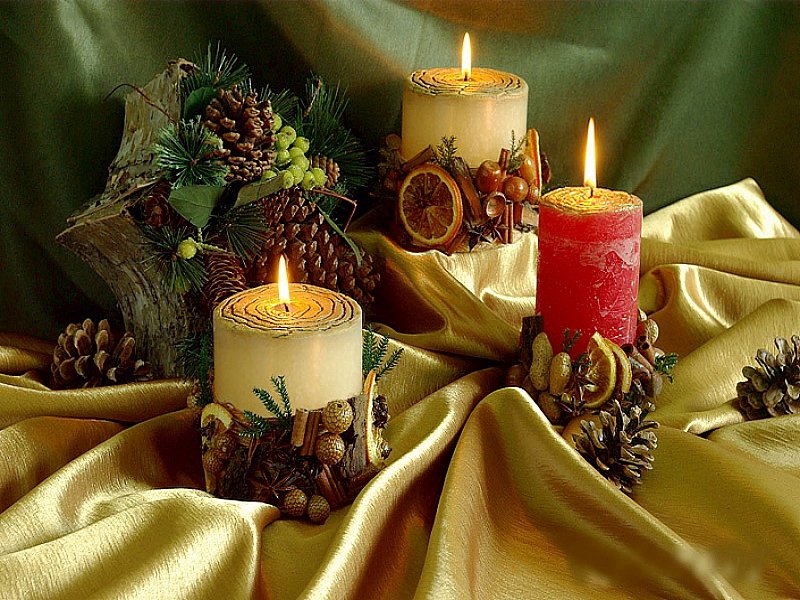 In the shops for creativity, you can find special forms for making candles. You can use silicone molds for baking cupcakes, glass glasses, shot glasses, vases. the shape should be smooth inside, flat or slightly expanding upwards, so that the candle is easy to reach.
In addition to beeswax, soy wax is an eco-friendly material for making candles. It perfectly conveys the aromas of essential oils and is absolutely safe for health.
As a candle holder, you can use anything you want: cinnamon sticks connected to each other, wood cuts decorated with cones, glasses with coffee beans. And you can make a scented candle out of oranges, garnish the fruit with spices. And then the whole house will be filled with a wonderful citrus aroma with notes of cloves and star anise.
Christmas wreath
Christmas wreaths create a festive atmosphere no worse than garlands. The basis for the wreath can be bought in the store of goods for creativity or make yourself out of cardboard, vines, newspaper tubes and other improvised materials.
As a decoration of a Christmas wreath, spruce and pine twigs, moss, cones, cinnamon sticks, cotton boxes, dried slices of lemon or orange are often used. You can fix the elements on the base with the help of floral wire or ordinary threads.
Blanks for Christmas wreaths are sold in specialized stores. The most popular are wire frames and foam molds. If desired, the base can be made from almost anything. You can cut a circle out of thick cardboard or plastic round packaging from the cake and wrap it with a cloth or paper tape. Another option is to twist the frame of wire or cable.
And now to your attention-ideas of New Year's wreaths. Get inspired and create!
Christmas wreath of cones
One of the classic options for holiday home decoration – spruce and pine cones. What kind of crafts were not made from this popular natural material! It's time to "return to nature" and take advantage of its gifts.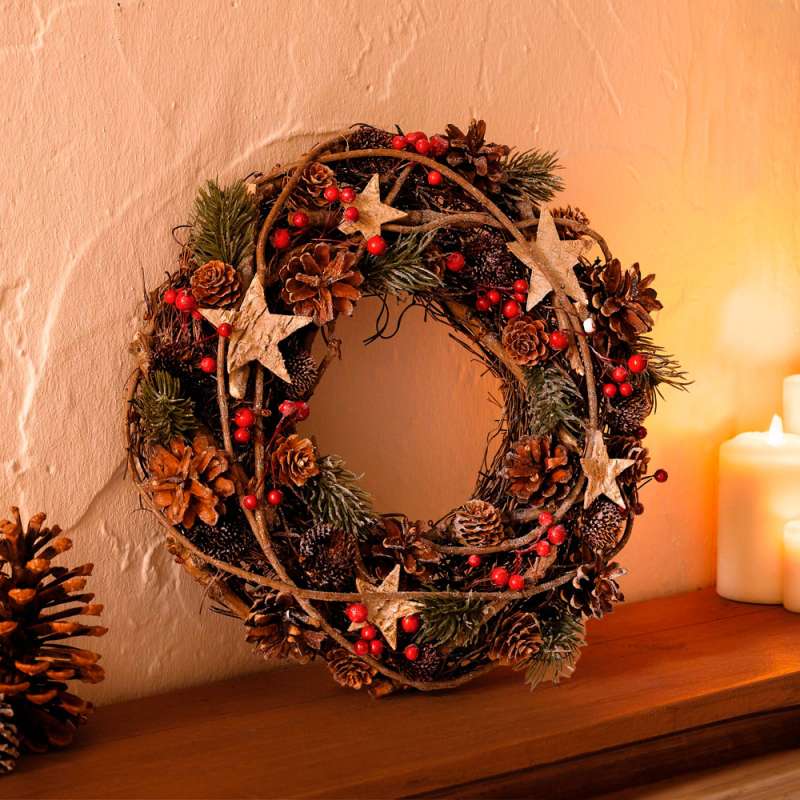 Christmas wreath with crochet or knitting needles
Certainly craftswomen who know how to knit, thought about the fact that in this technique it is possible to do almost anything. To your attention – knitted Christmas wreaths. See how cozy and homey they look! The wreath can be decorated with knitted details or be completely connected. First, the base of the wreath is tied, then" to taste " elements of the composition are added.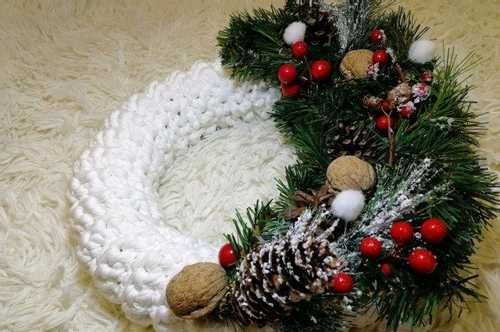 Christmas wreath of colorful light bulbs
This option will appeal to those who do not like to throw anything away. You will need used incandescent bulbs (it will be interesting to look like elongated bulbs). Paint them in different colors (stained glass paint is suitable) and fix them on the base for the wreath.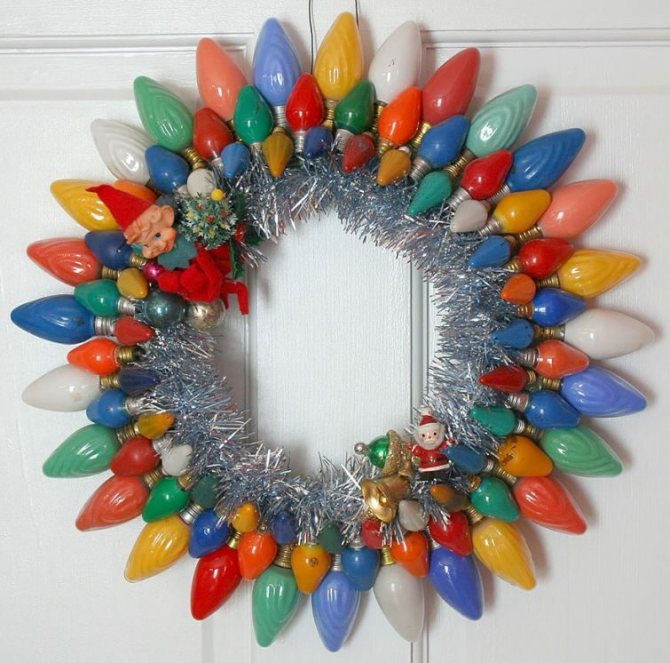 Christmas wreath of branches
. New Year's interior decor in eco-style.
Making a Christmas wreath from branches is not difficult at all. Flexible branches of birch, willow are well suited. Soak them in warm water for a few hours. after that, proceed with the production. The rods can be twisted into a circle and tied, or you can fix them on a wire frame, leaving the ends of the branches sticking out carelessly.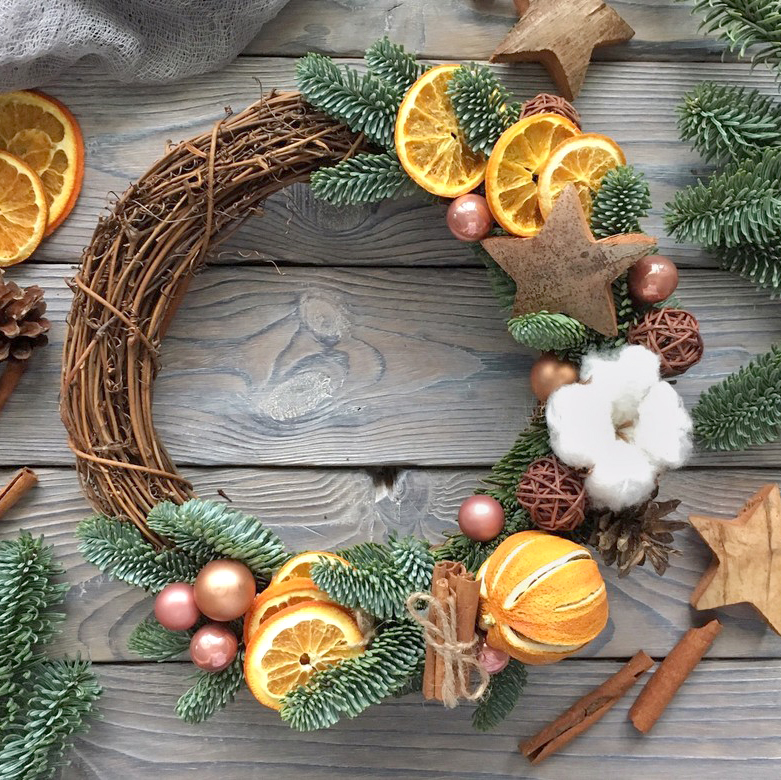 Christmas wreath made of candy
. New Year's interior decor in eco-style.
To make such a wreath, you can use both real candy (in this case, it will later have to be disassembled, and the candy will be eaten), and "fakes" (for example, a crumpled piece of paper wrapped in a candy wrapper).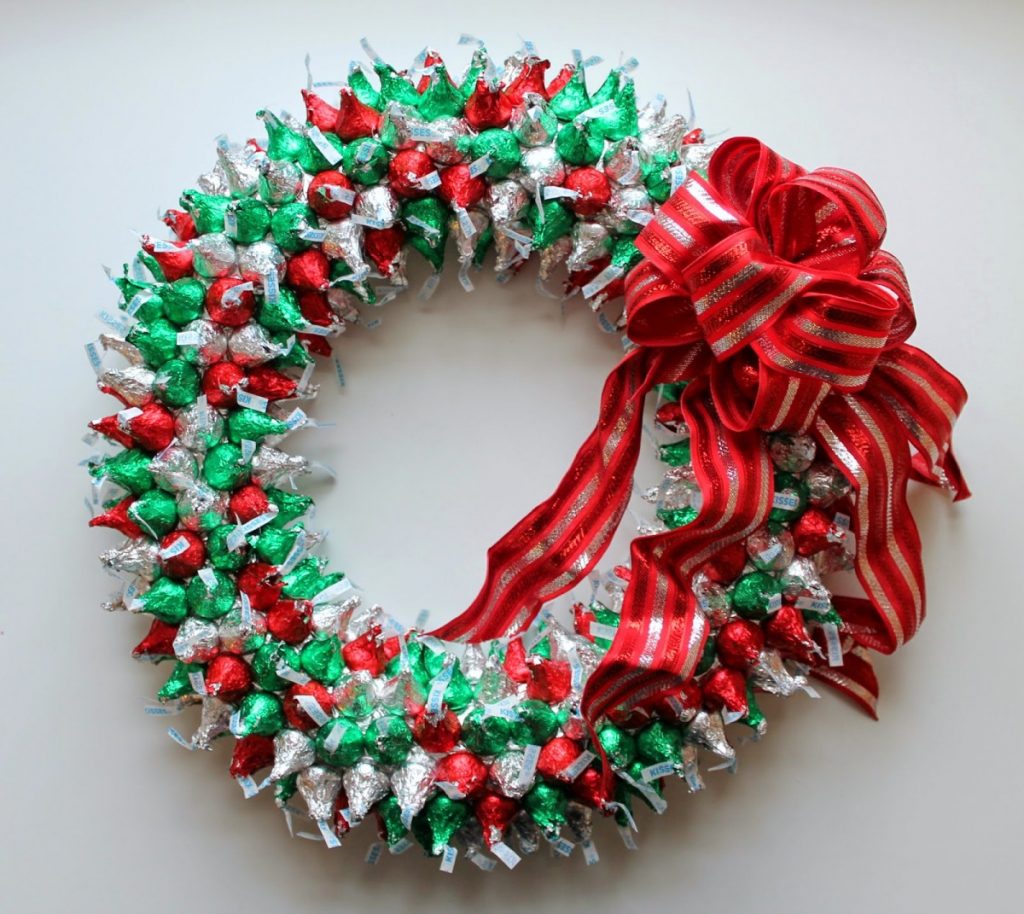 Interior Christmas compositions
. New Year's interior decor in eco-style.
Interior compositions made of natural material can be a great Christmas gift and stylish decor. As a basis for such work, you can use blanks made of plywood, planters, baskets If you are planning to create a composition of complex shape, then you should make a frame of branches or wire for it, which can be decorated with stabilized moss, alder twigs, cones and dried orange slices.
To insert the cones in the New Year's composition, wrap them with floral wire, threading it between the lower scales. Connect the ends of the wire and twist to the very base of the cone.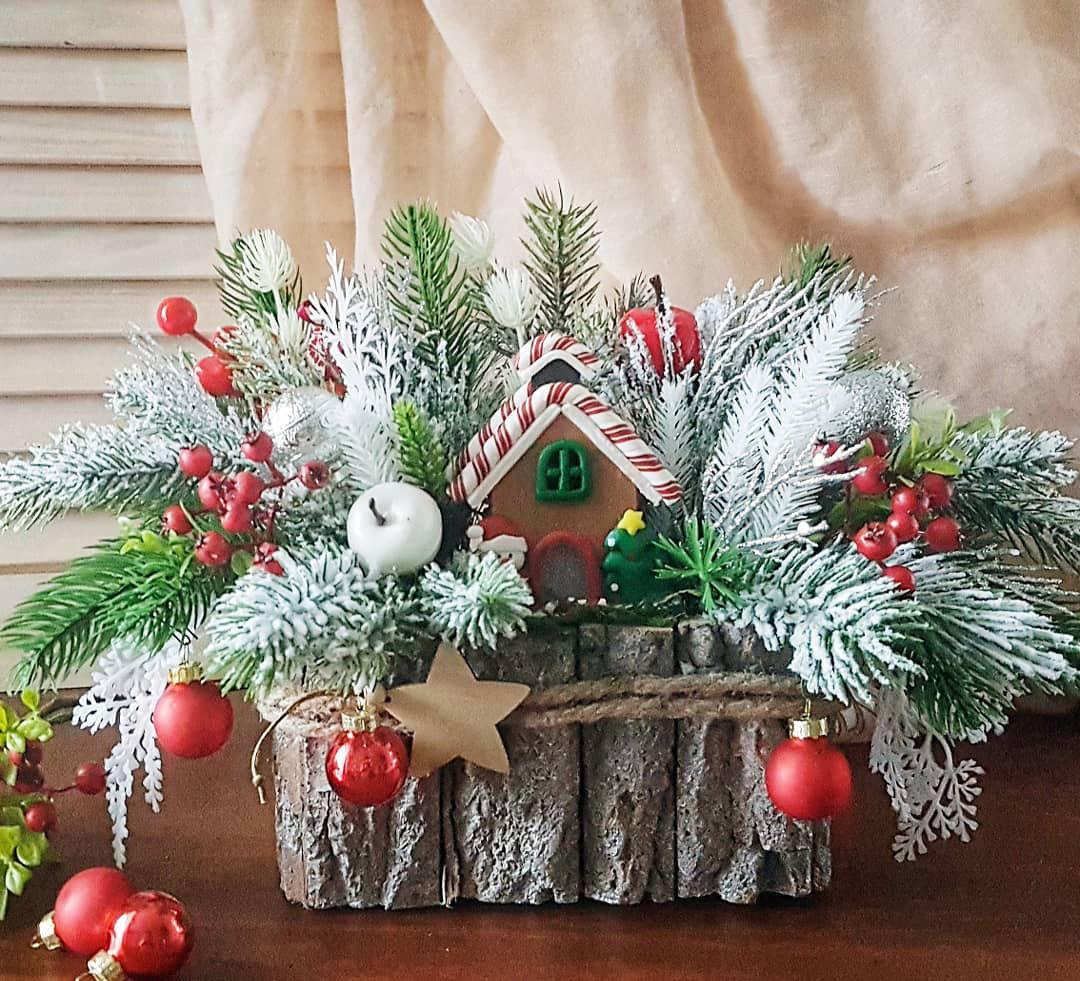 Eco-garlands
Garlands created by their own hands will definitely appeal to children. Such creative work can involve all family members and make an eco-garland of pine cones, which will alternate with fun figures made of salt dough.
To make the material for modeling, take an equal amount of flour and salt. Add just a little vegetable oil. Then add a little water and knead the dough until it looks like softened plasticine. Roll out the layer and let your little helpers cut out various figures. Before you dry the figures, do not forget to make holes for hanging.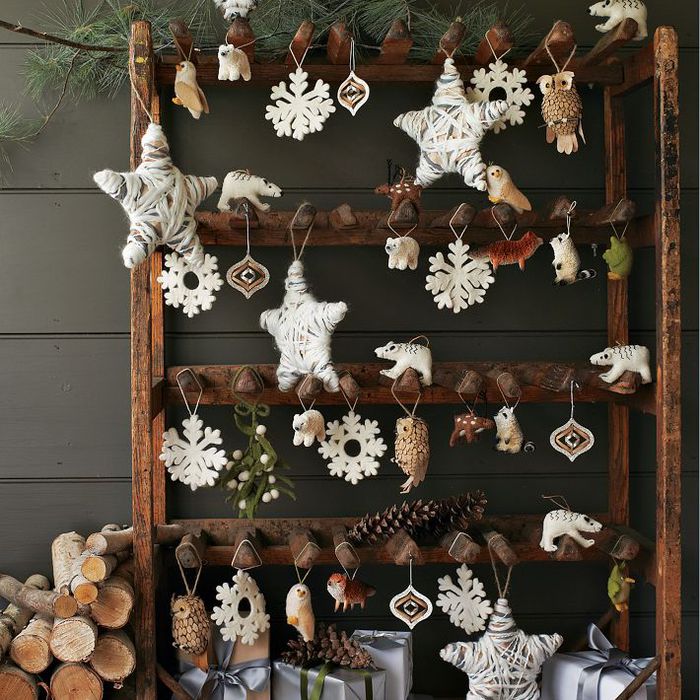 Cones and figures made of salted dough are perfect for decorating the Christmas tree. Let the New Year be creative and inspiring!
As you can see, creating home decorations from natural material is very simple – you just need to connect your imagination!