In order to create an atmosphere of magic inherent in the Christmas mood, you need to worry about home decorations. How to decorate a festive table for Christmas. It is these important details that you should pay special attention to. Interesting ideas for decorating a festive table for Christmas.
Serving
The main decoration of the table is a tablecloth, runner-a tablecloth in the form of a small strip of width – or a cloth napkin. On holiday textiles, it is important to arrange and lay the cutlery correctly. To complement the napkins and various themed decorations.
The fabric version is laid out only on snack plates, but paper ones can be beautifully wrapped around cutlery, put under plates or put in napkin holders.
In addition to the table, textiles are also preferred for the design of chairs. these can be wide ribbons in matching colors, tied behind the back of a chair, or full-fledged covers, often imitating the hat of santa claus.
It is also important to think about the menu in advance: choose cuts and snacks according to the preferences of invited guests. These can be: skewers with original filling, tartlets with exquisite filling, pancakes rolled up in a festive way, canapes and sandwiches.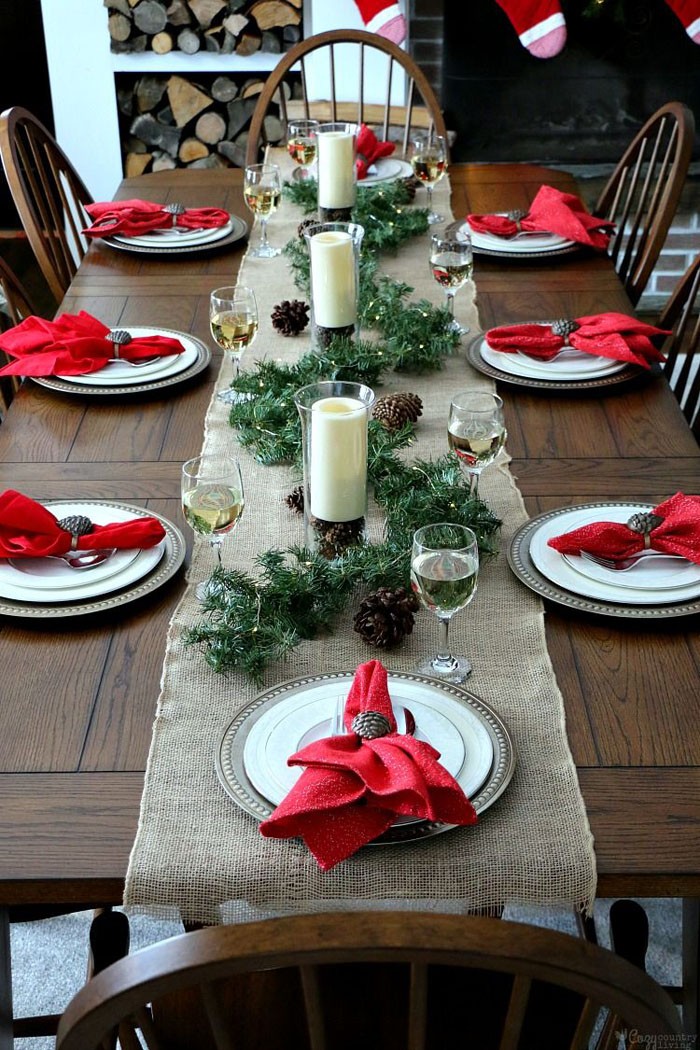 Color scheme
. Interesting ideas for decorating a festive table for Christmas.
The color of textiles is the deciding factor when choosing the rest of the table decor. The classic combination is red and green. The table, served in red and green colors, will complement the festive atmosphere with a sense of real magic.
Fashionable, colorful and festive will look shades of red and white in combination. This is a great solution for new  decoration.
White is considered universal. You can completely arrange everything in this color or dilute it with silver, gold or blue.
Do not be afraid to move away from the traditions, choosing the right color palette. Christmas decor stylists recommend to add a bit of bright and unusual colors.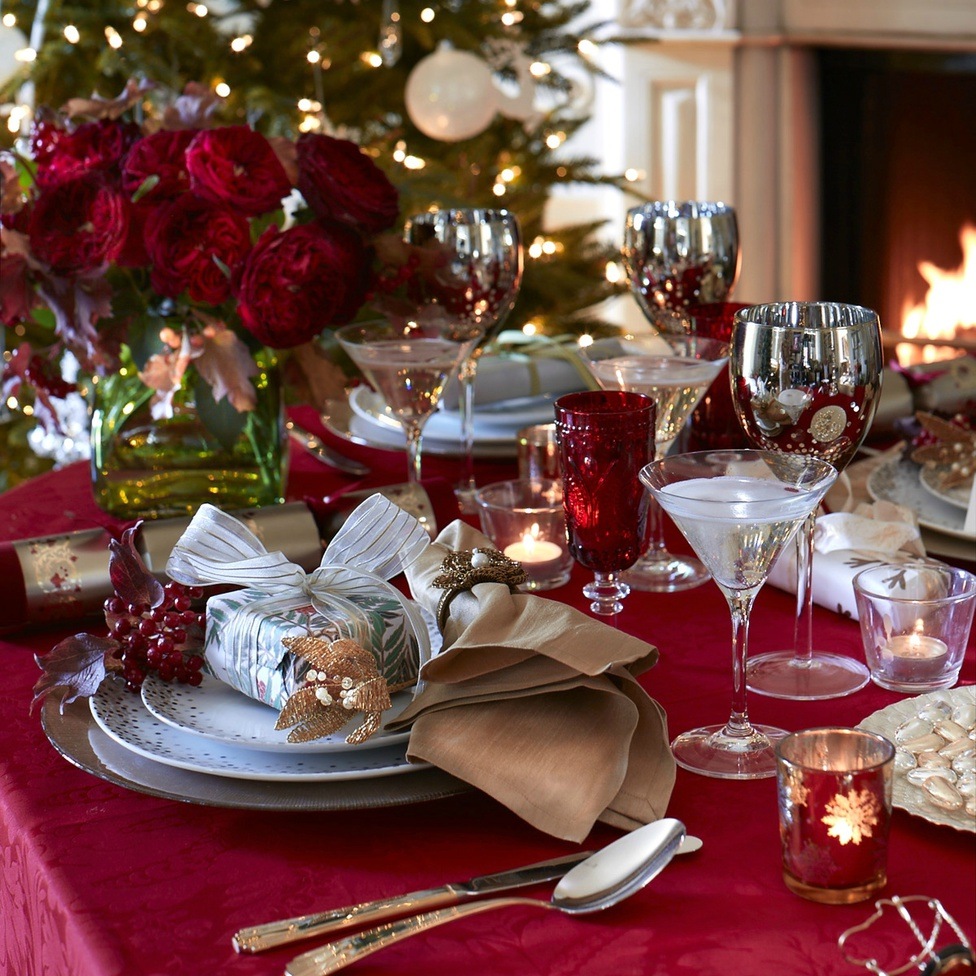 Table decoration for a holiday can be based on things that are logical for Christmas, for example, candles, spruce branches, figurines on the theme and other items. Or you can arrange it in a strictly accentuating style – the room and the table are decorated in the same color scheme.
The most extraordinary way to design a new year's table can rightly be called thematic. Then the entire decor is selected so that it fully corresponds to some chosen theme of the hostess. A good example would be a Santa-style decoration.
On the table are arranged the figures of the chosen fairy-tale hero, a dish with a thematic pattern, the tablecloth, the napkins, the chairs wear slipcovers in headgear of the character and сutlery for serving develop in special pouches in the form of tiny overalls, coats, or socks.
Bows
. Interesting ideas for decorating a festive table for Christmas.
bows can be tied on cutlery and special compositions. in stores there are ready-made bows or it is easy to make them yourself from satin ribbons or thin bows for packaging.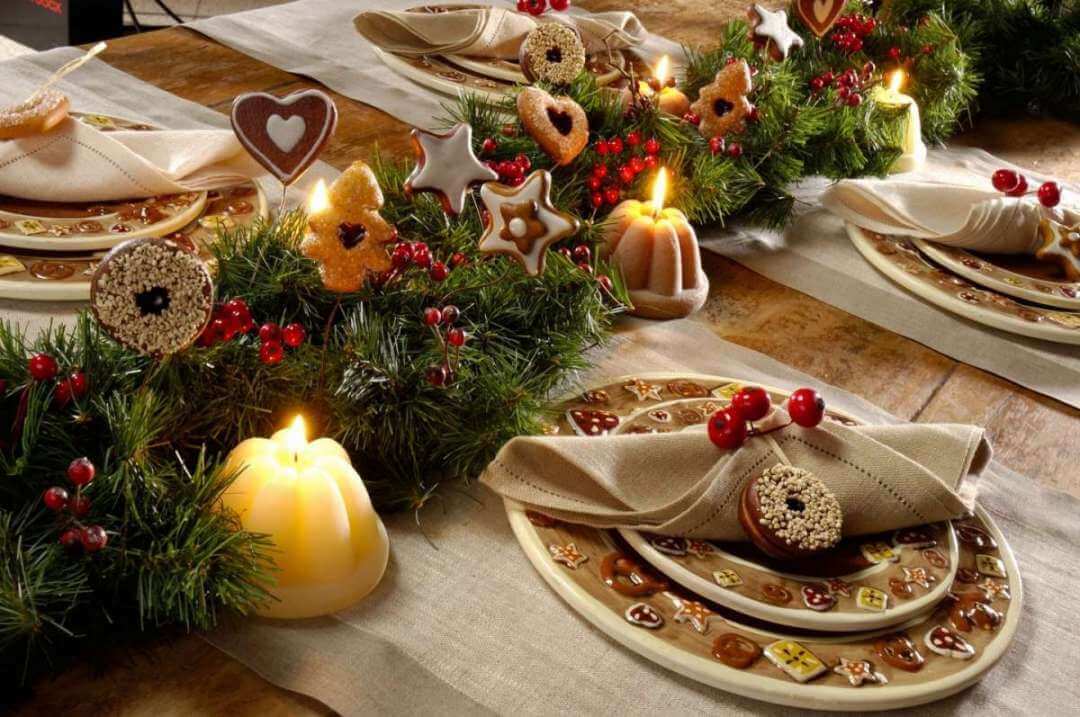 Satin ribbons can tie bows on bottles, chairs, vases and decanters with drinks. Put the devices in special bags or wrapped in a napkin. These are sold in souvenir shops and at the new year's fair. They are also easy to sew and decorate with embroidery with your own hands.
Nests
the style of table decorations for Christmas can be based solely on the theme of nature, it is easy to recreate with the help of twigs, logs and berries. A good option for such a decor is a beautiful nest, which can easily be made with your own hands. You just need to get flexible willow branches, dried grass and wire. A ring is formed from the branches, and the joints are immediately fixed with wire, then the grass is woven in and wrapped around again with wire. Such a nest can be supplemented with miniature Christmas balls or mini-boxes and put on a plate.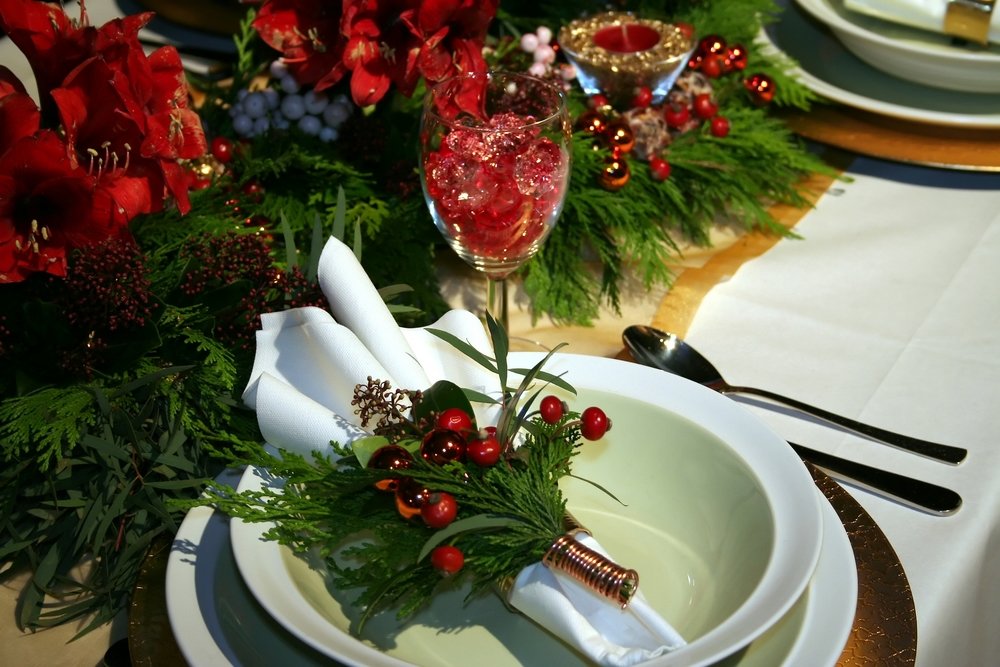 The decoration of the plates of the guests: ideas
. Interesting ideas for decorating a festive table for Christmas.
It will work well if you put cut paper Christmas trees on each plate. Cutlery wrapped in a cloth napkin will also look beautiful. Guests can also put paper scrolls with good wishes on their plates, or a tiny spruce branch that is set in a small piece of wood that has been cut down.
Look great figures in the form of angels, candy made of paper, bells, stacked branches of spruce, or compositions of plates that resemble snowmen.
A good alternative to candles will be glowing figures with a Christmas theme or a small garland, which can be carefully placed along the table, wrapping plates.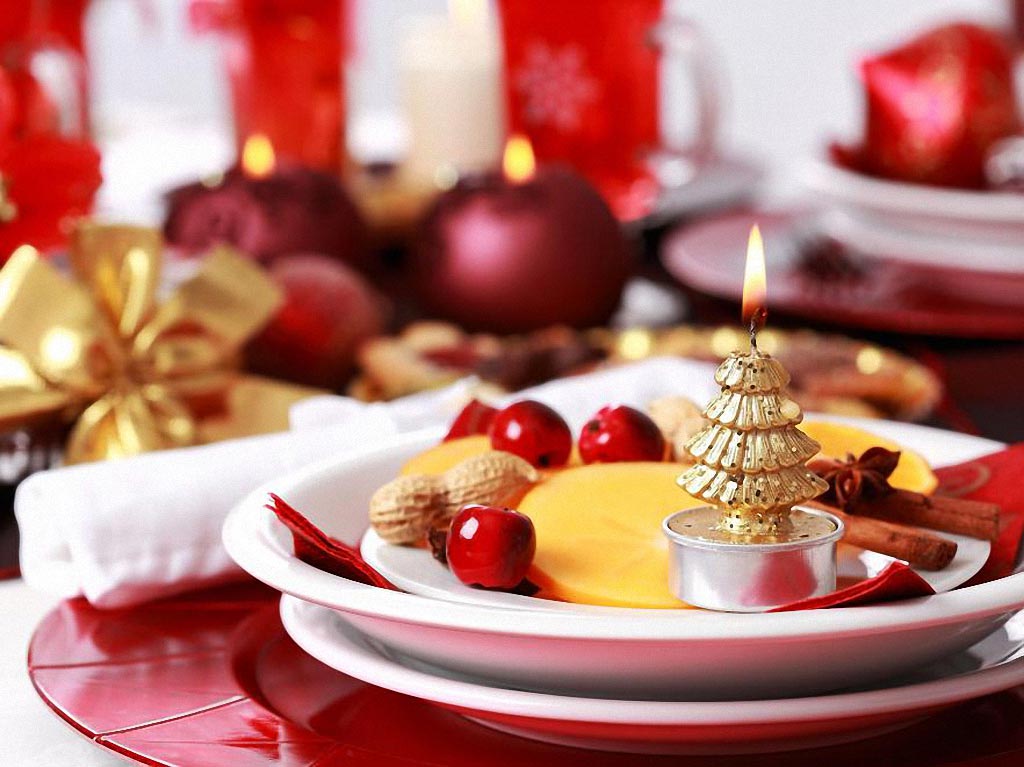 Boxes with presents
Such decorative elements can also be used as decoration of guests ' plates. It is not necessary to put an expensive gift inside. It can be a magnet, a keychain, or a small souvenir. Boxes can still be used as decoration. To do this, it is wrapped with suitable packaging paper and put the decor in the center of the table.
Candles
. Interesting ideas for decorating a festive table for Christmas.
Candles can be placed in beautiful carved candlesticks made of white metal. These things look fabulous on the table on Christmas night. You can even create a candle holder with your own hands, for example, by painting a transparent glass glass with paints or, for example, from half an apple. To make a perfect table setting for Christmas, you need to have beautiful candles. After all, they are considered a mandatory attribute of the decor for the holiday.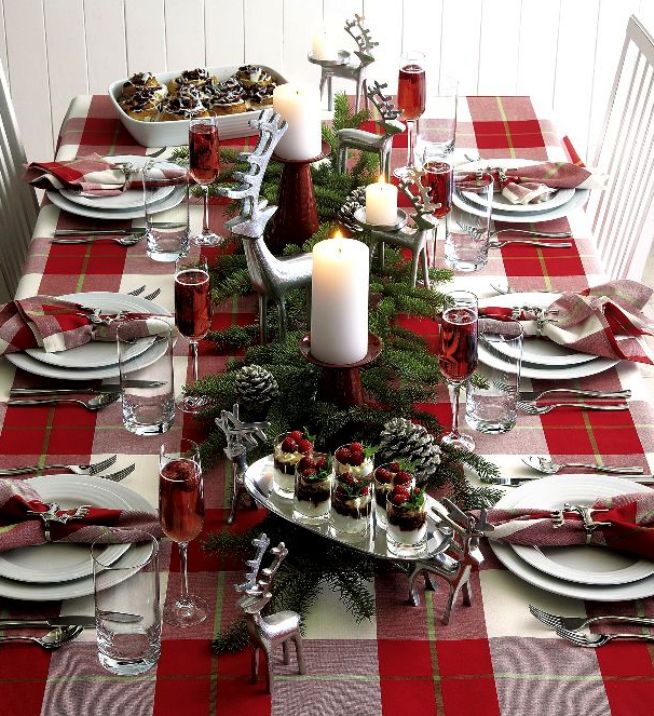 Themed tableware and service of the: how to apply
It is quite natural that the decoration of the table should be dishes for the celebration. It can be a beautiful set or plates with a Christmas theme.
When placing cutlery and plates, keep in mind the main rules of etiquette:
First, the main plate for hot dishes is placed on the table, and the snack bar is placed on it;
To the left is a small pie plate;
The knife and spoon are placed to the right of the plates, and the fork is placed to the left on textile napkins;
Next to strong drinks is a glass and, ideally, several types of glasses: for wine, champagne and water;
Napkins beautifully put in plates one at a time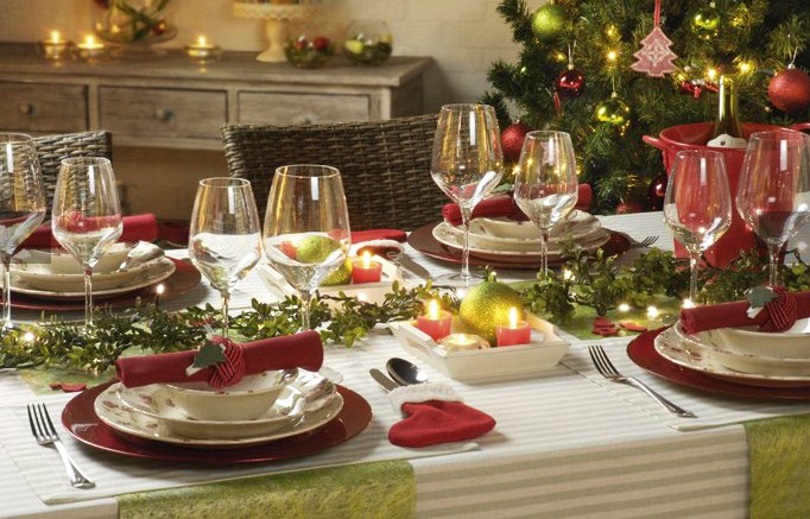 Napkins: how to fold
With napkins, the table is instantly transformed. Original versions of textiles or other materials will look great in serving. If you buy them and cute rings in the form of Christmas trees and snowmen, you can decorate the table in an original way. Especially they will look laid out in the form of hares or Christmas trees.
Santa's Hat
You can make caps from a thick red fabric or felt, decorate them with white material or fur from the bottom, and sew a soft white pompom on the top of the cap. Then these "accessories" can be worn on wine glasses or bowls.
Compositions of fir cones
Cones are suitable for composing a variety of compositions. They can be used to make a topiary, a small Christmas tree, spruce fruits decorate candles or put them on the table in the Central part or along the length. Spruce twigs and cones will also look beautiful on the Christmas table. They can be placed between plates, or you can use them to decorate vases and other dishes. In addition, if you spray gold or silver paint on them, it will look more impressive. Twigs can be replaced with tinsel or confetti.
Knowing how to decorate a festive table for Christmas with your own hands, you can easily create a festive mood for yourself and your guests. The decor will be the main "highlight" of the serving.