Christmas desserts are designed to delight children and adults with a wonderful taste and convey the festive magic of this long-awaited holiday. The list of such homemade "goodies" is very large: sweets and ice cream, cakes and pastries, puddings and cupcakes, cookies and gingerbread, jellies and fruit salads, you can not list everything, but all this is so popular with our children! 3 Christmas recipes for sweet desserts.
Such delicacies, especially prepared with your own hands, will not only give you pleasure, but also cheer you up.
We will also give some tips for making desserts
1. if you cool the fruit salad, it will become much tastier;
2. fruit salad is beautiful and original to serve in pineapple, melon;
3. cover the cake with wet parchment paper so that it does not burn when baking;
4. baked apples will not crack and stick to the pan if they are pierced in several places with a fork and pour a little water to them;
5. for pancake batter, you can use water instead of milk. It is better to beat it with a mixer. The mass will be homogeneous, without lumps;
6. to the baked apples, add a little vanilla or cinnamon, for flavor;
7. it will be easier to peel prunes from the seeds if you pour boiling water over them;
8. for the preparation of some dark types of cake, chocolate is used. Use black bitter, not milk chocolate. And melt it in a water bath;
9. when preparing the cake, try to apply the pattern in such a way that then the cake can be beautifully cut into portions;
10. in order to make the dough for any product more airy, it is desirable to beat the ingredients with a mixer;
11. check the readiness of the cake cake with a match or toothpick. The baked dough will not stick, and the match will remain dry;
12. butter cream for cake and cakes can be replaced with butter: beat a pack of butter with 1 tablespoon of sugar and two yolks, add to this mixture one can of condensed milk;
13. any sweets are suitable for a festive table. The main thing is the correct and interesting design and presentation;
14. to decorate the dessert, you can use the most unexpected solutions: the New Year's "snowball" can be drawn not only with powder, but also with coconut shavings. you can decorate a cookie or cake in the form of a Christmas tree with colorful "balls" made of bright dragees.
15. The mass for drawing on products can be obtained by melting purchased sweets in the microwave. To do this, you can also cook caramel at home and tint it with food coloring. Fabulous snowmen can be made from any fruit, for example, from bananas on skewers. It is interesting to look caramel and marzipan icicles. There are a lot of ideas, you probably know something else.
Dessert without baking " Fir cones"
3 Christmas recipes for sweet desserts.
Delicious Christmas dessert without baking, which will appeal to both adults and children. It will only take you 15 minutes to prepare a dessert of corn flakes and nuts! Merry Christmas!
Ingredients for 4 servings
Corn flakes glazed 7.05oz
walnuts (crushed) 5.29oz
Condensed Milk boiled 1 can 13.4fl oz
Powdered sugar – 2 tablespoons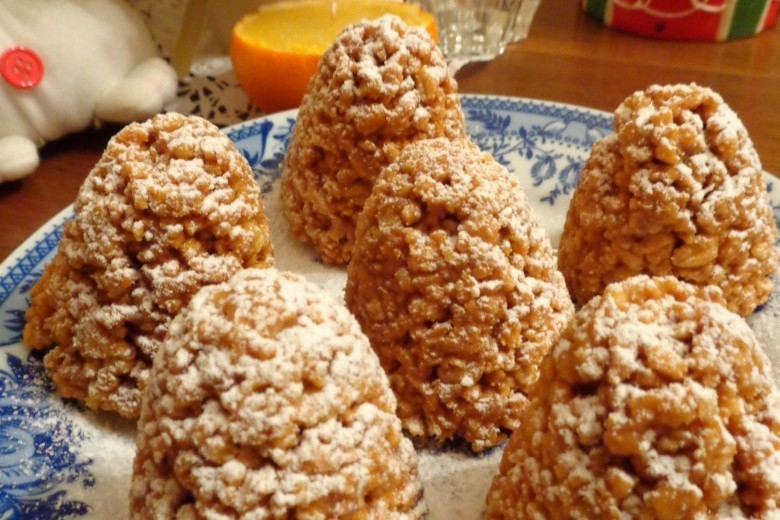 Instruction
cooking time 3 hours 15 minutes
How to make a dessert without baking " Fir cones": Mix cornflakes, chopped nuts and boiled condensed milk.
Cone-shaped forms or glasses with a capacity of 2.71oz are moistened inside with water and placed in each teaspoon of the resulting mixture, slightly tamping it.
We send the dessert to the refrigerator for 3 hours.
After 3 hours, carefully remove the finished dessert from the mold by turning them down and helping with a knife.
Dessert of cornflakes and walnuts spread on a plate and sprinkle with powdered sugar through a strainer.
Christmas dessert without baking "Fir cones" is ready! Bon Appetit!
New year's meringue
. 3 Christmas recipes for sweet desserts.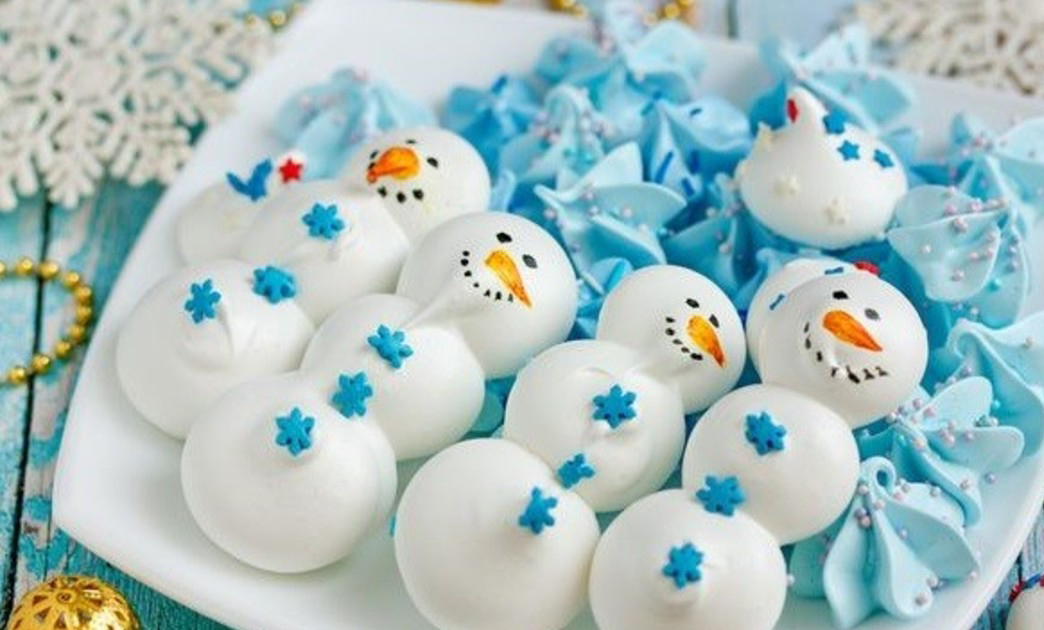 Bright colorful meringue is a cherished sweet for children! You can easily make meringue at home, in the form of snowmen, snowflakes and other symbolic figures. From this meringue, you can collect edible gift sets for kids. Also, New Year's meringue will be a wonderful decor for festive baking and an original decoration for the Christmas tree!
Ingredients
Egg whites – 3 pieces
Sugar – 6.35oz
lemon juice – 2 teaspoons
Topping confectionery – for decoration
Food dyes (blue, black, orange) – for decoration
Instruction
cooking time 2 hours 20 minutes
Prepare products for Christmas homemade meringue.
Divide the eggs into whites and yolks. We won't Need the yolks. Make sure that not a single drop of yolk gets into the whites. Pour the whites into a clean, dry bowl.
Measure out the sugar and pour it into a bowl with the whites. When calculating the amount of sugar, be guided by the fact that the ratio of protein and sugar should be 1:2, sugar should be taken twice as much by weight as protein.
Mix the whites with the sugar with a whisk and put on a steam bath. For a steam bath, pour water into a saucepan for about 2 fingers, bring it to a boil, make the heat medium, put a bowl with a protein-sugar mixture on the pan, making sure that the bottom of the bowl does not touch the water. While stirring the mixture with a whisk, wait until the sugar crystals disappear. This will take about 5 minutes.
Pour the protein mixture into another bowl, it will have a temperature of about 60 degrees. to whisk the meringue, i used a kitchen machine, a large round whisk for whipping. You can beat the meringue with a mixer, but it will take more time.
Beat the protein mixture until it cools, and the meringue does not acquire a dense consistency, white color, glossiness, and the grooves from the mixer will not remain clear. About halfway through the whipping process, pour in the lemon juice.
Divide the protein mass into three parts – one part is left white, the second is tinted with a small amount of blue or blue gel dye, and the third – a little more paint over to get a deeper blue color.
Place the protein mass for the meringue in three pastry bags. I used the following tips: for meringue-snowmen made of white mass, a round nozzle with a diameter of 0.51inch (1.3 cm) is suitable, for blue meringue-a nozzle of  open star, for blue meringue – a small star.
Place the meringue on a baking sheet lined with baking parchment. You can come up with what will look like your meringues or look at a photo as I push them. it turned out snowmen, a couple of snowflakes and small snowflakes-stars.
Garnish with pastry sprinkles before drying. dry the meringue in a preheated 176F degree oven for about 2 hours. Meringues should be completely dry, easily separated from the parchment.
Snowmen can be decorated further by painting their faces with the help of gel food coloring. Christmas meringue is ready! Here are such sweet Christmas treats we have turned out, the children will definitely like it. Bon Appetit!
Christmas Gingerbread  Tree
. 3 Christmas recipes for sweet desserts.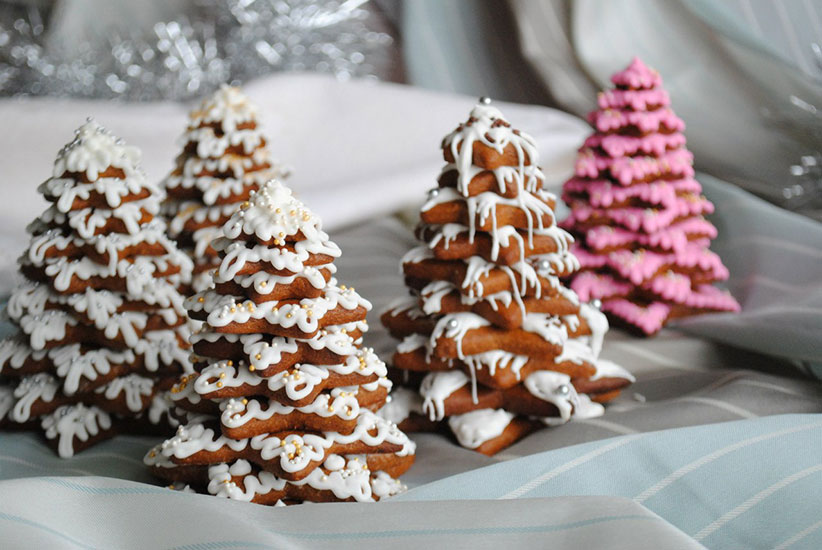 Creating a Christmas mood! We prepare delicious and beautiful Christmas trees from gingerbread.
Ingredients
Chicken egg 1 pc.
Sugar 5.29oz
Honey 3.53oz
Flour 12.35oz
Butter 3.53oz
1/2 teaspoon baking soda
Ground cinnamon 1/2 teaspoon
Ground ginger 1/2 teaspoon
White chocolate 3.53oz
Instruction
cooking time 2 hours
We prepare all the necessary products for the gingerbread dough. First of all, we rub the softened butter with sugar. Add honey and chicken egg.
Using a mixer, mix the butter with the eggs and honey until smooth. In the process of whipping, add soda and spices. In the resulting mass, sift the flour. Knead a homogeneous smooth dough.  Put the gingerbread dough in a cold place for 30 minutes.
After a while, roll out the dough to the required thickness. The thinner you roll out the dough, the more crispy the cookies will turn out and it will be much more convenient to collect the Christmas tree.
With the help of special molds, we cut out figures-stars of different sizes from the dough. Now we shift the blanks for gingerbread on a baking sheet covered with parchment paper.
Send the baking sheet in the oven for 10 minutes. I baked gingerbread in three sets. Ready gingerbread is allowed to cool. White chocolate is melted in a water bath or in a microwave at low power.
With the help of a pastry bag, we decorate the cookies with melted white chocolate at our discretion.
Now we collect the Christmas tree-we put gingerbread on top of each other from more to less. In order for the" Christmas tree " to hold well, during the assembly process, the center of each gingerbread is smeared with chocolate.
Gingerbread Christmas trees are ready! Delicious Christmas table decoration! I wish you a pleasant appetite and a great mood!