To date, beef of all types of meat is the most popular guest at the festive tables. This is due to its useful properties. After all, even adherents of a healthy lifestyle note that beef is a unique source of proteins and amino acids, which are vital for the human body. 3 delicious steaks recipes for the festive table.
What is marbled beef and what is the uniqueness of this type of meat? And indeed, thanks to the specific distribution of thin fat layers in the muscle tissue, the meat not only has a refined aroma, but also turns out surprisingly juicy and soft. The whole secret is in the thinnest fat layers, which under the influence of high temperature begin to melt, saturating the meat with additional juice and aroma.
It is because of the white streaks of fat on the pink meat that marble beef got its noble name. It is interesting that the uniqueness of its taste qualities is due to a special production technology, which is quite complex and lengthy, and therefore is a time-consuming and costly occupation.
Beef steak with lemon salsa
Prepare a sunny and bright dish in your kitchen-new york steak with lemon salsa. you will get an interesting combination of rich meat taste and refreshing lemon aftertaste.
How to cook a steak with lemon salsa in the oven
. 3 delicious steaks recipes for the festive table.
"New York" steaks are used for this recipe. This is a premium, very valuable meat from the lumbar muscles of the bull. "New York"steak is cut from a Striploin muscle. This is a soft fillet with low marbling and a bright taste. The meat can not be marinated and calmly cooked to a weak or medium degree of roasting. But if desired, you can use light buttery, dry marinades. Exactly what you need for this dish.
When cooking meat, try using different types of freshly ground peppers. It is advisable to heat the peas of peppers in a frying pan until the wrinkles are smoothed out on them, and then chop them. This pepper will be much more fragrant.
Ingredients:
designed for 2 servings
New York Steak 2pcs
Sweet potato 1pc
Broccoli 7.05oz
Garlic 2 cloves
Parsley 1 bunch
Shallot 1 piece
Chili flakes 1 pinch
lemon 1pc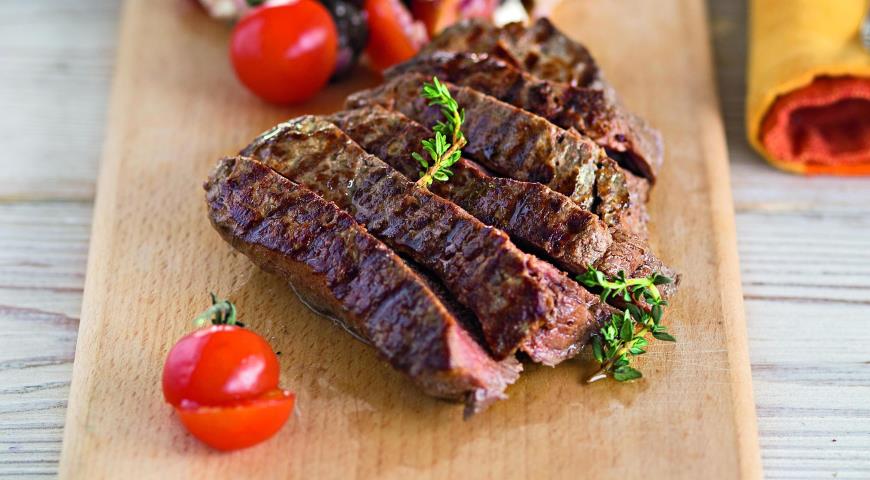 Instruction:
Cooking time 40 minutes
Preheat the oven to 392F degrees. Place the peeled and diced sweet potatoes and broccoli florets on a baking sheet lined with parchment. Drizzle the vegetables with olive oil, sprinkle with salt and pepper. Place in the oven and bake for 20 minutes. Check the readiness: vegetables should be soft if you touch them with a fork.
Peel and finely chop the shallots and garlic. Peel the lemon so that you get 2 teaspoons of zest. Finely chop the leaves and stalks of parsley. Pat the steaks with paper towels and season with salt and pepper on both sides. In a cast-iron skillet, heat 2 teaspoons of olive oil. Lay out the steaks and cook 3 on each side to get a medium rare roast. Then transfer the meat to a plate, cover with foil and leave for 5 minutes.
And in the pan, where there are meat juices, add another 1 tablespoon of oil. When it is hot, add the chopped shallots and garlic. Season with salt and pepper. Cook, stirring frequently, for 1-2 minutes. Turn off the heat, add the chopped parsley, lemon juice and chili flakes. Try and adjust the flavor with spices.
Sprinkle the baked vegetables with lemon zest and mix thoroughly. Slice the steaks across the fibers, drizzle with lemon salsa, and serve.
If you don't have yams, replace the "sweet potato" with carrots or pumpkins.
"New York" coffee-crusted steak
No steakhouse menu is complete without New York steak. The steak is very tasty, moderately fat and always juicy. Today we will try one of the best recipes-New York steak in a coffee crust.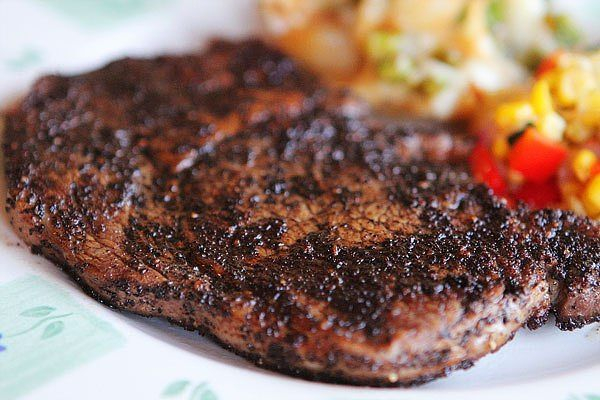 Delicious coffee-crusted steak
. 3 delicious steaks recipes for the festive table.
"New York" steak is cut from a cut of Striploin. It has a rich taste and a pleasant, elastic texture. Steak "New York" belongs to the premium, most valuable cuts.
Meat for "New York" steak can be quickly prepared even without pre-marinating. Breading with coffee, used in this recipe, will give a pleasant aroma of smoke.
If possible, leave the meat in a dry breading for 30 minutes. So it will be marinated and will be even more fragrant and delicious. Dry the steaks well with a paper towel before applying the spices. So they will be easier to apply to the meat. It is important that the breading does not separate during frying.
Ingredients:
designed for 4 servings
"New York" steak 4pcs
Ground coffee 3 tablespoons
Chili pepper 2 tablespoons
Brown sugar 1 tablespoon
Kosher salt 1 tablespoon
Black pepper 1 teaspoon
Oregano 1 teaspoon
Instruction:
Cooking time 25 minutes
Mix all the seasonings in a small bowl. Season each steak liberally on both sides with the spice mixture.
Place the seasoned steaks in a grill pan preheated to high heat. Cook for 4-6 minutes on each side, turning once, until the steaks reach 136.4 F for medium roasting. Remove the steaks from the heat, cover with foil and let rest for 5 minutes. Serve with baked potatoes and broccoli.
Grilled steak with "Texas" side dish
Juicy grilled steak with Texas side dish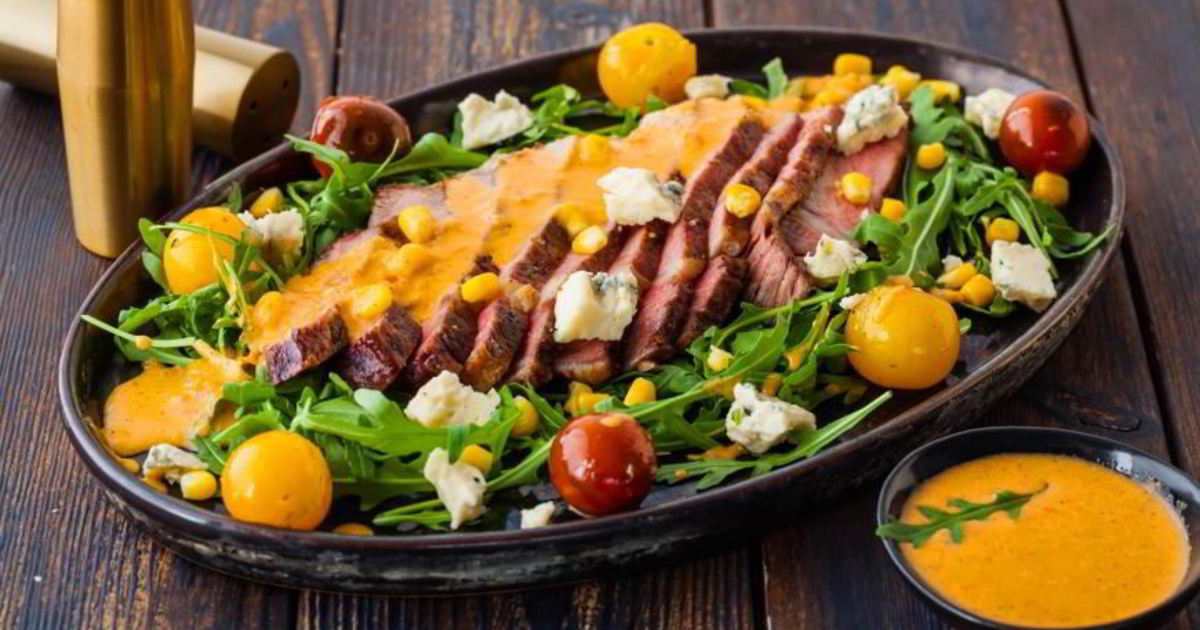 The cut of picanha, which we will use in this dish, is cut from the rump, the upper part of the thigh of the bull. It is a meat with a firm texture and low marbling. So that it is not hard, it must be properly prepared. But it's quite easy, since the Picanha is a thick strip of fat on one side. This is a valuable fat that melts during heat treatment and adds juiciness to the meat. At the same time, the bright beef taste of the cut is preserved.
The meat should be rubbed with the seasoning "Texas steak". this is a special blend of spices, in which there are several types of peppers, ginger, cinnamon, herbs and even malt. you can make this seasoning at home, which is always preferable, since freshly ground spices are more flavorful. But you can buy a ready-made mixture. If time permits, leave the meat, grated with spices, for a few hours in the refrigerator or for an hour at room temperature, so that it is well marinated.
Ingredients:
designed for 4 servings
Pickanha 28.22oz
Seasoning "Texas steak" 3 tablespoons
Sweet peppers 2 pcs
Red chili pepper 1 pc
Onion 1 piece
Smoked paprika 1 tablespoon
Garlic olive oil 2 tablespoons
Corn Cob 2 pcs
Butter 2 tablespoons
Parsley 1 sprig
Ground black pepper1/2 tsp
Sea salt 1 tsp
Instruction:
Cooking time 50 minutes
Preheat the oven to heat the picanha to room temperature, cut them into 4 steaks and rub with the Texas steak seasoning.
Place the hot and sweet peppers and onions on the oven rack. Do not peel or cut the vegetables. They should be baked to light scorch marks. The onion should become soft. Turn the vegetables over from time to time. The approximate cooking time is 15 minutes.
Then take out the vegetables, peel them and chop them finely. Mix them with smoked paprika and garlic olive oil. Season to taste with black pepper, sea salt and finely chopped fresh parsley.
To prepare the corn cobs, boil them in water with enough sea salt and black pepper. Remove the husks from the corn and cook for 25 minutes until tender. Fry the steaks Picanha in a cast iron skillet for 4-5 minutes on each side. For medium rare roasting, the internal temperature of the meat should be 125.4F . Place it on a plate and cover with foil. Let the meat rest for at least 10 minutes.
Cut the boiled corn into 3-4 pieces and fry in butter. Pepper to taste. serve the steaks with pepper salsa and corn. Instead of garlic oil, you can use regular olive oil and add garlic separately. Parsley can be supplemented or replaced with coriander. Bon Appetit!