7 Ideas for creating a manicure in the style of  Tiffany. Manicure in the style of Tiffany is an ideal option for an elegant image. It will add a touch of freshness, brightness and romance. In addition, the manicure will look great on both short and long nails. Try, create, and dare — and your hands will look stylish and attractive. Manicure Tiffany is suitable for any age. It looks harmoniously in any festive theme (wedding, birthday, school graduation, corporate party) and in everyday images. Noble colors emphasize the elegance and bright character of its owner. The distinctive feature of the style was the touchiness, fragility of the female nature, grace and slimness. "Nail" – the design should be as elegant and restrained as the image of its owner.
An important rule for creating a manicure Tiffany is to create neat and, most importantly, the same shape and length of nails. Before applying shellac or coating with ordinary varnish, it is important to conduct a thorough hygienic manicure: align, whiten the nail plate, get rid of the cuticle, clean the nails — in a word, bring them to perfection.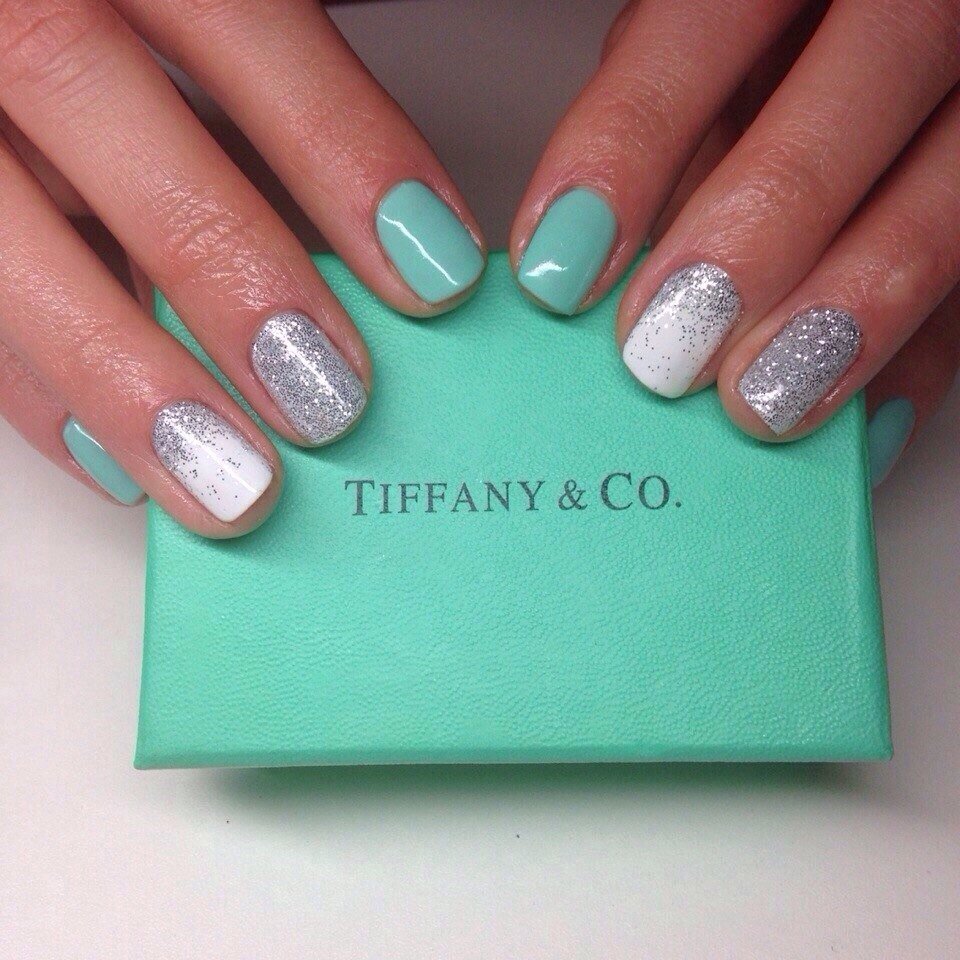 The versatility of the Tiffany manicure is the ability to use various techniques of "nail art". The main palette in the form of menthol and turquoise is the main component of the style. These shades are combined with any shiny elements (foil, rhinestones, sequins), but especially stand out "in duet" with decorative crystals.
To cover the nails of the master recommend gel-lacquers, as they last longer. For Tiffany it is important to maintain a neat and luxurious appearance, and scratches, scuffs, peeling varnish immediately catch the eye against the background of light tones of turquoise, aquamarine.
There are a huge number of techniques for covering nails in the style of Tiffany. Most girls choose classics, skillfully combining turquoise and pastel colors. For a specific occasion (formal or casual), you can choose the appropriate technique.
Bright manicure ideas
. 7 Ideas for creating a manicure in the style of Tiffany.
1.Monotony will be a universal solution for an image in the style of casual and office. Nails are covered with a matte or glossy varnish of such colors as turquoise, green-blue, mint, azure, aquamarine. It is enough to make a successful nail shape, as your look will be transformed. The Tiffany palette looks not boring and chic without additional deco
2. French or lunar manicure is associated with chic and Shine. Its owner is a touching and sensual nature with excellent taste. Combine shades such as turquoise and white, sky blue and beige, menthol and pink to achieve a wow effect.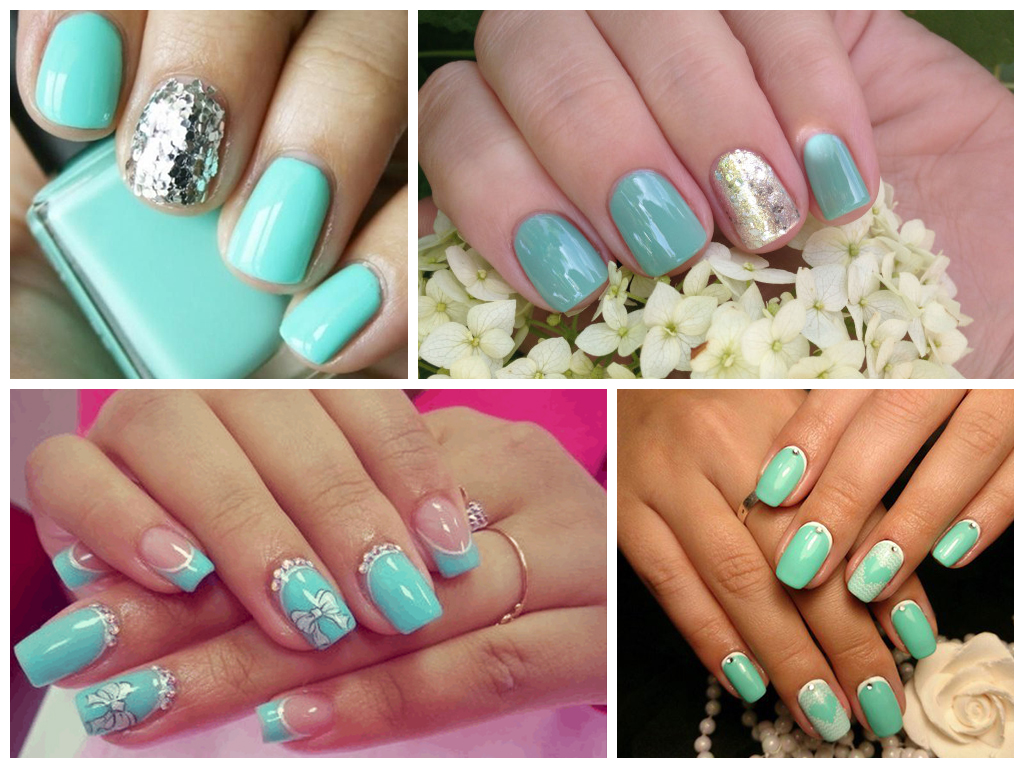 3. Gold elements will add a touch of sophistication and nobility to any evening look. To skillfully stand out at a corporate or friendly party, wedding ceremony or bachelorette party, combine the aristocratic restraint of turquoise and the expensive luster of gold.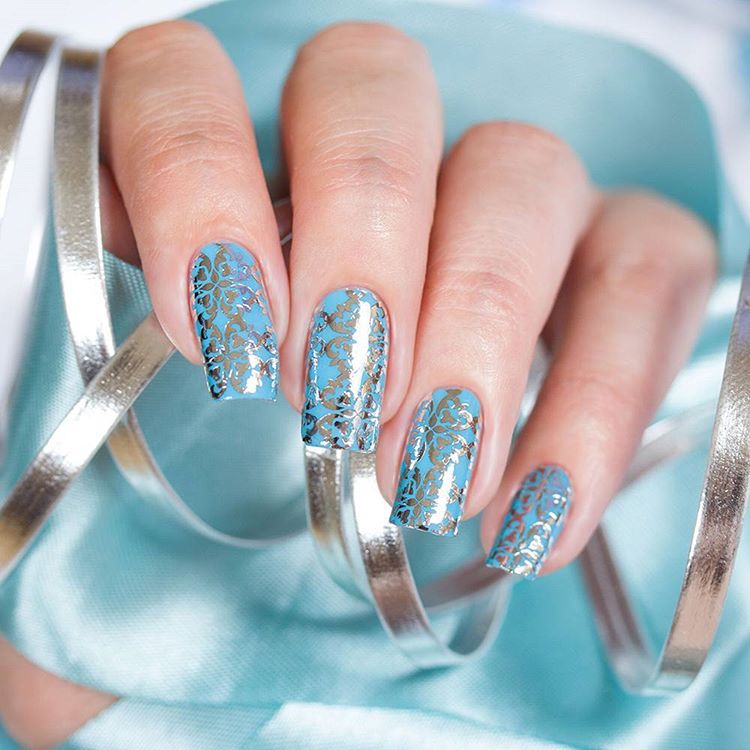 4. White and turquoise, especially in the technique of Ombre, look fantastic. A very gentle Flirty manicure with a minimalistic design can be thought of for everyday outings, cocktail parties, going to the theater or gallery.
5. Silver motifs also do not deprive look of nobility and style. In combination with the Tiffany palette, silver will reveal its splendor, sparkle with the nobility of metal and will certainly not leave your friends, colleagues, and men indifferent.
6. A combination of pink and pale blue, pale green and azure colors will add youth, ease and timidity to the image. This "Duo" can be represented in the technique of French, moon manicure or negative space reception.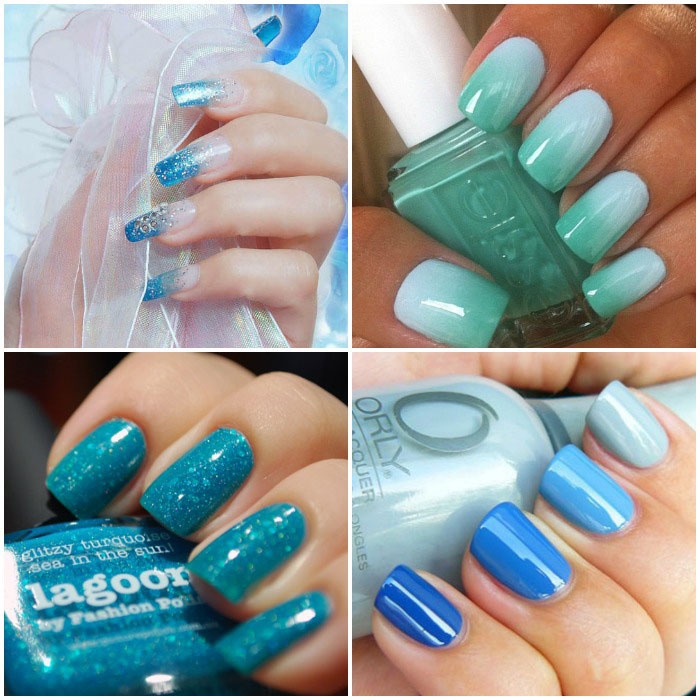 7. Openwork elements on a background of bluish hues-the height of nobility. It is impossible not to notice such beauty! Drawing Lacy ornate patterns on long nails is interesting combined in a palette of turquoise and white.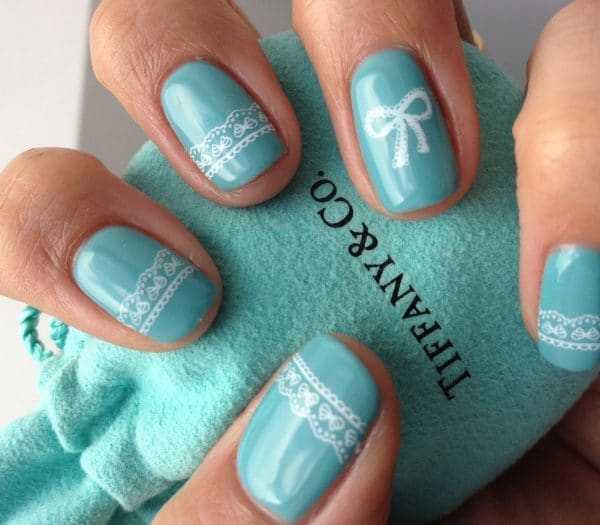 You can also prepare several winning combinations of shades for Tiffany: along with turquoise, light or dark beige looks great, closer to craft, coral, lilac, gray and orange.
Manicure in the style of the 50s is very popular among brides. Wedding makeup, dress, holiday decor-the mood of  Tiffany seems to be specially created for such events. Try to choose deep and rich colors of turquoise in combination with a shade of natural wood. Choose the appropriate pattern for the ceremony and complement the "nail" design with muted green, dusty blue and the color of the sea lagoon.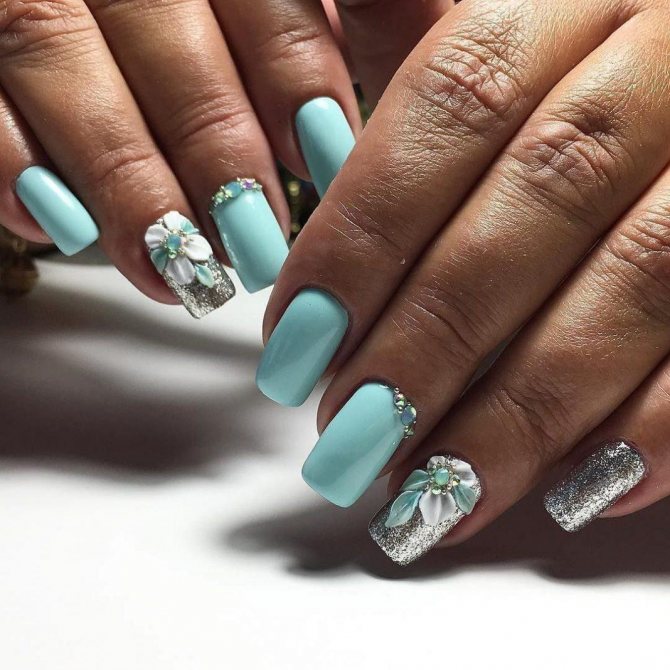 Quite popular will be painting nails in a floral theme using purple and lilac shades. The elegance of the image will give a fashionable Ombre, a noble "tandem" of silver and turquoise, emphasizing the freshness and naturalness of the image.
Don't be afraid to add a design. With it, the manicure always looks more stylish, bright and interesting. You want to focus on it, and look at the details.
Experiment with the finish. Try to combine both a matte and glossy top in your manicure. This option perfectly dilutes even a single-color coating.
Choose the perfect blue. Perhaps the problem with a bad manicure is that you just chose the wrong color. After all, there are an incredible number of tones or semitones.
How to make a Tiffany manicure at home. 7 Ideas for creating a manicure in the style of Tiffany.

It is very easy to make such a nail design. Just follow the instructions below:
Treat the nails with a nail file, giving them the desired shape. Almond-shaped, oval or square nails look best with a Tiffany-style manicure. Polish their surface with a buff and clean them with a lint-free cloth soaked in a degreasing agent.
Apply the primer in a thin layer. Wait a few seconds until the cosmetic product is absorbed into the nail plate. This tool will help you carry shellac longer. Some masters do without a primer, just cleaning the surface with a degreaser.
Paint your nails with the base. It is best to apply it in a thin layer and immediately turn your hands down so that the product spreads well and takes the desired shape. Polymerize it in the lamp.
Apply the gel polish you like. You can choose any popular shade of Tiffany, such as mint, white, blue or turquoise. Dry again.
Draw a bow on the nail of the ring finger with acrylic paint. It is best to use white or beige color. Wait until the print is completely dry, and apply a transparent matte or glossy top on top. Polymerize in the lamp and remove the sticky layer with a lint-free cloth soaked in a degreaser.
s for creating a manicure in the style of Tiffany.