And Hanukkah-the festival of light, comes to us exactly in order to console and remember that the darkness is dispelled, including with the help of sufganiyot. 3 delicious recipes for the holiday of Hanukkah.
Donuts Of Sufganiot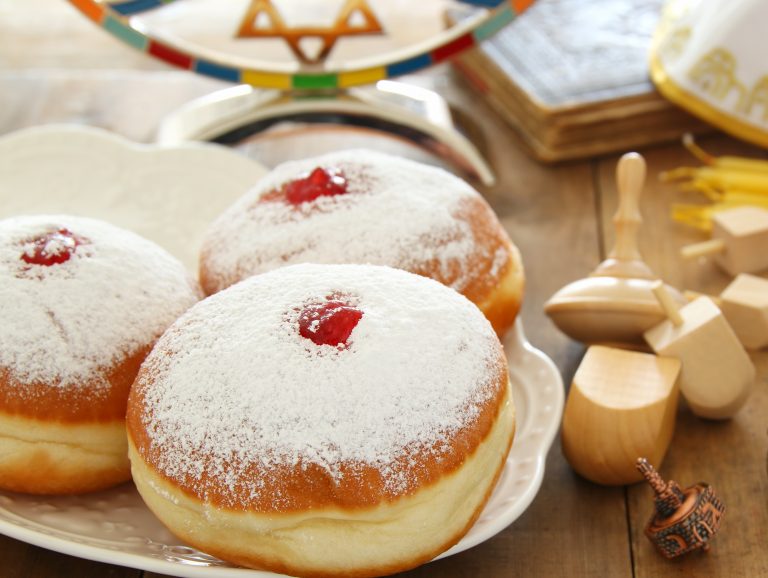 Doughnuts of sufganiot prepare for the holiday of Chanukah. The traditional fillings for sufganiyot is jam, jam, marmalade, top the doughnuts lavishly covered with powdered sugar. As a result, it turns out well, very tasty!
Ingredients for 5 servings
Milk 4.4 fl oz
Dry yeast 1/2 teaspoon
Flour 10.58oz
Egg 1 PC.
Butter 2 tablespoons
Olive oil 3 tablespoons (for dough) and 5.07 fl oz (for frying)
Sugar 2 tablespoons
1/2 teaspoon salt
Berry jam 8 tablespoons
Powdered sugar 1 tablespoon
The dish is symbolic, prepared in a large amount of oil (deep-fried), although for fans of more lean dishes, Hanukkah doughnuts can be baked in the oven.
Instruction
. 3 delicious recipes for the holiday of Hanukkah.
Cooking time one hour 20 minutes
Prepare the ingredients for doughnuts.
Add salt, sugar and yeast to the warm milk and mix. Then pour the olive oil and melted cooled butter into the milk. Add egg. Mix the ingredients with a whisk or mixer at a slow speed.
Add the sifted flour. Knead the dough until it comes together in a ball and will not come off your hands.
(I kneaded the dough with the kitchen machine for about 10 minutes.)
Tighten the dough bowl with cling film or cover with a towel and put it in a warm place for about 1 hour, until the dough has doubled in size.
Knead the dough on a floured work surface and roll it out into a layer. Cut out the donut blanks with a round mold or glass. Collect the dough scraps and also use them to make doughnuts. In total, you will get 16-18 donuts. Cover the doughnuts with a towel and leave for 20 minutes to rise.
Then, in a large amount of oil fry sufganiot on a slow fire. Turn the doughnuts frequently from one side to the other for even roasting, and make sure that the doughnuts are cooked inside and not burned on the outside.
Spread the fried doughnuts on napkins or a paper towel so that the excess oil is absorbed. When all the doughnuts are ready, fill them with a pastry syringe with jam, jam for the traditional version, or other filling, such as custard, condensed milk, or chocolate cream.
The final touch – sprinkle sufganiot powdered sugar. Sufganiot (donuts) ready. Sufganiot serve with any drink of your choice. Bon Appetit!
Latkes
Classic Hanukkah food. Traditionally, latkes are served with sour cream and applesauce.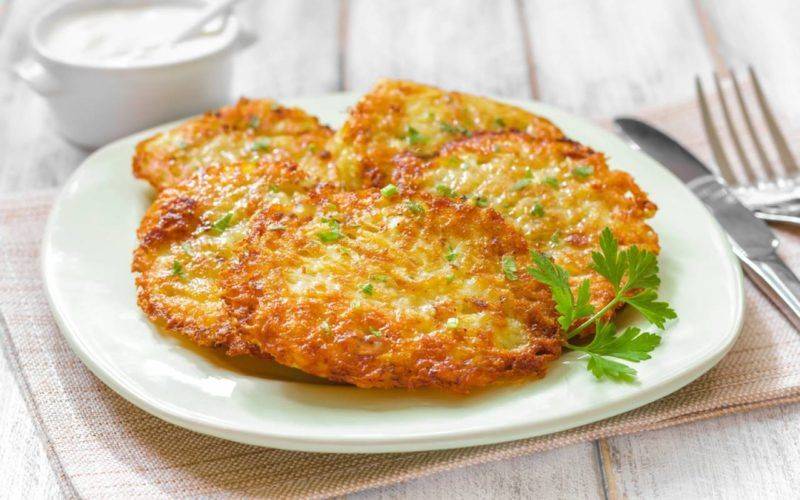 Ingredients
Designed for four servings
Large potato varieties 6pcs
large celery root 1pc
Eggs 3 PCs
Flour 1/2 Cup
Salt to taste
Extra virgin olive oil 5 tablespoons
Sour cream for serving 5 tablespoons
For applesauce:
Large apples 6 PCs
Lemon juice cinnamon 2 tablespoons
Instruction
Cooking time 45 minutes
Peel the potatoes and celery, grate on a coarse grater, and squeeze. Do not drain the liquid, but let it stand and separate into water and starch.
Return the defended starch to the potatoes, the rest can be poured out.
Whisk eggs and add to vegetables, stir and sprinkle in the flour, season with salt. Stir well to avoid lumps.
Pour the oil into a deep frying pan and heat it well. Put the pancakes in the pan in tablespoon portions and fry over medium heat on both sides.
Prepare applesauce. Peel the apples and seeds, grate them on a fine grater, and season with cinnamon and lemon juice. Serve with pancakes and sour cream. Bon Appetit!
Falafel in a pit with yogurt and coriander
. 3 delicious recipes for the holiday of Hanukkah.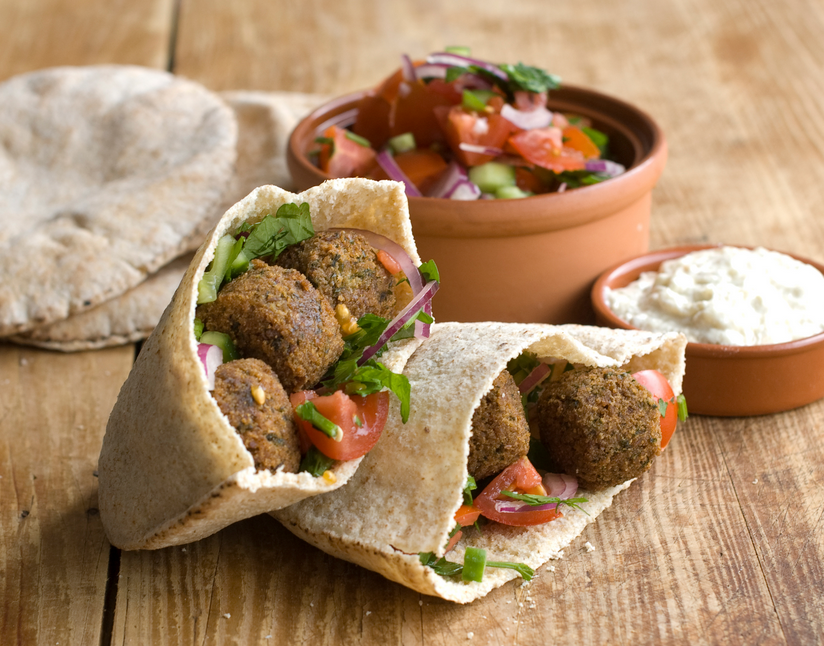 Ingredients
Designed for four servings
Natural yogurt 1 Cup
Vegetable oil for deep frying
Salad leaves for garnish
Cayenne pepper to taste
Coriander 1 large bunch
Garlic 4 cloves
Cumin 2 teaspoons
Shallot 1 small onion
Ready chickpeas (cooked or canned) 10.58oz
lemon (zest, juice) 1/2 lemon
Pita 4 PCs
Flour 1/2 Cup
1 large egg
hard tomatoes for garnish
Instruction
. 3 delicious recipes for the holiday of Hanukkah.
Cooking time 25 minutes
For the dressing, mix the yogurt, 1 clove of garlic, half a bunch of chopped coriander, lemon juice and zest. Season with cayenne pepper and salt and refrigerate. Mash the chickpeas, add 3 tablespoons of flour, very finely chopped onion, cumin, remaining chopped coriander and garlic, and knead until smooth. Add the egg, salt and pepper, and mix again.
Preheat the deep-frying oil to 356F degrees. From the resulting mass, form falafel balls the size of a ping-pong ball, make them slightly flat, roll in the remaining flour and deep-fry until Golden brown, 8 minutes on each side. Dry on a paper towel. Preheat the pitas in the oven, cut off 1/3, and open. Put 1-2 falafel balls inside, tomatoes and lettuce cut into circles, and pour yogurt dressing over them. Bon Appetit!