An appetizer for summer soft drinks should be a little salty and with a pronounced taste, and cookies with aromatic herbs are a suitable option. Healthy breakfast 24: Cookies with cinnamon parmesan and herbs.
Such unsweetened cookies turn out to be very fragrant, delicate and crumbly. The only drawback of such cookies is that it is simply impossible to stop at a couple.
Ingredients:
Coconut oil at room temperature 3.53oz
Parmesan cheese 3.53oz
Wheat flour 7.0oz
Chopped herbs (for example, rosemary, thyme and sage) 2 tablespoons
Salt ½ teaspoon
Ground black pepper ¼ teaspoon
Cinnamon 1 teaspoon
30-60 pcs. (depending on the size), baking at 356F°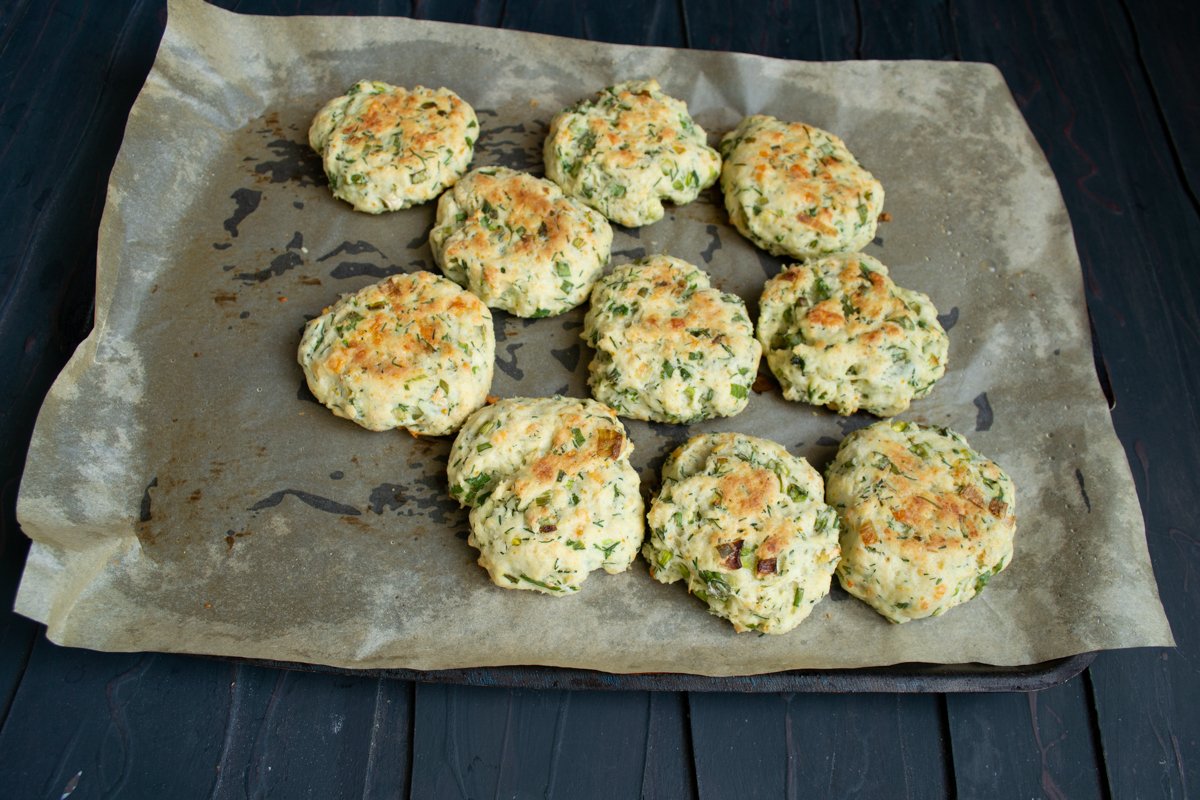 Instruction:
Grate the parmesan on a fine grater. I chop rosemary and sage coarsely before using it in my work.
Put all the ingredients in the blender bowl, except the butter. Mix for a few seconds. Add the butter, turn the blender on at the highest speed and turn it off as soon as the dough begins to become more or less homogeneous.
Place the loose dough on a lightly floured surface and knead quickly. Divide the dough into 2 parts and lightly remember them in your hands. From each part, form a ball, then a sausage. If the dough does not keep its shape, form the ball again, then the sausage. I make medium-sized sausages.
Wrap each sausage in plastic wrap, making sure that the edges are tightly sealed with film. Put the dough in the refrigerator for an hour.
Cut the sausages into circles and put them on a baking sheet covered with parchment. Place the baking sheet in the oven on a medium level. Bake the cookies for 10-15 minutes, until they begin to brown at the edges. If you have made a larger cookie, bake a little longer.
Allow the liver to cool on a baking sheet. The most delicious cookies will be on the day of preparation. You can prepare the dough in advance, cut it and put it in the refrigerator, and bake cookies right before serving.
The Council. Healthy breakfast 24: Cookies with cinnamon parmesan and herbs.
You can do it in another way: roll out the dough between two sheets of parchment and cut out cookies using cupcake molds (or cookie cutters, or cups). With this method, you can put whole green leaves on the blanks and lightly press them into the dough with a rolling pin. Rosemary, saffron, thyme and parsley-any will do.
You can make cookies without greens by panicking it in ground paprika. It will perfectly set off the taste of cheese. Bon Appetit!