Cosmetic ubtan is a product that can replace a scrub, body soap, mask, or facial cleanser. This is a natural beauty product made from numerous components that are healthy for the skin in the form of a fine powder. It is based on various varieties of flour. Herbs and flowers are used as additives. 7 recipes how to make a cosmetic product for the face of ubtan?
Ubtan is diluted with water, vegetable broth, or oil before use. There are many types of it — from the simplest (only 2-3 components) to more complex (not only herbs, but also pieces of fruits and berries, spices, even precious minerals). And you can prepare each of the products yourself. The main thing is to understand exactly what your skin needs.
The basic rules for the manufacture of cosmetic ubtan for the face
The compositions of cosmetic ubtan are very different. It all depends on what exactly you are going to do the product for — cleansing, moisturizing, or nourishing the skin.
Whatever useful additives you use for ubtan, you can adhere to the following proportions:
Ingredients:
2 parts of flour,
4 parts of plants,
1 part of cosmetic clay.
The dry components are mixed and thoroughly ground into a fine-grained powder. The finished product is then better to additionally sift.
Start by selecting the basis of ubtan. It can be corn, oat, flax, barley, coconut, pea, or nut flour. It is easy to prepare it yourself by grinding grains, cereals, or nuts in a coffee grinder.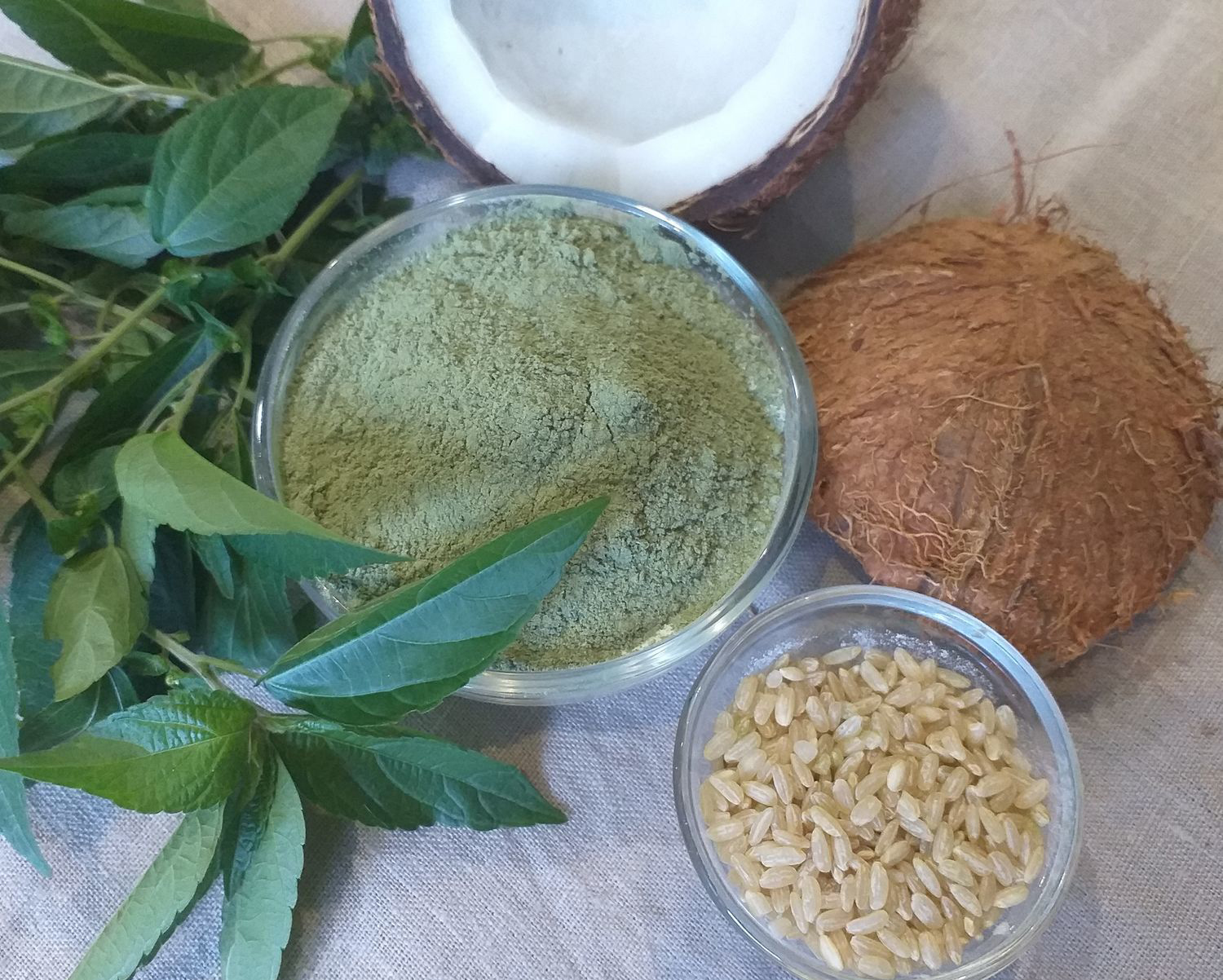 When choosing herbs, you can proceed from your own preferences and skin characteristics. In facial care, you can include a variety of medicinal plants and fragrant flower buds, if you know for sure that you do not have an allergy to them. They certainly introduce spices and spices into the composition of homemade chestnuts — turmeric, cinnamon, ginger, nutmeg.
So that the product not only moisturizes and nourishes the skin but also cleanses, forming a light foam, soapy substances (saponins) are introduced into the recipe. The list of such components is not so large, but they can also be obtained — licorice root, sage, flax seeds, horsetail, birch leaf, lime blossom, and soapwort. Prepare нealthy ubtans for facial care.
#1. Moisturizing dry skin
Owners of dry skin can be quite problematic to choosing cosmetics for washing and cleansing.
If you decide to use home cleaning in care, it should contain components that have the most gentle effect on the skin and give additional hydration.
Try to make such a tool:
Ingredients:
Oatmeal 1 tablespoon
Chamomile flowers, strawberry leaves, sea buckthorn 1 teaspoon each
Nutmeg and cardamom 1/4 teaspoon each
Instruction:
Grind the components in a coffee grinder, and transfer them to a jar. Before using ubtan, dilute a small amount of it with rose or calendula hydrolate. Apply the composition to the face, massage for 1-2 minutes, and then rinse with warm water. After the procedure, the skin will be well-cleansed and moisturized.
#2. Toning and refreshing the skin
When it's hot outside, try using a tonic fountain with mint and sage for the morning washing procedure. The fragrant product will not only clean the skin well but also refresh it, give a healthy glow.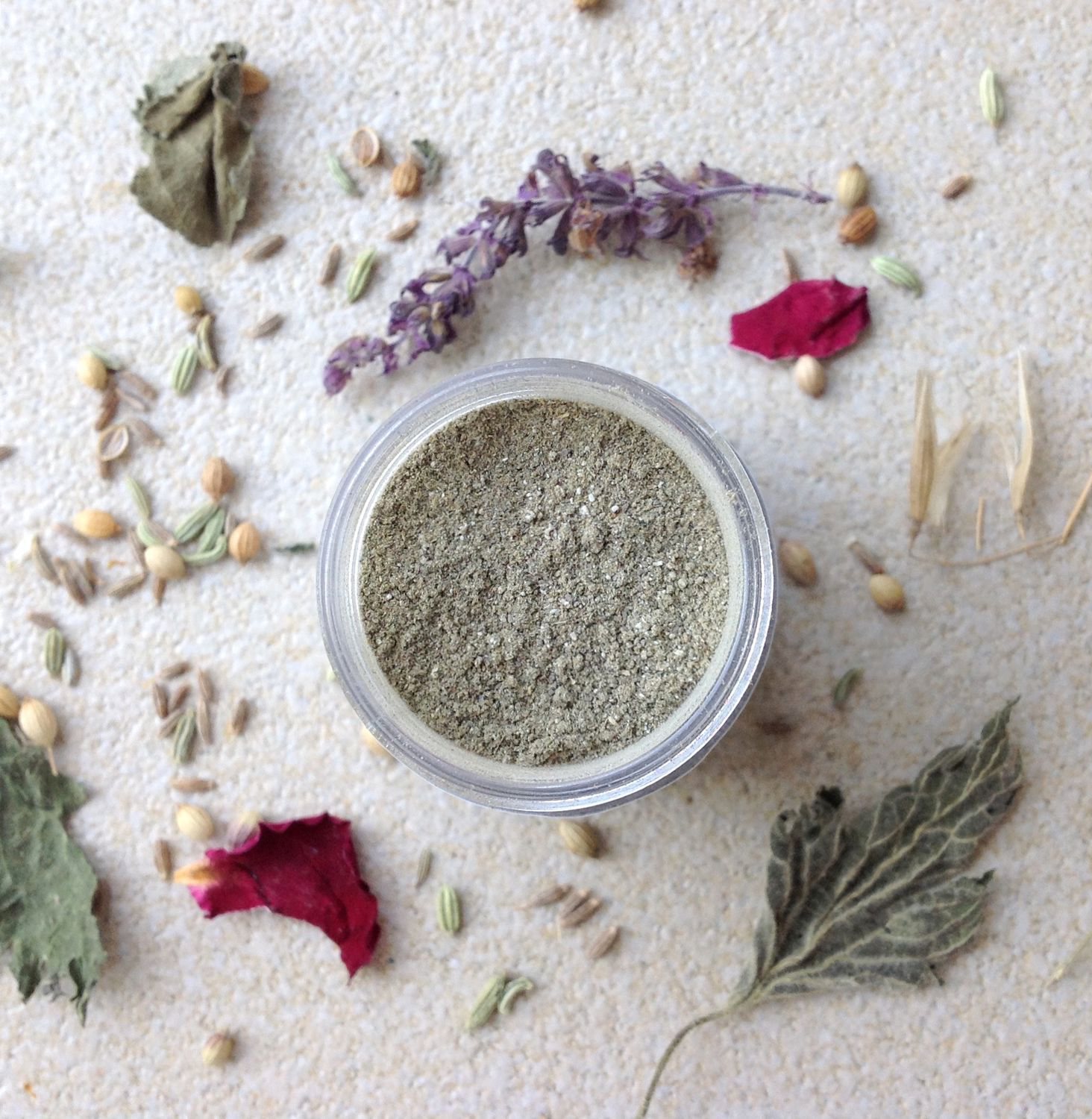 Take the following components:
Ingredients:
Almonds 1 tablespoon
Dried mint, green tea, lemon balm, and sage 1 teaspoon each
1/2 teaspoon dried lemon zest
Instruction:
Chop the herbs, zest, and nuts, and mix well. Before using ubtan, dilute a portion of the dry product with mint hydrolate or freshly brewed green tea. With light massage movements, wipe the face with the composition (like a foam for washing) and immediately rinse with warm water.
#3. Matting of oily skin
If the face often glitters from the active work of the sebaceous glands, try matting the problem T-zone with a mask made of natural chestnut. The composition will contain components that slightly dry the skin.
The following components will be required:
Chickpea flour 2 tablespoons
Dry lemon zest 1 teaspoon
Black clay 1 teaspoon
Nettle, chamomile, sage, 1 teaspoon
Basil, mint, eucalyptus leaves, 1/2 tsp.
Grind the prepared components to the desired texture in a coffee grinder. To prepare a mask, dilute a small amount of ubtan with warm water. Apply the mass to the skin, and leave for 15 minutes. and rinse it off.
#4. Prevention of early wrinkles. 7 recipes how to make a cosmetic product for the face of ubtan?

In the care of fading skin with emerging wrinkles, herbal teas containing natural antioxidants are useful. The prepared cosmetic product can be used as a scrub or mask. Ubtan is not able to remove deep wrinkles, but it will moisturize and smooth the skin, returning it to its natural radiance.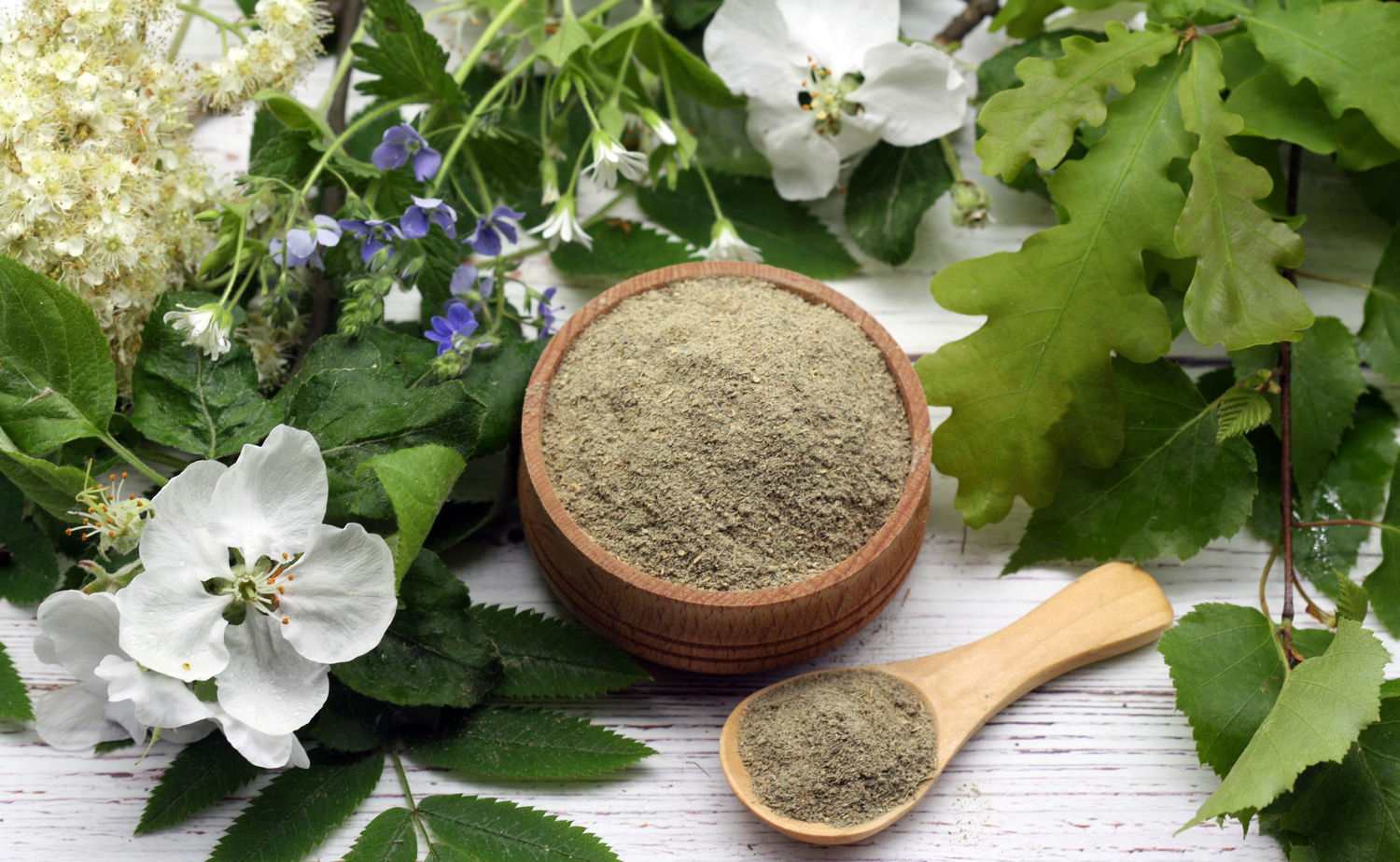 The following components will be required for ubtan:
Flaxseed flour 2 tablespoons
Cornflower, rose petals, chamomile flowers, licorice root, and sage 1 teaspoon each
Cinnamon, ginger, and turmeric 1/4 teaspoon each
Mix the ground raw materials, and transfer them to a glass container. To dilute the remedy for the procedure, use any flower hydrolate or herbal decoction. Any base oil can be added to the composition of the ready-to-use ubtan.
#5. Care for sensitive skin. 7 recipes how to make a cosmetic product for the face of ubtan?

Early wrinkles, irritation, and redness from negative external factors, dryness, and peeling — this is not a complete list of problems faced by owners of sensitive skin. Let the composition of the homemade ubtan be as simple as possible. The components should not irritate the delicate skin.
Ingredients:
Corn flour 2 tablespoons
Lavender, chamomile, and calendula 1 tablespoon each
Grind the raw materials, and mix. Use ubtan to wash your face or instead of a scrub, dilute the composition with water.
#6. Cleansing and nourishing the skin of the body
Use ubtan instead of soap or shower gel. The natural remedy will effectively clean the skin, providing a soft scrubbing. Properly selected herbs will help to soften and nourish the skin. To make the fountain foam a little and gently glide over the skin, enter more licorice root into the composition.
Prepare the following set of components:
Coconut flour 3 tablespoons
Licorice root and dry grapefruit zest 2 tablespoons
Chamomile, calendula, ginseng, mother-and-stepmother, echinacea 1 teaspoon
Dried rowan berries 2 tablespoons
Chop the plants, berries, and flour, and mix. Distribute a portion of the ready-made ubtan on a washcloth, moisten, and wipe the body with it.
#7. Herbal scrub/ mask-ubtan. 7 recipes how to make a cosmetic product for the face of ubtan?

Using this natural and unique tool, which is easy to make with your own hands, we combine washing, soft peeling, and nutrition in one process. To prepare an herbal scrub mask, you will need herbs, oat flakes, and cosmetic clay. These simple components can be used to make a universal skin care product.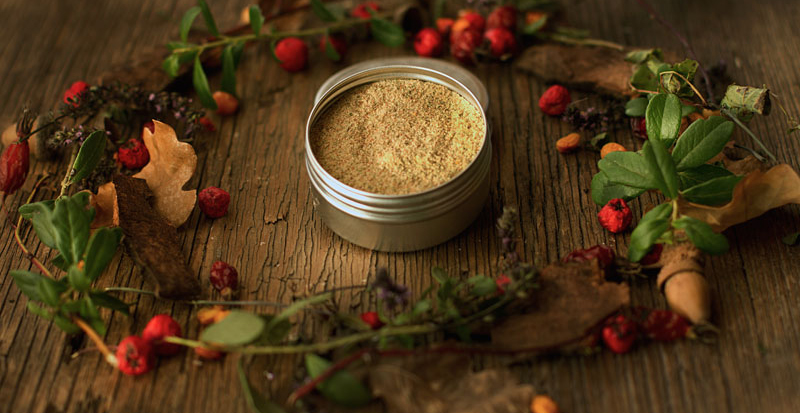 Approximate percentage of incoming components in ubtan:
Herbs 4 parts
Oatmeal or other flour 2 parts
Clay 1 part
How to make ubtan:
1. Chop the parts of the plants so that it is convenient to put them in a coffee grinder. Then grind the herbs to a fine powder. Remember, the less grinding, the better.
2. Now sift the resulting powder through a fine sieve. As a result, you should get a very gentle powder, without solid particles. By the way, large parts of plants that remain after sifting can be used in the preparation of other means for washing.
3. Then grind the oat flakes to a powdered state. You can take corn or chickpea flour.
4. Now the actual process of compiling the ubtan. So, take 4 tablespoons of a mixture of chopped herbs, then 2 tablespoons of oat flour, and 1 tablespoon of cosmetic clay. Combine everything in a nice jar with a tight lid. Close the jar well and shake it several times so that the components are mixed.
5. If there are essential oils of good quality, add 2-3 drops to 1.76 oz of ubtan. For oily skin, lavender, lemon, and rosemary are suitable; for dry – rose, geranium, and rosewood; for problematic-tea tree, eucalyptus, and lavender.
6. Herbal scrub mask is ready!
7. This is an approximate ratio of components. For the first time, make the composition, for example, not with tablespoons, but with teaspoons. If you try to use it, this ratio may need to be adjusted in your case. If the skin is dry, you can completely exclude clay and add powdered milk. If it is greasy and problematic – on the contrary, you can increase part of the clay.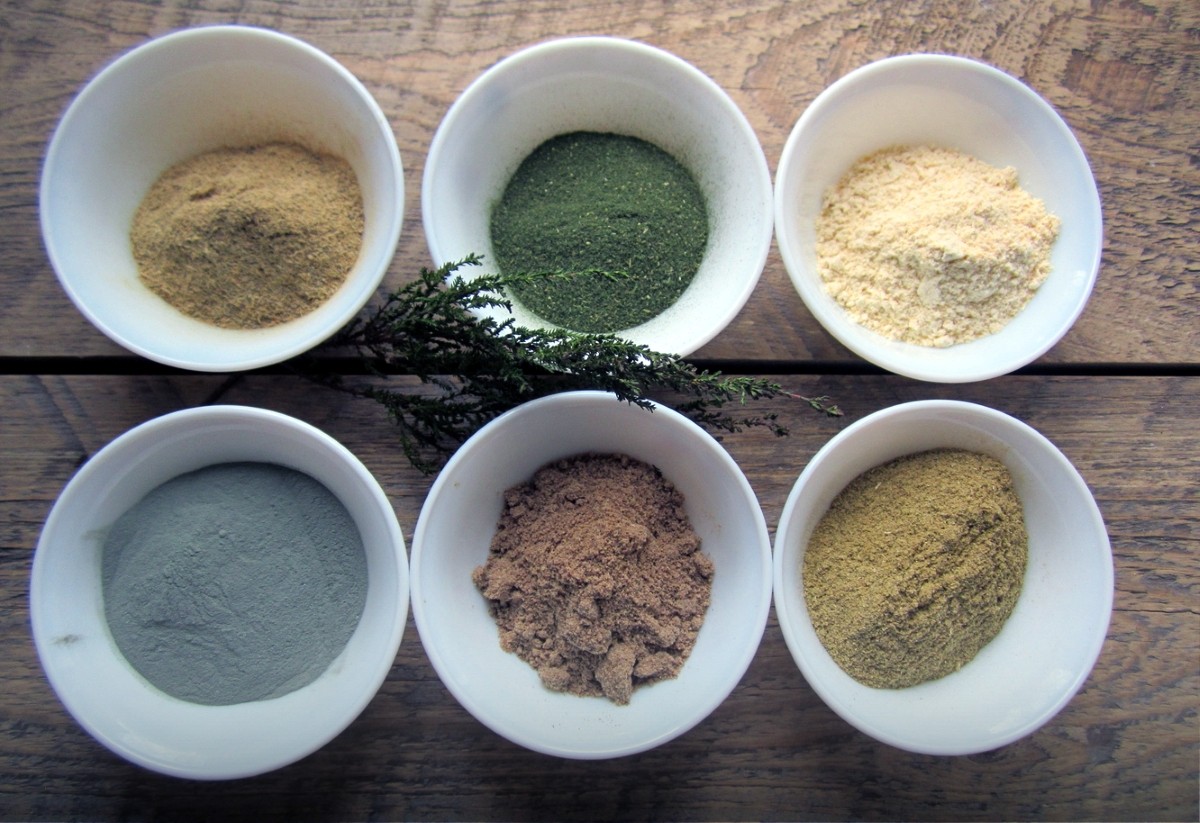 How to use ubtan:
Dilute half a teaspoon of the herbal mixture with liquid. For dry skin, honey water, milk, cream, and infusions (linden, mallow, flaxseed, etc.) are suitable for use as a mask, you can add base oils, honey, and sour cream. For oily skin, it is better to use an acidic and low-fat water part – this is yogurt, kefir, yogurt, juices, water with vinegar, and infusions of appropriate herbs.
The liquid should be added so that a soft, thick gruel turns out. Then apply a mixture of herbs to the face with massage movements and massage lightly. In this case, the herbal mixture will have the effect of a soft scrub. If you leave such a gruel for 5-10 minutes, you will get a mask. Be sure to monitor the reaction of the skin. Do not use this cleanser with severe inflammation on the face, wounds, ulcers, and furunculosis! The shelf life of the finished ubtan is about 6 months.