We will share recipes for delicious and simple toasts and sandwiches that you can cook at home using any kind of grill. 5 Recipes for hot grilled sandwiches.
1.Hot sandwich with ham and herbs
A simple and nutritious sandwich is perfect for a delicious breakfast or a quick snack at home, on vacation or at work. It includes products that can be found in any kitchen.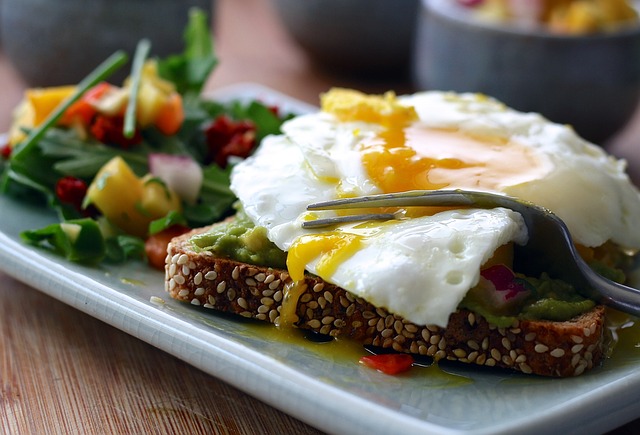 Like what you're reading? You can sign up for Medium using my affiliate link. Just $5 a month to read an unlimited number of articles and help me create further. Together we will move mountains!
https://elenasunshinemagazine.medium.com/membership
Ingredients:
White toast bread 8 slices
Butter 2 tablespoons
Ham   5.29 oz
Cheese hard 7.5 oz
Chicken eggs 4 pcs.
Herbs to taste
Salt, pepper to taste
Instruction:
Cooking time 10 minutes
Remove the butter from the refrigerator and let it melt at room temperature.
When it softens, take the pre-sliced bread and generously spread each of the eight pieces with butter on one side.
Turn four slices of bread with the dry side up, put ham and two thin slices of cheese on them.
Cover with the remaining bread slices so that the butter side is on top.
Put the sandwiches in the preheated grill. Do not forget to leave a small distance between them to avoid sticking together the melted cheese. If you have a pressure grill, then try not to cover the sandwich tightly so that the filling does not deform.
Alternately break the eggs into a hot frying pan. Fry them so that the yolk remains semi-liquid.
Combine both parts of the dish, laying the glaze on top of the sandwiches.
If desired, the eggs can be slightly salted, peppered and sprinkled with herbs. A hearty snack is ready!
2. Beef and arugula sandwich

. 5 Recipes for hot grilled sandwiches.
This method of making hot sandwiches can be called one of the most interesting, but time-consuming. However, be sure – the efforts will definitely not be in vain! As a result, you will get a nutritious, healthy and delicious sandwich with meat.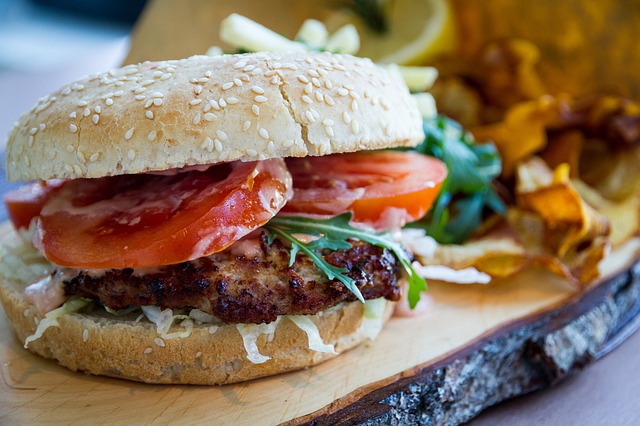 Ingredients:
Bread 12 slices
Beef fillet 22. 92 oz
Garlic 2 heads
Red onion (chopped) 2 tablespoons
Cucumbers 2 pcs.
Cherry tomatoes 9.87 oz
Balsamic vinegar 1 tablespoon
Arugula 1 bunch
Hot chili peppers 1 pc.
Butter 1 tablespoon
Thyme 5 sprigs
Olive oil 2 tablespoons
Sea salt and ground black pepper to taste
Instruction:
Cooking time 40 minutes
Combine sea salt and black pepper in a mortar, rub the mixture well into the chilled meat.
Then pour olive oil into a hot frying pan and fry the beef fillet soaked in spices on both sides until you get an appetizing golden crust. It will take no more than 2 minutes.
Sprinkle the beef with chopped garlic and thyme. Pour melted butter on top.
Next, preheat the oven to 392F and bake the meat in it for 16-18 minutes.
Remove the fillet and wrap it with foil. Thus, the meat should cool for 15 minutes.
For the sauce, heat the remaining olive oil in a frying pan, add finely chopped red onion and peeled chili pepper. Fry the vegetables over medium heat for 5-6 minutes, then add the tomatoes to them and simmer for another 8 minutes. At the end, season the sauce with balsamic vinegar.
Brush the pieces with a small amount of olive oil, season with salt and pepper. Cut the beef fillet into slices.
Start assembling the sandwich: first put the arugula, cucumber slices on the bread, then the meat, abundantly watered with tomato and onion sauce. Cover the top with a second piece of ciabatta.
Grill for 4-5 minutes until crispy.
3.Grilled mushroom sandwich
Champignons are one of the most common mushrooms on the planet. And they were awarded this title due to their delicate taste and delicate aroma. Fortunately, today these mushrooms are available to absolutely everyone, and you can cook anything from them. Including warm grilled toast, the recipe of which we will now share with you.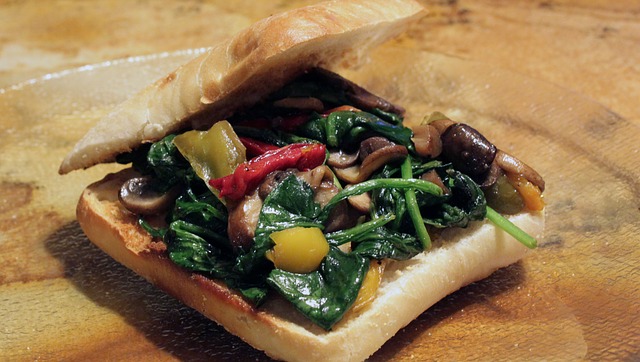 Ingredients:
Fresh champignons 8.81 oz
Hard cheese 7.0 oz
Toast bread 4 pieces
Red sweet onion 1 piece
Butter 1 tablespoon
Fresh chopped parsley 1 tbsp dry
thyme 1 teaspoon
Vegetable or meat broth ¼ cup
Garlic 3 cloves
Olive oil 1 tablespoon
Instructions:
Cooking time is 16 minutes
Fry the peeled and chopped onion in a blender in olive oil over low heat for 6-8 minutes.
Next, add thyme, garlic, parsley, and mushrooms cut into small plates.
Continue frying the sandwich filling for another 11-12 minutes.
Pour the broth into the pan and simmer the dish until the liquid has completely evaporated.
Season with salt and pepper.
Now take the slices of bread and brush them with butter on one side.
Put the mushrooms and onions on the bread and sprinkle with grated cheese on top.
Cover the sandwiches with the remaining bread and send them to the grill.
4.Grilled salmon and avocado sandwich
. 5 Recipes for hot grilled sandwiches.
Fish sandwiches are not only appetizing, but also incredibly useful. Such a product has a high nutritional value. Due to the large amount of protein, vitamins and trace elements, fish is ideal for a diet menu.
And the beneficial omega-3 and omega-6 fatty acids in its composition help to maintain the beauty and health of our body. That is why it is recommended to cook fish dishes as often as possible. So take note of the following recipe for grilled salmon sandwich.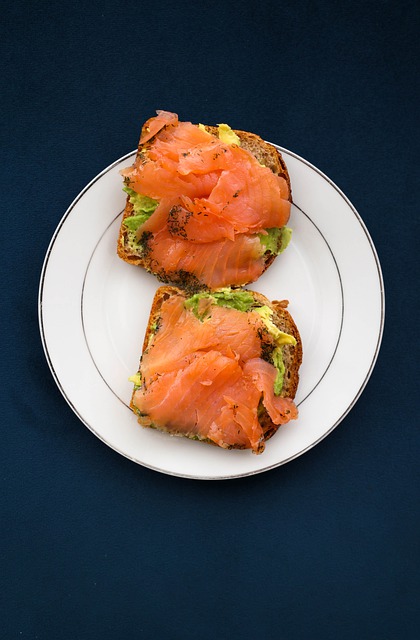 Ingredients:
Salmon steak 8.81 oz
Seasoning for red fish 1 teaspoon
Dijon mustard 1 tablespoon
Natural honey 1 tablespoon
Ripe avocado 1 pc.
Baguette 6 pieces
Sweet chili sauce 3 teaspoons
Green onion 2 tablespoons
Instructions:
Cooking time 50 minutes
Rinse the fish well and dry it on a paper towel so that excess moisture leaves it.
Next, transfer the piece to a container and sprinkle with dry seasoning. Cover tightly with a lid and leave to marinate for 25-30 minutes.
During this time, cut the baguette at an angle and place the resulting slices in the grill for 2 minutes so that they dry, brown and become crispy.
Next, make the sauce. To do this, mix honey with mustard.
Cut the avocado in half and remove the pulp from it using a spoon.
Wrap the fish in foil after it has been marinated and send it to the grill for 16-18 minutes.
After this time, the salmon needs to be taken out, cleaned of bones and skin, crushed into small pieces.
Just before serving, brush all the pieces of the baguette with honey-mustard sauce, and then put on them mashed avocado pulp, fish and a teaspoon of sweet chili sauce. Sprinkle with chopped onion.
5.Hot sandwiches with cheese, sausage and tomatoes
This dish will definitely appeal to both adults and children. Thanks to its balanced composition, it will help to quickly satisfy hunger. And a fragrant toasted sausage and a crispy crust will give a special pleasure!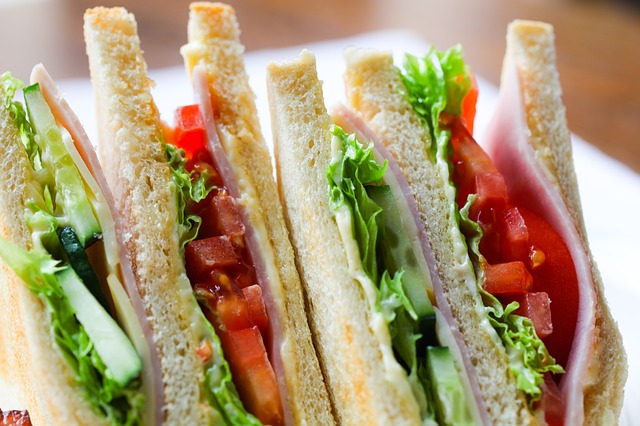 Ingredients:
Sausage 5.29 oz
Tomatoes 1 pc.
Toast bread 4 slices
Mozzarella cheese for sandwiches 2 plates
Butter 1 tablespoon
Tablespoon mustard 1 teaspoon
Instructions:
Cooking time 12 minutes
Take two pieces of bread and spread them with butter on one side.
Season the other two slices with mustard. Choose the thickness of the layer yourself, depending on how much you like spicy.
Put cheese plates on toast with butter.
Place the sausage, which you first need to fry a little in a dry frying pan or grill, on top of the cheese. Put tomatoes on top, cut into rings.
Bread greased with mustard completes the composition. And you need to put it dry side up.
Don't forget to preheat the grill well before putting the sandwiches in it. Their roasting time will be 2-3 minutes.
If desired, you can add a pinch of dill to the dish. It will make the cheese taste more piquant.
We have shared with you only five recipes for hot sandwiches that can be cooked on the grill. In fact, there are much more of them: with different types of meat, cheeses and even purely vegetarian. There is a perfect sandwich for any gourmet! Bon Appetit!