Shrimp dishes are always a great idea! If you need to cook something special, if guests are on the doorstep, and time is running out. Light soups, salads and snacks with these seafood are ideal for dinner and healthy for the whole family. Of course, it is important to have a proven recipe, and even better — as many as ten! 5 recipes for quick cooking with shrimp.
1. Timballo with shrimp and broccoli
First – put the kettle on and boil some water – so you will cook pasta very quickly! Secondly, turn on the oven to maximum – let it warm up while you cook pasta! We use vegetable paste – it has a special taste that goes well with shrimp and broccoli! Well, parmesan adds flavor and zest! The dish is nutritious and not heavy – a great dinner came out in half an hour.
Ingredients:
Designed for two servings
Pasta 200 pcs.
Fresh broccoli 7.0oz
Shrimp 8.82oz
Cream 1/2 cup
Parmesan 2 tablespoons
Nutmeg 1 teaspoon
Salt to taste
The nutritional value of a serving is 2051 k Cal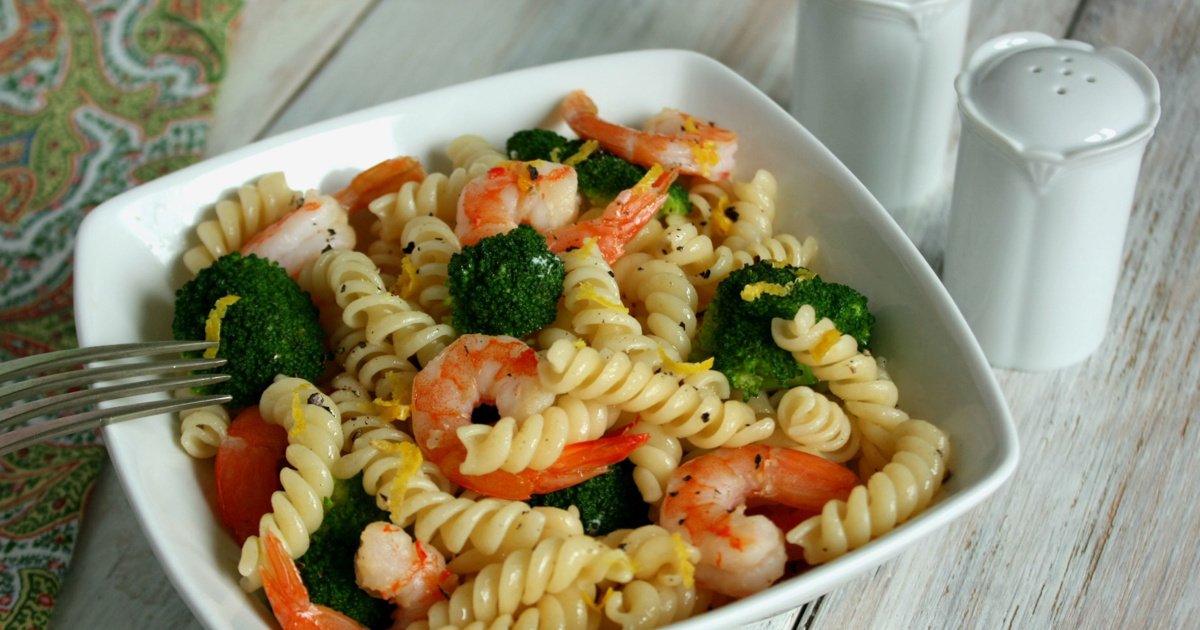 Instructions:
Cooking time 30 minutes
Boil the pasta until it is half cooked in boiling salted water (4-5 minutes).
Shrimp and broccoli need to be thawed in advance, (for example, in the morning to go to work), and in the evening to cook dinner quickly! If they are frozen, throw them into a pan with pasta and cook for a few minutes as well!
Add nutmeg, salt and pepper to the cream. Put the pasta in a baking dish, greased with oil. Spread the shrimp and broccoli inflorescences on top, pour all the cream and sprinkle with grated Parmesan. Bake for 15-20 minutes at 392F. Serve immediately and eat with pleasure!
2. Risotto with shrimp, green peas and mint
First, the rice is fried and only then the onion is added, the taste is brighter. Cheese is usually not put in risotto with seafood, but dill or parsley can be added — they go well with fish and shrimp.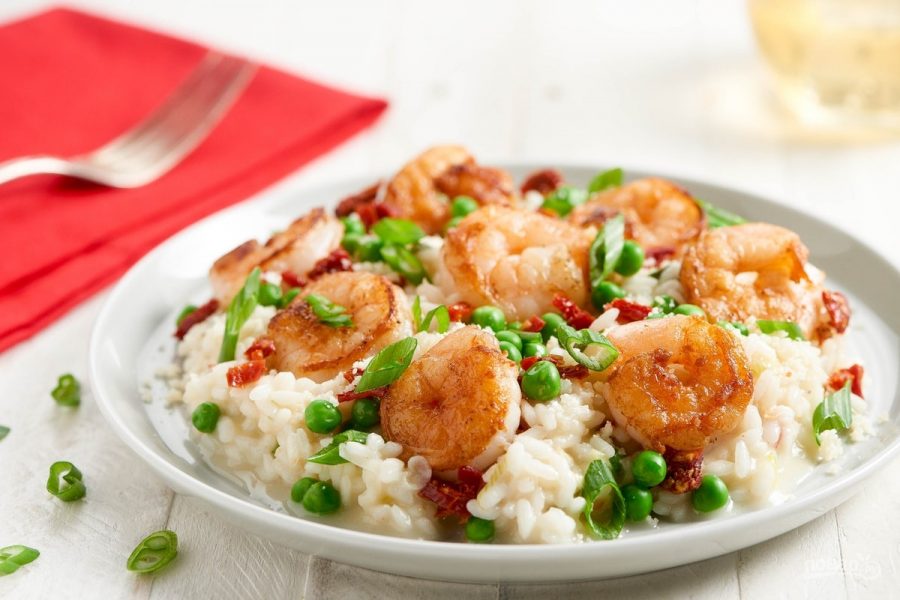 Ingredients:
Designed for 8 servings
Risotto rice 12.35oz
Frozen peeled raw shrimp 10.58oz
Frozen green peas 5.29oz
Shallots 1 pc.
Garlic 1 clove
Mint 2 sprigs
Salted fish broth 67.63 fl oz
White wine 1 cup
Olive oil 2 tablespoons
Extra Virgin Olive oil 1 tablespoon
Butter 1 tablespoon
Dry chili pepper to taste
Sea salt to taste
The nutritional value of a serving is 298 kCal
Instructions:
Cooking time 40 minutes
Pre-defrost green peas and shrimp.Peel and chop the shallots very finely. Heat the olive oil and butter in a frying pan and lightly fry the rice, then add the onion and cook, stirring, until it becomes transparent.
Peel the garlic, chop finely, add to the pan and stir-fry. Pour 1/2 cup of wine into the rice, let the alcohol evaporate over high heat. Then turn down the heat and cook for about 15 minutes, pouring in hot broth, so that the rice does not float in the liquid, but also does not turn into a lump.
Add the green peas and shrimp, pour in the remaining wine, season with salt and pepper and, stirring, warm up for another 4-5 minutes until the risotto is ready. Finely chop the mint. Remove the risotto from the heat, sprinkle with crushed mint, sprinkle with Extra Virgin olive oil.
3. Salad with avocado and shrimp
Salad with a pleasant and fresh taste. Just wonderful!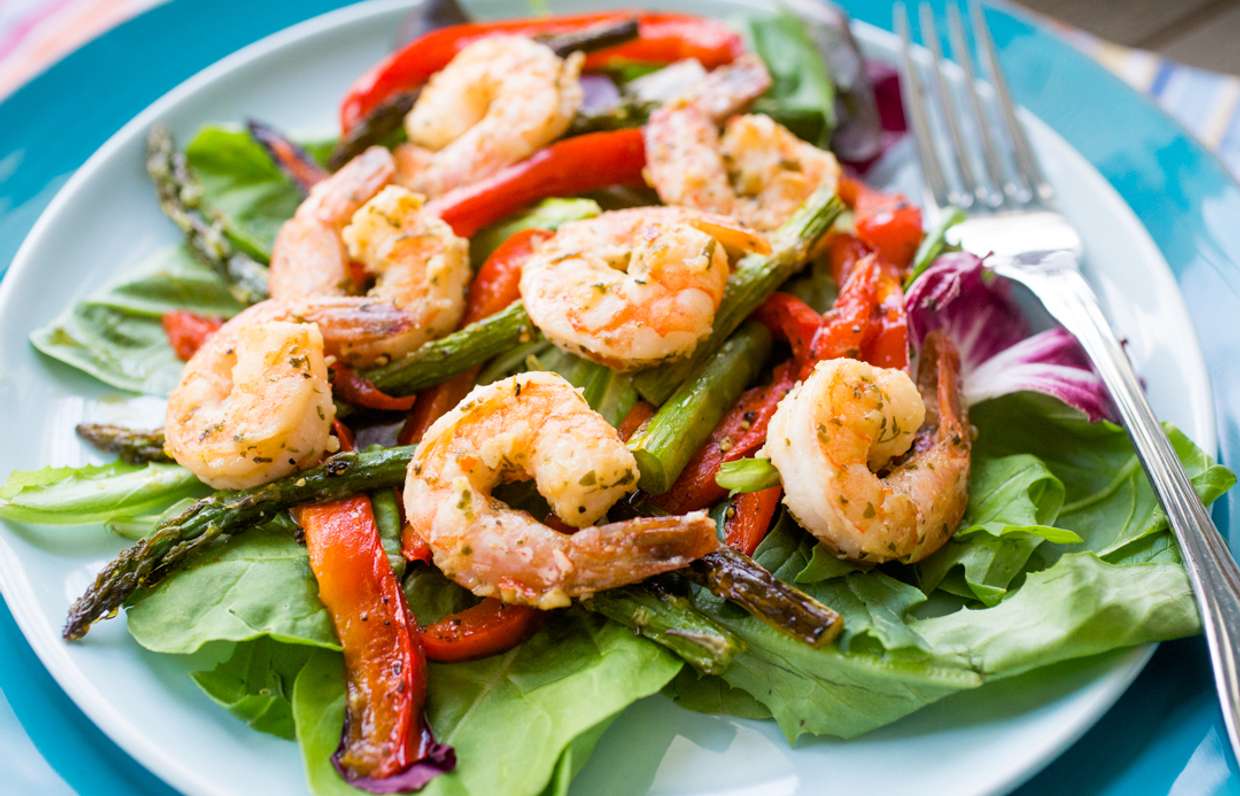 Ingredients:
Designed for 8 servings
Avocado ½ pcs.
Grapefruits ½ pcs.
Shrimp royal 4 pcs.
Himalayan salt to taste
Mayonnaise 1 tablespoon
Freshly ground pepper mixture to taste
Microgreen parsley 1 tablespoon
Оlive oil 1 tablespoon
Salad 4 leaves
Balsamic cream 1 teaspoon
Instructions:
Cooking time 15 minutes
Peel the shrimp. Heat a frying pan with a spoonful of oil. Fry the shrimp for 1 minute on each side. Peel the grapefruit. Cut each slice into three parts. Collect the juice. Remove the pulp from the avocado flakes with a spoon. Pour the collected grapefruit juice into the mayonnaise and mix until smooth. Mix all the ingredients in a salad bowl, micro-greens, lettuce leaves and pepper for piquancy. When serving, sprinkle with pink Himalayan salt, pour mayonnaise and balsamic cream.
4. Shrimp with sweet and sour sauce
. 5 recipes for quick cooking with shrimp.
Juicy and tender shrimp are served in a delicious sweet and sour sauce with pepper and pineapple. It is very quick and easy to cook.
However, basically it is a dish that can be wonderfully complemented and combined with other ingredients. Cauliflower, broccoli, carrots, canned young corn, peas, sprouts, mushrooms, peanuts, cashews are ingredients that go well with it.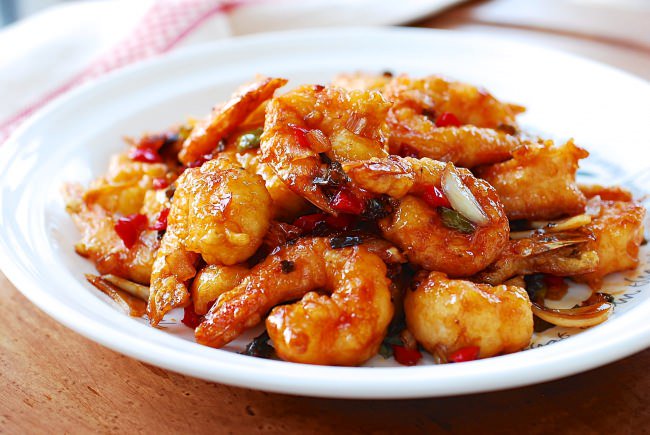 Ingredients:
Designed for 3 servings
Shrimp 8.82oz
Red Bulgarian pepper 1 pc.
Yellow Bulgarian pepper 1 pc.
Green Bulgarian pepper 1 pc.
Green onion (chopped) 1 tablespoon
White onion 1 pc.
Ginger 1/2 tablespoon
Garlic 1 clove
Canned pineapples 2 pcs.
Vegetable oil 2 tablespoons
Sweet and sour:
Tomato ketchup 3 tablespoons
Muscovado sugar 2 tablespoons
Red wine vinegar 3 tablespoons
Soy sauce 1 tbsp
Garnish:
Basmati rice 7.0oz
Fresh cilantro 2 tablespoons
The nutritional value of a serving is 339 k Cal
Instructions:
Cooking time 30 minutes
Prepare the products: cut the onion into feathers. Remove the core and membranes from the peppers, cut into small pieces. Peel and grate the ginger or finely chop it. Finely chop the garlic. Cut the green onion and pineapple (canned, 2-3 washers will be needed) into small pieces. For the sauce, mix ketchup, vinegar, soy sauce and sugar in a bowl.
Heat 2 tablespoons of oil in a wok, add the onion and fry for 2 minutes, stirring. Add pepper and fry for another 3 minutes. Put pineapple, ginger, garlic and green onions in a frying pan and fry all together for one minute. Add the remaining oil to the pan if necessary, put the shrimp and fry for a minute, stirring from time to time. Add a little salt and pepper.
Pour in the sauce and bring to a boil, stirring constantly. Remove the wok from the heat, add salt and pepper to taste if necessary. Serve the shrimp with fragrant crumbly rice and fresh cilantro. Bon Appetit!
5.Creamy shrimp baked in zucchini
. 5 recipes for quick cooking with shrimp.
A light and delicious snack for shrimp lovers will be especially relevant in the season of fresh zucchini and tomatoes.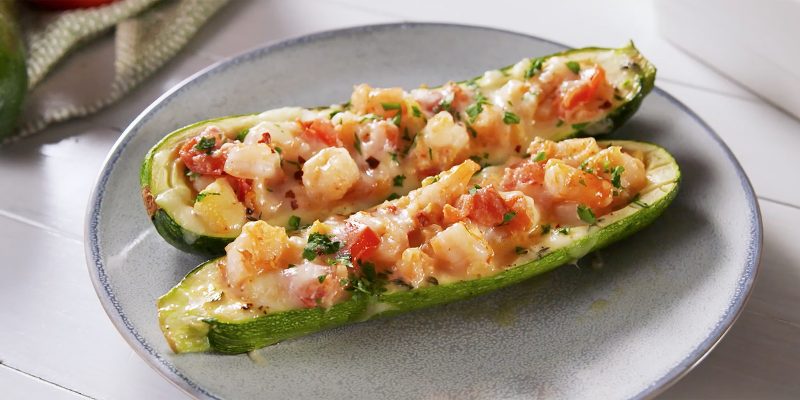 Ingredients:
Designed for 3 servings
Zucchini 3 pcs.
Tomatoes 3 pcs.
Cream cheese 2 tablespoons
Cream 4 tablespoons
Olive oil 2 tablespoons
Thyme to taste
Frozen shrimp 7.0oz
Red onion 1 pc.
The nutritional value of the dish is 1023 kCal
Instructions:
Cooking time 30 minutes
Wash the zucchini, cut it in half lengthwise. Scrape out the pulp. Chop the zucchini halves with a fork, sprinkle with salt and pepper. Make cross-shaped incisions on tomatoes, pour boiling water over them, peel and cut into cubes.
Cut the onion into 2 parts, cut each part into 2 more parts and cut into thin strips. Fry the onion in olive oil for 5 minutes, add the finely chopped zucchini pulp, and cook, stirring for another 5 minutes. Add tomatoes.
Put cream cheese and cream in the filling, bring to a boil. Remove from heat, add shrimp, salt and pepper, sprinkle with thyme. Stuff the resulting mixture with zucchini boats. Place them in a greased form and bake in a preheated 392F oven for 10-15 minutes. Serve hot, eat with pleasure). Bon Appetit!