The combination of delicate custard coconut cream and chocolate sponge cake is sure to win your heart. Tart is very presentable with excellent consistency and taste of the cake, which distinguishes it from many raw desserts.
It offers an excellent combination of rich chocolate cake and a fairly neutral and delicate tea mousse. Tart is prepared for a very short time relatively.
It has an excellent base in the form of vegetable custard for further experiments with flavors – for example, with berry fillers instead of tea cream. Tart with coconut, tea cream under a delicate chocolate sauce.
Tart with coconut, tea cream under a delicate chocolate sauce
Ingredients:
Designed for 8 servings
Custard:
Water 4 cups
Coconut chips 2 cups
Cashews soaked for 2-6 hours or pine nuts (cedar nuts do not need soaking) 2/3 cup
Agar-agar flakes (gelling extract from algae) 4 teaspoons
Maple syrup or any other – agave, Jerusalem artichoke 6 tablespoons
Vanilla essence 1 teaspoon
Match powder 3 tablespoons
Cake:
Almond crumbs (you can make yourself by grinding a glass of almonds in a blender or coffee grinder) 1 cup
Oat flakes 1.5 cups
Coconut chips 1/2 cup
Rice flour 1/3 cup
Sea salt 1/2 teaspoon
Coconut oil 3 tablespoons
Syrup to choose from or honey 2 tablespoons
Cocoa powder 3 tablespoons
Vanilla essence 1 teaspoon
Chocolate sauce:
Coconut milk, from what was prepared for custard 1 cup
Peeled dates 1/2 cup
Cocoa powder 3 tablespoons
Lemon juice 1 tablespoon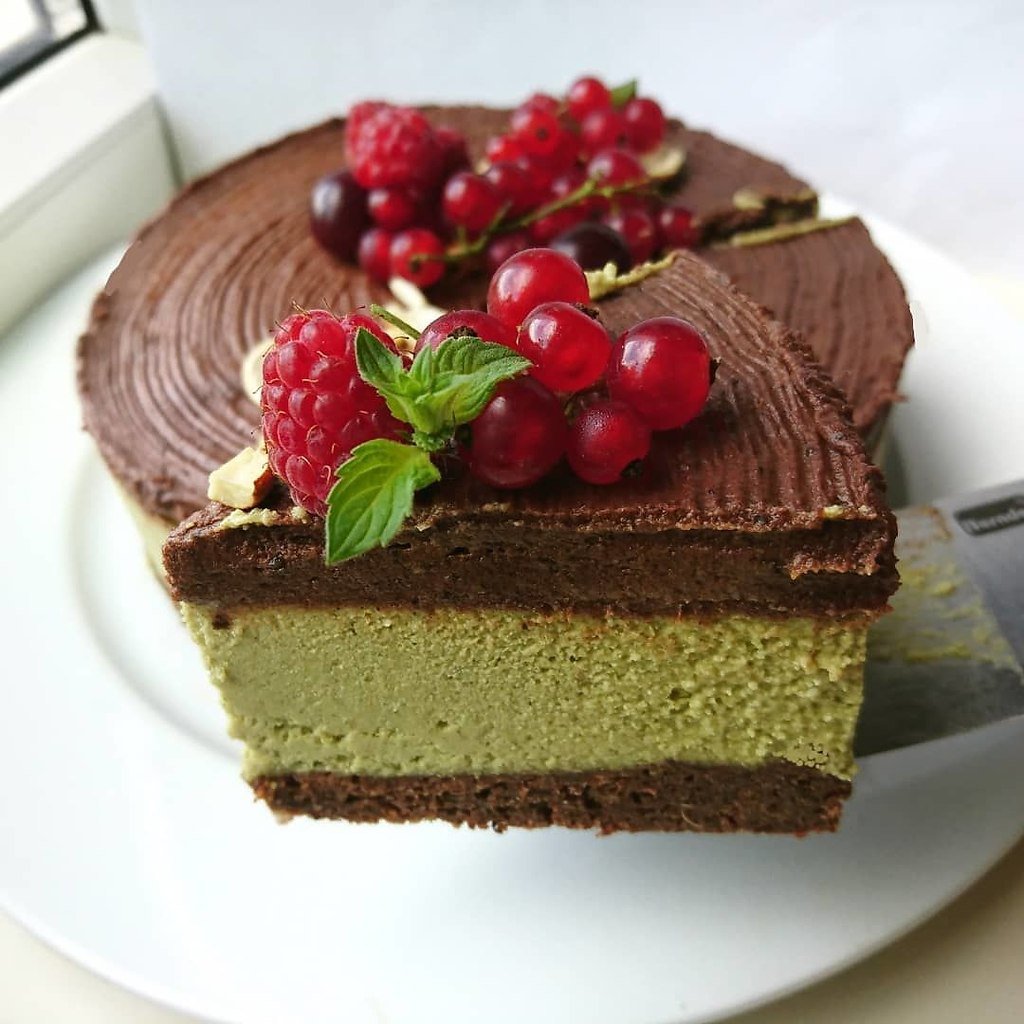 Instruction: Tart with coconut, tea cream under a delicate chocolate sauce.

Cooking time 2 hours
Cake:
In a blender, grind oatmeal, coconut chips and almonds into flour. Transfer to a bowl and stir in rice flour, a mixture of maple syrup, salt, vanilla essence and coconut oil. The mixture should easily form into a ball and be non-sticky. Let rest for 10-15 minutes and spread a thin layer over the tart mold, preferably with detachable sides and leave to cool in the refrigerator.
Custard:
Beat the water with the addition of coconut chips and pine nuts in a blender at maximum speed for several minutes until a homogeneous consistency.
Strain the mixture through cheesecloth or through a special bag for straining nut milk (the remains can be dried and broken in a blender — you will get coconut flour, which can be used in baking).
Set aside 1 cup of milk from 4 to make chocolate sauce. Add maple syrup and vanilla essence to the remaining 3 cups, stir in agar-agar, bring to a boil and leave on low heat, stirring constantly so that lumps do not form for 3-4 minutes.
Let the cream cool for 5-10 minutes, pour into a blender and whisk with matcha tea until a beautiful uniform green color is obtained.
Important: add tea powder little by little to achieve optimal taste — in more than the right amount it can give a bitter taste). Leave to cool, but not for more than 10-15 minutes, otherwise it may take the form of your blender)).
Carefully pour the coconut-tea cream into the cake and, if necessary, distribute evenly with a silicone spatula, leave to harden in a cold place. While the cream freezes, make a chocolate sauce.
Chocolate sauce:
In a blender, mix coconut milk with dates, cocoa powder and lemon juice at high speed. Serve coconut-tea tart, generously sprinkled with chocolate sauce! Bon Appetit!
Like what you're reading? You can sign up for Medium using my affiliate link. Just $5 a month to read an unlimited number of articles and help me create further. Together we will move mountains!