The fruits are delicious and have a subtle aroma. Figs are eaten raw, used as a filling for pies, marmalade and jam are cooked, delicious sauces and desserts are prepared. 7 sophisticated and delicious recipes with figs.
Figs are rich in vitamins, trace elements, proteins and carbohydrates. There is especially a lot of potassium in it (necessary for the work of the heart and blood vessels), iron (contributing to the prevention of anemia). Figs help to restore strength.
Figs contain a lot of tryptophan, which has the most beneficial effect on brain activity. It promotes the normal functioning of the nervous system under stress, improves sleep, provides a quick way out of depression and an adequate response to various stimuli. Tryptophan is responsible for a good mood, while not depressing, but stabilizing the nervous system.
1.Figs with a surprise
. 7 sophisticated and delicious recipes with figs.
Figs in themselves are an exquisite and very healthy delicacy, but if desired, you can cook so many delicious and interesting things from it that there is enough for a full-fledged menu for the whole family.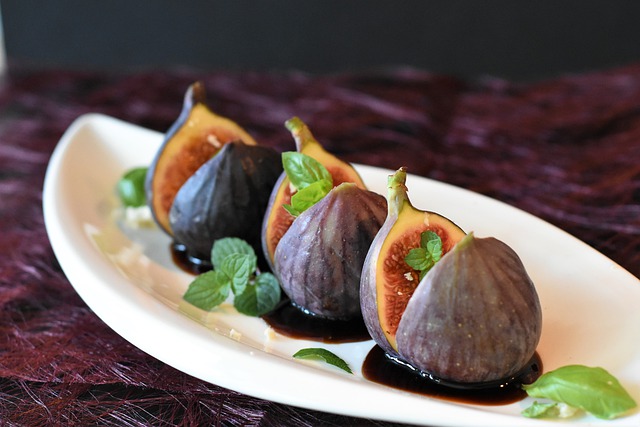 What can be made from fresh figs? Since its fruits are quite large, it is very convenient to stuff them.
Ingredients:
Designed for 2 servings
Fresh figs 6 pcs.
Cream cheese 5.29oz
Honey 1 tablespoon
Pine nuts 2 tablespoons
Fresh rosemary 3 sprigs
Instruction:
Cooking time 15 minutes
Figs are washed and dried well. We make a cross-shaped incision on each fruit and open it.
Fill with cream cheese, put a little honey and nuts on top, half a sprig of rosemary.
Wrapping each fruit in foil, we send it to the oven at 392F for 10 minutes. Let the snack cool completely, and you can help yourself.
2.Nutritious salad
This recipe with fresh figs will help us cheer up. This salad will be good for a light but quite satisfying dinner. Especially after training.
Ingredients:
Designed for 2 servings
Fresh figs 3 pcs.
Gorgonzola 3 tablespoons
Blueberries 2 tablespoons
Large grapes 3.53 oz
Pomegranate 2 tablespoons
Arugula 3.53 oz
Honey 1 tablespoon
Balsamic vinegar 1 tablespoon
Olive oil 1 tablespoon
Salt, black pepper to taste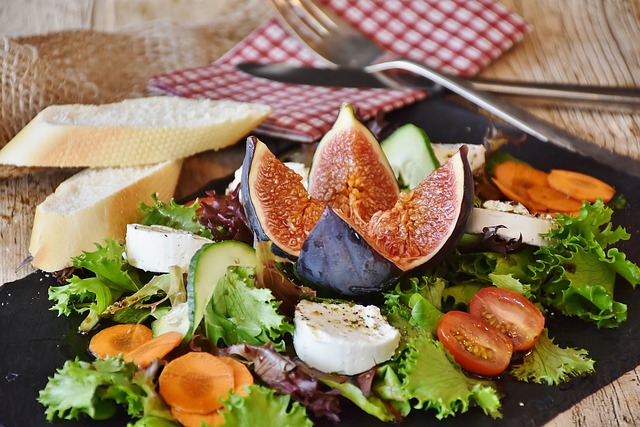 Instruction:
Cooking time 15 minutes
Cut each fig fruit in half, pour honey and put it in the oven at 292 F for about 5 minutes.
It is better to take grapes without seeds. Each berry is carefully cut into two parts.
Gorgonzola cut into small cubes.
Arugula leaves are well washed, dried, and covered with a plate.
On them, we mix the halves of baked figs, pieces of cheese, grapes, blueberries and pomegranates.
Sprinkle the salad with olive oil and balsamic.
It is best to do this immediately before serving. Otherwise, the greens will wither and spoil the whole impression.
3.Toast with figs and peanuts
. 7 sophisticated and delicious recipes with figs.
If you eat this fruit constantly, you will forget about insomnia. Besides, the mood will always be great. After all, figs contain tryptophan, which stimulates the production of the hormone of joy serotonin. Let's make a sandwich to lift the mood.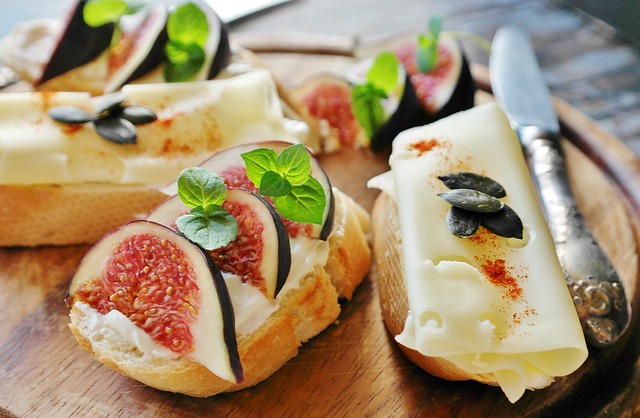 Ingredients:
Designed for 3 servings
Loaf 3 slices
Cottage cheese 5.29 oz
Prosciutto 3.53 oz
Fresh figs 2 pcs.
Honey 1 tablespoon
Fried unsalted peanuts 2 tablespoons
Olive oil 2 tablespoons
Instruction:
Cooking time 15 minutes
Sprinkle the loaf slices with olive oil and brown in the oven for 10 minutes at 356 F.
Figs are thoroughly washed and wiped dry. Each fruit is cut into several neat slices.
Lubricate the crispy toasts with cottage cheese, pour honey, put thin slices of prosciutto and slices of figs.
Sprinkle everything with toasted nuts and enjoy, preferably in a warm company.
4.Chicken fillet with figs and plums
Fresh figs are a low-calorie product. 3.53oz of these fruits contain only 49 k cal. At the same time, it is rich in dietary fiber, so it saturates well and dulls the feeling of hunger. Moreover, the active substances in its composition accelerate metabolism and remove toxins from the body. We offer here such a recipe for cooking figs with chicken breast, which even those who are on a diet can afford.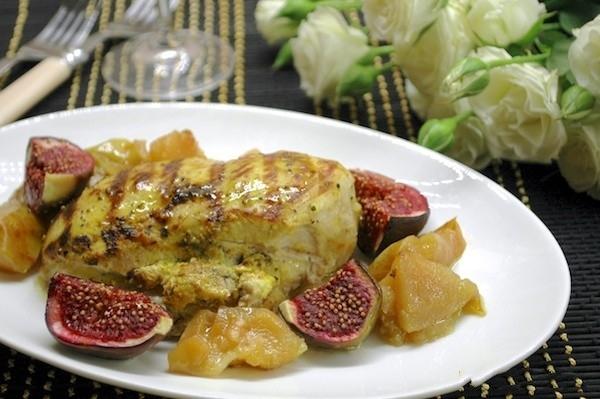 Ingredients:
Designed for 4 servings
Chicken fillet 21.16 oz
Fresh figs 4 pcs.
Plum 10.58 oz
Vegetable oil 3 tablespoons
Honey 1 tablespoon
Mustard 1 tablespoon
Soy sauce 1 tablespoon
Salt and black pepper – to taste
Instruction:
Cooking time 40 minutes
Mix honey, mustard, soy sauce and vegetable oil.
Fillet cut into large pieces, pour marinade, mix and leave for half an hour. We also soak wooden skewers in water.
Cut the figs into thick circles.
We divide the plums in half and carefully remove the bones.
In turn, we string chicken meat, slices of figs and halves of plums on skewers. It is best to cook such kebabs on the grill. If you cook at home, use a grill pan or bake the meat in the oven.
5.Duck in the juice
. 7 delicious and delicious recipes with figs.
Do you want to surprise your guests at a festive dinner? Serve some delicious fig dish on the table. For example, baked duck.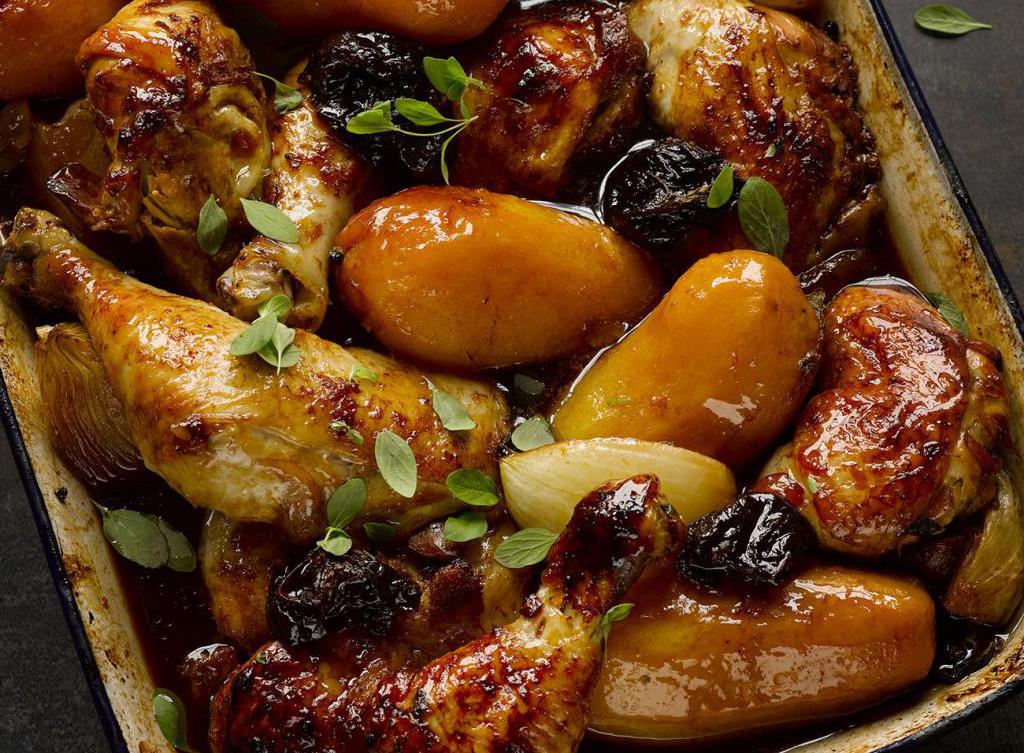 Ingredients:
Designed for 2 servings
Duck fillet 1 pc.
Fresh figs 3 pcs.
Honey 1 tablespoon
Soy sauce 1 tablespoon
Ground ginger 1/2 tsp
Salt, black pepper to taste
Vegetable oil for frying
Pomegranate seeds for feeding
Instruction:
Cooking time 55 minutes
Chop off the duck fillet a little, rub with salt and pepper, quickly fry in a frying pan with heated oil until golden brown.
Mix soy sauce with honey and ginger, rub the cooled fillet from all sides.
We put it on foil, lay out the halves of fig fruits around, wrap the edges, but not too tightly.
We send the fillets to a preheated 356F oven for 30-40 minutes.
Then we open the foil and bake for another 15-20 minutes.
Before serving, cut the fillet into portions, spread on a platter, decorate with slices of figs and pomegranate seeds.
6. Fig jam
We offer a more pleasant and safe way to become more beautiful — to prepare an exquisite jam from figs.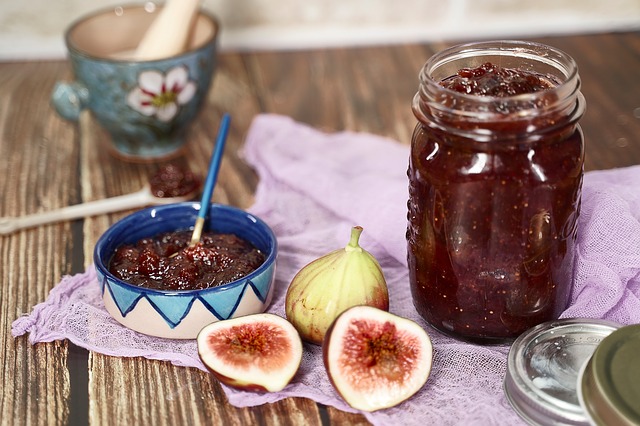 Ingredients:
Fresh figs 70.55 oz
Lemon 2 pcs.
Sugar 17.64 oz
Dried rosemary, cardamom, cinnamon to taste
Instruction:
Cooking time 45 minutes
We wash the figs and wipe them dry with paper towels.
For each fruit, cut the petioles from both sides, cut into several slices, put them in a deep basin and pour sugar over them.
We lower the lemons into boiling water for a couple of minutes, then rub the zest on the smallest grater.
Squeeze the juice from the peeled fruits and pour the figs into the basin. We also put the zest there.
We put it on medium heat, bring it to a boil and stand for 15 minutes.
All this time, stir the figs with a spatula. Put the spices and cook for another 15 minutes.
The resulting mass is cooled slightly, pureed with an immersion blender and brought to a boil again. Fig jam is ready — you can pour it into jars.
7.Tart with figs
Figs contain vitamin A, B vitamins in almost full composition, ascorbic acid, vitamins PP and K. Also, this fruit is rich in calcium, phosphorus, fluorine and zinc. This means that it must be included in the diet in the fall for the prevention of vitamin deficiency. To strengthen the immune system it was more interesting, we will prepare a tart with figs.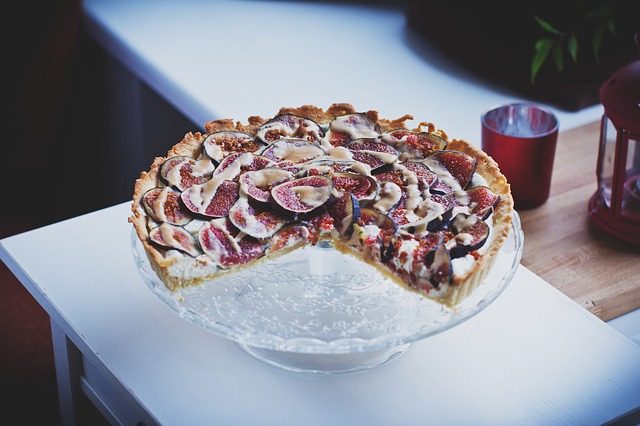 Ingredients:
Designed for 4 servings
For the test:
Flour 10.58 oz
Butter 6.35 oz
Chicken eggs 2 pcs.
Sugar 3 tablespoons
Baking powder 1/2 tsp
Salt to taste
For the filling:
Figs 4 pcs.
Pumpkin 7.0 oz
Ricotta 14.11 oz
Chicken eggs 1 pc.
Sugar to taste
Vanilla 1/4 teaspoon
Almond petals for decoration
Instruction:
Let's do the pumpkin first. Cut it into large slices with peel and bake in the oven for 20-25 minutes at 392 F. When it cools down, cut off the pulp with a knife and puree it with a blender.
Now it's the test's turn. Beat eggs with sugar with a whisk.
Separately, we grind flour and grated butter into crumbs.
Add the egg mixture, baking powder and salt, knead the dough, then put it in the refrigerator.
Roll out the dough into a layer, tamp it into a round shape, align the sides.
Beat the ricotta and egg into a homogeneous mass, add pumpkin puree, add sugar and vanilla.
We put fig slices in the base, fill with cheese-pumpkin filling, put in the oven at 356 F for 40 minutes.
When the tart cools down, sprinkle it with almond crumbs. For a subtle flavor, you can add a little fresh mint.
Figs are an amazing fruit, endowed with a lot of valuable properties and incomparable taste. Now you know what you can cook from it to please home gourmets, Try to cook something new and enliven the usual autumn menu with bright flavor combinations. Bon Appetit!