Today I want to make a dessert in the form of a flower pot with a flower. This serving is suitable for different desserts. I suggest filling with cheese cream with sour cream and pieces of fruit and berries. Dessert "Flower in a pot" of chocolate cookies and cheese cream.
Ingredients for 2 servings:
Cooking time 35 minutes
Chocolate (dark) 3.53oz
Cream cheese 6.35oz
Chocolate cookies 4 PCs (1.76oz)
Banana 1/2 piece
Strawberries 6 PCs
Powdered sugar 1 tablespoon
Sour cream 2 tablespoons
Flowers or herbs for decoration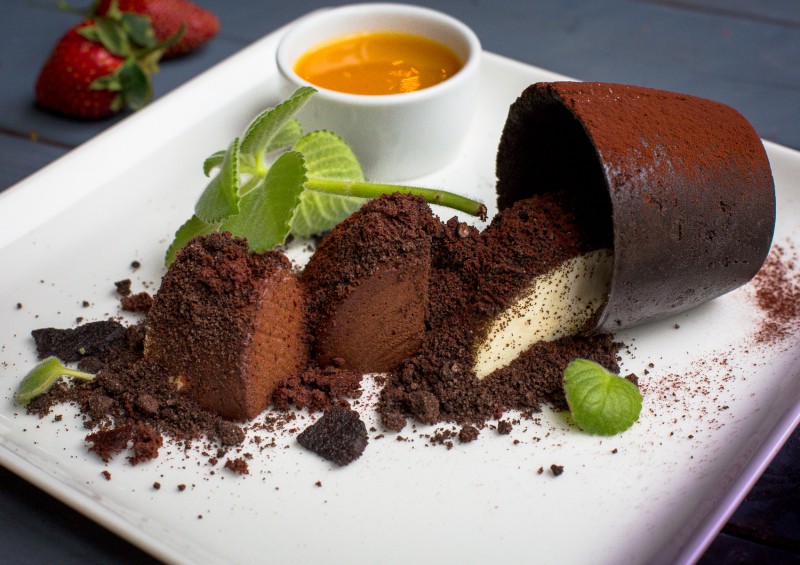 Instruction:
s. Dessert "Flower in a pot" of chocolate cookies and cheese cream.
Make a cup of dark chocolate: melt the chocolate in a water bath or in the microwave for 15-20 seconds. After each heating, mix well. Keep the paper cups in the refrigerator before filling them.
A paper cup with a volume of 6.76 fl oz is covered from the inside with a dense and even layer of chocolate. It is convenient to do this with a brush. Put the glass in the freezer until the chocolate hardens.
Repeat the process of applying the chocolate again (or twice, if necessary), so that the cup is strong and does not break when removed. Leave the cup in the refrigerator for a few hours.
Carefully separate the chocolate cup from the paper cup.
To free them from the paper cup, I helped myself with a small pair of scissors. I also advise you to work with cooking gloves, as the chocolate may melt due to contact. Add the mousse using a pastry bag.
For the filling, cream cheese, cookie cream, powdered sugar and sour cream are punched with a mixer to an air state. If you have cookies without filling, add more powdered sugar.
Cookies are crushed into crumbs.
Collect dessert: spread the cream by layering it with fruit or berries (I have a banana and strawberries, cut into pieces). You can make a layer of crushed cookies.
Top with a rich sprinkle of crushed cookies, imitating the earth. Decorate with fresh flowers or a sprig of mint or basil. Dessert "Flower in a pot" – very effective! Bon Appetit!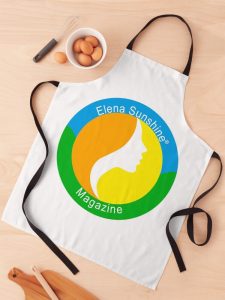 You can buy an apron with our logo 🙂
https://www.redbubble.com/i/apron/Elena-Sunshine-Magazine-by-Michaelbor76/52450511.6ZXWR?asc=u