Delicious recipe for making a sandwich with apples, turkey fillet, brie cheese and arugula. Sandwich with apples and turkey breast.
Ingredients:
For 2 sandwiches
Wheat-rye bread 4 pieces
Turkey fillet 7.05oz
Apple (medium) 1 PC
Brie cheese 3.53 oz
Arugula 1 tablespoon
Butter 2 teaspoons
Apple jam 2 teaspoons
Ground cinnamon 1/2 teaspoon
Ground nutmeg 1 teaspoon
Lemon juice 1 teaspoon
Salt to taste
Instruction:
. Sandwich with apples and turkey breast.
Cooking time 10 minutes
Turkey with apples is a harmonious combination, loved by many gourmets. This is a universal dish for all occasions. Turkey is a very tender and low – fat meat that is easily digested. Many housewives prepare turkey stuffed with apples and dried fruits. Turkey meat is great for festive dishes, because it turns out to be more tender and pleasant to the taste than chicken.
Apples have both good taste and contain a lot of useful things. Therefore, they are widely used in cooking and are recommended to be included in the daily diet for both children and adults.
How to make turkey and apple sandwich :
Boil the turkey fillet in salted water until tender. Mix apple jam with a pinch of nutmeg and a pinch of cinnamon. Add lemon juice.
Brush all the pieces of bread with butter on one side and apple jam on the other. Place the thinly sliced turkey on half the bread slices on the side with the jam. Sprinkle with pepper.
Place the thinly sliced cheese on top of the turkey. Tear the arugula with your hands and scatter it over the cheese. Cut the apple in half, remove the core, thinly slice and spread over the arugula. Cover with a second piece of bread, the side smeared with jam, on the apples.
Fry the turkey and apple sandwich in a pan under the lid until golden brown on one side. Then turn the hot turkey sandwich over and fry until golden brown on the other side. Sandwich with turkey, cheese, arugula and apple is ready. Bon Appetit!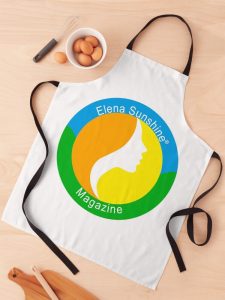 You can buy an apron with our logo 🙂
https://www.redbubble.com/i/apron/Elena-Sunshine-Magazine-by-Michaelbor76/52450511.6ZXWR?asc=u