Beef steak with lemon juice and herbs is a very tasty dish. It is easy and fast to cook in just 35 minutes, and a flavorful dish is on the table. Soft beef, piquant lemon sourness in sauce. Perfect for lunch or dinner with family or friends. Delicious!
Premium steaks do not need marinades, their richness is in their own rich meat taste, tenderness and juiciness, to emphasize them, enough pepper, salt and a pinch of aromatic herbs.
Ingredients
Salt 3/4 teaspoon
Ground black pepper 1/2 teaspoon
Tenderloin beef 1.54 lbs (700 g)
Oregano 2 tablespoons
Olive oil 5 tablespoons
Parsley chopped 2 tablespoons
Garlic 3 cloves
Lemon juice 3 tablespoons
ENERGY VALUE PER SERVING
Calories 631 kcal
Whites and 33.7 grams
Fats and 53.4 grams
Carbohydrates 3.5 grams
Instruction

. Beef steak with lemon juice and herbs.



Cooking time 25 minutes
4 servings
1. Steak beef tenderloin, sprinkle with salt and pepper and fry on both sides in olive oil in a shallow skillet over moderately high heat for about 5-7 minutes.
2. While the steak are cooked, mix the dressing ingredients in a blender coarsely chopped parsley and oregano, fresh lemon juice, chopped garlic, 4 tablespoons of olive oil, salt (1/4 teaspoon) and black pepper (1/4 teaspoon).
3. Ready steak to put on a plate, cover with foil and let rest 5 minutes.
4. Serve with cooked sauce of herbs and lemon juice.
Marinade for beef steak
. Beef steak with lemon juice and herbs.
This marinade recipe will help to give beef or steamed veal an unusually piquant and tender taste. It will become fragrant and juicy after aging in this sauce and roasting.
Ingredients
Olive oil 4 tablespoons
Garlic-2 cloves
Lemon juice – 2 tablespoons
Onion – 1 PC.
Ground black pepper-3 pinches
Salt-1/2 teaspoon
Mustard – 2 teaspoons
Instruction
Prepare the necessary products for the marinade. You can use powdered or grain mustard. Spicy herbs-optional.
How to make marinade for beef steak
In a small bowl, combine the vegetable oil, lemon juice, ground black pepper, and salt.
Clean the onion from the husk, wash and grate on a grater with small holes almost into a mush. Peel the garlic cloves, also rinse and squeeze into a bowl with the other ingredients. You can add a couple of pinches of herbs: rosemary, thyme, oregano.
Carefully mix all the ingredients together. The marinade for beef steak is completely ready – you can fill it with either a whole piece of this meat, or its slicing, leaving it to marinate for at least 2-3 hours.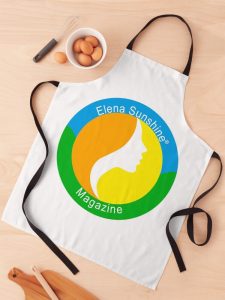 https://www.redbubble.com/i/apron/Elena-Sunshine-Magazine-by-Michaelbor76/52450511.6ZXWR?asc=u