Minced beef mini burgers with cranberry jelly are traditional burgers with beef steaks. The only difference is that sliders are small burgers. Today you will learn how to make minced beef mini burgers with cranberry jelly! Minced beef mini burgers with cranberry jelly.
The most important thing in the slider is a delicious cutlet, which requires high-quality meat. The burgers are juicy and flavorful.
To save time, we recommend buying frozen burger patties, which will only need to be sent to the pan and fried. Cook the cutlets until medium-rare and be sure to leave them under the foil, stacked on top of each other. So they will be very juicy. Experiment with sauces, add the hot peppers you like, and learn new flavors. This burger will be very satisfying.
Ingredients:
Minced beef 25.4 oz
Lettuce (leaves) 1 head
Red onion, cut into rings, 1 piece
Cranberry jelly 1/2 Cup
Mini buns, cut in half 12 PCs
Salt and pepper – to taste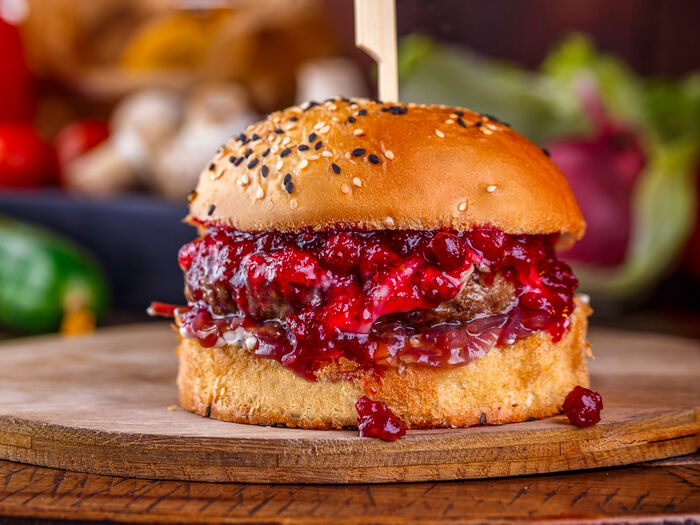 Instructions:
. Minced beef mini burgers with cranberry jelly.
Cooking time 35 minutes
Form 12 minced meat patties weighing approximately 2.12 oz. Add salt and pepper to taste. Fry the beef steaks on the grill or pan on both sides until the internal temperature of the meat is 140F degrees.
Form the burgers by placing the salad, onion, meat and jelly on half of the bun in turn and cover with the other half. For convenience, fix the structure with a skewer.
Tips & recommendations
Beef sliders can be prepared with any filling. This can be beef roast beef, meatballs or steak. If desired, add cheese, caramelized onions, toasted bacon slices, pickles, and fresh seasonal vegetables. To make the sliders even tastier, we recommend buying beef steaks that are aged dry.
Fry the beef steaks for 2 minutes on each side and simmer for another minute with the onion, adding a little whiskey, barbecue sauce and chopped chili pepper. After a minute, remove the steaks, and thicken the liquid in the pan for 3-5 minutes and use as a sauce. Bon Appetit!