Proper nutrition in autumn is the key to vitamin supplementation and good health. What fruits will help you successfully cope with this task and in a bad mood? Fruits and berries to support immunity.
Even obvious optimists and notorious romantics are sometimes unable to cope with the autumn melancholy. Try to opt for less radical means of eliminating temporary depression. For example, seasonal fruits and berries can be found on store shelves and market stalls right now. It is this type of product that will help to pass the rainy autumn evenings and prevent vitamin deficiency.
#1.Grape
. Fruits and berries to support immunity.
Grapes can be a good addition to the diet, as they are a source of nutrients, including antioxidants, fiber, vitamin K, and vitamin C. Here are some of the benefits of grapes.
Grapes are useful for mental activity. Activates the mental activity of a person. Everyone knows that fresh and dried grapes improve memory. Grapes are necessary for people who are engaged in mental activity.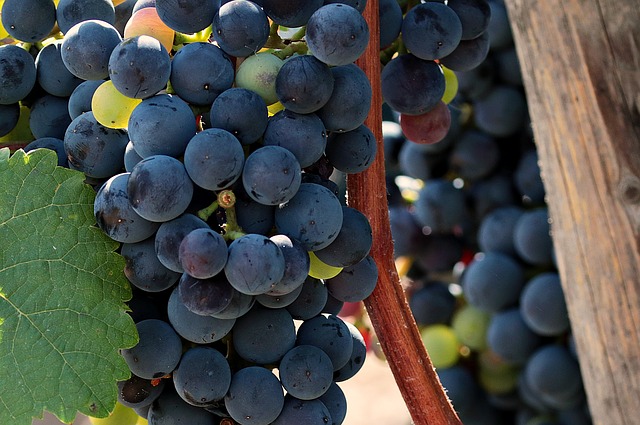 And if there are grapes growing on your plot, then do not forget to cover it for the winter, taking into account the climatic features of your region.
Pie with grapes
The beauty of Charlotte is that you can cook it all year round with seasonal fruits and berries. Thus, each time it will be a slightly different pie and, moreover, you will be able to hone your skill in making a biscuit. Today I propose to make grapes the "highlight" of Charlotte.
Ingredients for 6 servings:
Dark grapes (preferably seedless) 3.53oz
Eggs 3 pcs.
Wheat flour 1 cup
Sugar 5.29oz
Baking powder 1/2 teaspoon
Instruction:
Cooking time 20 minutes
Prepare all the ingredients. If possible, use seedless grapes.
Rinse the grapes well and remove them from the bunch. Put it on a napkin and leave it for a while to dry the berries or dry them with a napkin. Break the eggs into a deep dish.
Take a mixer. I have a manual with a power of 500 watts. Beat the eggs to a fluffy light foam. I whipped for 5 minutes at a low speed. Without ceasing to work with the mixer, add sugar in 3-4 doses.
Continue whipping for another 4-5 minutes, slightly increasing the speed. In a separate bowl, sift the flour. Add baking powder. Mix it up.
Add the dry ingredients to the beaten eggs. Take a spatula and, carefully, so as not to disturb the airiness of the egg mass, mix in circular movements so that all the flour lumps disperse. The dough should remain the same and airy.
Prepare the baking dish. Grease the bottom of the mold with a thin layer of butter and sprinkle with flour. I covered the bottom and sides of the mold with parchment. If the mold is silicone, then it is not necessary to lubricate or cover it with anything.
Transfer the dough to the mold and smooth it with a spatula. Spread the grapes over the dough.
(If the berries are large and with a stone, cut them in half and remove the stones. Put the halves of the grapes on the dough cut down.)
Place the mold in a hot oven and bake the charlotte with grapes for 30-50 minutes at 356F. The baking time depends on the power of the oven, and the size and material of the mold used. My pie was baked for 50 minutes in a regular gas oven. Take out the finished cake and cool it a little in the mold.
Remove the pie to the grill and cool completely. Charlotte with grapes is ready to serve. Have a nice tea party!
#2.Feijoa
Another "iodine-containing", contains up to a third of the daily value of this substance, a little more – vitamin C and silicon. The plant is used exclusively in a tropical climate. Now is the time to include feijoa in your food, so take care of acquiring this unusual component of your diet. Moreover, this fruit is used in the treatment and prevention of gastrointestinal diseases, atherosclerosis, vitamin deficiency, hypovitaminosis, pyelonephritis, and gout.
Feijoa fruits will be an excellent filling for open pies, and complement meat dishes. To prepare a salad seasoned with unsweetened yogurt, you can take feijoa, carrots, and beets. If you add a few halves of dry skin to the tea brew, then the drink will have a wonderful delicate aroma and taste.
Feijoa jam with orange and honey
Feijoa jam is a delicious and healthy treat! After all, this exotic fruit is rich in vitamins and useful elements, for example, it is the leader among fruits in terms of iodine content. It also strengthens the immune system and helps fight viral and colds.
This version of jam is prepared in a matter of minutes, does not require heat treatment, and retains all its useful properties. Stored in the refrigerator for 2-2.5 months.
You can add it to tea or eat it as a regular jam, for example, with pancakes.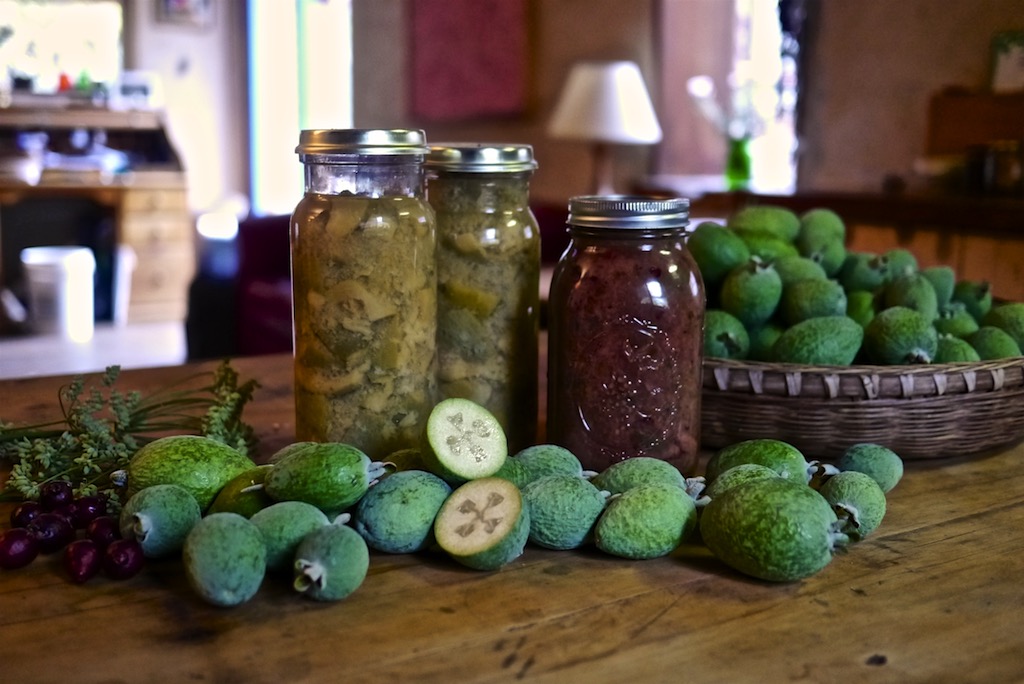 Ingredients for 5 servings:
Feijoa 17.64oz
Oranges 1 piece
Granulated sugar 5.29oz
Honey 2 tablespoons
Instruction:
Cooking time 20 minutes
We carefully select the fruits, and do not use them with damaged and darkened peel. Cut from two ends and cut in half. Peel half of the orange and cut into pieces. Together with the feijoa, we put it in the bowl of the chopper. You can also add chopped zest.
Instead of a chopper, you can use a meat grinder. Add sugar and honey to taste. After grinding, you can try and add more if necessary. In this case, mix well until the sugar dissolves and pour into jars. We store it in the refrigerator.
#3.Pomegranate
. Fruits and berries to support immunity.
Pomegranate is one of the most popular fruits used in food. These fruits can be used to make delicious and healthy juice, from which delicious jellies, sauces, salad dressing, aromatic additives for baking, and various desserts are then obtained. Pomegranate seeds are added to salads and rice dishes. It is a traditional ingredient of Mediterranean and Oriental cuisine.
Pomegranate prevents the development of Alzheimer's disease. This is due to the high content of antioxidants in the composition of pomegranate. Concentrated pomegranate juice by 3.4% consists of punicalagin, which, in turn, reduces the severity of inflammatory processes in the brain and slows down age-related dementia.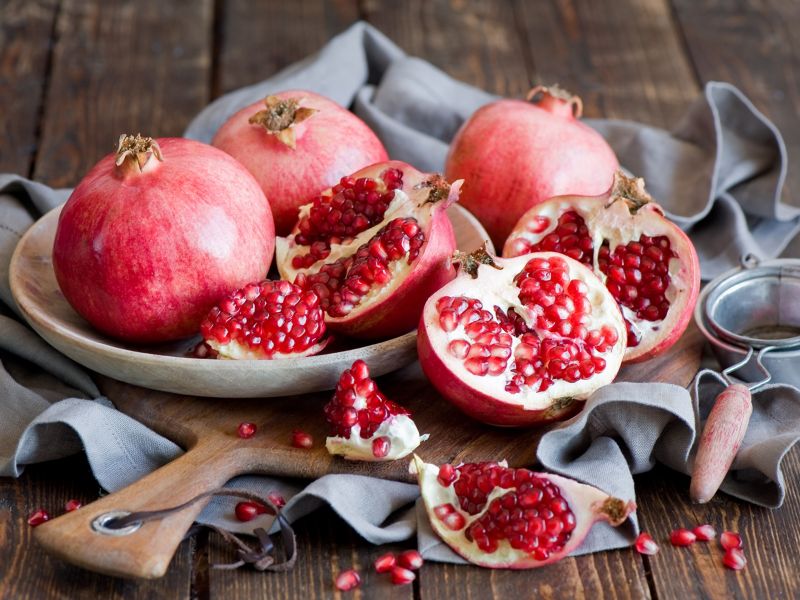 Warm snack with pomegranate and nuts
Ingredients:
Boiled or canned red beans 17.64oz
Peeled walnuts 1 cup
Cilantro 2 tablespoons
Ground cloves to taste
Pomegranate juice 1/2 cup
Vegetable oil 1 tablespoon
Garlic 2 cloves
Onion 1 piece
Hot pepper 1/6 pod
Pomegranate seeds 2 tablespoons
Salt to taste.
Instruction:
Cooking time 40 minutes
Boil the beans until tender, drain the liquid, and cover to keep the beans warm. If you use canned beans, drain the juice and heat it up slightly. Peel and finely chop the onion. Peel the garlic and cut into thin slices. Rinse the cilantro, dry it, and chop it. Wash the pepper, remove the seeds and stalk, finely chop the pulp.
Walnuts and chopped garlic are crushed in a mortar until smooth. Mix the nut mass with onion, hot pepper, cilantro, and cloves. Add the pomegranate juice. Season the beans with nut sauce, add salt to taste, put on fire, and bring to a boil. Sprinkle the finished dish with pomegranate seeds, and eat warm.
#4.Quince
Quince is eaten cooked, as the raw fruits are hard, and have a pronounced astringent taste. This is a great dessert option for weight loss, with a lot of vitamins and minerals that stimulate metabolism. The antioxidants present in quince protect the nervous and cardiovascular system from the destructive effects of free radicals.
Mature quince fruits contain a huge amount of useful elements (fructose, glucose, vitamins of groups A, B, PP, pectin, essential oil, calcium, iron, and sodium).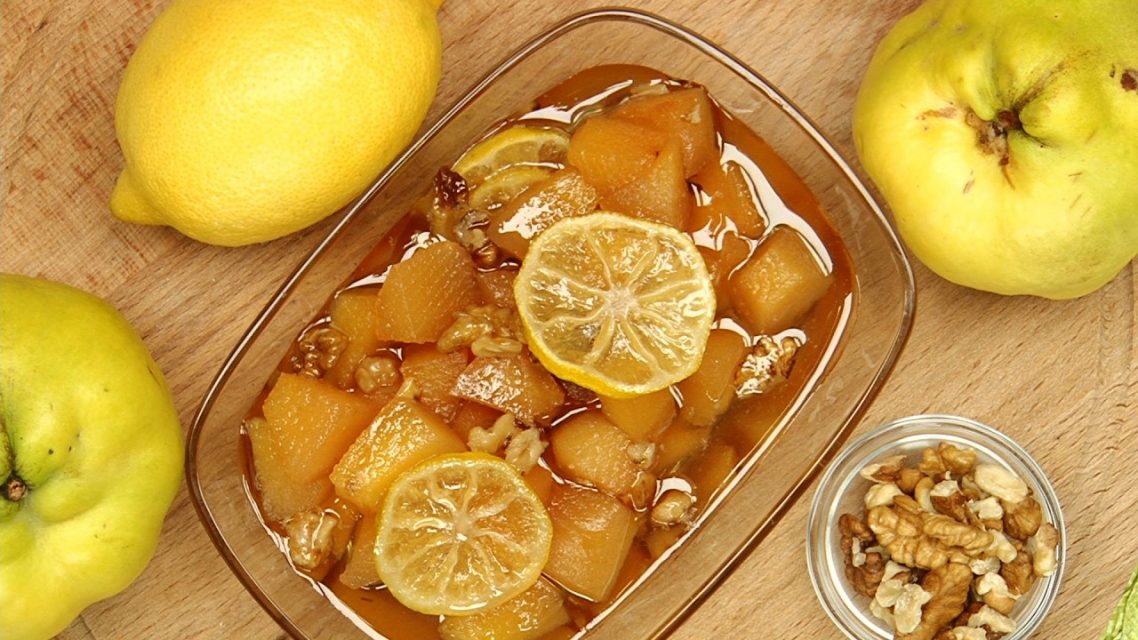 Pumpkin fried with quince and carrots
A simple sunny autumn dish in which the brightness of tastes and aromas is not inferior to the appearance. The flavors of sweet pumpkin and carrot are perfectly intertwined with the astringency and slight sourness of quince. This bouquet is perfectly complemented by the aromas of curry, paprika, garlic, and herbs.
Ingredients 3 servings:
Pumpkin 7.0oz
Quince 5.29oz
Carrot 5.29oz
Onion 1 piece
Vegetable oil 1 tablespoon
Curry 1/2 teaspoon
Dried Italian herbs 1 teaspoon
Ground paprika to taste
Garlic 3 cloves
Freshly ground pepper (pepper mixture) to taste
Salt to taste
Instruction:
Cooking time 25 minutes
We prepare the necessary products. Peel the onion and cut it into thin half rings. In a frying pan, heat the vegetable oil and fry the onion on medium heat for 3-4 minutes.
Peel the carrots and cut them in half. Each half of the carrot is cut into plates, which in turn are cut into medium strips. Carrots are sent to the onion and fry on medium heat for 5-6 minutes.
I wash the quince and wipe it with a kitchen sponge, peeling off the plaque, cut and remove the seeds. Cut the quince into small cubes. Put the quince in a frying pan and fry for 4-5 minutes.
Peel the pumpkin and cut into the same cubes as the quince. Add the pumpkin to the rest of the ingredients, and mix everything together.
There we pour curry, paprika, Italian herbs, salt, and a mixture of peppers.
Garlic is cleaned and passed through a press into a frying pan.
Mix it up. Fry for 4-5 minutes.
Then cover with a lid and cook on low heat for another 5 minutes. We serve pumpkin with quince and carrots hot as an independent dish or as a side dish to meat. Enjoy your meal!
#5.Cranberry
. Fruits and berries to support immunity.
No berry occupies such an important place in cooking as cranberries. Recipes for cooking this berry are simple. First of all, of course, drinks are made from cranberries, for example, cranberry compote and apples or cranberry jelly, the recipe "frozen cranberry jelly", by the way, can be prepared all year round. As well as cranberry juice from frozen cranberries.
How to cook frozen cranberry juice? Recipe for cranberry juice from frozen cranberries: The berries are slightly thawed and kneaded. Then the juice is separated, the berries are boiled and the broth is combined with the juice.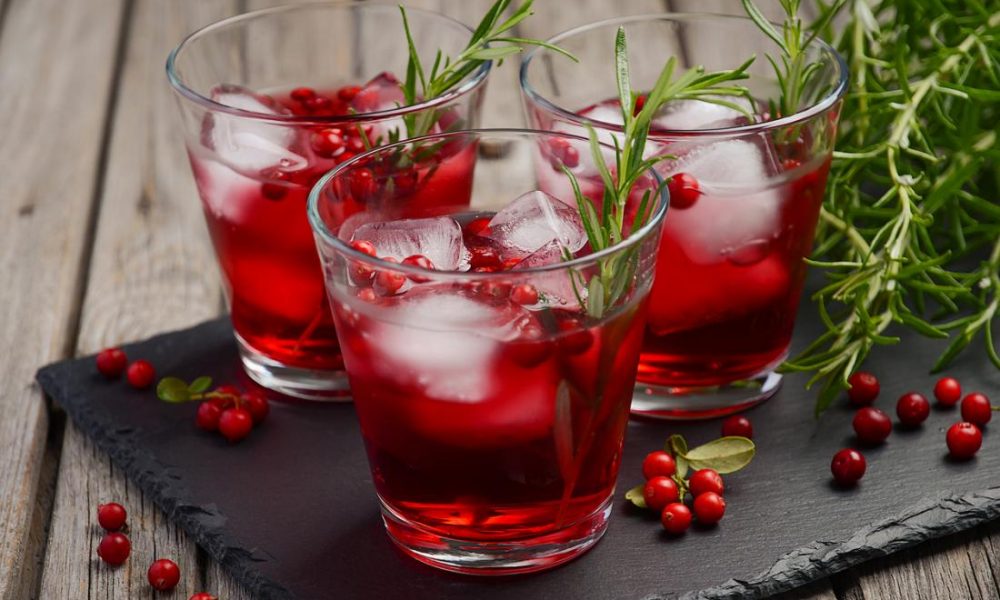 Silicon, potassium, iron, vitamins B5 and K, as well as other useful substances, are present in the valuable berry. Of course, it is quite difficult to eat a large amount of fresh cranberries. But you can simplify this process by cooking cranberries in powdered sugar or cranberry juice. This berry is very useful for fighting pyelonephritis, preventing cardiovascular diseases, and improving immunity.
Scones with apples and cranberries
Very tasty apple scones! Triangular shortbread buns with the addition of grated apples and dried cranberries are obtained with a crispy crust, moderately sweet, and soft inside, with the aroma of cinnamon and vanilla. For tea or coffee, such scone buns are just perfect.
Ingredients for 8 servings:
Apples 4 pcs
Dried cranberries 4 tablespoons (nuts and other dried fruits can be used)
Butter (cold) 3.53oz
Egg 1 pc.
Sugar 3.53oz
Flour about 12.35oz
Baking powder 1 teaspoon
Salt 1/2 teaspoon
Vanilla sugar 1 teaspoon
Ground cinnamon 1/2 teaspoon
Ground ginger 1/2 teaspoon
Oil for lubricating the dough
For the glaze:
Powdered sugar 3 tablespoons
Milk 2 tablespoons
Instruction:
Cooking time 50 minutes
Peel the apples, grate on a medium grater, and drain the excess juice. Mix all the dry dough ingredients in a bowl: flour, salt, sugar, baking powder, cinnamon, ginger, vanilla sugar.
Add cold butter to the flour mixture (grate on a coarse grater) and rub into crumbs with your hands. Add apples and egg. Stir until smooth. You do not need to knead the dough with your hands – as soon as the flour is mixed, the dough is ready. The dough turns out to be very soft and sticky. Do not try to make it very thick, because of this, the finished scones will be tough. The softer the dough, the softer the scones will be.
Add dried cranberries to the finished dough and mix everything well again. Transfer the dough to a floured surface, and sprinkle the dough with flour on top, too. Using your hands, knead the dough into a circle, and divide it into 8 triangles.
Transfer the triangles to a baking sheet lined with parchment paper. Lubricate with milk.
Bake the apple scones in the oven, preheated to 356F, for 25-30 minutes, until golden brown.
If desired, decorate the scones with icing sugar (for its preparation, dilute the powdered sugar with milk to the consistency of cream). Enjoy your meal!
#6.Apples
Of course, it is better if these are homemade apples that you have collected from your garden trees. But even in retail outlets, apples will be the most real, without artificially created color and aroma. Because their season is not over yet.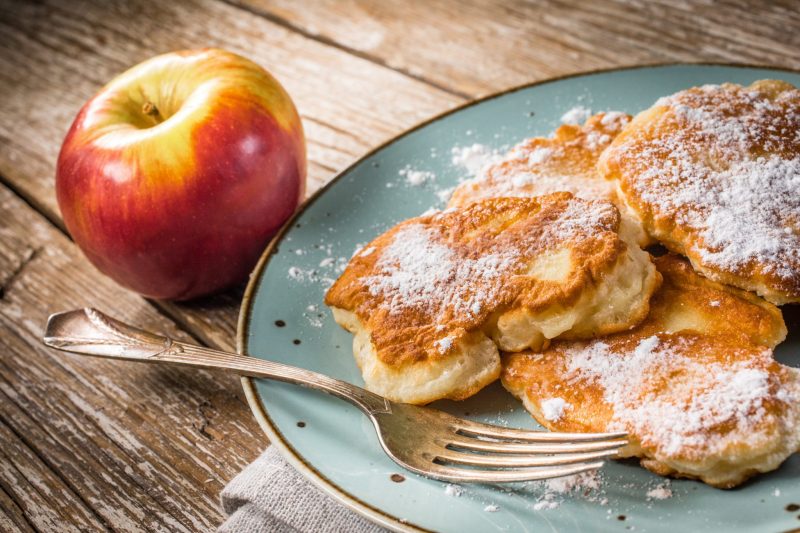 Apple fritters
A simple and quick recipe for apple fritters. Apple pancakes turn out to be soft and fragrant. Very tasty with tea or coffee!
Ingredients:
Apples 3 pcs.
Sugar 2 tablespoons
Egg 1 pc.
Flour 4 tablespoons
Ground cinnamon 1/2 teaspoons
Vegetable oil for frying
Instruction:
Cooking time 20 minutes
How to cook apple fritters:
Peel the apples, and cut out the cores. Grate the apples on a coarse grater.
Transfer the grated apples to a deep bowl. Add sugar. (My apples are sweet, so I added 2 tablespoons of sugar. If the apples are sour, then the amount of sugar can be slightly increased.)
Add cinnamon and egg to the apples. Mix the mass.
Then gradually pour in the flour, mixing well with a spatula. (If apples let in a lot of juice, then you may need a little more flour than indicated in the recipe.)
Spread the apple dough with a tablespoon on a well-heated frying pan with oil, forming small pancakes.
Fry the apple fritters on low heat for 3 minutes on each side. From the specified number of ingredients, I got 10 pancakes.
We serve apple pancakes with honey or sour cream. Yummy! Enjoy your meal!
#7.Pears
. Fruits and berries to support immunity.
Pear is a fruit not only delicious but also very useful. Regular inclusion of pears in the menu allows you to reduce cholesterol levels in the blood, helps strengthen the immune system, and allows you to get rid of extra pounds.
On the dining table, a pear is perfectly combined with a lot of products that at first glance seem incompatible with a sweet juicy fruit: cheeses, pork, beef, chicken, nuts, and seasonings (spices), which are primarily associated with meat dishes.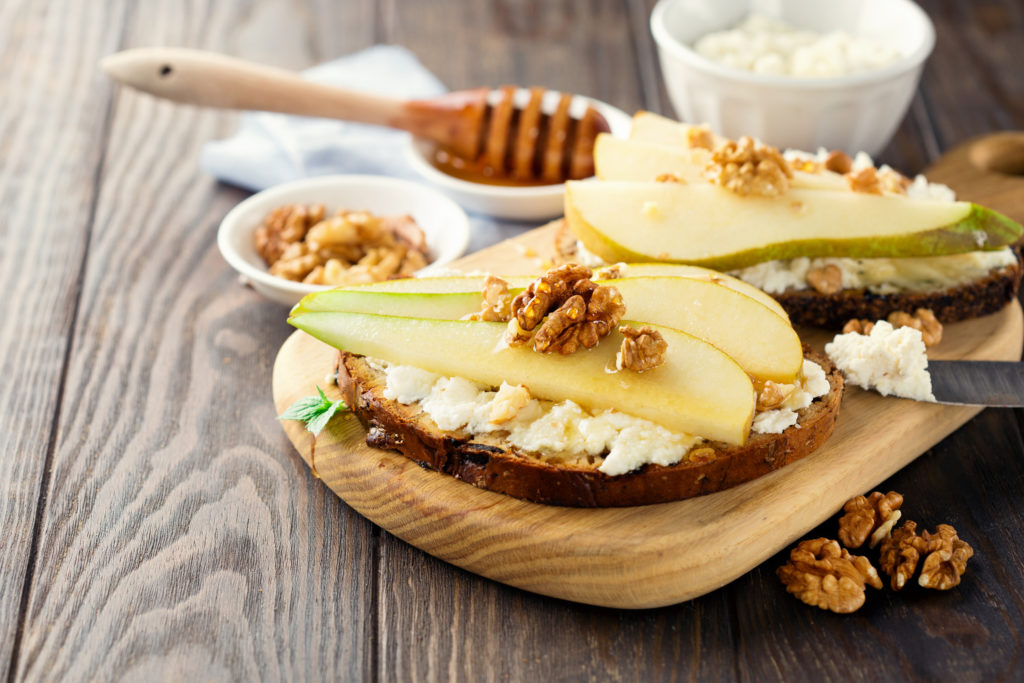 Toasts with cheese filling, pears, and nuts
Baguette slices are fried in the oven and served with cheese filling, canned pears, and nuts.
Ingredients:
Cream cheese 8.82oz
Pears, canned slices in juice 14.11oz
Pecan or walnut (chopped) 1/2 cup
Baguette (sliced) 1 pc.
Olive oil 2 tablespoons
Fresh parsley (chopped) 2 tablespoons
Instruction:
Cooking time 25 minutes
How to make toast with cheese, pears and nuts:
Turn on the oven to preheat to 392F. Grease the baguette slices with olive oil on one side and put one layer on a baking sheet, put in a preheated oven, and fry the baguette for 5-7 minutes, until golden brown. Leave the baguette slices to cool at room temperature.
Put cheese mass on the cooled baguette slices, put pears on top, and nuts on them, sprinkle chopped parsley on toast, and serve cheese toast to the table immediately.
Autumn is the perfect time to make up for vitamin deficiency naturally. Therefore, now you can safely use everything that grows at this time of the year. Despite the fact that it is better to eat seasonal vegetables and fruits in their "live" form, with proper processing and preservation, their useful properties can be preserved until winter.
Like what you're reading? You can sign up for Medium using my affiliate link. Just $5 a month to read an unlimited number of articles and help me create further. Together we will move mountains!
https://elenasunshinemagazine.medium.com/membership