Pizza stromboli with olives is a delicious, satisfying, easy-to-eat dish. The dish will not leave you indifferent with its aroma and taste. If you take all the most delicious pizza: delicious filling, melted cheese soaked in tomato sauce and dough, wrap in a roll and bake until crisp, you will get stromboli.
Ingredients
Water 10.82 fl oz (320 ml)
Fast acting yeast 2 teaspoons
Wheat flour 17.64 oz (500 g)
Sugar 1/2 tablespoon.
Salt 1/2 teaspoon.
Vegetable oil 2 tablespoons.
Tomato sauce 5.07 fl oz (150 ml)
Sausage/ham 10.58 oz ( 300 g)
Cheese 14.11 oz (400 g)
Basil 1 bunch
Olives / olives 1 handful (optional)
Yolk 1 PC. (for greasing the dough)
189 kcal per 3.53 oz (100 g) of ingredients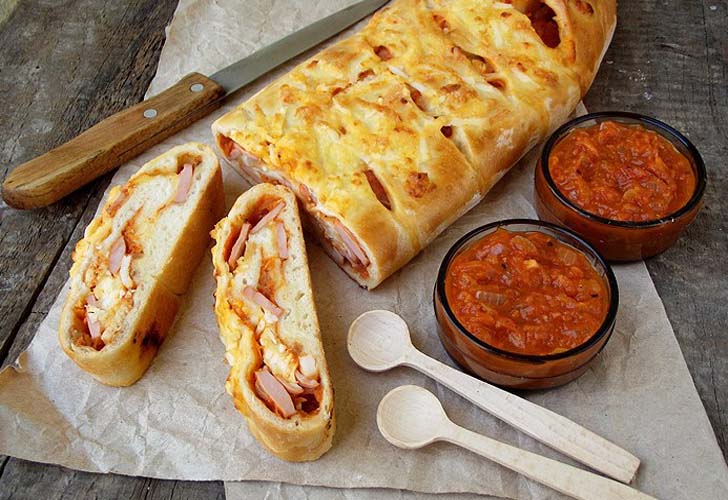 Step-by-step recipe

. Stromboli pizza with olives.



Cooking time 40 minutes
Prepare the ingredients according to the list. Combine warm water yeast and sugar. Mix everything well until the yeast dissolves. Sift the wheat flour. Make a small depression in the center of the flour, add salt, the prepared mixture of water, yeast and sugar, and vegetable oil.
Moving from the center of the container to the edges, gradually mix the components and form a ball of soft dough. Move the dough to a floured work surface and knead for 5-7 minutes.
Place the dough in a greased container, cover with a towel or cling film, and leave at room temperature for 1 hour. When the dough has doubled in volume, you can start cooking stromboli. Knead the dough and divide it into 2 parts. Sprinkle the work surface with flour and thinly roll out the first part of the dough in the shape of a rectangle in size.
Brush the dough with tomato sauce. Lay out the thinly sliced sausage or ham. Finely chopped Basil leaves or dried herbs to taste. Grate cheese. If desired, add some chopped olives or olives. You can choose your favorite ingredients that you prefer as a filling in a pizza.
Fold the free right and left edges of the dough towards the center, then roll the dough with the filling into a roll and pinch the edge of the dough. Repeat the procedure with the remaining test.
Place the prepared pizza roll on a baking tray lined with baking paper. Smear the surface of the roll with beaten yolk, sprinkle with grated cheese and make several incisions to release steam. Bake the Stromboli for 10 minutes at 212F  degrees. Then increase the temperature to 356F  and bake for another 20-30 minutes until golden. Try it! Bon Appetit! Stromboli pizza with olives.