The popular pepperoni pizza is very tasty and flavorful. It is easy and simple to cook at home. I am sure you can easily repeat this recipe and pepperoni pizza will become a regular in your family meals. It can be prepared just for dinner or as a tasty snack for a meeting with friends.

Cooking time 1 hour
Ingredients
Dough:
Wheat flour 15.87 oz ( 450 g)
Water-1/2 Cup
Yeast (dry) 1 teaspoon
Salt 1 pinch
Olive oil 1 tbsp.
Sauce (for 5 large pizzas):
Tomatoes  5 PCs.
Ketchup 4 tbsp.
Tomato paste 1 tbsp.
Olive oil 3 tbsp.
Garlic 5 cloves
Oregano, basil, thyme, sweet paprika, chili pepper, salt 1 tbsp.
Top:
Mozzarella 7.05 oz ( 200 g)
Sausage (pepperoni, salami) 6.35oz (180 g)
158 kcal per 3.53 oz (100g) of ingredients
Instruction

.Pepperoni Pizza.
Prepare the ingredients according to the list. For the sauce, combine the peeled tomatoes, garlic cloves, herbs (Basil, thyme, oregano) and spices (paprika, chili and salt). Add the hot ketchup and break everything up with a blender. Pour the tomato mixture into a pan with olive oil, add the tomato paste, stir and boil for about 5 minutes until the liquid has completely evaporated.
The yeast should be stirred in warm but not hot water and left for 20 minutes. After 20 minutes, add the flour and salt and pour in the olive oil. Knead the dough and wait for 45 minutes until it rises. Put it on the table, knead and roll out a thin flatbread. Transfer the tortilla to the baking tray!
Smear the tortilla with a fragrant, spicy sauce. The pepperoni recipe differs from the classic pizza preparation. Usually, the cheese is put at the end, sprinkling them with the ingredients laid out on the dough. In this recipe, the opposite is done. Put mozzarella cheese on the tomato sauce first. It should be grated on a large grater. Thinly slice the pepperoni (spicy salami). Grate the cheese or cut it into discs. Put the cheese first, and then the sausage discs.
Bake the pizza in the oven for 10-15 minutes at a temperature of 392F (200C) degrees. The oven should be preheated by now. Spicy, flavorful pepperoni pizza, cooked at home, on a thin flatbread is ready! When it cools down a little (you just can't hold it any longer), call your family and enjoy its great taste. Bon Appetit!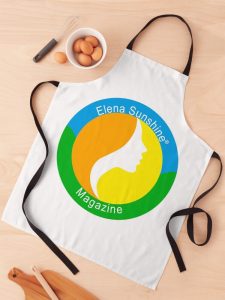 https://www.redbubble.com/i/apron/Elena-Sunshine-Magazine-by-Michaelbor76/52450511.6ZXWR?asc=u