Pumpkins stuffed with meat filling-this dish is delicious, nutritious, very healthy. Stuffed pumpkin is easy to use as a clay pot for baking in the oven. Regardless of the content, it looks so impressive that it can decorate a festive table. Stuffed with meat filling squash pumpkins.
Stuffed pumpkin is a real culinary hit of autumn. And it doesn't matter if you baked a huge pumpkin for guests or prepared portioned pumpkins for dinner with your family, you will definitely get compliments. What to stuff a pumpkin with? Almost anything. Sweet pumpkin goes well with both sweet and unsweetened foods.
Ingredients
Designed for 5 servings
Pumpkin squash 4 pieces
Coarse salt to taste
Freshly ground black pepper to taste
Extra virgin olive oil 2 tablespoons
Red sweet pepper 1 piece
Garlic 1 clove
Green onion with onion 2 pieces
Tomato paste 2 tablespoons
Chili powder 1 teaspoon
Ground beef 8.82 oz (250 g)
Frozen corn kernels 1 Cup
Grated parmesan cheese 3 tablespoons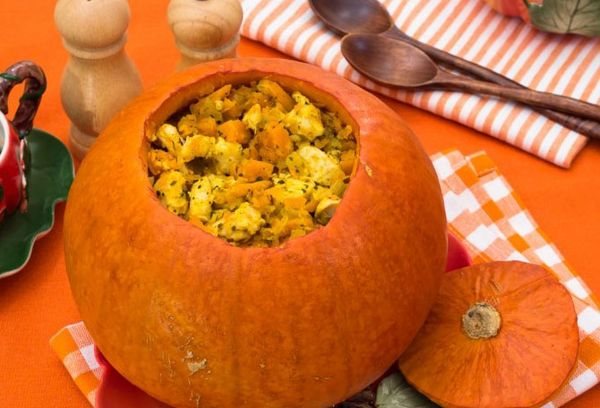 Instruction
. Stuffed with meat filling squash pumpkins.
Cooking time one hour
Preheat the oven to 392F (200C) degrees.
Cut each pumpkin in half lengthwise. Cut a round bottom from each half so that the halves stand well. Use a spoon to remove half of the pulp and finely chop it. Place the pumpkin halves on a baking sheet, skin down, and season with salt and pepper.
In a large skillet, heat the olive oil over medium heat. Add the finely chopped pumpkin flesh, finely chopped bell pepper, chopped white parts of green onions and crushed garlic. Season with salt and pepper. Cook, stirring, for 3-4 minutes, until the peppers are soft. Add the tomato paste and chili powder. Cook for another minute. Then add the minced meat and fry for 2-3 minutes. Remove from the heat and add the corn and 2 tablespoons of parmesan. Season with salt and pepper.
Spread the filling over the pumpkin halves and sprinkle with 1 tablespoon of parmesan. Cover with a sheet of foil and bake until soft for 30-35 minutes. Then open and brown for another 7-10 minutes. Sprinkle with chopped green onions and serve immediately. Bon Appetit! Stuffed with meat filling squash pumpkins.