Try a delicious stuffed pepper with ground beef and get ready for a new taste experience. Instead of the usual rice, we use brown, and replace the banal minced meat with minced marbled beef. We share a new recipe for a hot snack for sunday lunch. Stuffed peppers with ground beef and brown rice.
How to cook stuffed peppers with ground beef
To make a delicious filling, use minced marbled beef, which consists of carefully selected cold cuts. You can buy minced meat chilled from marbled meat. Before you chop the meat, it is carefully cleaned of tendons and excess fat. Then join together the cuts from the scapula or hip with premium cuts from the vertebral zone. Minced meat turns out juicy with a pleasant meat aftertaste and a richer aroma. You can prepare minced meat yourself by selecting your favorite cuts of marbled beef and grinding them in a meat grinder. Complement the dish with your favorite spices, experimenting with new flavors.
Ingredients:
Designed for four servings
for meat filling:
Ground beef 17.64oz
Diced 1 onion,
Olive oil 1 tablespoon
Red pepper flakes 1/4 teaspoon
Sea salt 1/2 teaspoon
Ground black pepper 1/4 teaspoon
Large bell peppers 8 PCs
Fresh parsley 1 bunch
For rice:
Brown rice 1 Cup
Water 2.5 cups
Olive oil 2 tablespoons
Diced 1 onion
Garlic, minced 2 cloves
Sea salt 1 teaspoon
Onion powder 0.5 teaspoon
Diced 1 carrot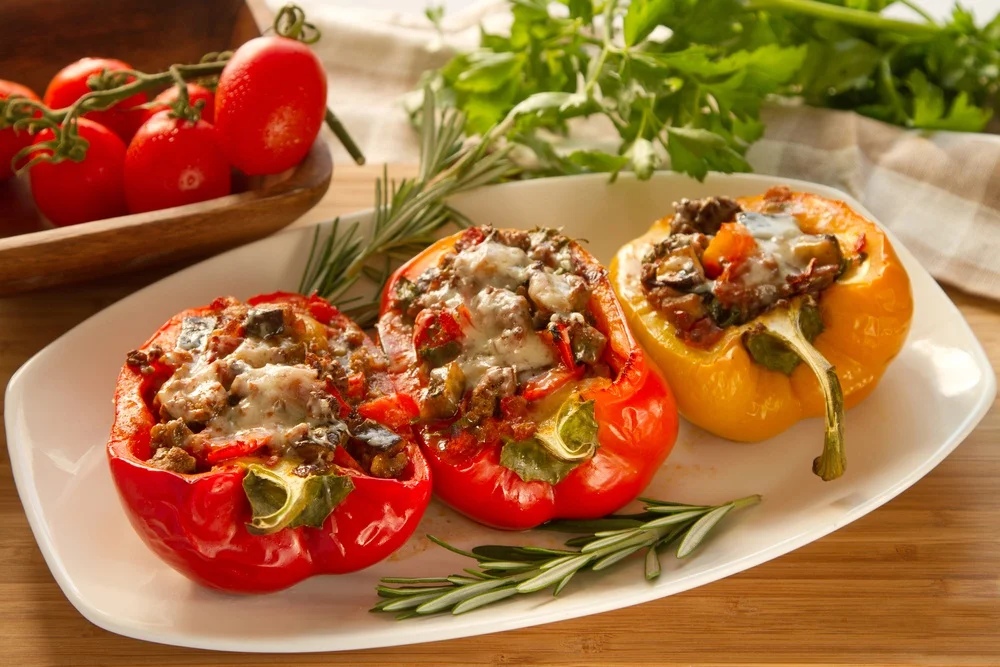 Instructions:
. Stuffed peppers with ground beef and brown rice.
Cooking time 1 hour
Heat the oil in a medium saucepan. Add the onion and fry it until transparent. Add the garlic, carrot, salt and onion powder. Simmer for 2 minutes. Add the brown rice and stir. Add water, cover, turn down the heat and cook for 35-40 minutes until the water is completely absorbed.
Meanwhile, heat the oil in a cast-iron skillet. Add the onion and fry it until transparent, 2-3 minutes. Add the minced meat, salt, pepper, and chili flakes. Fry, stirring frequently, until tender, 10-12 minutes.
Wash and peel the peppers. Drizzle the baking dish with vegetable oil and put the peppers in it. Combine the rice and minced meat together and fill the peppers with this mixture. Bake at 356F degrees for 20 minutes. Garnish with fresh parsley and serve hot. Sliced peppers can be used in an omelet or on a hummus sandwich. Heat the cooled stuffed peppers for a couple.  Bon Appetit!