Surely in the arsenal of any hostess there are interesting and delicious dishes for all occasions: meet guests, organize a festive dinner, and feed big and small champions with a hearty breakfast. 3 recipes for healthy fish dishes.
Creamy salmon soup
Ingredients for 4-5 servings:
Fish stock 33.81oz
Salmon fillet 12.35oz
Potatoes 7.05oz
Onions 2.65oz
Carrots 2.65oz
Cream 33% fat 1/2 Cup
Dill 1 small bunch
Of green onions 1 small bunch
Of salt, black pepper
Freshly ground to taste
Spinach 1 tablespoon
Vegetable oil 1 tablespoon
Allspice 3 PCs
Ground black pepper to taste
Bay leaf 1 PC
Butter 1 teaspoon
Fish stock:
35.27oz fish bones
Onion 5.29oz
Carrot 3.53oz
Tomatoes 2 PCs
Salt to taste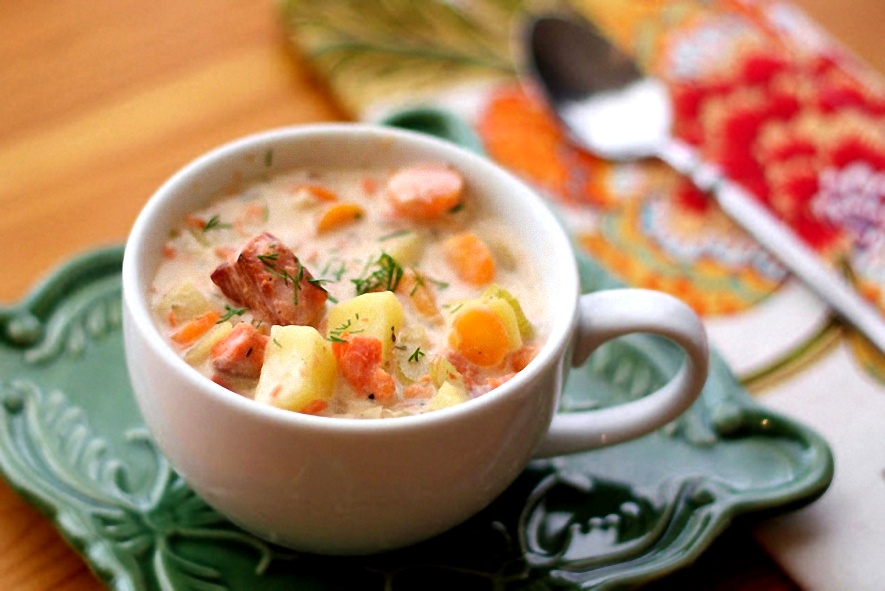 Instruction:
Cooking time 50 minutes
Wash the fish bones thoroughly to make the water clear and drain. Instead of bones, you can use 2-3 salmon heads. Fill the bones with water . Vegetables for broth cut randomly, but finely, add to the bones. Bring to a boil and remove the foam, add salt, reduce the heat and cook for 20 minutes. Remove from heat and let stand for 30 minutes. Strain through a fine sieve.
Boil potatoes in a uniform, cool and peel. Onions and carrots for soup cut into small cubes and fry in a small amount of vegetable oil over medium heat, without changing the color.
Bring the prepared broth to a boil, rub the boiled potatoes through a sieve, so the soup will become thicker. Add mashed potatoes and fried vegetables to the broth, add peas, ground black pepper, Bay leaf and cook for 5 minutes.
Cut the salmon fillet into cubes. Add the salmon, cream and spinach to the broth, bring to the boil and simmer until the fish is cooked for 2-3 minutes. Bring the soup to the desired taste, adding salt, pepper, dill, green onions and a cube of butter. Bon Appetit!
Cod with mashed potatoes and garlic sauce
Ingredients for 1 serving:
Of cod fillet on the skin 1 PC.
Vegetable oil 1 tablespoon
Wheat flour 1.76oz
Salt to taste
Dill 1-2 sprigs for decoration
Sauce:
Garlic 5 cloves
Cream 33% fat 1/2 Cup
Salt to taste
Smoothie:
Boiled potatoes 8.82oz
Milk 1/2 Cup
Butter 2 tablespoons
Salt to taste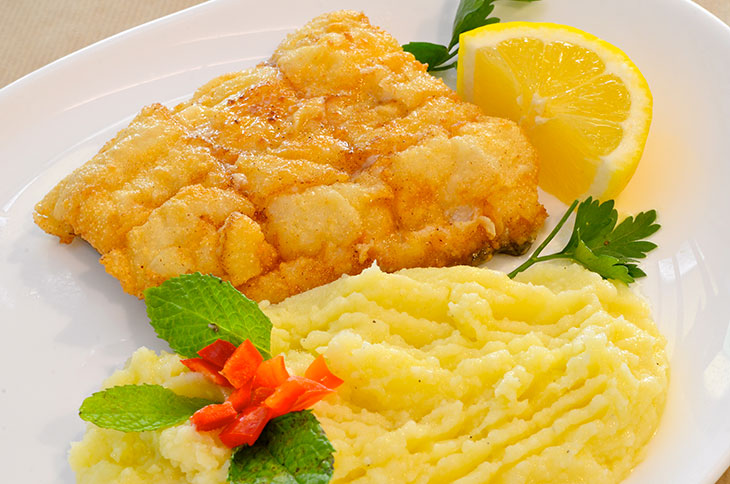 Instruction:
Cooking time 40 minutes
Pour water over the peeled garlic cloves so that they cover them, bring to a boil and cook for 20 minutes. Merge. Repeat 2 more times. Pour the cream over the boiled garlic and bring to a boil. Beat with a blender until smooth. Salt. Rub the potatoes through a sieve. Bring the milk and butter to a boil, add to the mashed potatoes, mix, and add salt to taste.
Salt the cod steak, roll in the flour on the skin side, shake off the excess flour. Fry in a preheated frying pan with the skin down in vegetable oil, turn it over and put it in the oven for 2 minutes, preheated to 356F degrees.
heat the puree slightly in a saucepan, stirring with a silicone spatula. Our task is to fill the puree with oxygen. If you overdo it with the temperature and effort, the potatoes will become "rubbery" and tasteless. Heat the sauce in a saucepan. Put the puree on a plate, make a recess for the cod with a spoon, transfer the finished fillet to the puree skin up and pour the garlic sauce over it. Garnish with dill. Bon Appetit!
Fried potatoes with sour cream and pike caviar
. 3 recipes for healthy fish dishes.
Ingredients for 1 serving:
Potatoes 6.35oz
Onion 1/2 small onion
Vegetable oil 2 tablespoons
Unrefined vegetable oil 1 teaspoon
Salt to taste
Poached egg 1 pc.
Pike ROE 2 tablespoons
Sour cream 2 tablespoons
Dill 1 small bunch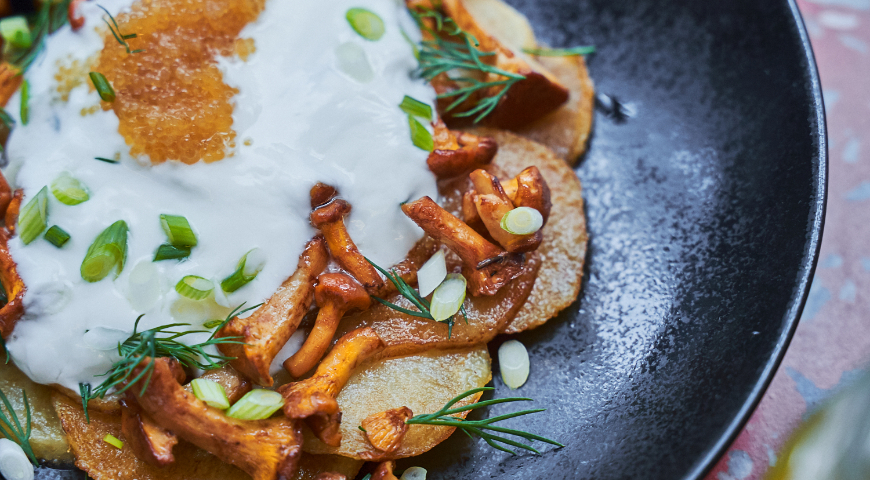 Instruction:
Cooking time 30 minutes
Cut the potatoes into small circles, pour some of the vegetable oil, put on a baking sheet in an even layer, bake in the oven, preheated to 356F degrees to a small color. Separately fry the onion in the remaining vegetable oil until golden brown. Put the baked potatoes in a single layer on a hot pan over medium heat, add salt. Cook until a good color, turn over and fry again. Add the onion and fry all the ingredients together again. At the last minute of frying, add unrefined oil. Place on a napkin to get rid of excess fat.
Put the potatoes on a plate, poached egg in the center of the dish, sour cream and caviar on the egg. Sprinkle with dill. Bon Appetit!