Design art can transform your space. Feel like an artist, don't be afraid to experiment and use original decor. Giving preference to living colors, it would be good to maintain the color scheme and overall style of the apartment or house. 11 ideas for interior decoration with a bouquet of flowers.
Several small vases or vases with flowers can make an interesting composition.
As for the color scheme, you will determine what will be best combined with your Wallpaper, curtains, furniture and other parts of the interior. But there are several universal shades that can suit many.
So, in the kitchen, yellow and green plants will create a special cheerful mood, as well as comfort and comfort. Fragrant and fragrant flowers will make the image complete.
Roses, irises and freesias will give peace and relaxation in the bedroom. You will be pleased to be among these flowers.
White, yellow and pink flowers will give you a sense of harmony. A romantic setting requires red splashes. Also, bright colors will give energy and strength. Blue and purple plants will relieve stress and fatigue.
Freshness will give you lilac, it is recommended to place it in a vase with a wide neck. In addition, it will serve as a good background for other plants. Or you can add it with a sprig of viburnum.
Easy and fresh look dahlias, they do not fade for a long time and look very natural in any room. In a vase, you can collect several shades, and this will give a lively interior.
Wild flowers in wicker baskets will add romance, and chic buds in elegant vases refinement.
There are special requirements for roses: light flowers are in good harmony with white vases. Dark tones look elegant in black, silver and gold vessels.
Small orchids and exotic herbs will be left to those who prefer unusual solutions.
Three things can bring true life to the interior: flowers, children, and Pets. Get inspired and transform your home!
Living room
. 11 ideas for interior decoration with a bouquet of flowers.
1. a Great idea is to mix roses and garden buttercups in one bouquet, adding a sprig of decorative berries. You can set off this juicy bouquet with another one, made of fine herbs and small white flowers, they will look very good in contrast. In General, it is a transparent and poetic composition.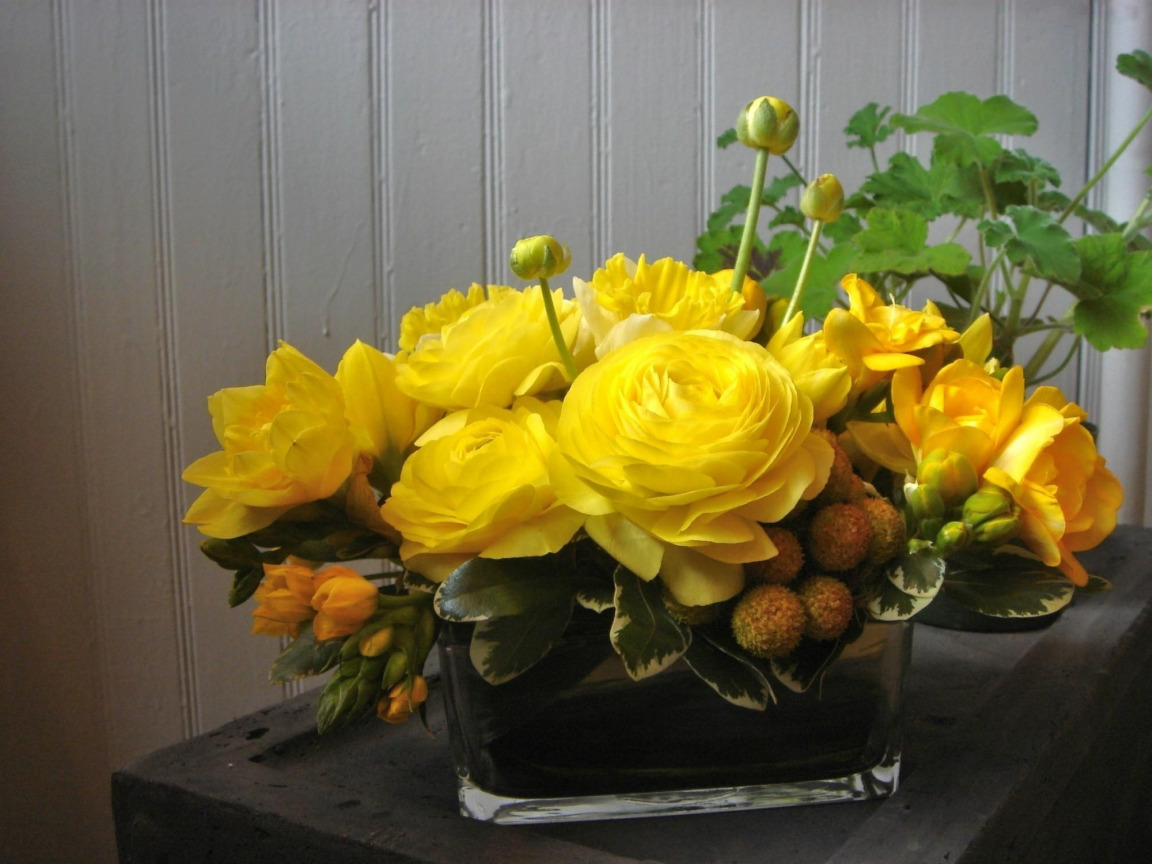 2. Fine, if you love roses, you can make a bouquet of different flowers. Here is another example: here are pink roses diluted with white hydrangeas. This is deliberate carelessness, as if all the flowers the hostess has just cut in the garden.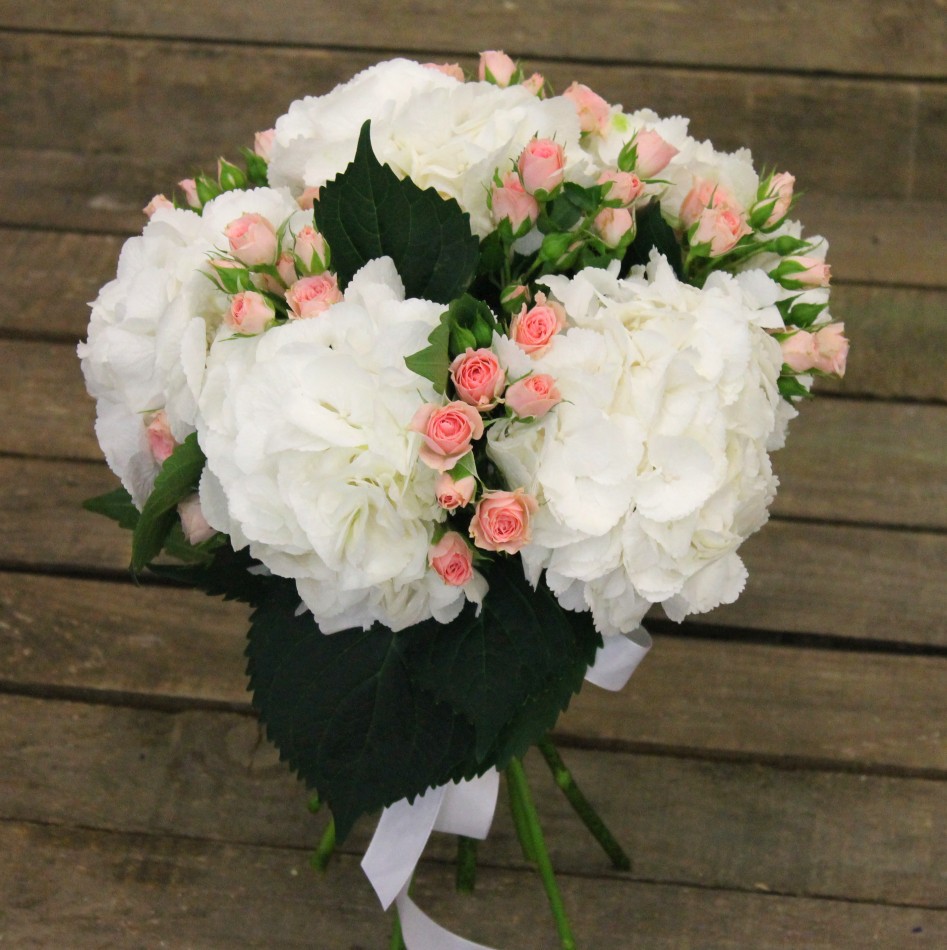 3. This bouquet consists of white roses with light yellow dahlias, added sprigs of greenery. In a room where there are many accessories of golden color, this bouquet looks like a great decorative accent.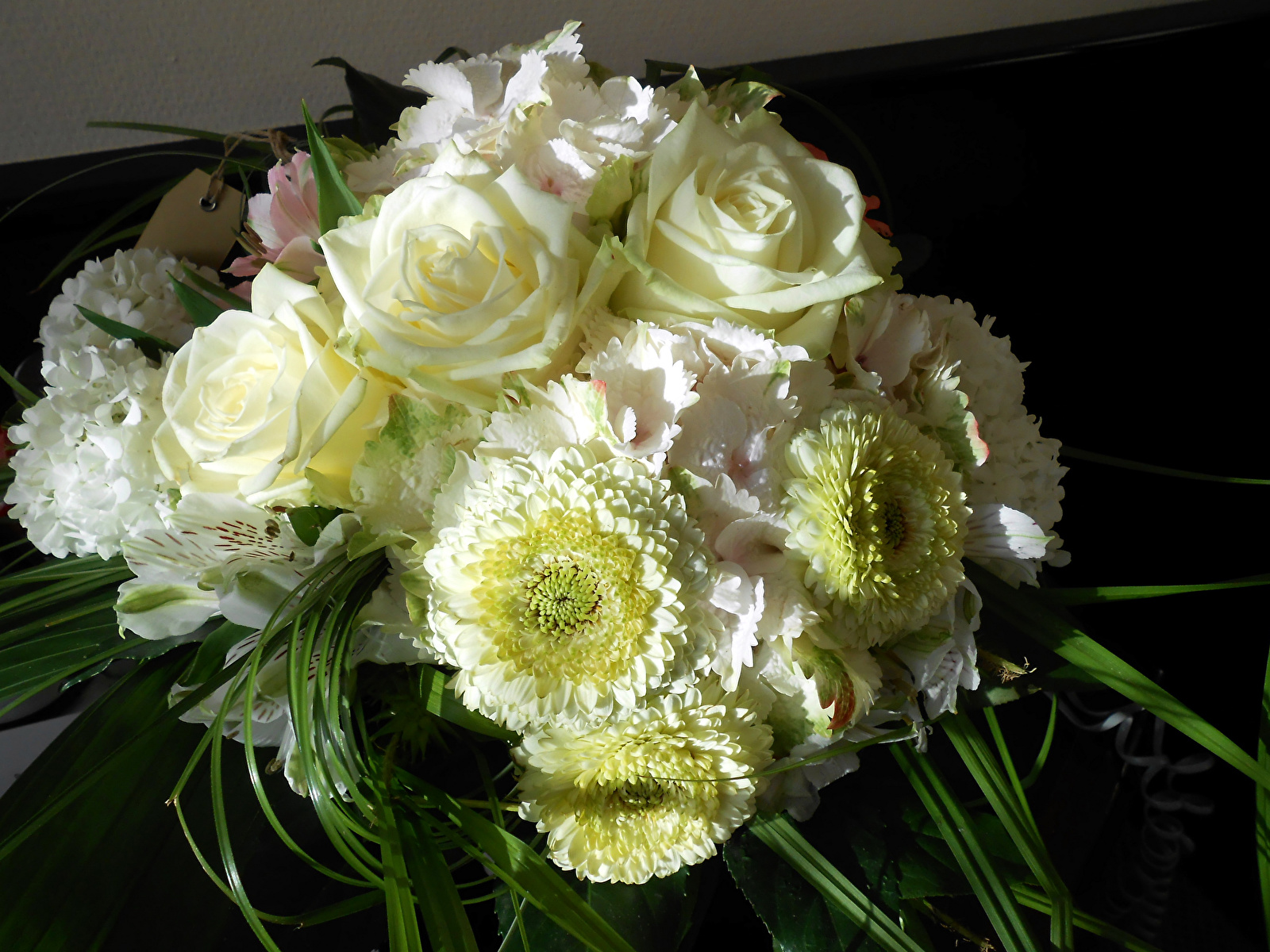 4. And the flowers for this bouquet are actually gathered in the garden at home. Pink and white spirea-modestly and with taste. A glass vase with floral decor looks great in the interior of a country house. But if you want to add a" rustic " bouquet of grandeur, just change the vase, take, for example, a crystal one.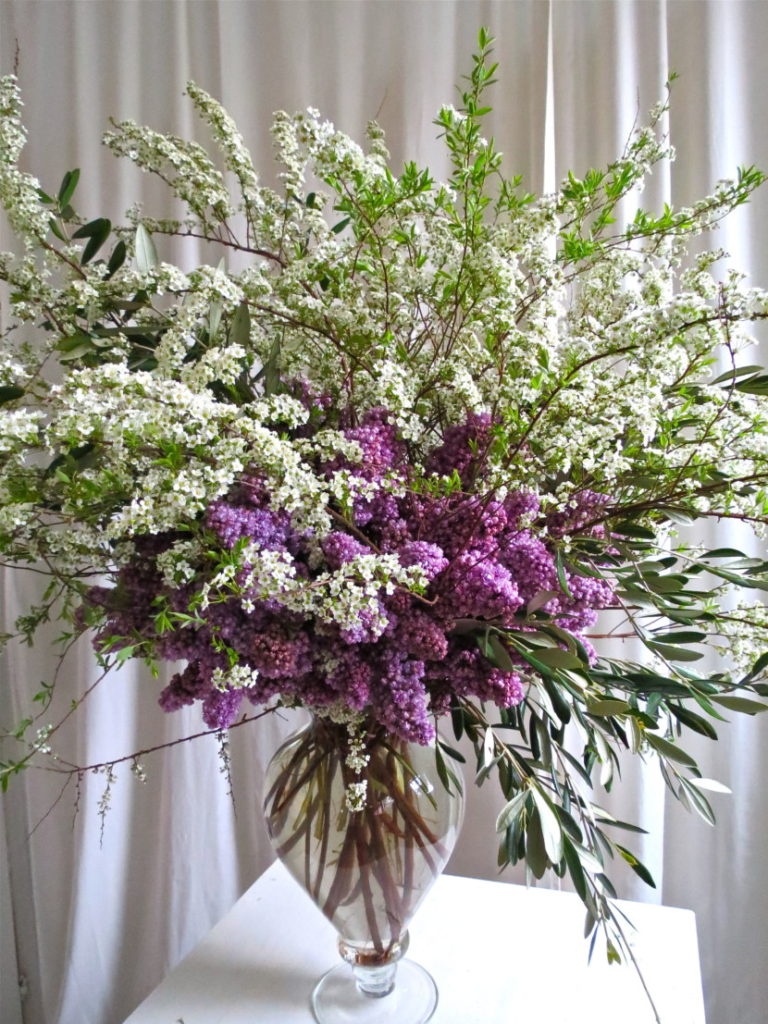 5. A beautiful bouquet of calla is combined with the interior design of the living room. In addition, their fresh white and yellow color harmonizes with the overall style of the house.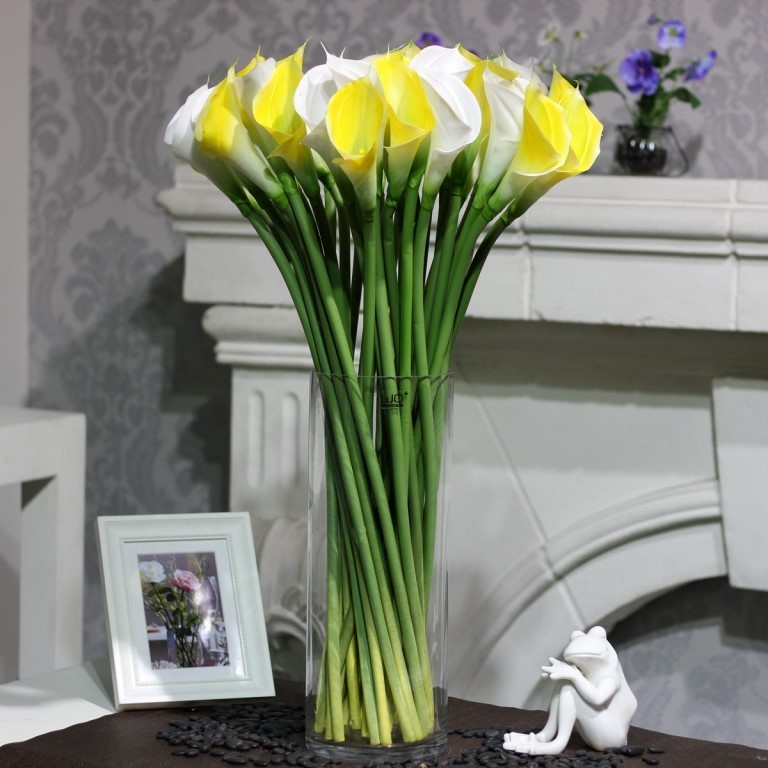 6. This outdoor bouquet from the ladies ' lounge. Flowers in a glass vase are infinitely elegantly combined with the decor.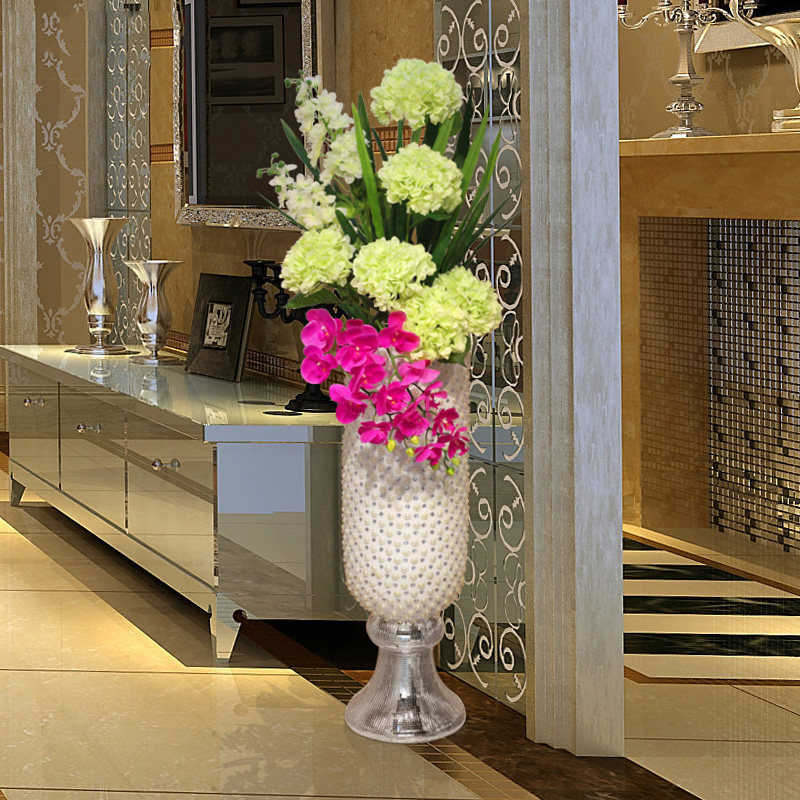 Dining room
11 ideas for interior decoration with a bouquet of flowers.
7. Family silverware will look less pompous if you put deliberately simple flowers in a vase – like this bouquet of daisies.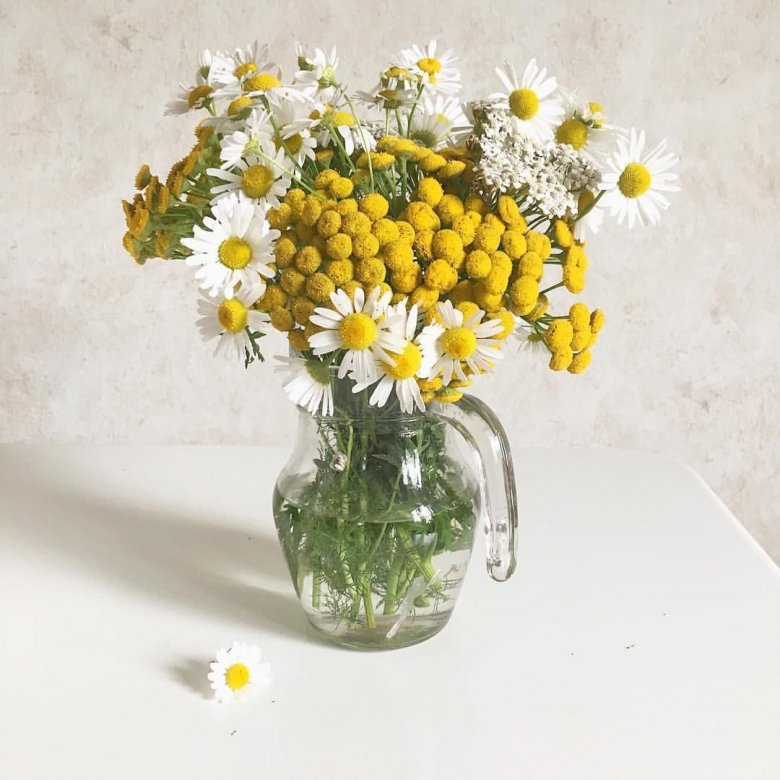 8. A concise bouquet of green flowers is an excellent solution for a strict, not overloaded with details of the interior of the dining room. For a long table, two identical bouquets are suitable, symmetrically arranged – they will "shorten" the length of the table a little.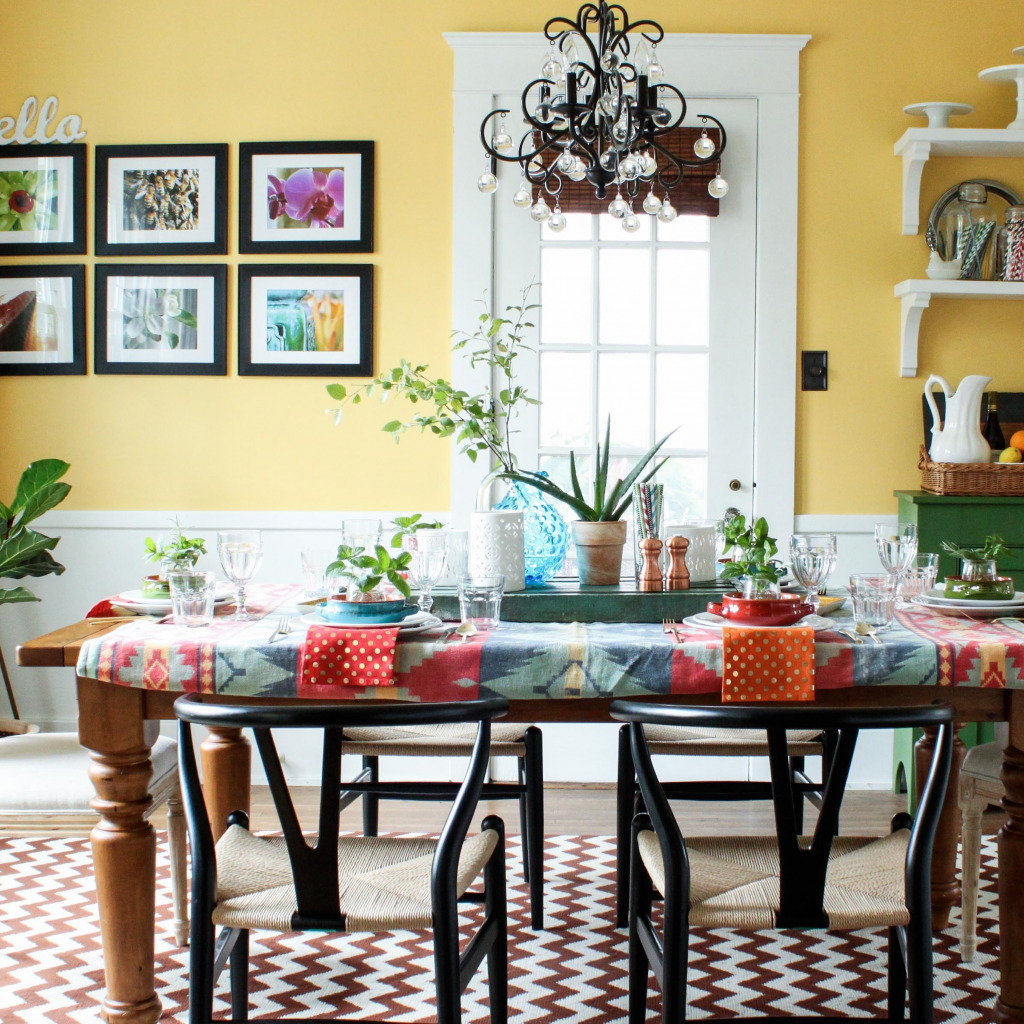 9.Here is another table with symmetrically arranged bouquets, this time in the garden pavilion. See how the accessories – balls, candlesticks, statuettes-maintain the symmetry set by the bouquets.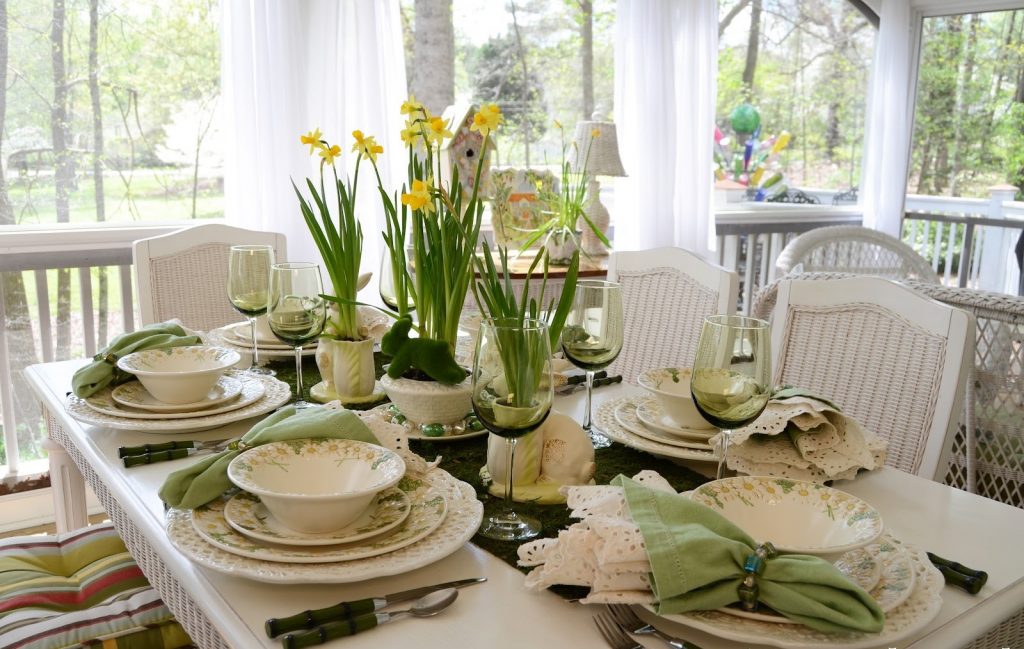 Bedroom
. 11 ideas for interior decoration with a bouquet of flowers.
10. White Orchid is a spectacular solution for the bedroom. The flowers seem infinitely tender.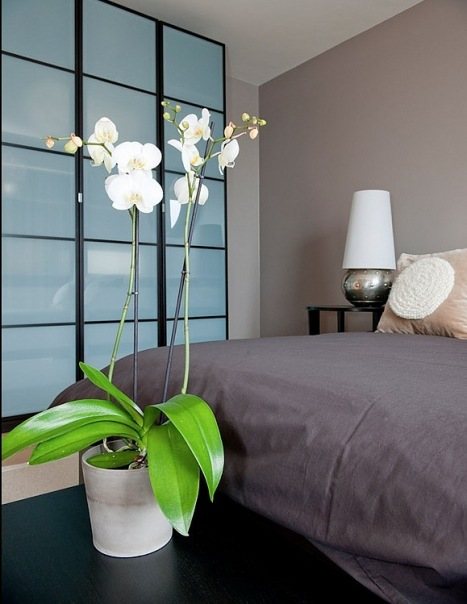 Bouquet on the window
11. Yes, there has always been and always will be such a genre. This is a kind of impromptu. You were just given flowers – and you just put them in a vase. It's simple. But how well it turns out! For example, like this.
Phytodesign is an area that is constantly developing. over time, there are original novelties that are quickly gaining popularity among flower growers. Thanks to this, you can implement your most daring ideas and feel comfortable in your own apartment.
There are many options. Plunge into the beautiful world of flowers and create your own unique oasis in your apartment or house. 11 ideas for interior decoration with a bouquet of flowers.