As you know, cauliflower is very delicious dishes can be prepared. One of these dishes is light cauliflower cutlets. The cutlets are quite tender, flavorful, and incredibly delicious. You can even say with great confidence that these are some of the most delicious vegetable cutlets. Any sauce is perfect for such cutlets. 5 delicious cauliflower cutlet recipes
Diet cauliflower cutlets with oat flakes
5 delicious cauliflower cutlet recipes
This is one of the simplest and most useful recipes for cooking vegetable dishes. You can use it for those who are on a diet, children, and the elderly.
Ingredients
5 delicious cauliflower cutlet recipes
Oatmeal 1/2 Cup
Egg 1 PC
Cauliflower (fresh or frozen) 17.64 oz
Onion 2 pieces or one large onion;
Wheat flour 2 tablespoons;
Breadcrumbs 1/2 Cup
Salt and black pepper to taste.
Instruction
. 5 delicious cauliflower cutlet recipes.
Cooking time 30 minutes
Pour boiling water over the oat flakes and let them stand for 10-15 minutes to swell. Cauliflower disassemble on inflorescences. Boil until half-cooked (about 3-5 minutes), drain, let cool. Chop the onion finely. Chop the cabbage.
In a large bowl, mix the vegetables, flakes, flour, egg, salt, and pepper. Let the minced meat stand for 5 minutes to swell the flour and flakes.
If after this time we notice that the mixture is too liquid, add the flour and mix. Take a small portion of minced meat with a tablespoon, roll in breadcrumbs, fry on both sides in heated vegetable oil.
Done. Bon Appetit!
The most delicious recipe for cauliflower cutlets with potatoes
Cutlets according to this recipe are extremely spicy. If you add hot pepper, then it is burning. So reduce the amount of spices as desired, if necessary. But the main thing is that this is a really delicious cooking option, which allows you to give a fairly bland vegetable bright culinary characteristics.
This method of cooking does not involve the use of eggs. Therefore, it is suitable for a fast table and vegetarian food.
Ingredients
Cauliflower 8.82 oz
Finely chopped onion 2 tablespoons
Mashed potatoes 3.53 oz
Minced garlic ½ tsp;
Ground ginger ½ tsp;
Ground turmeric ½ tsp;
Cumin ½ tsp;
a bunch of fresh coriander;
a piece of green chili pepper (optional);
ground red hot pepper, to taste and desire.
Grate the cabbage (directly in its raw form).
Instruction
. 5 delicious cauliflower cutlet recipes.
Cooking time 30 minutes
Heat the oil in a pan and put the garlic and ginger in it. Fry for a few seconds. Then add the turmeric and cumin with pepper. Re-fry. Put the cauliflower and onion in the pan. And pieces of green chili pepper, if we use one. Salt to taste. Stir.
Close the lid and fry for 5-7 minutes on low heat. After this time, add the chopped coriander leaves and mashed potatoes. Fry everything together with constant stirring for 2-3 minutes.
Remove the vegetable mixture from the pan. Let it cool down a little. And we make cutlets out of it. Roll in breadcrumbs. Fry.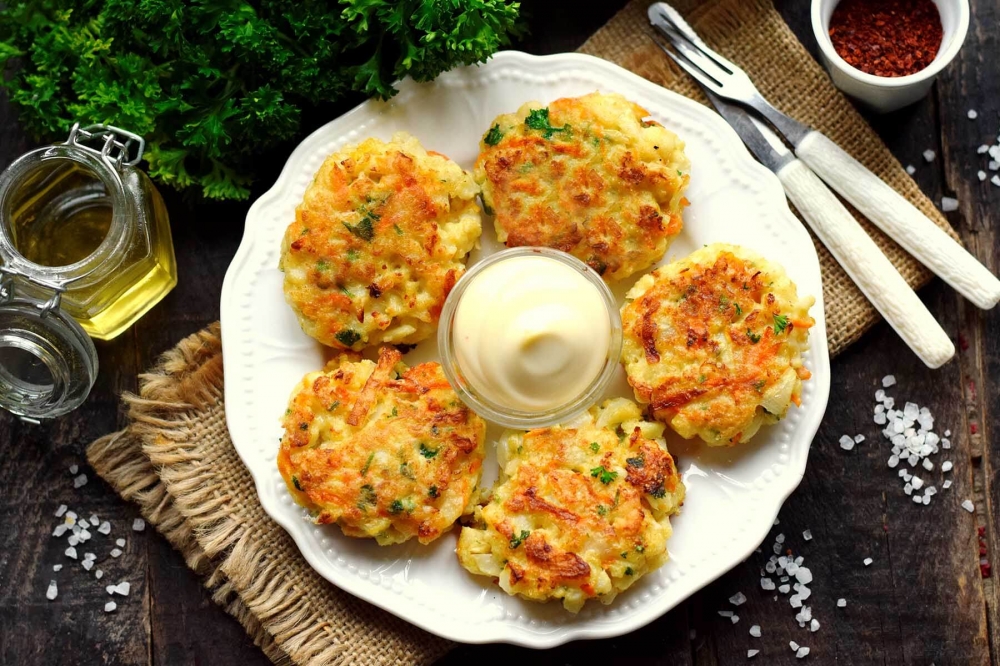 How to cook cauliflower cutlets with minced chicken
Because in this recipe, we use approximately the same amount of vegetables and meat.
Ingredients
cauliflower 14.11oz
chicken breast 14/11oz
one small onion;
turmeric ½ teaspoon
ground coriander 1/2 teaspoon
salt and black pepper to taste
breadcrumbs 1/2 Cup
Instruction
Cooking time 40 minutes
Boil the cabbage until half-cooked. It is most convenient to steam it. Then the inflorescences will not remain excess moisture, which is important for cooking cutlets without eggs. The cooled cabbage is crushed in a blender.
Chicken breast is also crushed in a blender or passed through a meat grinder. Mix the cabbage with mashed potatoes. Add the spices and finely chopped onion. Salt to taste. Stir. Fry in vegetable or ghee oil until ready. Serve to the table.
Delicious recipe for lean cauliflower cutlets with carrots
Ingredients
Cauliflower 1 piece
Carrots 1 PC
Turmeric 1/2 tablespoon
Chili pepper (optional)
Green onion 2 tablespoons
Wheat flour 3 tablespoons
Garlic 2 cloves
Lemon 1/4 part
Of granulated sugar 1 teaspoon
Instruction
Cooking time 35 minutes
Boil the cabbage in salted water, adding not its turmeric. Drain the water and chop the cauliflower in a blender.
Grate the carrots on a fine grater or chop them with a blender. Combine with cabbage puree. Add the green onion, chili pepper, and garlic. Salt. Squeeze the lemon juice. And add sugar. Stir. Add the flour and mix again.
From the resulting mixture, we make cutlets and put them in the pan. Fry. Cauliflower cutlets are very tasty.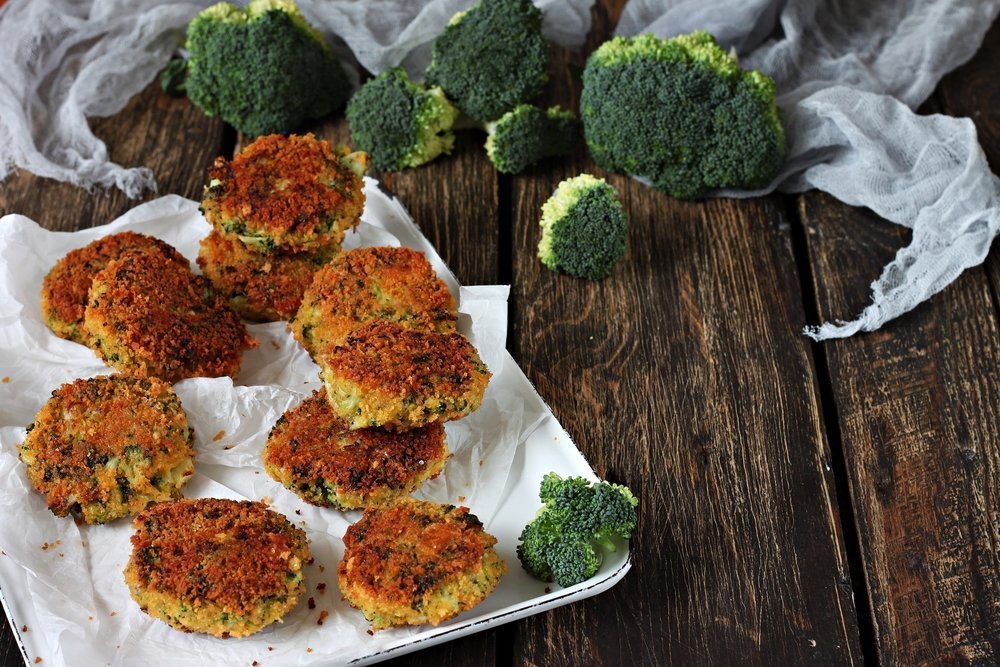 How to make cauliflower cutlets in the oven
The highlight of this cooking method lies in the use of red bell peppers and green onions, which miraculously decorate the pancakes, making them even more appetizing. 5 delicious cauliflower cutlet recipes.
Ingredients
. 5 delicious cauliflower cutlet recipes.
Cooking time 40 minutes
Cauliflower 3 Cup
Cheese 1/2 Cup
Chicken egg 2 PCs
Sweet bell pepper 4 tablespoons
Green onion 3 tablespoons
Garlic 2 cloves
Turmeric, dried paprika, chili pepper to taste
Instruction
Add finely chopped sweet pepper, green onion, garlic, and all dry spices. Mix well. Now add the cheese. Stir.
Form the rolls and spread them on a baking sheet on baking paper. Put in the oven, preheated to 392F (200C) degrees, for 30 minutes.
Get. Serve to the table. In pancakes and cauliflower cutlets, onions, garlic, and sometimes carrots are always added. But usually in raw form. But if you pass these vegetables before combining with cabbage, you can get a completely different taste of the dish. Bon Appetit!