Baked cauliflower with trout and cheese-the dish turns out to be healthy and very tasty. Creamy egg sauce makes cauliflower soft and juicy, and trout gives the dish a special, unique taste. Many people know that cauliflower is healthy.
Trout is a delicacy food that has a delicate taste of meat. It literally melts in your mouth. Fish is often grilled, baked on coals, in the oven, in a slow cooker, fried, salted, stewed with wine sauce, fruits, vegetables and spices. Trout are smoked, salted and canned.
Ingredients (for 4 servings)
. Baked cauliflower with trout and cheese.
Cauliflower ( fresh) 10.58 oz
Salmon (fresh or lightly salted) 7.05 oz
Cream (10%) 1/2 Cup
Chicken eggs 2 PCs.
Salt 1 teaspoon
Nutmeg 1/2 teaspoon
Butter for greasing the mold 1 tablespoon
Cheese( hard) 5.29 oz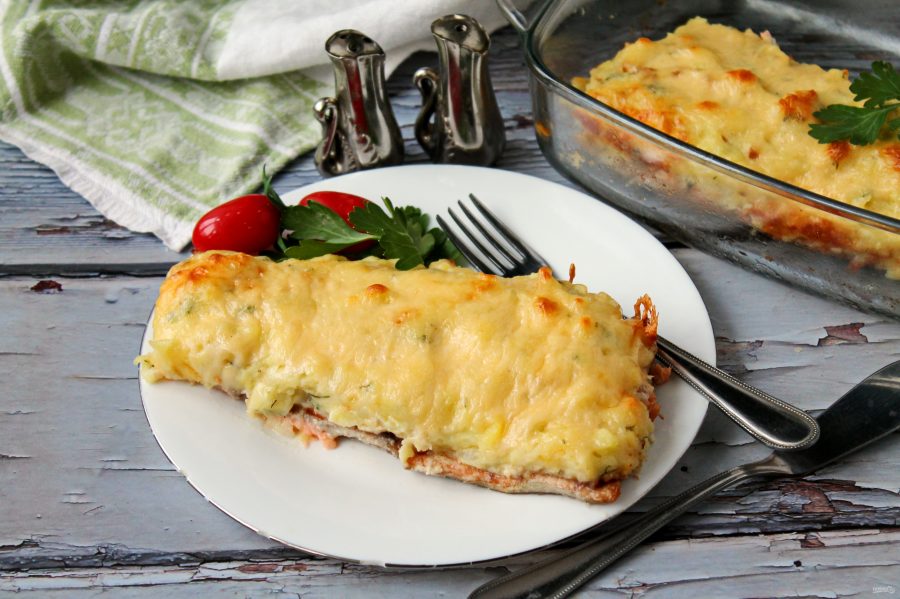 Ingredients
Cooking time 50 minutes
Prepare the necessary ingredients.
Instead of low-fat cream, you can take 3 tablespoons of 33% fat cream and 3.53 oz of milk. Sort the cauliflower into inflorescences. Preheat the oven to 356F degrees.
Lower the cabbage inflorescences into boiling water, boil and cook for 5-7 minutes over low heat. Put the cabbage in a colander and wait for it to cool.
Meanwhile, cook the fish and cut it into thin slices.
Grease the baking dish with butter, lay out the cabbage inflorescences. Distribute the fish between the inflorescences. Cheese( hard) cut into small cubes put on top of the sauce.
Prepare the sauce: mix the eggs, salt, nutmeg and cream in a deep bowl.
Pour the cabbage and fish with egg and cream sauce. Place the cream cauliflower pan in the oven, preheated to 356F degrees, for 25-30 minutes, until the sauce sets.
When the casserole is ready, remove the form from the oven and cool slightly. Serve the cabbage casserole with salmon on the table directly in the baking dish. Bon Appetit!

Baked cauliflower with trout and cheese.