The brownie recipe is very popular. This pastry differs from a pie or cupcake in that it can not be kept in the oven for a long time — chocolate brownies should remain slightly moist inside. Hazelnut brownies with ginger oil.
Ingredients
We calculated for 12 servings
Cocoa powder 2.25 oz
Sugar 14.11 oz
Vegetable oil 1/2 Cup
Ginger oil 1 tablespoon
Water 1/2 Cup
Wheat flour 5.82 oz
Hazelnut 5.29 oz
Vanilla extract 1 teaspoon
Salt to taste
Chicken egg 2 pieces
Baking soda ½ teaspoon
Instructions
. Hazelnut brownies with ginger oil.
Cooking time 1 hour 15 minutes
A variation of the popular chocolate cake recipe. The unusual taste of the original squares brownies are good for any occasion.
1. In the oven, lightly fry the hazelnuts – as soon as the smell appears, you can immediately remove them. When it cools down, at least partially, remove the husk.
2. Prepare the dough: in a large bowl, mix the cocoa powder and baking soda, slaked with vinegar or lemon juice. Add half of the vegetable oil and boiling water and stir well. Add the sugar, beat in the eggs, pour in the remaining vegetable oil and ginger oil. Add flour, vanilla extract and salt.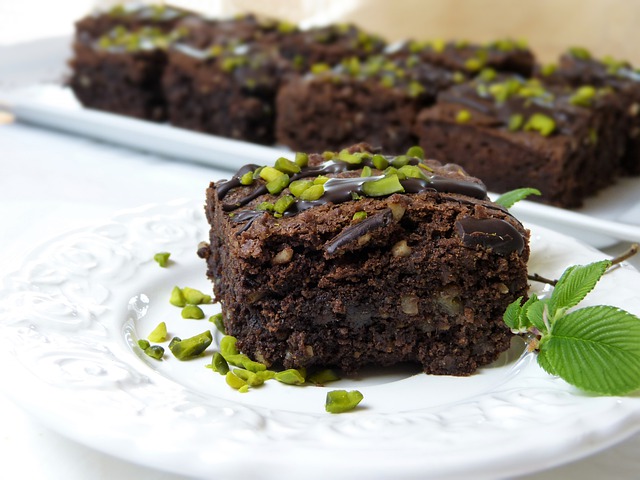 3. Combine the dough with the hazelnuts. The baking dish (it is most convenient to bake in a square form, since then the brownies will need to be cut into squares) is greased with oil and sprinkled with flour. Pour the dough into the mold and put it in the refrigerator for an hour.
4. Bake at 356F degrees for 40-45 minutes, check readiness with a toothpick.
5. The finished brownies cool and cut into squares. We take the brownies out of the molds, otherwise the brownies will continue to cook in them. And let it cool down (I waited half an hour). So, a real brownie should be crispy and moist in the middle.
It is not necessary to keep the dough in the refrigerator – if you are in a hurry, you can immediately put it in the oven. But from the chilled dough, the brownie turns out to be moist and juicy inside. Without this, it will also be very tasty, just more crumbly. Bon Appetit!