Classic recipe for Cinnabon buns with cinnamon, excellent baking for any hot drinks. They simply struck with their taste and aroma. From this number of products, I got 8 gorgeous buns.
Ingredients
Milk 3.38 fl oz (100 ml.)
Fresh yeast  1 tablespoon
Salt 0.5 tsp.
Egg  1 PC.
Butter (for the dough)  2 tablespoons
Butter (in the filling)  2 tablespoons
Butter (in icing)  1 tablespoon
Flour  2 cups
Sugar (in the dough)  2 tablespoons
Sugar (for filling)  3.53 oz (100 grams)
Powdered sugar 2 tablespoons
Vanilla  to taste
Cinnamon 3 teaspoons
Cream cheese 2.74 oz ( 70 grams)
461 kcal per 3.53 oz (100 grams) of ingredients
Step-by-step recipe

. Cinnabon Buns with cinnamon.



Beat the egg with 2 tablespoons of sugar and salt. Milk 3 tablespoons, mix with yeast and 1 teaspoon of sugar. Enter the raised yeast into the egg mixture and mix. Melt the butter and add to the dough. Knead soft dough, leave in a warm place.
Prepare the filling for the buns: mix cinnamon, butter (2 tablespoons) and sugar. To mix everything. The dough has come up and you can proceed to the buns. Knead the dough on a table sprinkled with flour. Now roll out a thin layer of dough with a rolling pin. Put the cinnamon filling on the dough, on the one hand leave the edge without the filling to fix the roll. Roll the roll from the dough, and cut into equal parts.
Grease the mold with butter and place the buns, not tightly. When baking, they will fit and increase in size. Bake in the oven at 356F (180 degrees) for 20 minutes.
While baking buns to make a cream: mix cream cheese with powdered sugar and butter until smooth.
Readiness of buns to check with a wooden skewer, if the skewer is dry, buns are ready. Apply cream to hot buns. Buns are ready! Bon Appetit!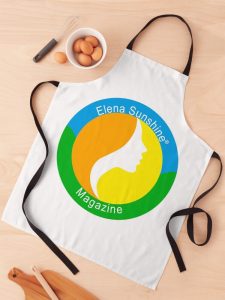 You can buy an apron with our logo 🙂
https://www.redbubble.com/i/apron/Elena-Sunshine-Magazine-by-Michaelbor76/52450511.6ZXWR?asc=u