Breakfast should be both beautiful, healthy and fast. In fact, chia seed pudding can be creative and original. It is easily designed depending on the event. This is a great healthy breakfast, a romantic dinner or a snack for children, the decor is created independently. Delicious pudding recipes with chia seeds.
It is best to teach the family to a healthy diet in this way. The most unusual ingredients can be included. In particular, the pumpkin version is popular. When choosing milk, you should not limit your imagination, you can try pudding with oatmeal, coconut, almond and other milk.
In the case of such a pudding, you need to make a blank for the night, and then you will only have to spread the dish into molds and decorate. Children and adults will not refuse such a breakfast.
Features of recipes
Chia seeds have a lot of healthy properties. These are the gifts of nature, which must be used.
It is enough to include them in your diet in a small amount for breakfast, and immediately improvements will be noticeable. This applies to the appearance, general condition of the body, chronic diseases, as well as improving immunity.
Such a positive effect is achieved due to a large number of amino acids. There are vitamins of group A, B and E. It is also worth talking about a variety of minerals separately. These are calcium, potassium, magnesium, phosphorus and many others.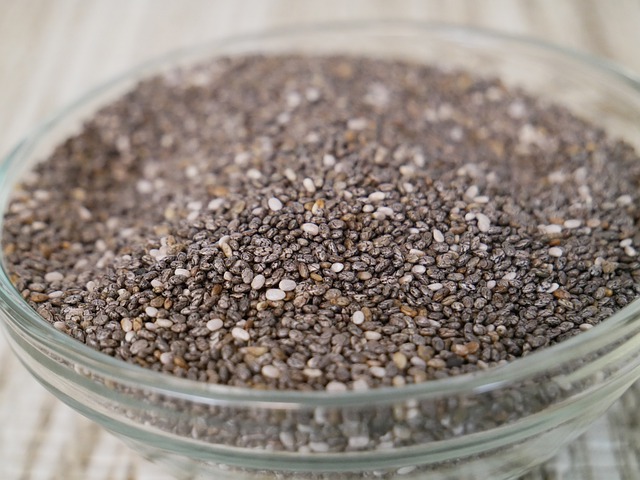 The caloric content of this product is small, which allows you to use it even for those people who are on a diet. To prepare one serving, a couple of spoons of seeds are enough. In general, you should remember the approximate proportions, for 1 tablespoon of seeds, 3 tablespoons of yogurt, milk or other product.
Chia seeds are universal. A vegan and the person who adheres to a raw food diet can safely buy and prepare these seeds. They do not need to be subjected to heat treatment, the product is completely of plant origin.
1.Chocolate avocado pudding with chia seeds
This unique dish will make your breakfast surprisingly healthy and nutritious. If you are losing weight, watch your weight, health, then you definitely need to learn how to make a pudding from chia seeds.
Ingredients:
Designed for 2 servings
Avocado 4 pcs
Cocoa powder 1/4 cup
Vanilla extract 1 teaspoon
Ground cinnamon 1/4 teaspoon
Chia seeds 3 tablespoons
Oat milk 5 tablespoons
Salt to taste
Sugar 1 tablespoon
Agave syrup 1 tablespoon
Berries, nuts and mint for serving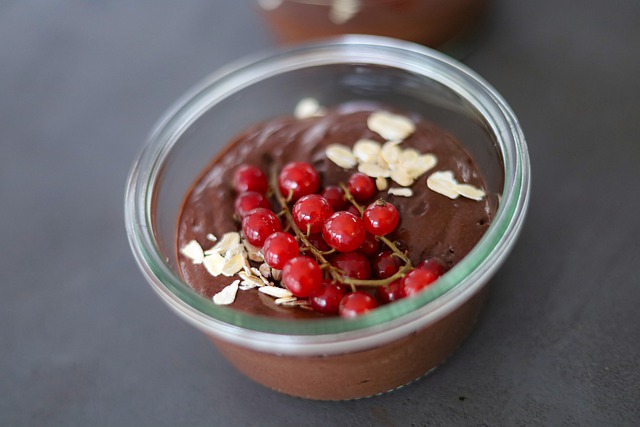 Instruction:
Peel the avocado and cut it into slices. First of all, you need to mix the milk with chia seeds. At the same stage, you can add cocoa, it will immediately change the color and smell of the product. Even a small amount is enough. Mix all the ingredients in a blender until smooth.
Leave in the refrigerator for at least 15 minutes to allow the chia seeds to swell. After settling, you can add coconut chips and rub the chocolate. As a topping, these fillers will look great. Serve garnished with berries, nuts and mint leaves.
The final stage is the decor. The pudding is poured with syrup and sprinkled with chocolate and coconut chips. As a result, you can create a beautiful contrasting pattern. This pudding is liked by every person who loves chocolate. Surprisingly delicate fabulous taste.
2.Chia pudding with berries and fruits. Delicious pudding recipes with chia seeds.

Nut pudding turns out to be surprisingly fragrant and original. This dessert is prepared on almond or coconut milk.
A full and very tasty breakfast can be prepared easily and quickly if you soak the seeds in the evening. For pudding, you can use any berries or fruits to your taste. Both fresh and frozen berries are suitable. You can also add any nuts, I have pecans or almonds. Chia seeds contain a lot of vegetable protein, fiber and other benefits for both health and figure.
Ingredients:
Designed for 1 servings
Chia seeds 2 tablespoons
Oatmeal or other vegetable milk 1/2 cup
Maple syrup + a little to serve 2 teaspoons
Berries or fruits of your choice
Nuts 1 tablespoon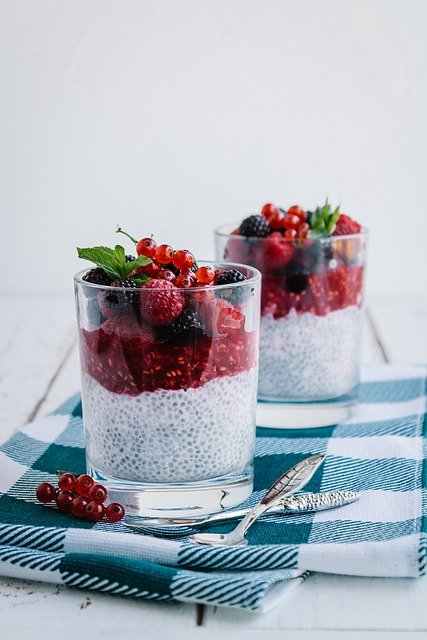 Instruction:
In addition, you will need a whole berry for decoration. Fill the seeds with vegetable milk, mix well and put them in the refrigerator for 8 hours. If we use a frozen berry, it must be thawed beforehand. We move the berries from the freezer to the refrigerator for 8 hours.
After 8 hours, we take out the milk with seeds and berries from the refrigerator. Mix the mass well again and let it warm up to room temperature. Add the nuts and mix again. ⠀
We put a third of the milk mass in a transparent glass, add half of the chopped fruits or berries on top. On top of the berries, add another third of the mass, spread the remaining chopped berries and the last part of the pudding. Decorate with whole berries, sprinkle with chopped nuts and pour maple syrup.
3.Lemon pudding
Delicate, airy, with a lemon taste and aroma, the pudding will not leave anyone indifferent. It is prepared very easily from products that are in any refrigerator
Ingredients:
Designed for 1 servings
¼ cup lemon juice
Vegetable milk 1 cup
Maple syrup 1 tablespoon
Vanilla extract 1 teaspoon
Corn starch 2 tablespoons
Mint for serving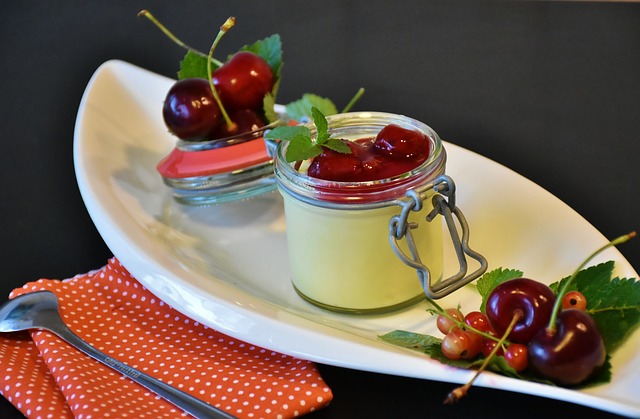 Instruction:
Place lemon juice, vegetable milk, vanilla extract and maple syrup in a medium-sized saucepan. Heat over medium heat, stirring well, until the mixture boils. Then reduce the heat to a low boil.
In a small bowl, place the corn starch and the warmed lemon mixture. Mix well until the consistency of a very smooth paste. Pour back into the saucepan with the lemon mixture and cook, stirring constantly, over medium heat until thickened. If the mixture turns out to be lumpy, pass it through a sieve.
Transfer the pudding to 2 containers. Cover with a lid or a film so that the pudding does not curdle, and put it in the refrigerator for at least 4 hours or overnight. It's done! Serve, garnished with mint.
4.Vegan Chia pudding with matcha tea. Delicious pudding recipes with chia seeds.

An exotic healthy dessert that will make an ideal breakfast.
Ingredients:
Designed for 2 servings
Chia seeds ½ cup
Coconut milk 1⅔ cup
Matcha powder 1 tablespoon
Vanilla powder ½ teaspoon
Maple syrup 2 tablespoons
For submission:
Fruits or berries of your choice
Coconut shavings 3 tablespoons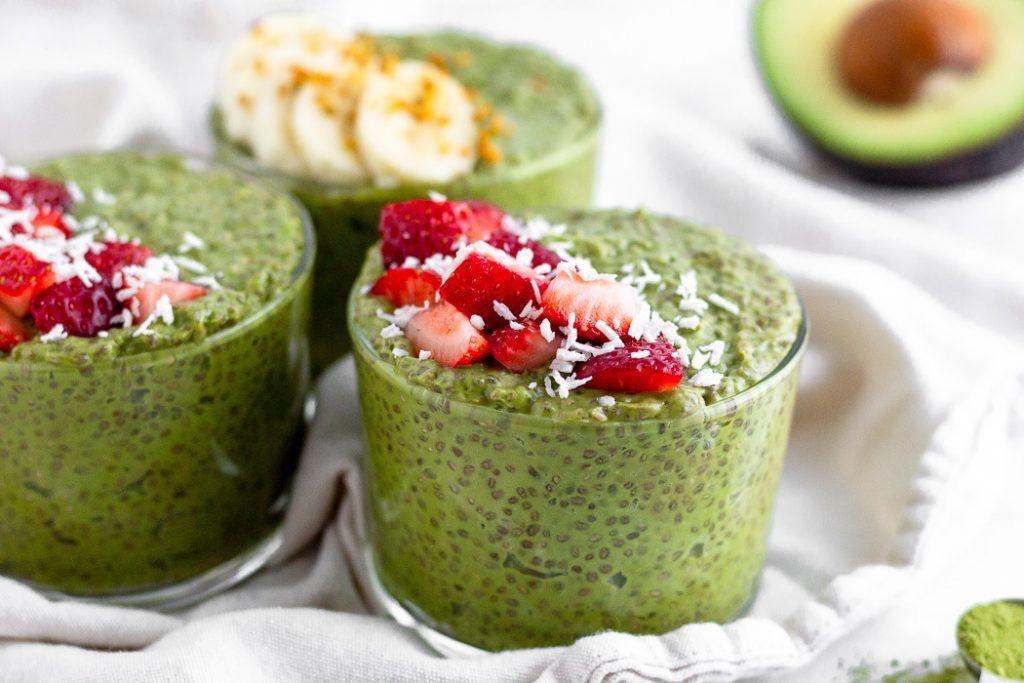 Recipe:
In a bowl, mix the chia seeds and coconut milk. Leave for 30 minutes, stirring occasionally, so that the mixture does not become too thick. Add the remaining ingredients and mix. Serve the dessert, garnished with berries and coconut shavings.
5.Spicy pudding. Delicious pudding recipes with chia seeds.

Chia seeds are perfectly combined with a variety of spices. You can talk for a long time about the benefits of cinnamon or nutmeg, but it's better to make an amazing dessert once
Recipes can be safely changed to suit your taste, leaving only a base of seeds and milk filler. Coconut milk produces a rich creamy taste.
Ingredients:
Designed for 1 servings
Almond milk 1 cup
Chia seeds 3 tablespoons
Vanilla 1/2 teaspoon
Cinnamon 1 teaspoon
Nutmeg 2 teaspoons
Ginger 1/2 teaspoon
To taste, put dates and cranberries.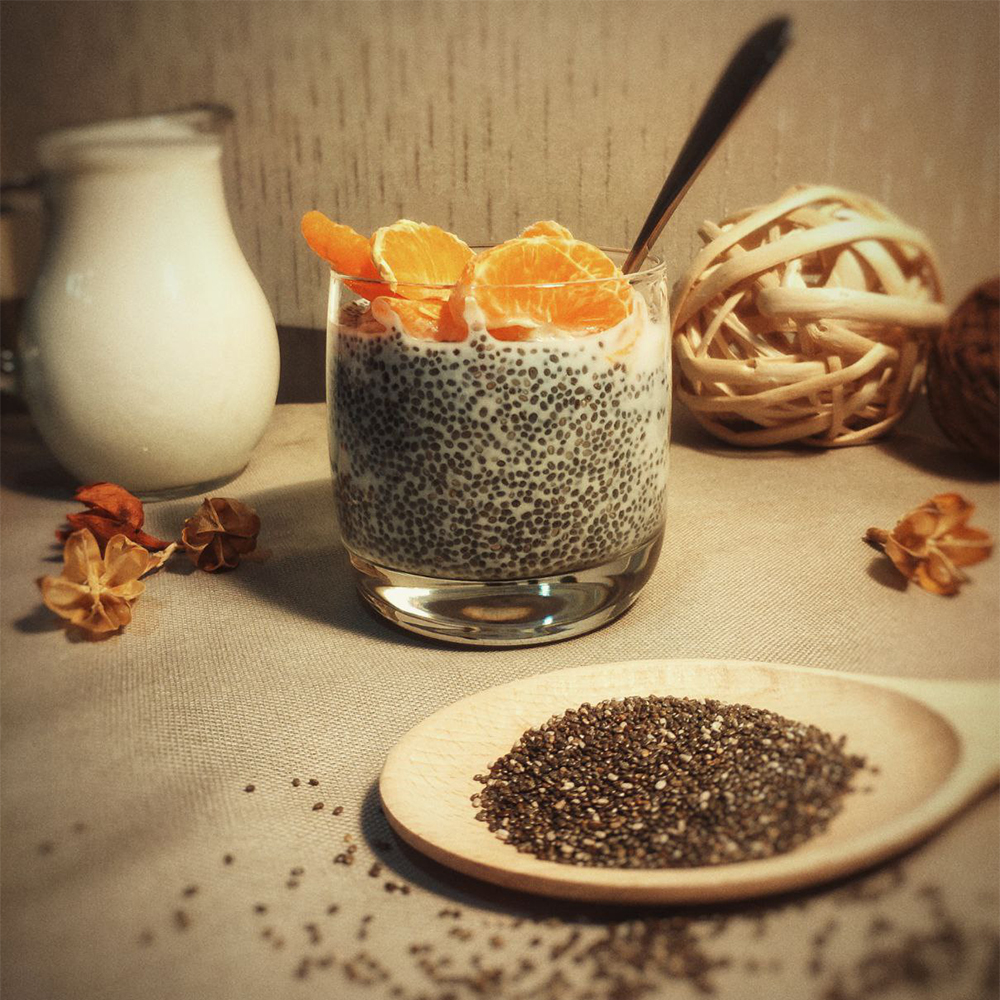 Instruction:
The preparation is simple and practically does not change depending on the ingredients.
The milk must be mixed with chia seeds and allowed to infuse. It will be ideal if the dessert is prepared in the morning from the evening. In extreme cases, 20 minutes in the refrigerator before use is enough to soften the seeds.
All the spices are added and the mixture is mixed again.
Berries and fruits should be cut into beautiful pieces. They are added to the mixture at the last stage.
An interesting solution will be with a puff dessert. It is not necessary to mix the fruit and berry filling. You can simply put it on the bottom of the vessel or decorate the dessert on top. Here there is room for imagination.
Advice!
For sourness, you can safely decorate with cranberry syrup, sprinkle with zest and you will get a restaurant dish with perfect serving and original taste.