The goal of a gluten-free diet is not only to eliminate all foods containing gluten, but also to avoid nutritional deficiencies. Therefore, the diet must contain a sufficient amount of gluten-free whole grains, beans, nuts and seeds. Gluten-free and healthy baking recipes #3.
Gluten-free products
Gluten-free whole grain cereals: quinoa; rice; buckwheat.
Freshly picked fruits and vegetables do not contain gluten. However, some processed fruits may contain gluten. It is added as a flavoring agent or for other purposes. Therefore, pay attention to canned and frozen fruits and vegetables, dry mixes and pre-sliced fruits in packages.
List of foods that are fortified with protein and allowed with a gluten-free diet: legumes (beans, lentils, peas, peanuts); nuts and seeds; beef, pork or lamb meat;  poultry meat; fresh marine products; some soy products (for example, tofu cheese).
But be sure to check before eating cooked or processed meat products, such as hot dogs, pizzas with meat, sausages. They may contain substances with gluten. And you also need to check before eating: meat substitutes, such as vegetarian burgers; cold cuts; minced meat; proteins that have been added to sauces or seasonings.
1.Homemade bread without gluten and yeast
Now the usual gluten-free and yeast-free bread is gaining popularity. But it is quite difficult to find such bread on sale, so we offer you a simple recipe for cooking it at home.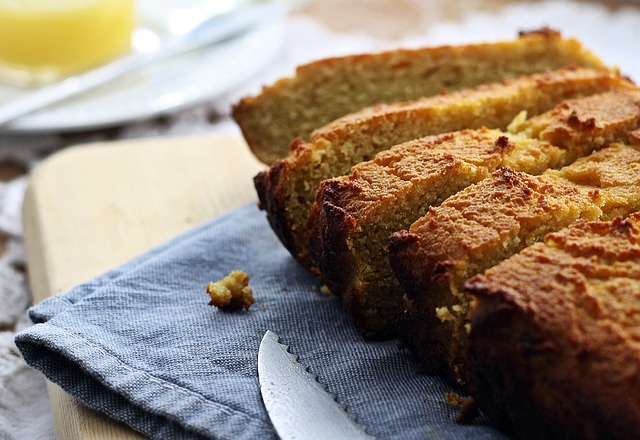 Ingredients:
Green buckwheat 14.11 oz
Whole coriander 1 tablespoon
Ground nutmeg 1 teaspoon
Salt to taste and desire
Water as needed
Instruction:
Cooking time 1 hour
Soak the green buckwheat and leave for 24 hours. During this time, it must be rinsed at least once so as not to sour.
After a day, rinse the cereal and fill it with clean drinking water. Its quantity depends on your preferences. If you like slightly moist bread, then water should cover the grains. If it tastes more dry, well-baked, then it is better to add less.
Whisk buckwheat with water with a blender until smooth. You can add any spices to taste to the dough. I have coriander seeds and ground nutmeg. If you eat salt, then at this stage you can add it.
Pour the dough into a high mold and bake in the oven at a temperature of 392 F. After about an hour, the bread will be ready. Bon Appetit!
2. Green buckwheat bread with raisins, almonds and seeds

. Gluten-free and healthy baking recipes #3.
We prepare gluten-free bread from green buckwheat with raisins, almonds and seeds. Fragrant, hearty bread with useful properties.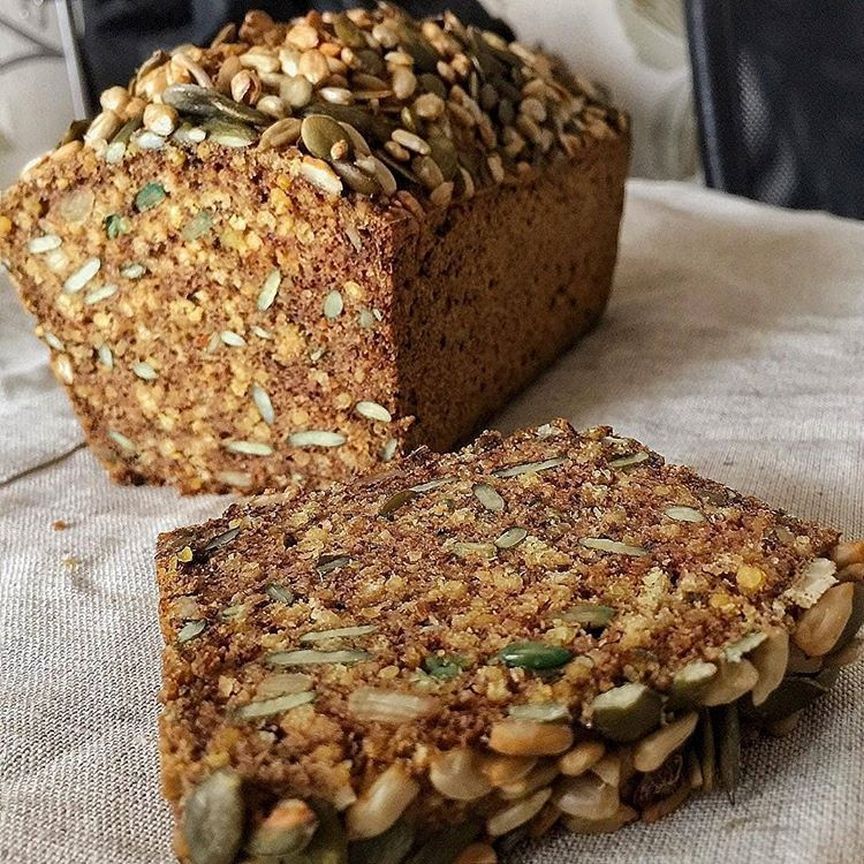 Gluten and yeast free. Vegan bread. The aroma of buckwheat bread, but the taste of cereals is not felt at all.
Very tasty with avocado, poached eggs, red fish, pate — whatever you want!
Ingredients:
Green buckwheat cup 8.82 oz
Millet cup 8.82 oz
Freshly ground flax seeds 2 tablespoons
Jerusalem artichoke syrup 1 tablespoon
Coconut oil 2 tablespoons
Water 1/2 cup
Soda 1/2 teaspoon
Lemon juice (to extinguish soda) 1 tablespoon
Salt 1/2 teaspoon
Raisins 3 tablespoons
Almonds 2 tablespoons
Pumpkin seeds 1 tablespoon
White and black sesame seeds 2 tablespoons
Instruction:
Cooking time 1 hour 15 minutes
Wash the green buckwheat and millet well and soak in drinking water overnight (in separate containers).
Before cooking, rinse well and put in a blender bowl. Add the syrup, oil, flax seeds and water. Whisk until smooth.
Add soda and extinguish it with lemon juice. Add the raisins, almonds and seeds. Mix well.
Cover a rectangular cake pan with parchment paper and put the dough into it. In the middle, along the bread, draw a strip with a knife. Garnish with sesame seeds and pumpkin seeds. Bake for 40-50 minutes at 356 F.
Take it out and cover it with a towel after 10 minutes. Let cool at room temperature. The delicate aroma of buckwheat, golden crust, very tasty, it is impossible to stop.
3. Pumpkin bread with chocolate chips
. Gluten-free and healthy baking recipes #3.
Pumpkin, apple and banana puree bread with chocolate chips and spices. If desired, gluten-free oat flakes and flour can be used.
Ingredients:
Flaxseed 2 tablespoons
Water ½ cup + 4 tablespoons
Pumpkin puree 4 tablespoons
Banana puree 2 tablespoons
Applesauce 3 tablespoons
Maple syrup 1/4 cup
Coconut sugar ⅓ cup
Baking soda 2 teaspoons
Salt to taste
Ground cinnamon ½ tsp
Pumpkin pie seasoning 1 tsp
Oat flakes 1 cup
Almond flour ½ cup
Flour 1.5 cups
Chocolate chips ½ cup
Raw pumpkin seeds for decoration (optional) ¼ cup
Instruction:
Cooking time 1 hour 10 minutes
In a large bowl, mix the flax seeds and 4 tablespoons of water. Set aside.
Preheat the oven to 392F. Put the baking paper in the baking dish. Set aside.
Add pumpkin puree, banana puree, applesauce and maple syrup to the flax mixture. Mix until smooth. Then add sugar, baking soda, salt, cinnamon and pumpkin pie seasoning. Mix it up. Add the remaining water and mix again. Add the oat flakes and all the flour. Mix gently. Add the chocolate chips.
Pour the dough into the prepared baking dish and, if desired, sprinkle with pumpkin seeds for decoration.
Bake for 40-45 minutes until cooked. Let cool in the baking dish for at least 20 minutes, then carefully transfer the bread to a plate. Allow to cool completely before slicing, for at least an hour. Bon Appetit!
Like what you're reading? You can sign up for Medium using my affiliate link. Just $5 a month to read an unlimited number of articles and help me create further. Together we will move mountains!
https://elenasunshinemagazine.medium.com/membership
If you like articles subscribe to our newsletter and you will learn more. https://elenasunshinemagazine.substack.com/