Juicy delicious lasagna can be both lunch and dinner. If you cook lasagna with a special twist, the guests will be delighted. Juicy delicious lasagna.
1.Lasagna with spinach and ricotta
Tender lasagna with spinach and ricotta will appeal not only to adults, but also to children. The combination of airy cheese and soft boiled spinach is just perfect.
Ingredients:
Designed for 4 servings
lasagna  18 sheets
Frozen spinach 14.11oz
Ricotta 10.58oz
Milk 4 cups
Butter 2 tablespoons
Flour 2 tablespoons
Parmesan 4 tablespoons
Nutmeg 1/2 teaspoon
Salt/pepper to taste
Instruction:
Cooking time 1 hour
Defrost the spinach slightly and simmer for about 5 minutes. You can simply defrost and drain the water from it. Melt butter in a ladle, add flour and lightly fry for 1 minute. Pour the milk in a thin stream and at the same time constantly beat with a whisk so that there are no lumps.
Add nutmeg, salt and a little pepper, cook over medium heat, stirring constantly for 5-7 minutes. The sauce should thicken. Mix the ricotta with spinach, add a little salt. Pour boiling water over the lasagna sheets. Let them stand for 2-3 minutes (as it was said on the package).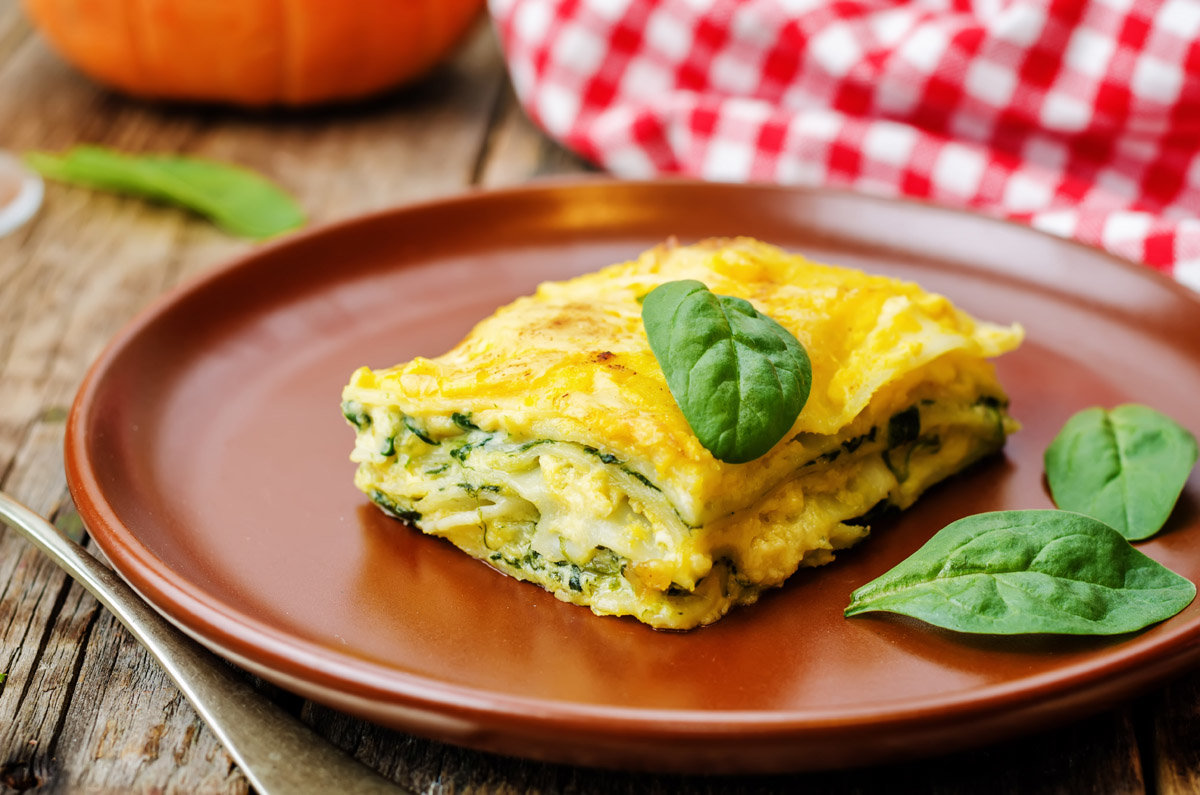 Grease the baking dish with butter and put 6 sheets of lasagna on the bottom. I planned the number of sheets in advance – exactly 18. You may have other sheets, estimate in advance how much you will need for your form.
Grease with sauce and put half of the spinach and ricotta filling on top. Then again the sauce sheets (filling sheets) the topmost layer is the lasagna sheets!
Grate the parmesan on a grater, grease the top layer of the sheets with the remaining sauce and sprinkle with parmesan. Bake for 30 minutes at 7.0 oz until an appetizing brown crust appears.
Such an even piece is obtained when the lasagna cools down completely. We recommend eating it hot – it's incredibly delicious!
2. Lasagna with caramelized pumpkin
. Juicy delicious lasagna.
Tender, juicy, fragrant and very tasty. For greater contrast, green lasagna leaves with spinach are used.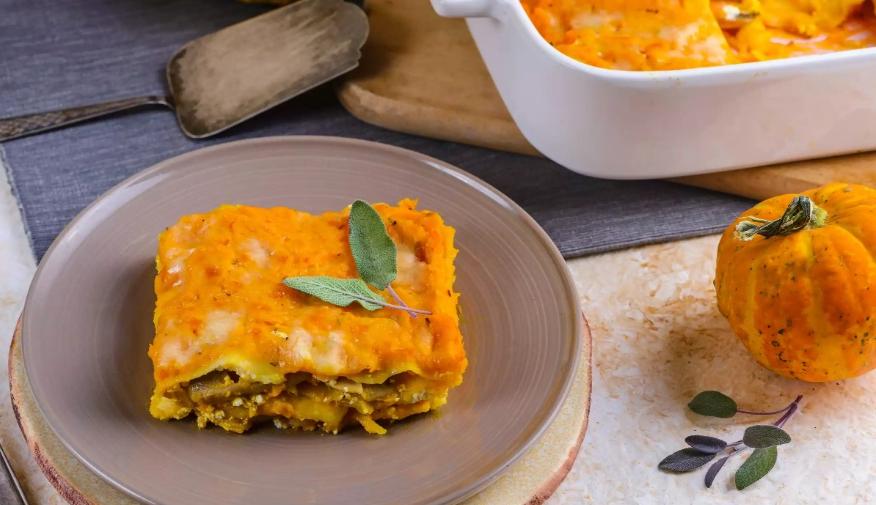 Ingredients:
Designed for 5 servings
Fresh thyme 2 sprigs
Cheese 3.53oz
Boiled ham 10.58oz
Pasta dough for lasagna 10.58oz
Extra Virgin Olive oil 2 tablespoons
Salt to taste
Freshly ground pepper mixture to taste
Pumpkin 42. 33oz
Bechamel sauce:
Butter 3 tablespoons
Flour 4 tablespoons
Broth 1 cup
Milk 1 cup
Nutmeg 1 teaspoon
The nutritional value of a serving is 718 k Cal
Instruction:
Cooking time 50 minutes
Preparation of bechamel sauce. To do this, melt the butter in a ladle, turn down the heat and add flour (4 tablespoons). Stir thoroughly and boil the flour and butter for 1-2 minutes, stirring constantly with a whisk.
Add the heated broth and milk, without ceasing to knead intensively. When the sauce is brewed, add salt, pepper and a pinch of nutmeg. Cook it for a few minutes, remove from the heat and cover the ladle with a lid. You can take chicken or vegetable broth. You can use broth cubes.
Wash the pumpkin, cut it into thin plates. Heat the oil in a frying pan and skip the pumpkin for 3 minutes. Add salt, pepper, and thyme. We'll leave a few pieces for the decor.
Grease the baking dish with oil, pour a little sauce on the bottom and spread the lasagna in layers: a sheet of dough, slices of ham, pumpkin and sauce.
Repeat the layers in the same sequence, finish with pumpkin and sauce. Preheat the oven to 392 F, sprinkle the lasagna with grated (gouda or parmesan) cheese and bake for 35 minutes until golden brown. Bon Appetit!
3. Zucchini lasagna with ricotta and pesto sauce
. Juicy delicious lasagna.
If you like experiments, prepare an original zucchini lasagna with ricotta and pesto sauce. Cheese can be replaced with fatty cottage cheese. Add dried tomatoes and basil to the dish.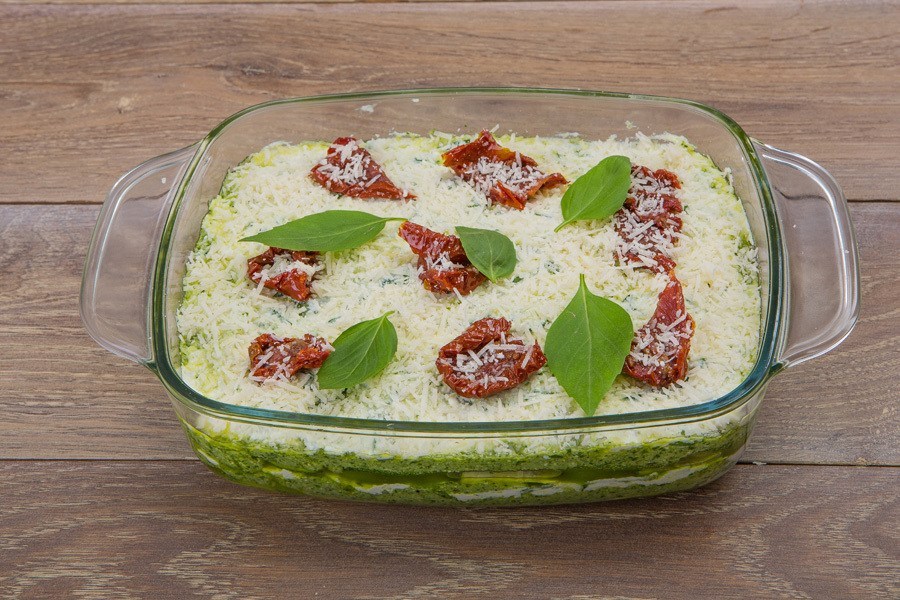 Ingredients:
Designed for 4 servings
Zucchini 2 pcs.
Ricotta 6.35oz
Dried tomatoes in oil 15 pcs
Parmesan 2.65oz
Egg yolks 2 pcs
Parsley 1 bunch
Olive oil 3 tablespoons
Freshly ground black pepper to taste
Sea salt to taste
Nutritional value of a serving
784 k Cal
For the pesto sauce:
Zucchini 1 pc.
Parmesan 2 tablespoons
Pine nuts 1 tablespoon
Fresh basil 1 bunch
Garlic 2 cloves
Olive oil 1/2 cup
Instruction:
Cooking time 40 minutes
Preheat the oven to 356 F. Cut two zucchini lengthwise into thin strips, put on a baking sheet, sprinkle a little olive oil, salt and pepper. Bake in a preheated oven for 10-12 minutes.
Remove the core and seeds from the remaining zucchini, and lower the pulp into boiling water. After 2 minutes, drain the water, and sprinkle the zucchini with ice to preserve the bright green color, then dry with a paper towel and place in a blender.
Peel the garlic. Grate the whole cheese on a fine grater. To prepare the pesto sauce: add a bunch of basil to the zucchini in a blender (leave some leaves), garlic, 1 tablespoon of grated cheese, olive oil and pine nuts and beat everything to the consistency of a homogeneous sauce.
Finely chop the parsley — you should get 1 tablespoon. Ricotta, 2 tablespoons of parmesan, parsley, egg yolk, 1 tablespoon of olive oil, salt and pepper mix into a homogeneous mass.
Put the baked zucchini strips, pesto sauce, ricotta in layers in a deep dish, lightly sprinkle with cheese, spread the tomatoes on top, again with layers of zucchini, ricotta, pesto, sprinkle with the remaining parmesan, lay out a layer of tomatoes and sprinkle with basil leaves. Bon Appetit!
Like what you're reading? You can sign up for Medium using my affiliate link. Just $5 a month to read an unlimited number of articles and help me create further. Together we will move mountains!
https://elenasunshinemagazine.medium.com/membership
If you like articles subscribe to our newsletter and you will learn more. https://elenasunshinemagazine.substack.com/