Pumpkin season is in full swing, so it's time to look for interesting recipes and try bright flavors. You can prepare an incredibly flavorful dish – pumpkin stewed with chickpeas, tomatoes and spices. We serve this second course with fried bananas. This combination is not familiar to everyone, but it is interesting to try, probably, to many. It turns out spicy, sweet, piquant – a chic game of tastes! Pumpkin stewed with chickpeas tomatoes and spices with fried bananas.
Ingredients for 3 servings:
Chick-pea (dry) 3.53oz
Pumpkin 10.58oz
Onion 2.82oz
Tomatoes 3.53oz
Garlic 2 cloves
Ginger (root) 1 teaspoon
Banana 1 PC.
Vegetable oil 5 tablespoons
Water 11.83oz
Dried cumin 1/2 teaspoon
Ground coriander 1/2 teaspoon
1/2 teaspoon curry
Ground cinnamon 1/2 teaspoon
Salt to taste
Ground black pepper to taste
Instruction:
. Pumpkin stewed with chickpeas tomatoes and spices with fried bananas.
Cooking time 45 minutes
Prepare the ingredients.
Wash the chickpeas and cover with cold water, leave for 8 hours. This can be done on the eve of cooking, for example, at night. After a while, drain the chickpeas. Put the chickpeas in a saucepan, cover with water, put on fire and cook for 1.5 hours.
Peel the onion, garlic and ginger, wash and cut into small cubes. Wash the tomatoes, dry them and also cut them into small cubes.
Carefully peel the pumpkin: remove the fibers and seeds. (This is probably the most time – consuming process, since the rind of the pumpkin is quite rough.)
In a frying pan, heat the vegetable oil (3 tablespoons). Add the onion, garlic, and ginger to the pan and fry for 3 minutes. Add the tomatoes and fry for a few more minutes, stirring.
Immediately add to the vegetables all the prepared spices and spices (salt, pepper, cumin, coriander, curry, cinnamon) – the aroma becomes incredible! Stir. Add the pumpkin slices to the pan.Then add boiled chickpeas to the vegetables.
Pour water into the pan. Mix everything and cover with a lid. Simmer the vegetables for 25 minutes over medium heat. Cut the banana into slices and fry in vegetable oil (2 tablespoons) on each side until golden – literally 20-30 seconds.
Put the pumpkin stewed with chickpeas, tomatoes and spices on a plate. Spread the fried bananas on top and serve the dish to the table.
Enjoy your meal!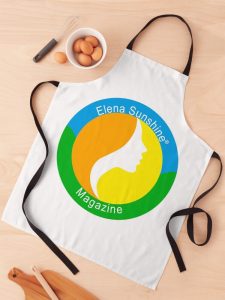 You can buy an apron with our logo 🙂
https://www.redbubble.com/i/apron/Elena-Sunshine-Magazine-by-Michaelbor76/52450511.6ZXWR?asc=u