Halloween decor should cause a slight fright and awe. The main symbol of Halloween is a pumpkin. Various faces are cut out on it, which are illuminated from the inside with flashlights. Also, houses are decorated with cobwebs, bats, skeletons, glowing bones, Ghost silhouettes, chests with ominous predictions, mummies, witches, spiders and wreaths of snakes. Jewelry can be very diverse.13 Halloween home decor ideas.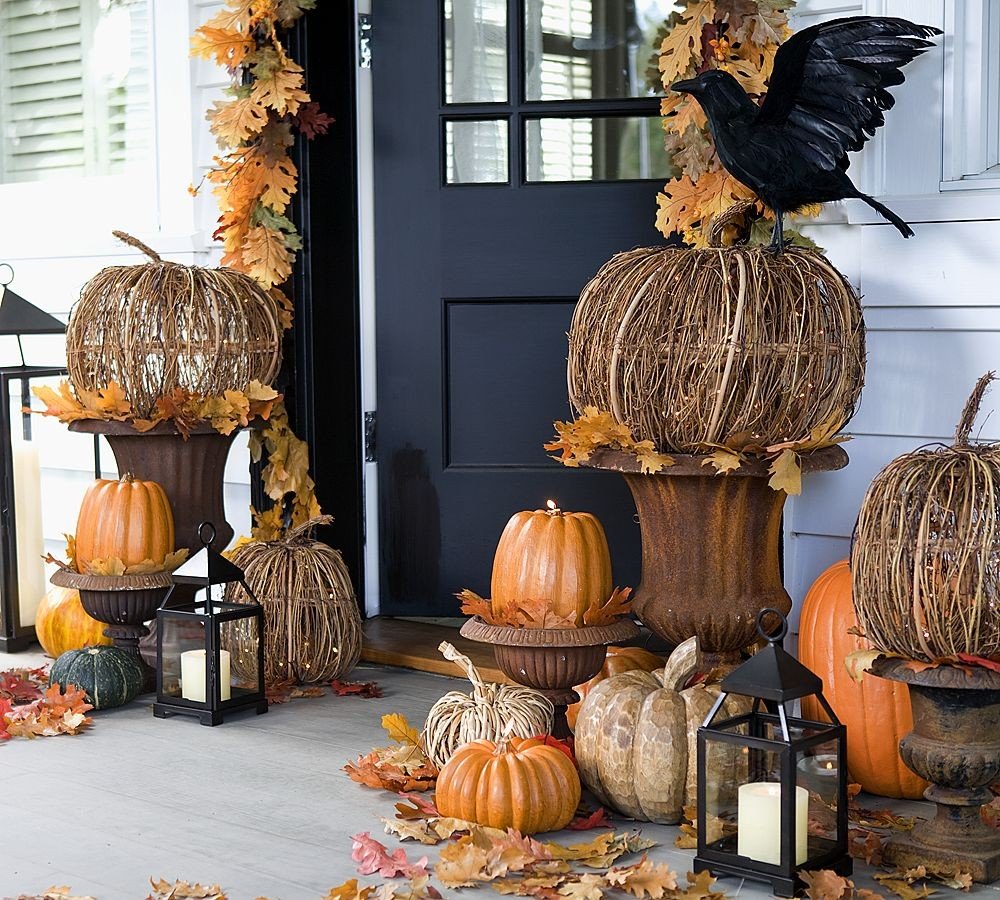 1. The color scheme of the holiday
.13 Halloween home decor ideas.
The design of the room in the style of "Halloween" is performed in the traditional color scheme for this holiday. Since the design should be as dark and frightening as possible, the main role is given to the most dynamic combination-black and red. Complement the composition with "shades of autumn", that is, tones of yellow, brown, orange, pumpkin, dirty brown, Burgundy, wine. You don't need to combine all these colors in one room. It is enough to choose only two or three tones. They will become the basis of the composition. To bring harmony to the interior, use "dusty" gray (asphalt and mouse shades), blue (dark tones) and less often purple or lilac.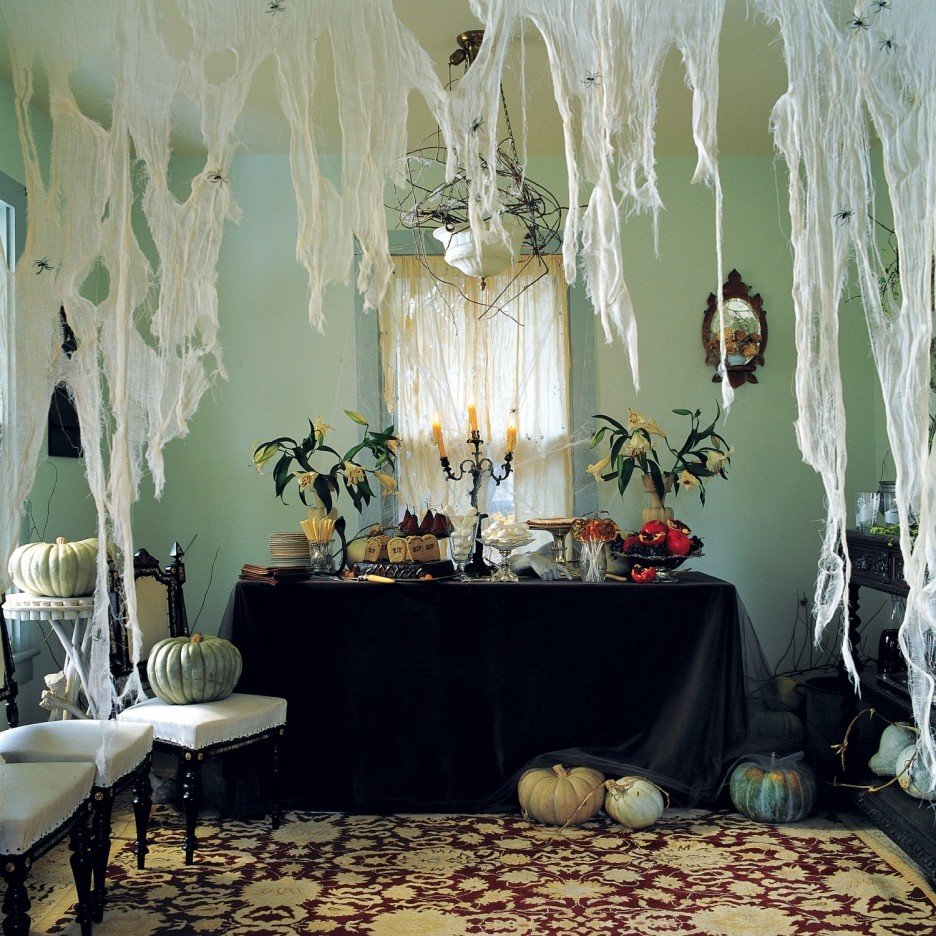 2. Create a festive lighting
Halloween lighting should be dim and ominous. If the lamps in the room are too bright, they are replaced with candles and decorative lamps. You can also wrap the light source in a matte shade.  Preferably, it should be colored red, yellow, or blue. The shade depends on the environment of the area that the light bulb illuminates. For example, for stone crypts with ghosts or burial mounds with bony zombie hands sticking out of the ground, blue light is suitable. Red and yellow highlight the "bloody" scenery.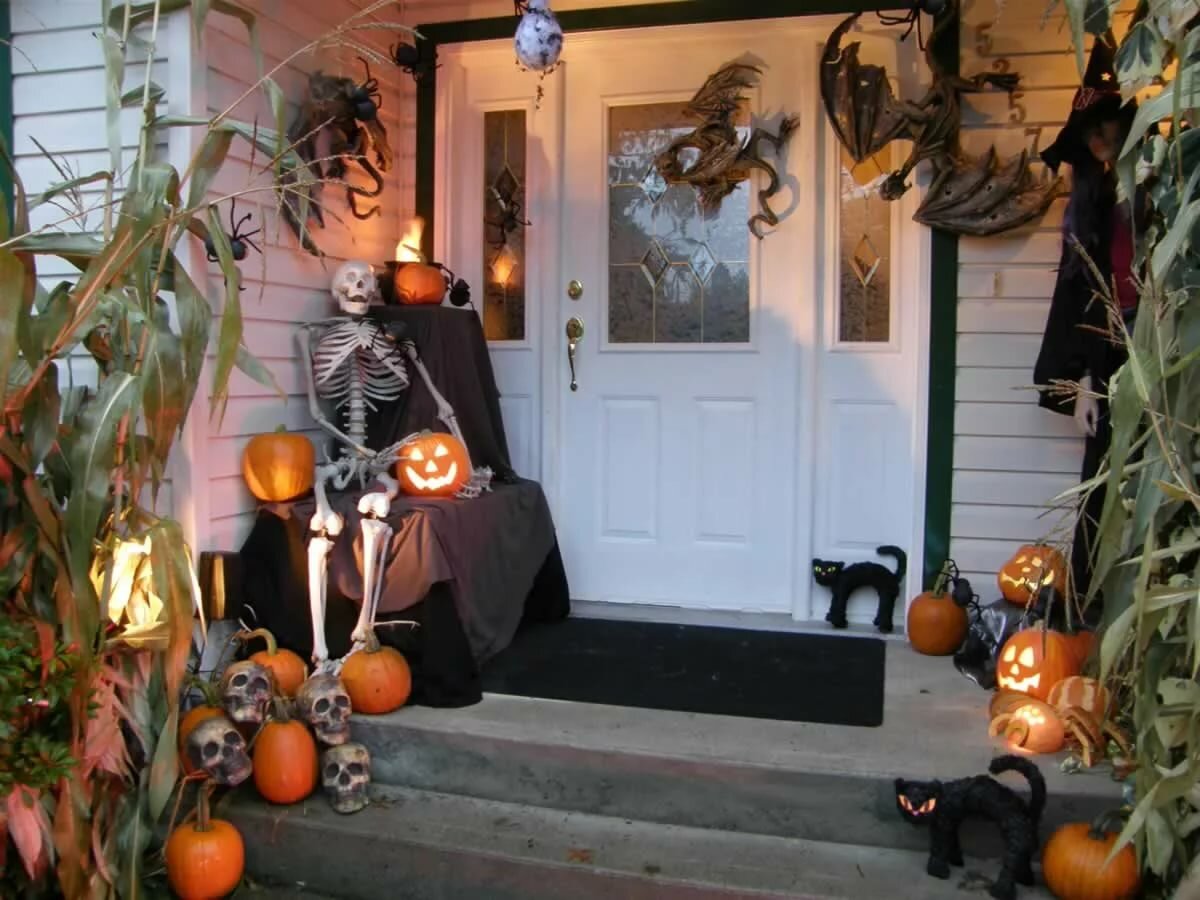 The lawn in the yard will look beautiful under the fallen leaves: you can just stop cleaning a few days before Halloween.
Trees in the yard should be decorated with a web of gauze, with furry spiders or a stuffed bird on the top branch. A Scarecrow looks beautiful, which is easy to create yourself or buy. Don't forget about "blood" – there should be a lot of it. Skulls on the ground or in front of the door will add fear, and if you scatter small bones under your feet, someone will definitely step on them and get scared. You need to add a skeleton to an arch or tree, and draw cracks on your car with a marker (which will wash away). Inside the cabin, it is appropriate to put a bloodied dummy.
3. How to make blood candles
The ideal option for decorating a festive table will be" bloodied " candles. It is quite simple to make them. All the work will take no more than an hour. To create a decor, you will need:
Ordinary white paraffin candle.
A utility knife, matches.
Paraffin candle, painted red.
Paper (work surface) and a flat saucer.
A white candle is cut across into several pieces of different lengths. Use a stationery knife. Cut carefully so that the paraffin does not crumble. Then the "tail" of the wick is released on each miniature candle. Now they are placed on a saucer in an asymmetric group. A red candle is lit and generously dripped with "bloody" paraffin on the "plate" composition. With the help of the composition, the decoration is carried out and the group is fixed on a saucer. The composition is placed in the center of the festive table. Additionally, you can pierce the candles in several places with black pins or put miniature spiders near the saucer.
4. Pumpkin: traditional lanterns and other design ideas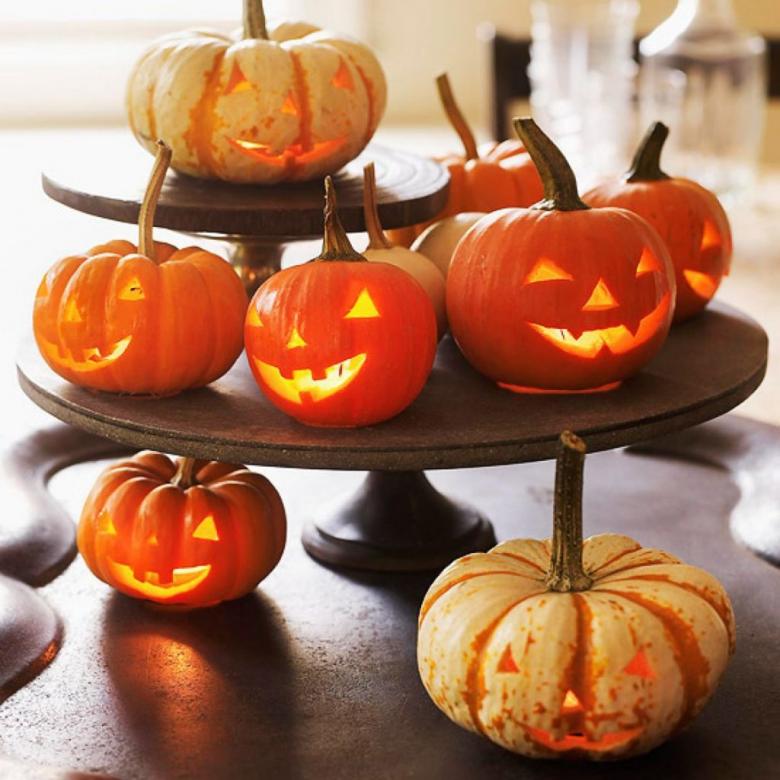 Jack's lamp is made from ordinary pumpkins. The vegetable is cut off the "lid", cleaned the middle (pulp and seeds), then slightly dried. Now "faces"are cut out on the pumpkin peel. The most common expression is a sinister grin with sharp teeth and furrowed brows. To make it easier to cut, first apply the drawing with a pencil. If even the image of a face is difficult, then use templates.
After working on the pumpkin face, put a candle inside the vegetable and close the lid. By the way, Jack's lamp Can also be made from papier-mache. To make an artificial pumpkin hollow, a paper-glue mass is applied to a balloon, which is then "burst". Those who are very afraid of grinning pumpkin faces, decorate the vegetable differently. It is painted, sprinkled with sequins, decorated in the decoupage technique, put on knitted "sweaters" and hats.
5. Branches, driftwood, and fallen leaves
Branches and snags are collected directly in the Park or in the forest. Future decor is prepared for the future, shaken off the litter and thoroughly dried. Then the surface of twigs and snags is generously covered with black paint. It is this color that looks the most gloomy and spectacular. After the decor dries, compositions are made from it. Twigs are collected in "bouquets".
They are supplemented with a web of thread or gauze and artificial spiders. Snags are simply placed on the floor or on shelves. Realistic and ominous will look stuffed crows, "sitting" on the branches. You can make a luxurious lamp from a branchy snag. It is decorated in the manner of a Christmas tree with tiny pumpkin balls. Fallen leaves are also collected in parks. They only need to be slightly dried and can be artistically scattered on the floor, windowsill and shelves. Wide vases and jars filled with leaves will look creative. If you string them on a string, you will get an autumn garland.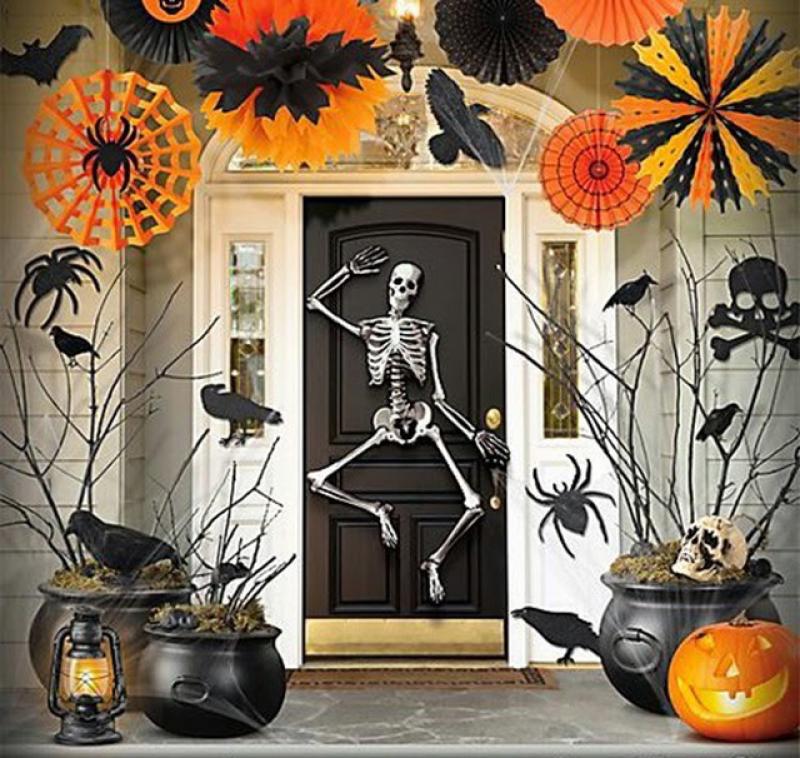 6.The decoration of the walls and not only
The walls are decorated with various Halloween decorations. Artificial animals include bats, spiders, and snakes. This is the three most "vile reptiles", so the atmosphere surrounds them accordingly. Bats and spiders are easily cut out of cardboard. Just a couple of stencils with animals of different sizes, so that the decor does not look like stamping. Patterns are used to cut out traces of human feet or animal paws. These black prints are pasted in chains on the walls, floors, and ceiling. Black silhouettes of ghosts cut out of paper are fixed on the windows.
A group of different-sized wall mirrors are pasted over with pictures of "creepy" faces, as if peering at guests from the other side. A very" evil " door will welcome guests if it is decorated with a frown. Fixed at the top of the fabric strips that will become the hair. Eyes are glued under them. The mouth strip is sealed with masking tape. It is also used to make severely frowned brows.
Real trees will look great, decorated with a flock of artificial crows, rags and candles in glass flasks. Some walls can grow clawed witch hands. You can play the story of snow White and put a fake Apple in one of them. Under the ceiling hang plafonds made of black polyethylene in the form of pointed witch hats with lanterns inside.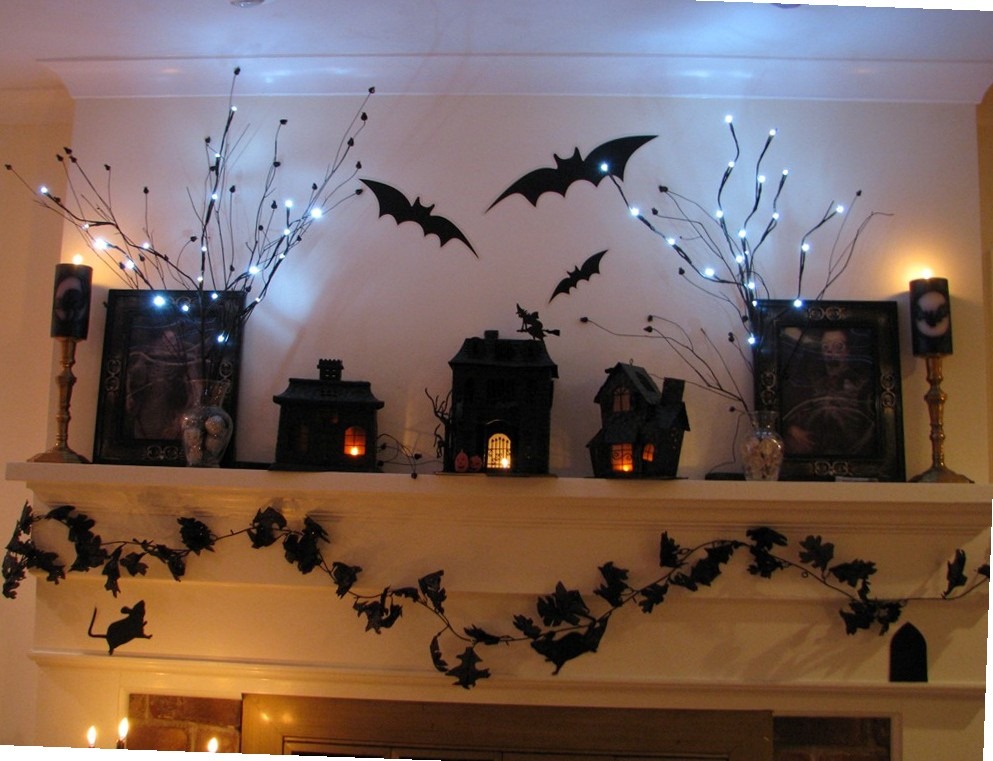 7. How to make a stylized garland with the inscription with your own hands
. 13 Halloween home decor ideas.
Halloween garlands are very simple. To work, you will need sheets of cardboard in three colors (usually orange, white and black), templates, scissors, harsh thread, glue, tape, pencil and marker. First you need to print stencils of crows, bats, skulls, cats, and simple triangular flags. No need to choose complex figures. For example, the silhouettes of spiders with numerous legs will have to be cut out for a long time. Then the templates are applied to sheets of cardboard and outlined with a pencil. Now you can cut it out. To make inscriptions, take white cardboard, draw circles on it, outline the contours with a black marker and write letters. These elements are cut and pasted on triangular flags. All the details of the garland are fixed on a severe thread with the help of squares of tape.
8. Tips and ideas for serving and decorating the table
The design of the table begins with the tablecloth. Choose a tablecloth in bright colors (orange, red, black). Stores sell special fabrics with themed drawings. Instead of vases for bouquets of scarlet or white flowers, papier-mache skulls covered with gray or black paint are used. A drop of fun will make sparkles, which sprinkle the decor, after sprinkling it with varnish. White candles in black candlesticks and currant berries in transparent vases will add to the atmosphere of gloom.
Pumpkins are used as lamps. In the center of the table set a small tree with bare branches in a pot. You can also use another composition of twigs, ears and dried flowers. From the components, a bouquet is collected, which is dipped in black paint. Then it is suspended so that the excess composition drains. After drying, the bouquet is put in a pot.
To make the festive table imbued with the spirit of Halloween, use snow-white dishes, silver appliances and black napkins. A "scroll" tied with a dark ribbon is placed on each plate for guests. It may contain a greeting, a prediction, or a task if a masquerade game is planned. Table legs can be "shod" in striped stockings and witch boots, and on the backs of chairs to put on "backpacks" for gifts.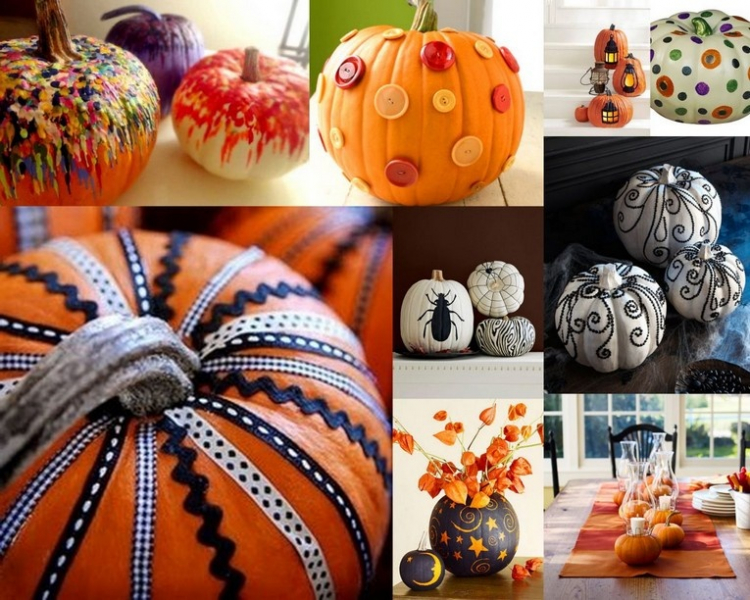 9. Dishes for the holiday
Decanters, glasses and bottles can be painted black or orange. Just cut out the template and stick it on the place that should not be painted. All containers are dipped in paint. After the composition dries, the sticker is removed. Most often, this method is applied to bottles and glasses "faces" that express various emotions. It is not always possible to recreate complex shapes (such as skulls) on your own. It is better to buy such dishes in advance in a specialized store. Glasses and cups can be decorated with "bruises" from paint (non-toxic). Laconic, but intimidating will look scarlet napkins, rolled up into a tube, and fixed with special fanged jaws-clips. This decor is placed on each plate.
10. Sweets or passions
. 13 Halloween home decor ideas.
The menu should surprise not so much the taste as the appearance. For cookies, you should buy special molds in advance (in the form of skulls, brains, teeth and skeletons). Prepare pastries according to your favorite recipe. You should also add candy to the liver. The treat is wrapped in orange crepe paper or pieces of mesh and tied up with either green ribbons (pumpkin tails) or satin stripes. In the favorite cocktail of "bloodsuckers" add slippery lychee berries that resemble eyes. Tools are filled with pomegranate juice and placed like spoons in glasses. "Bloody" cranberry sauce is perfect for appetizers (chicken or Mexican nachos). They make ghosts out of marshmallows by painting their eyes and grins with chocolate.
These babies are decorated with pumpkin pie. Additionally, it can be decorated with "witch fingers" with tiny claws. Stuffed eggs are decorated with olive spiders: one half on the body, and the other is cut into strips for paws. The foam of a chocolate cocktail with a scattering of ground cocoa perfectly imitates the "loose earth". A couple of jelly worms are placed in it: the disgusting drink is ready. Grapes are strung on skewers for canapes or toothpicks. The" muzzle " of the vile caterpillar is decorated with carnation eyes. Miniature brooms are made from straws and pieces of cheese with fringed strips. You can serve salads in cups of oranges, which are prepared like pumpkins. Clean the pulp (go for juice), cut a face on the side and fill with food.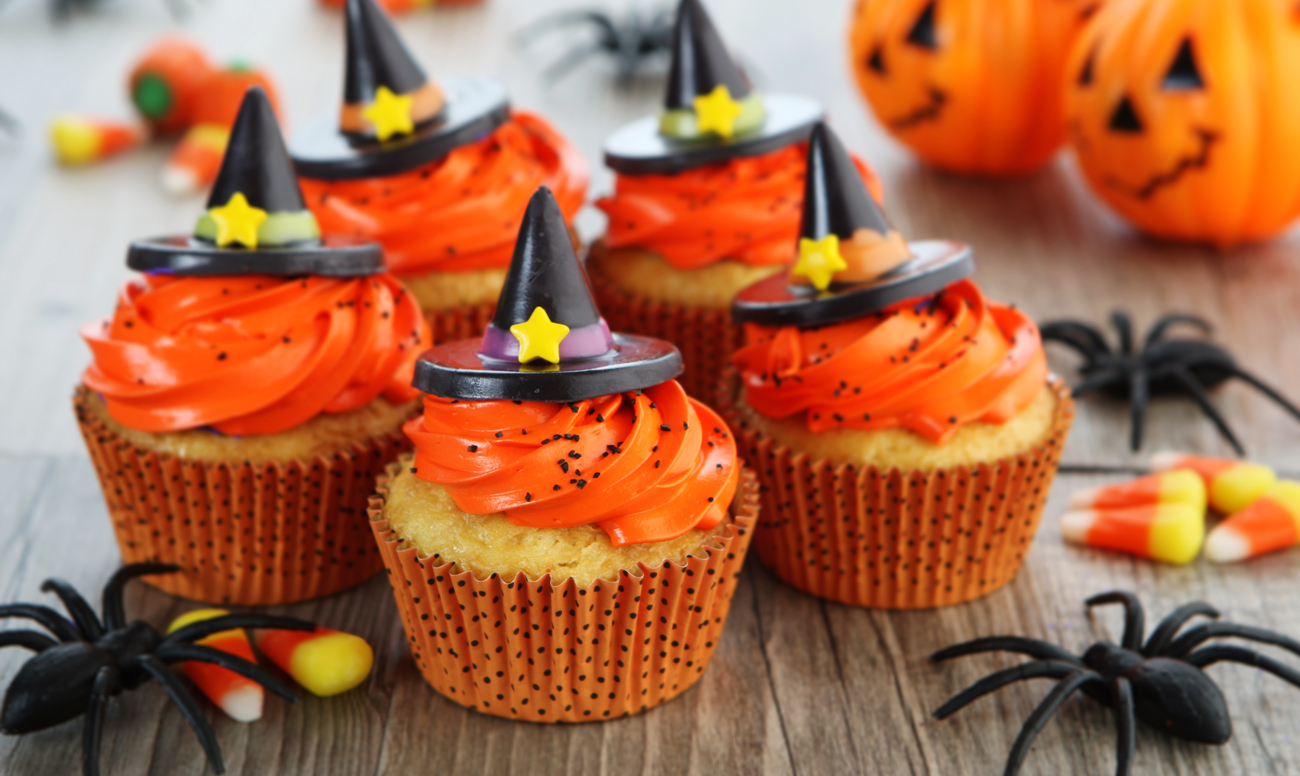 11. Making a Halloween wreath on the door
The Halloween wreath on the door is created on the same principle as the Christmas one. To work, you will need:
Wire;
Cotton;
Scissors, wire cutters;
Thread or fishing line;
Black feather;
Christmas balls;
Paints, sequins, brushes;
Black satin ribbons.
Making a wreath is not so difficult, as it may seem at first glance. Start with a wire frame, which must be given the correct round shape. Then it is well wrapped with cotton wool to give volume and secure it with a thread. Next, Christmas balls are tied to the fishing line. It is also wound on a wreath in a circle so that the decor is evenly distributed. Balls are colored in black, gray, orange and covered with sequins. Now the black feathers are collected in bunches. Each bouquet is tied to a thread that is wrapped around the frame. A lot of feathers are used to prevent voids from forming in the wreath. They can easily be replaced with autumn leaves.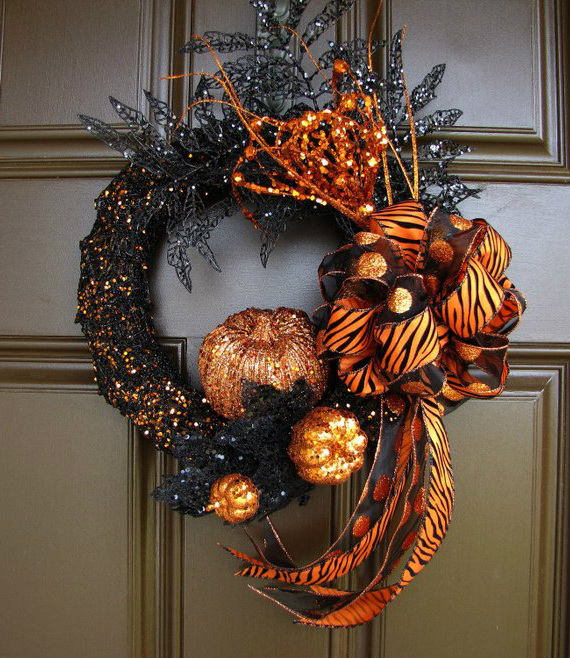 12. A Ghost, spider webs and other ideas
. 13 Halloween home decor ideas.
It's easy to make a Ghost out of balloons and gauze. You will also need a marker to draw a face with. Balloons are filled with air. Then they paint it and tie it to the ceiling. Now they are covered with a" cloak " of gauze, the ends of which hang freely in the air. Artificial cobwebs are made from the same material. It is soaked in a bucket with diluted black gouache. You will get a grayish fabric, as if covered with a layer of dust. For a thick, old web, a couple of holes in the gauze and an artistic hanging in the corner are enough.
To get a thin web, the material will have to be dissolved for a long time on a thread. For witch supplies, you will need various sizes of phials. They are filled with liquid (tinted water) and placed "creepy" objects: artificial fingers, spiders, rat claws and other magical paraphernalia. Lids are decorated with twine, burlap, gauze cobwebs and bloody smudges of paint.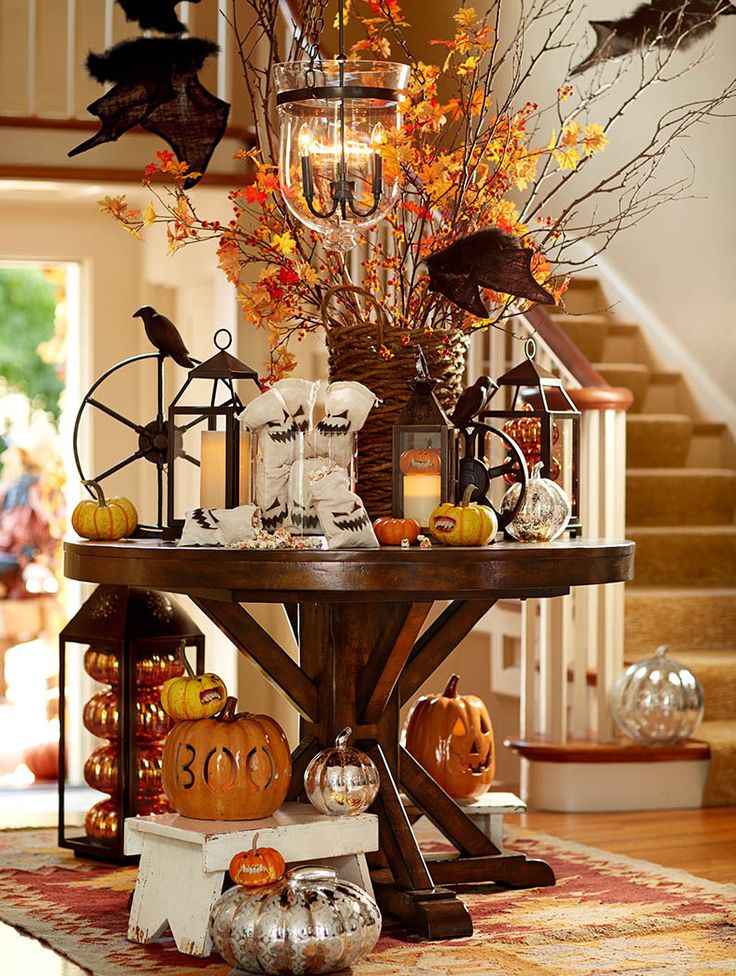 13. Conclusion
. 13 Halloween home decor ideas.
The holiday will be memorable only when it is held in an original setting. You don't have to spend large amounts on luxury decor in specialty stores. You can design a house for Halloween with the help of improvised means. You just need to connect your imagination and ordinary things after a series of manipulations will turn into creepy decorations. This is a great occasion to get together and have great fun with friends and family.
13 Halloween home decor ideas.