Winter garden styles
Interior decoration, plants, decorative content are of great importance for the concept of a winter garden. Therefore, before you start creating your own green garden, you need to decide on its style. Create a detailed project and only then begin the arrangement.7 styles of winter garden in the house.
A winter garden can be designed as an imitation of a natural landscape zone or has features of one of the architectural styles.
1. Garden in a classic design
. 7 styles of winter garden in the house.
The main feature of the classic style is moderation. The finish, made in neutral soft colors, will not distract attention. And in the classic garden, there is undoubtedly something to see. The rich colors of subtropical plants seem even brighter against the background of snow-white stucco and marble.
Usually such rooms are filled with various arches, columns, pilasters.
In addition to interior solutions, the space is lavishly decorated with a variety of statues and other works of art – frescoes, paintings. As additional decorations, you can use mini fountains, water tanks. And of course, we must not forget about classic furniture and lamps.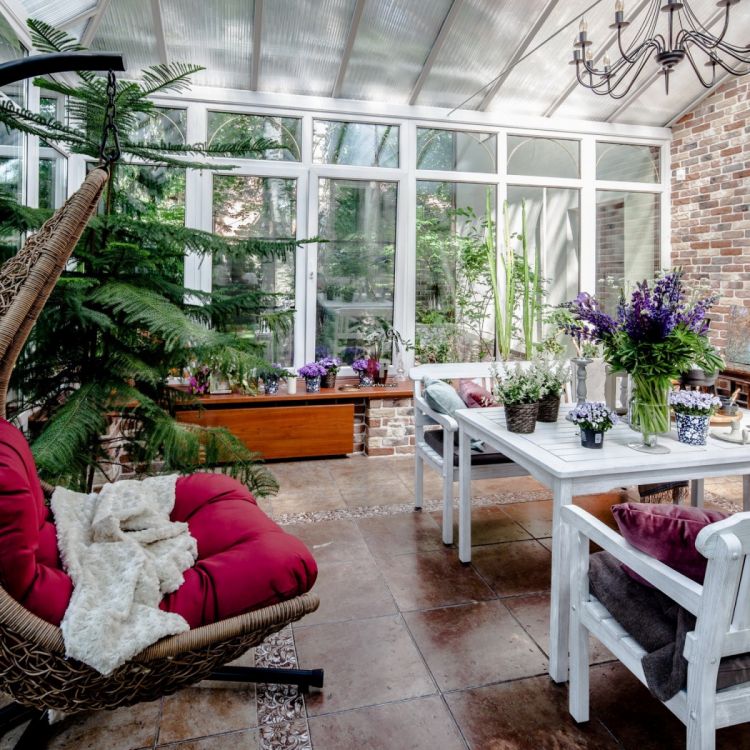 2. Japanese winter garden
This style is a garden where you can completely abstract from the surrounding reality and give yourself up to the process of self-knowledge. The philosophy of this place tends to minimalism and pronounced symbolism.
To create the atmosphere of a Japanese garden, you can choose one of the most common directions:
Kare-Sansui – the so-called dry landscape. Such a landscape can hardly be called a garden. Its characters are gravel, sand, and stones of various sizes. No plants or reservoirs are found here.
The main purpose of this garden is to provide a space where a person can meditate, calm down and restore the energy spent.
Tsukiyama – known as the hilly garden. It is characterized by the reproduction of any area in miniature. In this case, a set of dwarf trees will symbolize the forest, a rocky embankment – mountains, and a small pond – the sea.
garden for tea ceremonies – allows you to relax and enjoy a cup of green tea among the picturesque plants. Avoid bright colors that excite the mind.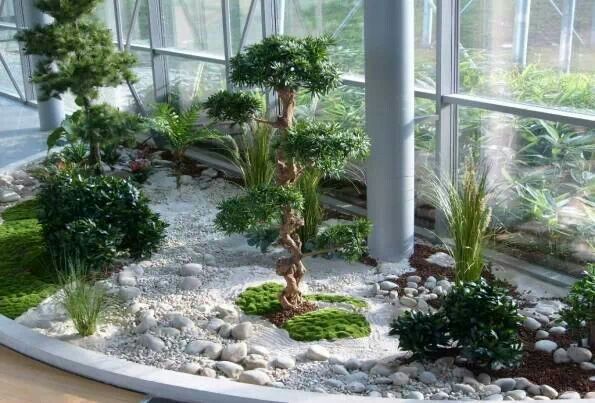 3. Winter garden country
Country style will suit absolutely any garden. The highlight of this place will be bright and lush flower beds. They can combine completely different colors. Attributes of this style include natural lawns and random self-seeding in the form of wild flowers.
An integral element of the garden are vegetables, for example – bright and spectacular miniature pumpkins or squash, which successfully replace flowers.
It is impossible to imagine a country garden without wooden elements-rough untreated benches, boxes for plants, old chairs, nets for vines, gazebos. Reservoirs have a natural appearance – overgrown with water lilies and duckweed, they are often equipped with wooden bridges.
As a decoration, you can use old watering cans, pitchers, and pottery.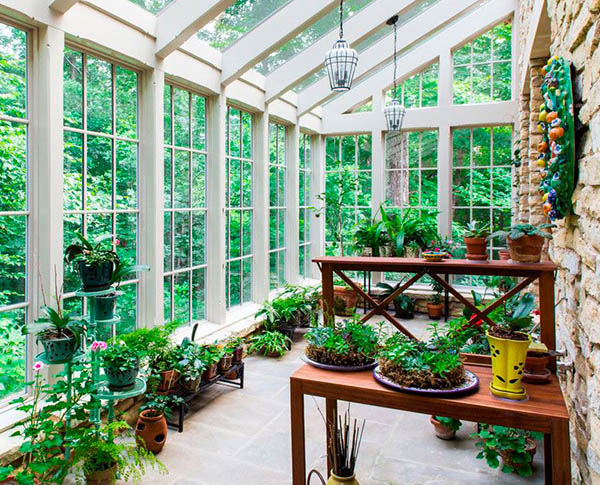 4. English-style winter garden
The winter garden is a place for a pleasant pastime with a cup of tea, conversations and women's needlework. The main color combinations are green and cream, pink and white. There are also bright colors – yellow, blue, and ennoble the interior details in shades of old gold.
Special importance in the english greenhouse is given to windows – they are decorated with a variety of layouts, stained glass elements, full-length curtains. A warm floor will make a soft carpet even more cozy, and aged furniture will allow you to immerse yourself in the atmosphere of antiquity, to isolate yourself from the hustle and bustle of the modern world.
Victorian – the garden is equipped with a 3-or 5-pointed Bay window. The roof of this room is represented by a transparent five-pitched structure. Glass is used as a material for glazing.
Edwardian – differs from the previous version in the simplicity of its shape – rectangular structures with a conventional gable roof.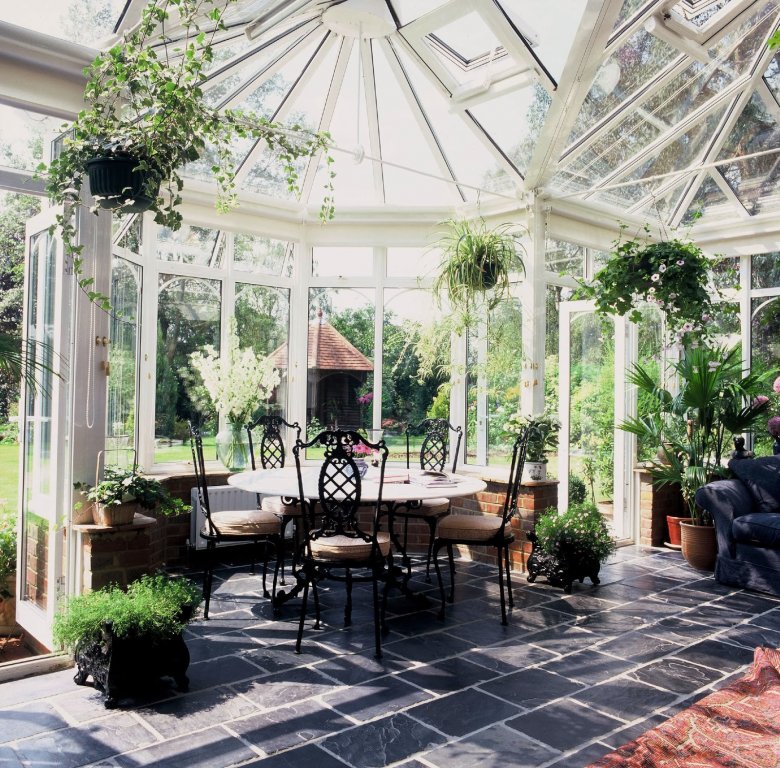 5. Mediterranean
The hallmark of the design for a winter garden in this style is the simplicity and clarity of lines. Most often, this is a room with a gable roof, adjacent to the house. Therefore, often the role of a greenhouse is played by a veranda or a glazed terrace.
This is a functional and solid room.
The distinctive features of the Mediterranean winter garden – light walls and floor, as if burned out under the burning sun rays. As a decoration, you can often find antique statues and ceramic vases. Wrought-iron benches, tables with glass tops, pergolas braided with climbing roses can act as a design element.
Sundial and artificial reservoirs are also attributes of this style.
Traditional plants for the Mediterranean winter garden are juniper, real palms, citrus, pistachio or olive trees. From flowers – lavender, roses. And, of course, you can not do without herbs – rosemary, saffron, coriander, Basil – essential attributes of this style.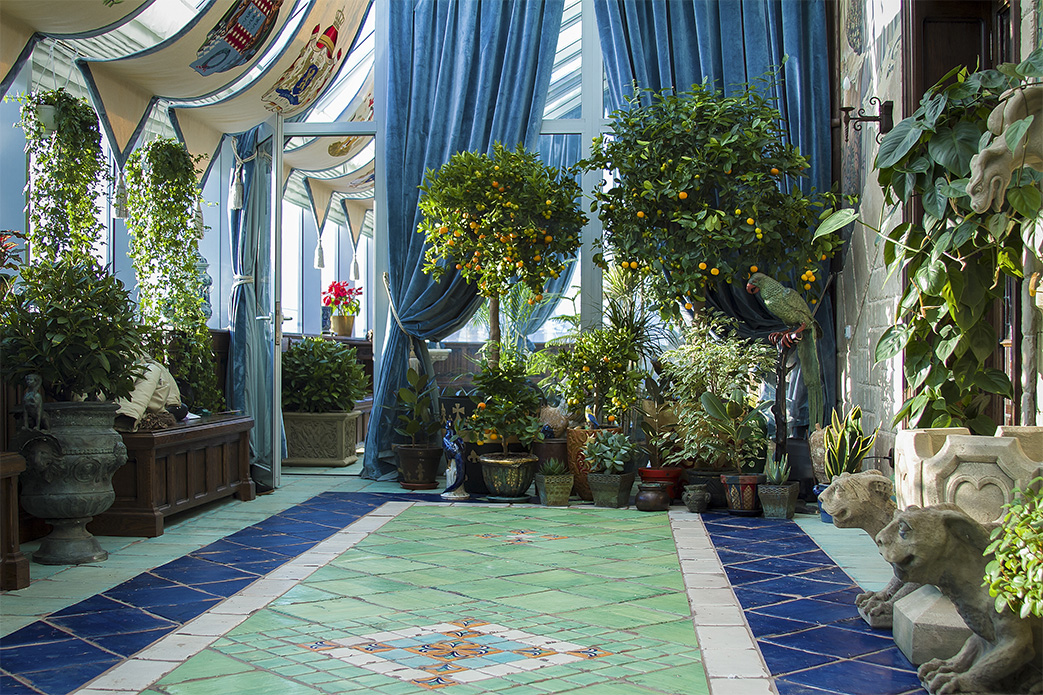 6. High-tech
Winter garden in high-tech style – the Kingdom of glass, shiny metal, plastic and regular geometric shapes. Lighting plays a huge role in this interior. Glass floor lamps, chrome lamps are installed at different levels, which allows you to use the light as efficiently as possible.
The practicality and functionality of each element is what characterizes this style.
Comfortable and simple geometric furniture made of plastic, leatherette, and metal will be appropriate here. Interior items with a metal frame will fit perfectly into the space.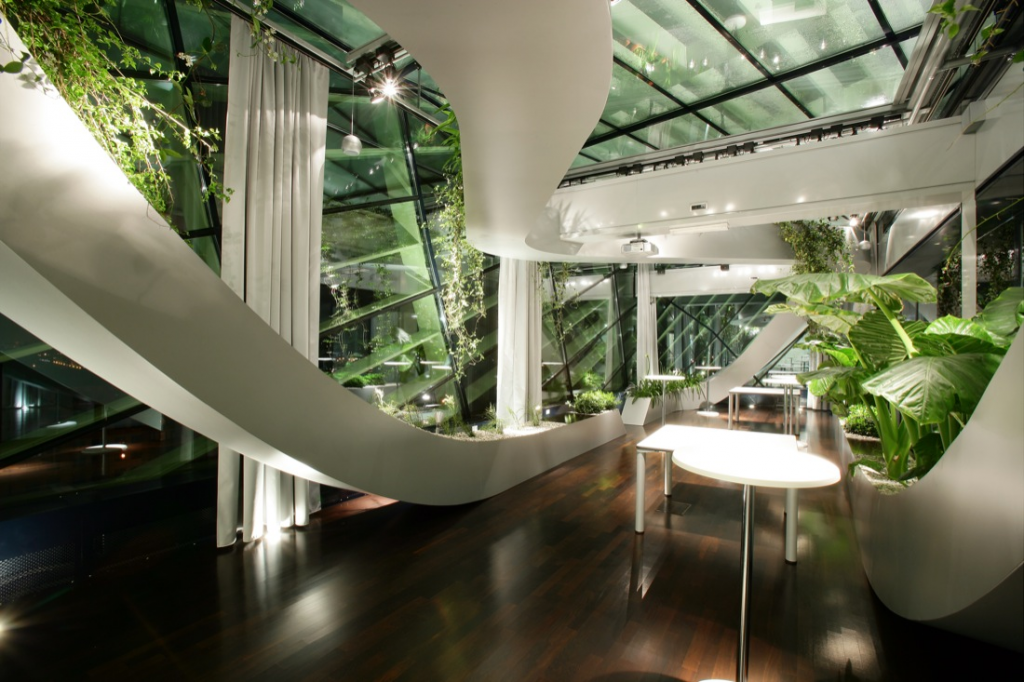 7. Modern winter Garden
Expressive lines, conciseness, contrasting combinations, periodically repeating identical motifs are the distinctive features of the art nouveau garden. A single symbolic concept can be traced throughout the entire space.
All design elements – crowns, lawns, paths have smooth and very clear outlines.
The expressiveness of the borders is enhanced by the contrast of color combinations – green lawn and gray paving paths, light and shadow. Plants for this garden should have large original leaves and a fancy pattern of branches. The ornate shape of irises made them an integral element of the art nouveau style.
In such a garden, you can not do without expressive and elegant peonies, lilies.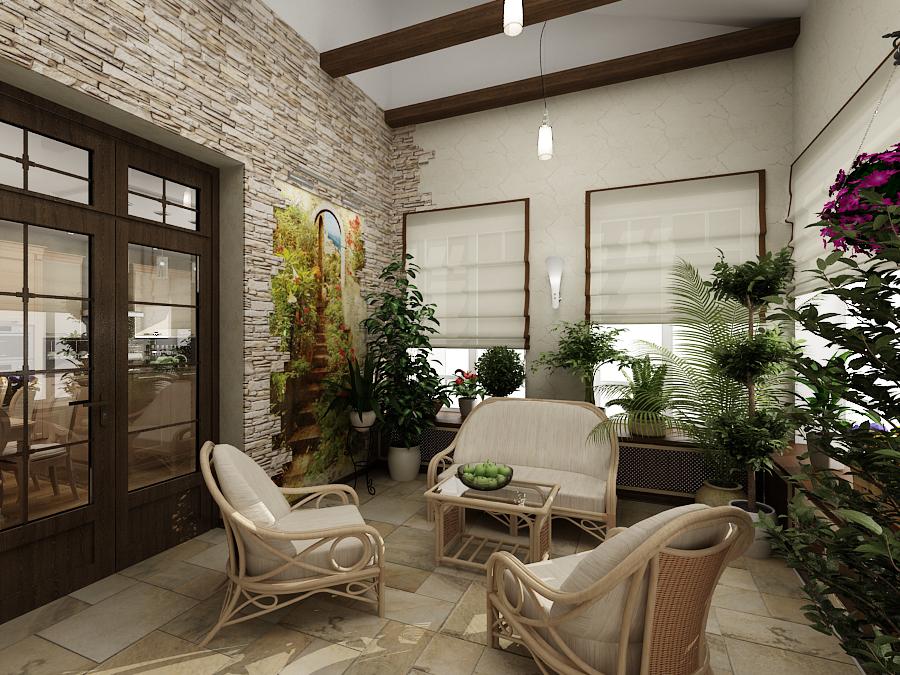 After the technical side of the issue is thought out, you can move on to the pleasant and plan the interior arrangement of the winter garden in the house. It is better to provide several functional zones.
Decorative zone – the base on which plant compositions are grown, fountains, sculptures, aquariums, etc. are installed.
The recreation area is a place for a family holiday. The space is equipped with comfortable chairs, hammocks, and if the area allows, you can put a dining table.
Communications are paths and alleys that can be used for accessing plants and walking (if the garden is large).
The utility room is a place for storing garden equipment, fertilizers and everything necessary for the care of plants.