Elegant fabric details and decorations in the nooks and crannies of your garden. Textiles play an important role in garden design. A piece of fabric magically transforms the garden and even changes the climate. The fabric will perfectly hide from the weather, muffle the noise of the street, get rid of the invasion of insects and hide from the eyes of others. A beautiful garden is unthinkable without textiles; what exactly and how to choose it. Amazing Textile Ideas for Patios and Gazebos.
By decorating the terrace with spectacular fabrics, you will attract the attention of guests, and your excellent taste will be noted even before entering the house. Fabrics can be selected to match the furniture or walls and fences, and maybe a completely unexpected color solution. Create an exciting drape or leave the fabric flat.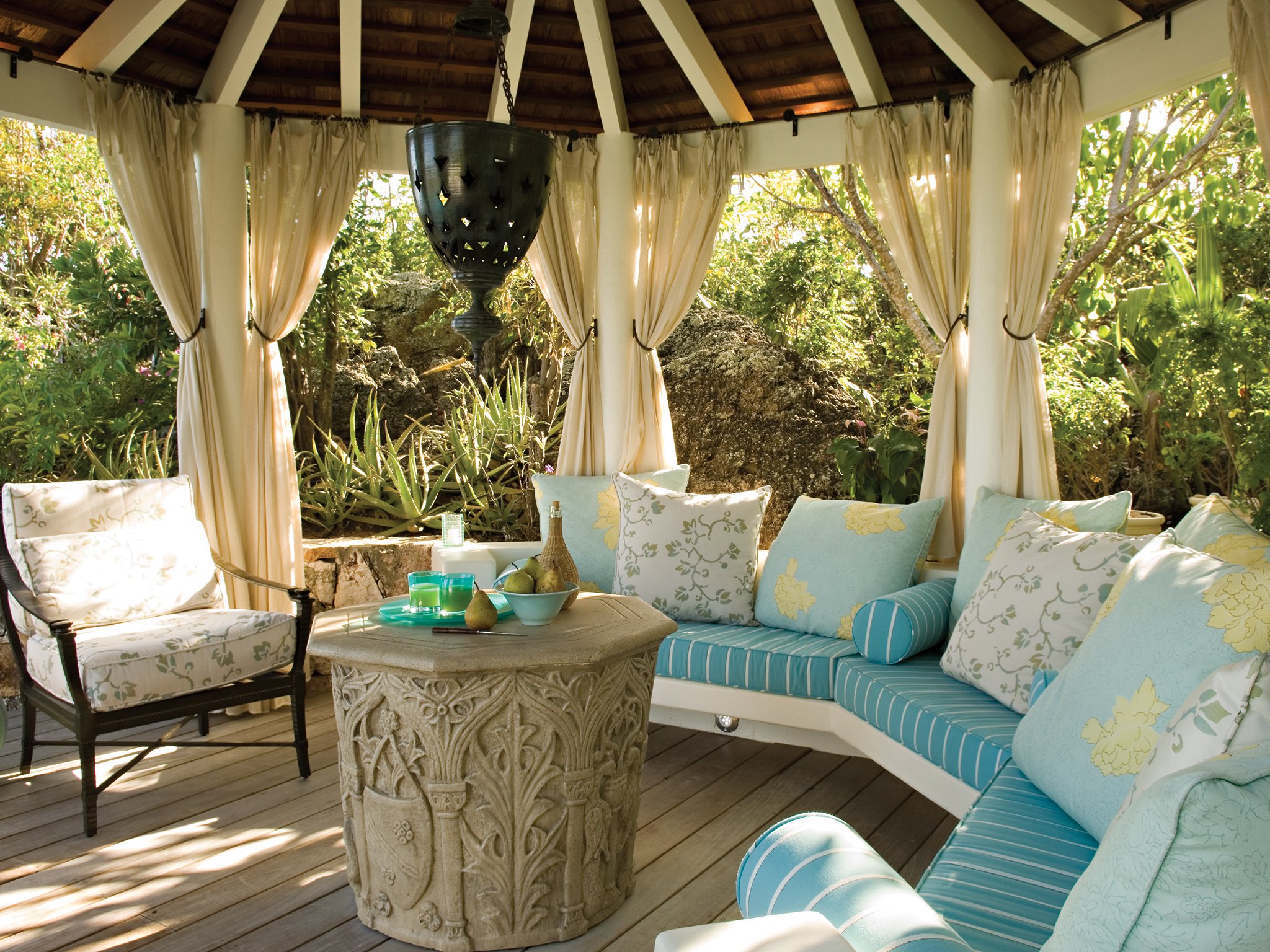 If your terrace is located at the entrance, I advise you to use dense fabrics — they will give Majesty. You can use natural textiles such as linen or cotton, they allow air to pass through perfectly. Artificial analogues practically do not fade, are easy to care for, and the palette is much more diverse.
Gazebos made of fabric
. Amazing Textile Ideas for Patios and Gazebos.
If your site already has an outdoor gazebo, this season it can be updated with fabric. Arbors made of fabric for cottages have gained a steady popularity today, they are comfortable and safe, and the shading they create will protect from the scorching sun. Fabrics for arbors must withstand strong gusts of wind and temperature changes, have wear resistance, moisture resistance, resistance to UV radiation, do not absorb dust and are easy to clean from dirt.
The Council: All these requirements are met by special street fabrics.
The colors of fabric walls can be extremely diverse. As you know, white and blue colors perfectly combine with each other, creating a traditional marine style.
If you prefer floral design, this is great: these fabrics will look luxurious against the background of the greenery of the garden.
Another option is lighter and more transparent fabrics for the gazebo, allowing you to admire the surrounding landscape. Organza is a popular fabric material for gazebo curtains. Thanks to the lightness, transparency and extraordinary beauty of organza, you can create a masterpiece gazebo. Air webs will develop in the wind, resembling sails or even clouds.
With this design, it is better to stop at solid light shades (cream or white). By the way, the white color will make the interior of the gazebo look expensive and elegant.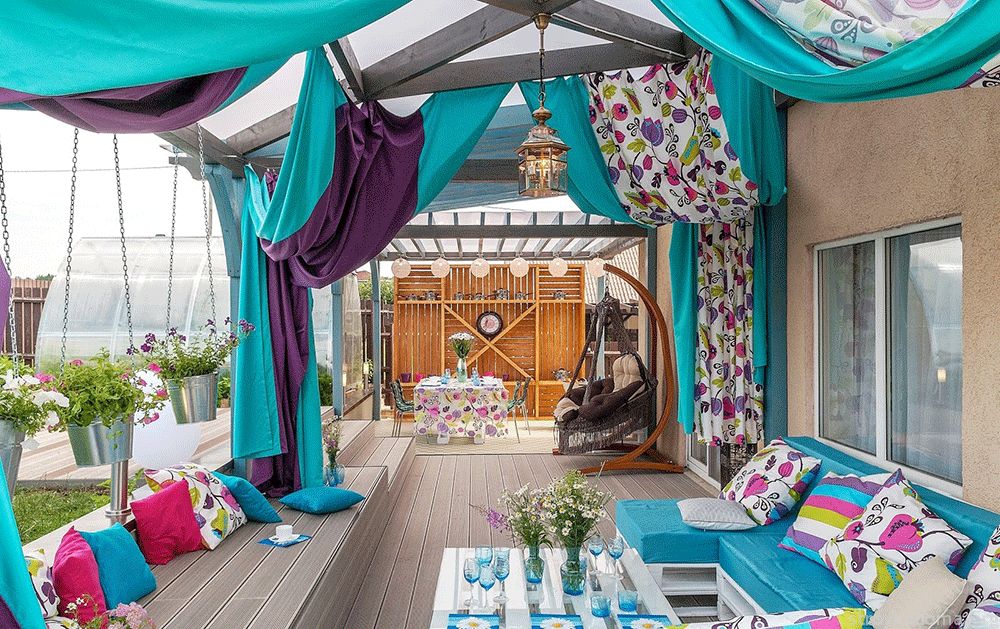 Alternative
If you do not have a gazebo, do not worry — you can find another solution. Install 4 columns or beams, pull a rope between them and hang drapery curtains. This lightweight tent made of curtains, mosquito nets, made with your own hands, will perfectly protect you from mosquitoes and flying insects. And for children, this air house is a great joy and a place for all sorts of games. Arrange a corner in the garden, protected from the wind and sun. Hang an elegant canopy or canopy over a sofa or bedding for a day's rest.
Important details
A cozy veranda with beautiful textiles in the form of pillows, blankets, and bedspreads looks great. Pleasant to the touch textiles can be used not only as a decoration — it will be useful during long spring and summer evenings spent on the street. A variety of soft mattresses will allow you to comfortably sit on a bench or bench, as well as provide additional warmth.
Feel free to choose cheerful and colorful colors: green or orange will lift your mood, and crimson, bright purple or turquoise will remind you of the stories of Eastern fairy tales.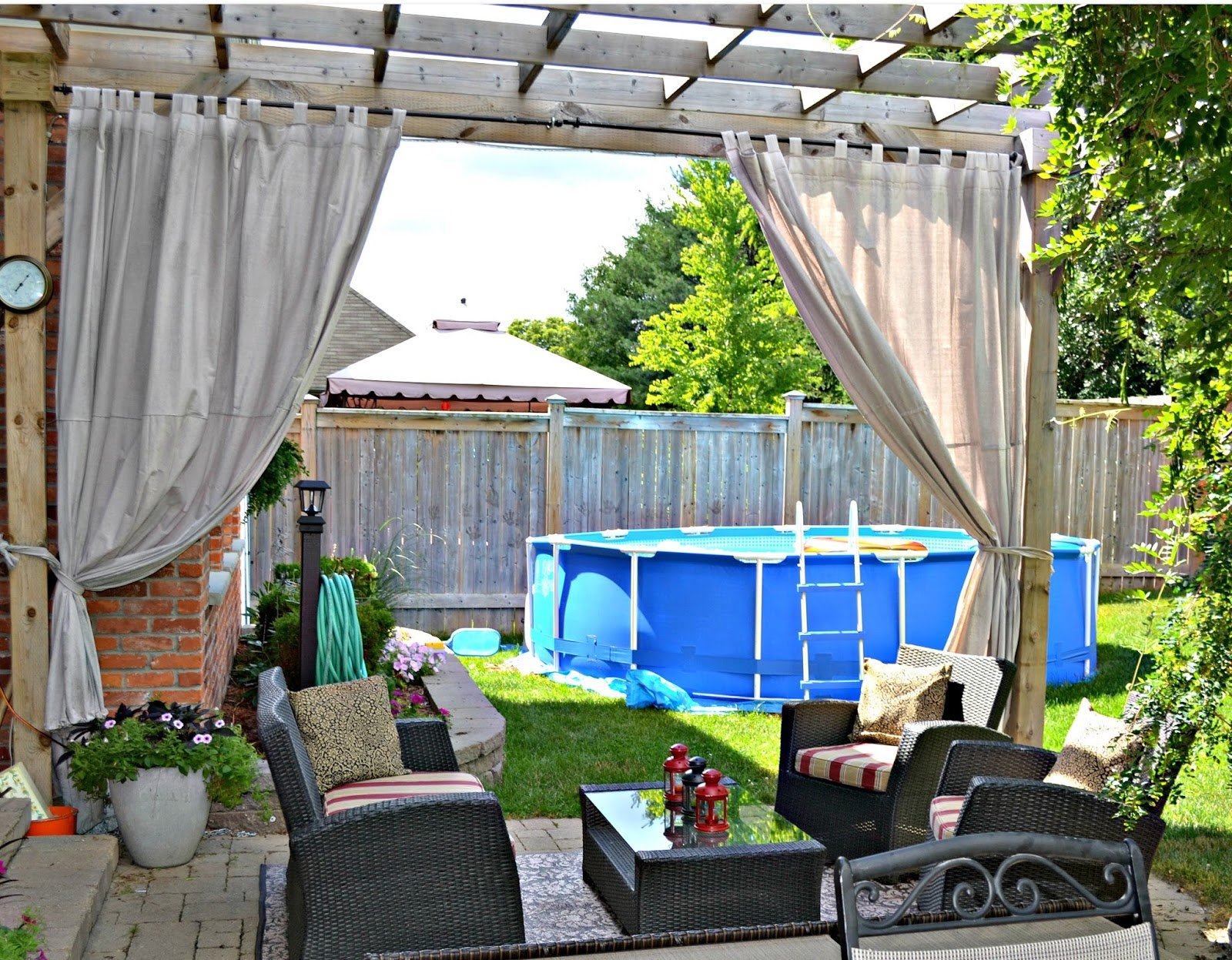 Do not forget that the tablecloth is an irreplaceable table decoration and evidence of elegant taste. Complete all this beauty with a fruit basket and hang a few strips of fabric on the rope, hang a few strips of fabric on the rope so that they can easily flutter in the wind.
Healthy sleep under the open sky
. Amazing Textile Ideas for Patios and Gazebos.
In summer, it's nice to take a little nap, just relax and read a book, listen to music and admire the starry sky. Therefore, lying in a hammock over the grass will be much more comfortable. Rest in a hammock helps to relieve stress, fatigue, and calm down.
If the site has mature trees with strong thick trunks, you can place a hammock under their shelter. However, so many different designs have already been invented that you can do without trees.In addition, the hammock takes up a little space, and there is always a place for it, even on a small plot.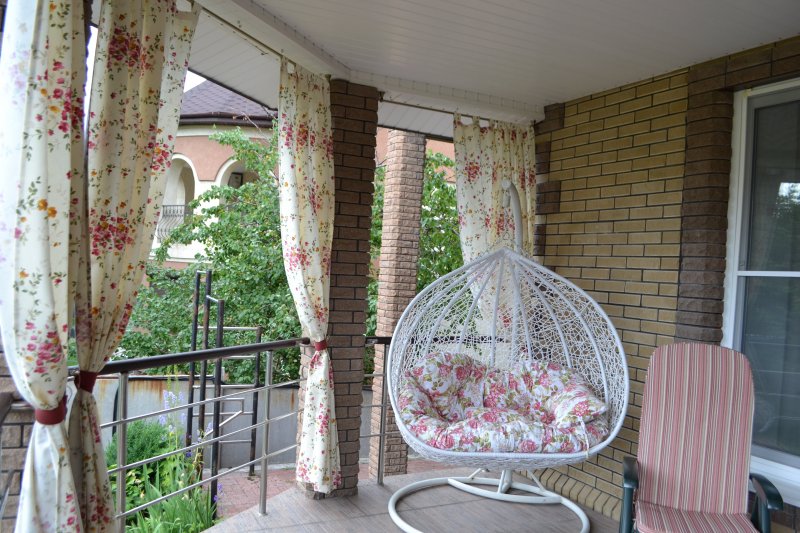 Another absolutely amazing invention is the outdoor bed with canopies and canopies. Made from all-weather materials, it will definitely help you enjoy the good weather and engage in a healthy relaxation. Build a podium from planks and complement it with mattresses, all the same pillows and blankets. It is logical to place this "summer bedroom" in some picturesque place or under the crowns of a spreading tree.Amazing Textile Ideas for Patios and Gazebos.