This season we dream of spending as much as possible at home, where it is always warm and cozy, in the company of hot tea, a warm blanket and a good book. How to ensure that the atmosphere of coziness and comfort always prevails in the apartment. Elements of eco-decor  without which it is impossible to imagine a cozy house in autumn.
Comfort in a house or apartment is an important property that they strive to achieve in various ways: by choosing stylish furniture, thoughtful furnishings, using suitable textiles and lighting. All this sets you up for rest and gives rise to a much-needed sense of security.
Many owners want to add a twist to the interior of their living room or bedroom, and do it without using proven methods of decoration and ready-made decor items.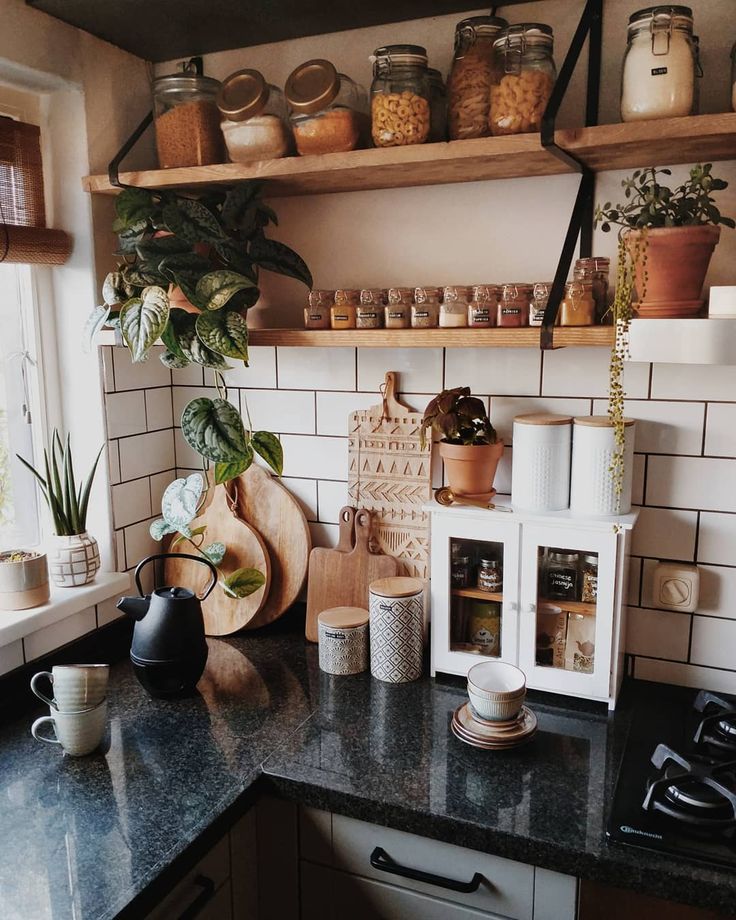 As it may not seem strange to someone, you can update the design of the room without significant expenses for repairs and the invitation of a professional designer. People are becoming more and more interested in  handmade crafts.
#1.Original ideas
. Elements of eco-decor  without which it is impossible to imagine a cozy house in autumn.
Original ideas for the house will help to decorate the house with gizmos with a unique design. It depends only on your desire what to make: a cute trinket, a fully functional object or a decorative element.
For work, the remnants of materials that are found in the house will be suitable; simple tools and the development of simple techniques will be required.
If you show enough imagination, perseverance and accuracy, the craft will be able to compete adequately with designer items. At the same time, it is worth remembering that the decor for different rooms has its own characteristics, and it should be chosen taking into account the relevance in a particular interior.
#2. Decorative ornaments
Cute and pleasant little things that are not used for practical purposes, but enhance the aesthetics of the design are very popular. Such crafts can be used for modern and classic styles, they are placed in the nursery and living room, bedroom and even in the kitchen, choosing different solutions:
paintings and murals, collages of family photos or decorative frames for mirrors;
flower vases and plates for treats, flower pots and jewelry boxes;
hand-painted walls, paintings and applications made of different materials, embroidery.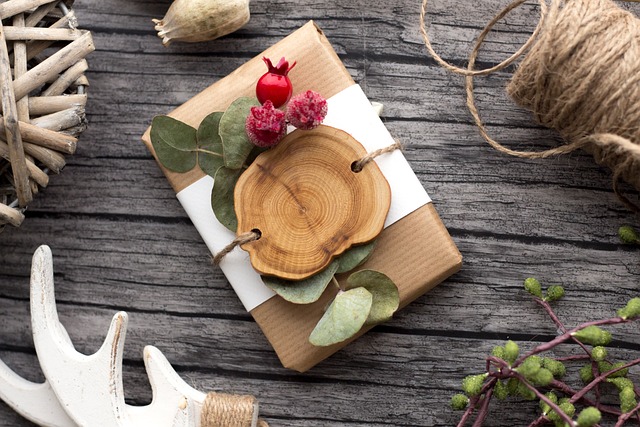 Decorative ornaments often have a practical function, which brings balanced notes of harmony to the interior. Such an ideal combination for many people is the most acceptable and successful option for arranging any rooms for personal and public use.
#3.Practical crafts with your own hands
Creating an unusual and maximally cozy interior can not do without practical crafts, the manufacture of which brings a lot of pleasure. Most often, these are textiles and furniture structures, household appliances and additions to decorative ornaments of a special design.
Therefore, feel free to hang handicrafts made with your own hands, print and frame family photos, use the plaid that your mother knitted and presented for its intended purpose – all this tells the story of the owners of the house and makes the interior cozy.
#4.Holiday decorations
. Elements of eco-decor  without which it is impossible to imagine a cozy house in autumn.
Before the holidays, everyone thinks about how to decorate their home and give it an interesting look in accordance with the theme of the celebration. The best ideas for the house can be original garlands and candlesticks, compositions of paper flowers or balloons, themed and beautifully decorated wreaths.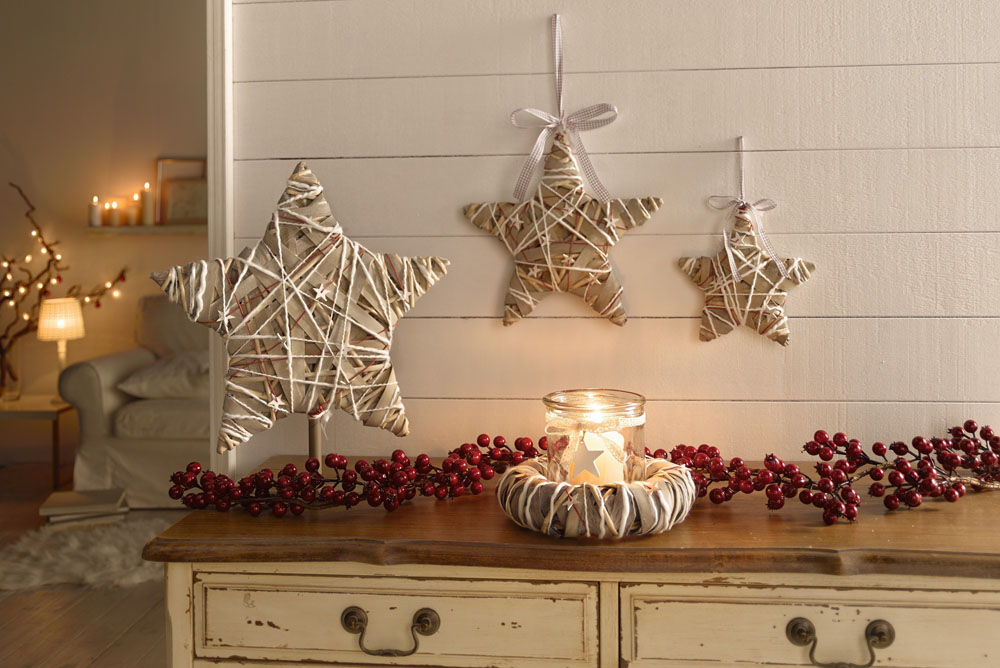 #5.Home textiles and decorative elements for different rooms
Any room gets a special look thanks to the use of home textiles that can be sewn or knitted with your own hands. Textile products embody a certain idea and when creating them, you can not limit the flight of your imagination:
beautiful and interesting pillows or soft poufs are suitable for the nursery and for the living room;
coasters for hot food, potholders and tablecloths, furniture covers are sewn into the kitchen;
in the bedroom, you can tie a soft and warm bedspread, sew blackout curtains.
Interesting and unusual products can be sewn not only for home, but also for use on the street or in the garden. Pillows and blankets, capes and even mattresses will decorate outdoor and garden furniture, will be useful to owners of private houses or cottages decorating patios, outdoor terraces and recreation areas.
#6.Interesting and original furniture with your own hands
. Elements of eco-decor  without which it is impossible to imagine a cozy house in autumn.
To bring variety to the interior and use different design ideas will help the manufacture of simple furniture with your own hands:
shelves of non-standard design and original design made of various materials;
creative coffee table with tray, modular chairs and stools;
a soft and mobile ottoman made of old tires as a good option for arranging the living room.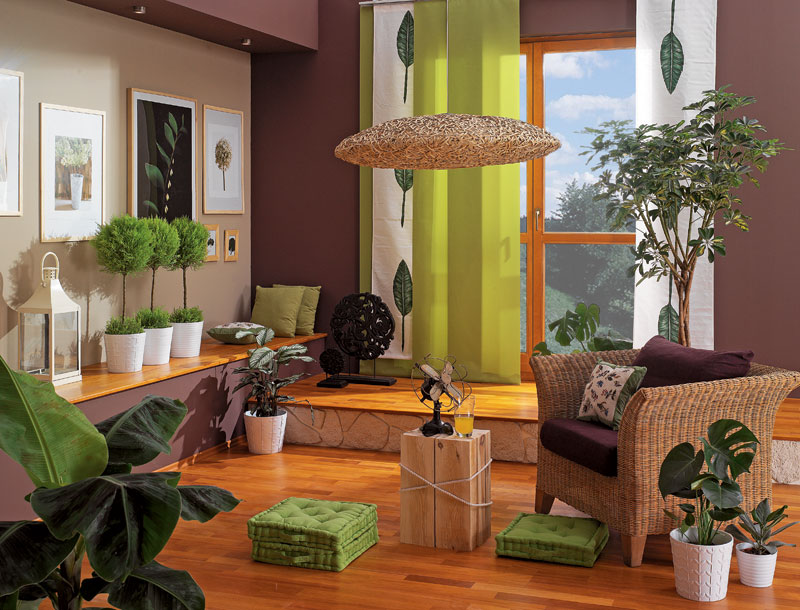 Most often, inexpensive and high-quality materials are used to create original designs, which determine the durability and aesthetics of the models being created.
#7.Wall and decorative decorations for home
Emphasizing the bright and attractive ecodesign of the interior design, several unusual and easy-to-implement solutions can be used:
family tree in the nursery complementing the home environment;
decorative fireplace;
a panel of pompoms in the bedroom and a housekeeper for the hallway;
a mirror in a bathroom frame and decorative photo frames.
Neon inscriptions made of polycarbonate sheets and ribbon illumination can be used for wall decoration. Three-dimensional letters made of cardboard or thin plywood filled with paper flowers, pom-poms made of multicolored threads, and other inexpensive decor look unusual.
#8.Fresh flowers
. Elements of eco-decor , without which it is impossible to imagine a cozy house in autumn.
Indoor plants are reflected not only in the ability of flowers to purify the air and improve the microclimate. They also delight the eye, cheer up when it's gray, rainy and gloomy outside the window, make us closer to nature.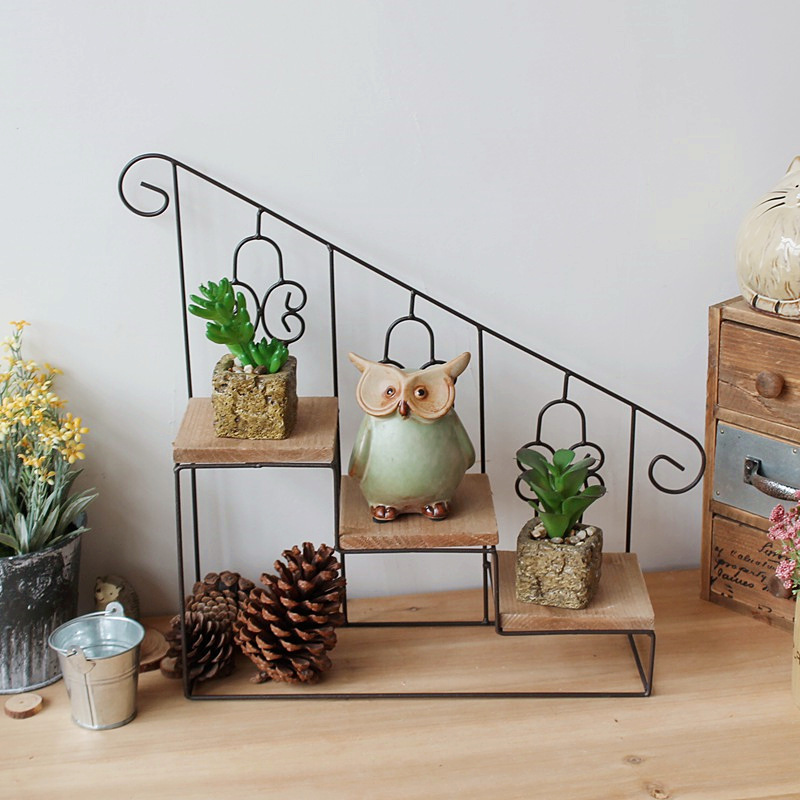 It is not necessary to equip a winter garden in the apartment. You can start with two or three unpretentious plants that will feel great on the windowsill, bedside table, shelving or coffee table. And if you feel the talent of a gardener, grow greens, tomatoes or lemons at home – you will be able to please yourself not only aesthetically, but also gastronomically.
#9.Beautiful dishes and tablecloth
We have already mentioned that in autumn you want to spend more time under a blanket, with your favorite hot drink in your hands. And so that nothing overshadows these moments, collect a collection of beautiful dishes.
You can even specially buy dishes with autumn themes – yellow leaves, pumpkins, forest landscapes, etc. A great way to create a good mood in the morning.
A tablecloth can add a few more points to the comfort. It is she who greets us at breakfast, lunch and dinner, so I want this textile to be special. Choose a tablecloth to match the color scheme of the interior: it can be plain or patterned, bright or neutral.
#10.Textile
. Elements of eco-decor  without which it is impossible to imagine a cozy house in autumn.
What do you associate the word "comfort" with? Decorative pillows, blankets, bedspreads – all this makes the atmosphere of the apartment very warm and homely.
And how nice it is to wrap yourself in a knitted blanket and sit comfortably on a sofa, an armchair or a wide windowsill, enjoying the beautiful landscape.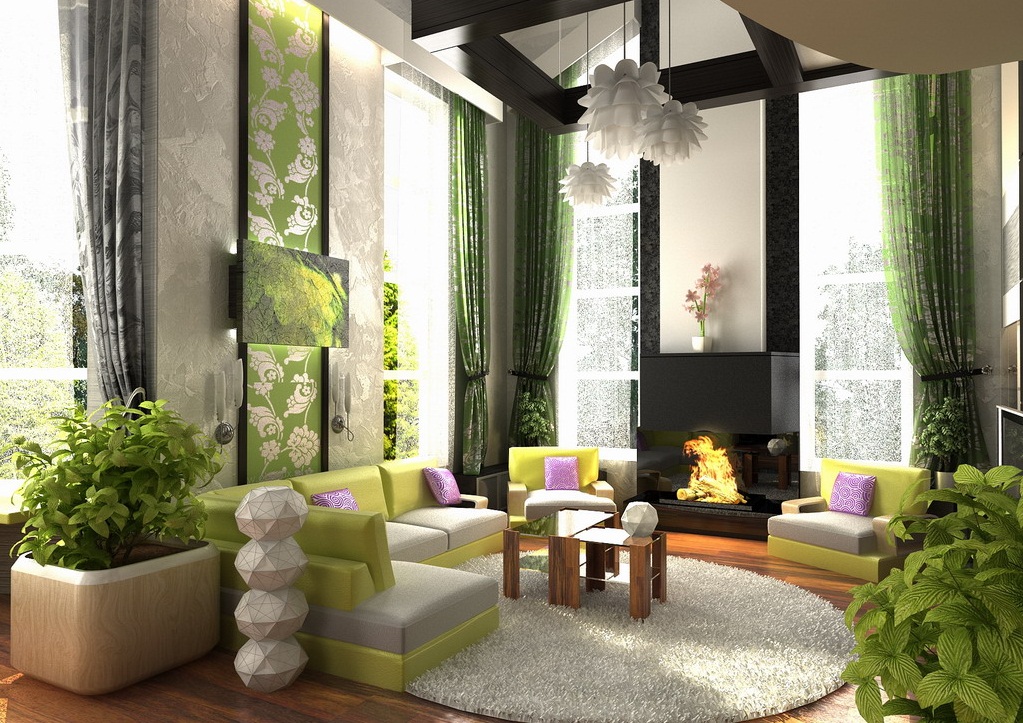 Usually textiles are the accent in the room, adds a sense of comfort, softness and tenderness, helps to change the character of the interior depending on the season or mood. For example, in autumn, shades of yellow, red, and orange will be appropriate.
Items and accessories in the same theme are perfectly combined with each other. Therefore, you can not worry that the curtains will not be in harmony, for example, with a tablecloth on the table or decorative pillows on the sofa.
#11.Books in the interior
The interior without books seems unfinished. Yes, today not many people have a home library at all, most prefer to read from tablet and phone screens. However, the smell and rustle of the pages of a paper book is unlikely to be able to replace anything.
Plus, it is a great decorative element, especially if you create a harmonious composition of books, figurines, vases, photo frames and other details. It is desirable that all of them were in the same color scheme.
Finally, you can make some of your favorite books "desktop". Put them in a pile on the coffee table and, when there is time and mood, open the selected work at random on any page. Do not forget to cook cocoa with cinnamon, and wrap yourself in a warm knitted blanket to make reading especially cozy.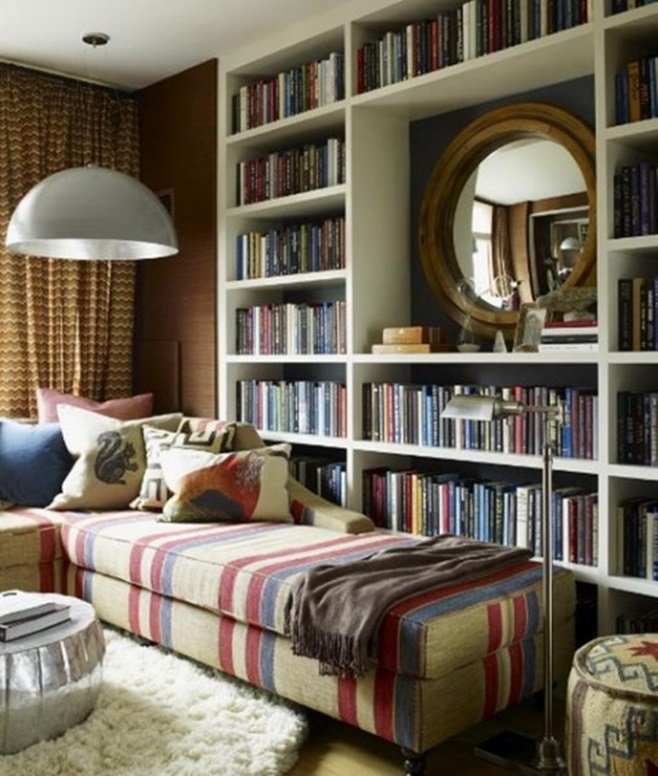 To make your home really cozy and beautiful, you do not need to spend time and money on choosing furniture or jewelry. The original decor is easy to make with your own hands, and with its low cost, decorations can be changed regularly, experimenting with style and composition.