A healthy breakfast can set the tone for the whole day. This is worth remembering when planning your diet. Recipes for a cheerful and active morning.
Let's take a closer look: what to eat for breakfast to be healthy, whether it is possible to skip it and when you need to accustom yourself to it.
Breakfast is an important meal. It triggers all the mechanisms, gives the necessary energy, and delicious and bright food sets the mood for the whole day — quite weighty arguments to eat in the morning.
Breakfast will be more healthy when it is spent in pleasant company discussing something interesting. This is a great reason to sometimes get out to meet friends or have breakfast with your family, discussing plans for the day and the combination of flavors cooked. So we get a double charge of good mood for the whole day!
How to accustom yourself to breakfast
. Recipes for a cheerful and active morning.
#1. Think about what could motivate you to have breakfast on time. What pleasant things could you find in this daily morning ritual? It is possible to rearrange the table so that during a meal you have a beautiful view from the window. Maybe for you, cooking breakfast is one of the ways to be alone with yourself. Investigate your motivation.
#2. Look for ideas for simple breakfasts.
#3. Make a list of breakfasts for the week.
#4. Buy the necessary products or order delivery for the ideas you have written down.
#5. Prepare everything you need in the evening: you can cut vegetables, rinse lettuce leaves or cook what you only need to warm up in the morning.
#6. Make your breakfast beautiful and appetizing — the visual component is also important.
#7. When the habit of having breakfast in the morning becomes stable, try to experiment: add new ingredients to the usual, spices, combine what seemed incongruous: for example, lettuce leaves and sweet plum/pumpkin.
#8. Organize a comfortable sleep mode to get enough sleep and allocate time for breakfast.
#9. Don't scold yourself if something goes wrong on someday and you don't have breakfast. Just keep trying.
What is healthy to eat for breakfast
Let's analyze the principles that will help you prepare the right breakfast:
a./ Add slow carbohydrates — they give us energy for a long time. What could it be:
whole grain porridge: oatmeal, buckwheat, millet, unprocessed rice, spelled;
dry breakfast without sugar;
wholegrain bread — we are looking for wallpaper or peeled flour in the composition on the label.
b./ For satiety, we need protein: eggs, unsweetened yogurt, nuts, a little cheese, cottage cheese, lean meat or fish, legumes, and tofu.
c./ Vegetables, greens, fruits, berries, dried fruits — the brighter and more diverse, the better — for good mood and well-being.
Regardless of what kind of work you have, mainly with physical or mental labor, breakfast should be balanced: contain slow carbohydrates, proteins, healthy fats, and fiber (vegetables or fruits).
#1. Avocado chocolate mousse with cashew cream
A healthy breakfast can be different: porridge, sandwiches, pancakes with fillings, various egg options, toast, and sandwiches are suitable as a healthy meal. Someone likes sweet options, someone — salty. Everyone will be able to find suitable combinations.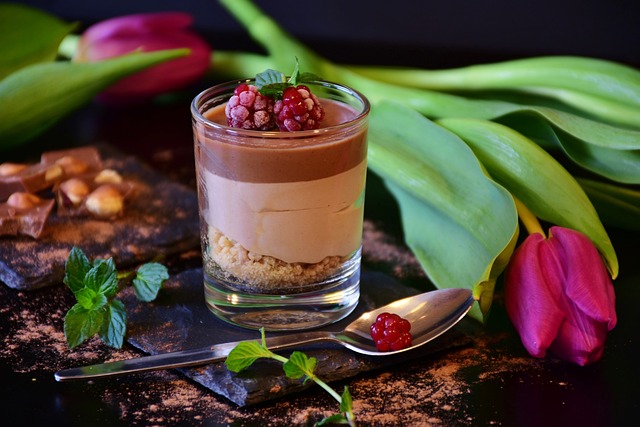 Ingredients for 4 servings:
For the avocado mousse:
Almond milk 1 cup
Avocado 4 pcs
Agave syrup 1/2 cup
Cocoa 1/4 cup
Vanilla extract 1 teaspoon
For the cashew cream:
Almond milk 1/2 cup
Cashews soaked for 2 hours or more 5.29oz
Maple syrup 4 tablespoons
Vanilla extract 3 teaspoons
Coconut oil melted 1/2 cup
Cocoa 2 tablespoons
For submission:
Berries to taste
Instruction:
Cooking time 15 minutes
Peel the avocado and remove the seeds. Using a blender, mix all the ingredients for the mousse.
Spread the mousse on the bottom of four glasses. Tap the glass lightly on the table to make the mixture even out.
Using a blender, mix almond milk, cashews, maple syrup, vanilla extract, and coconut oil. Separate half of the mixture and set aside. Add the cocoa to the remaining mixture in a blender and blend until smooth.
In glasses with mousse, evenly distribute the cocoa cream. Lightly tap the glass on the table so that the cream settles. Add vanilla cream on top and tap the glass again so that the cream settles.
Refrigerate for at least 3 hours to solidify. Garnish with berries to taste.
#2.Mango smoothie bowl with turmeric
. Recipes for a cheerful and active morning.
It will not be easy to lose weight without a full, healthy breakfast. Everything is explained by biological features: in the morning the body needs a certain amount of energy to start all the processes, to prepare for a new difficult day. It will not be easy to do this without proteins, fats, carbohydrates, vitamins, and various mineral components.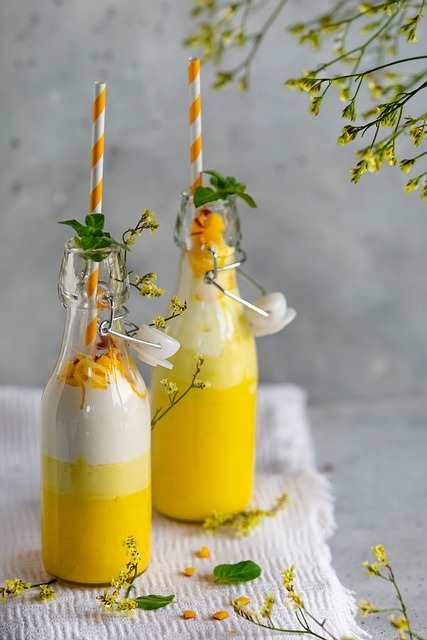 Ingredients for 2 servings:
For smoothies:
Unsweetened vegetable milk 1/2 cup
Frozen mango 3.53oz
Frozen banana 3.53oz
Soy Yogurt 3.53oz
Ground cardamom ½ teaspoon
Turmeric 1/4 teaspoon
For submission:
Almond flakes 2 tablespoons
Blueberries 3 tablespoons
Fresh mango, diced 1 tablespoon
Chia seeds 2 teaspoons
Instruction:
Cooking time 15 minutes
Put all the ingredients for the smoothie in a blender and mix until smooth. If the mixture is too thick, add a little water.
Pour the mixture into two bowls. If desired, add berries, mango, chia seeds, and almond flakes.
#3. Caramel banana pudding parfait
Delicious and sweet dessert! The main thing is that breakfast is balanced, nutritious, healthy, and at the same time light.
Ingredients for 6 servings:
Coconut sugar 1 cup
Oat flakes 1 cup
Oatmeal 2 tablespoons
Vegan butter 3 tablespoons
Potato starch 2 tablespoons
Sea salt to taste
Coconut milk 2 cups
Vanilla extract 1 teaspoon
Banana 2 pcs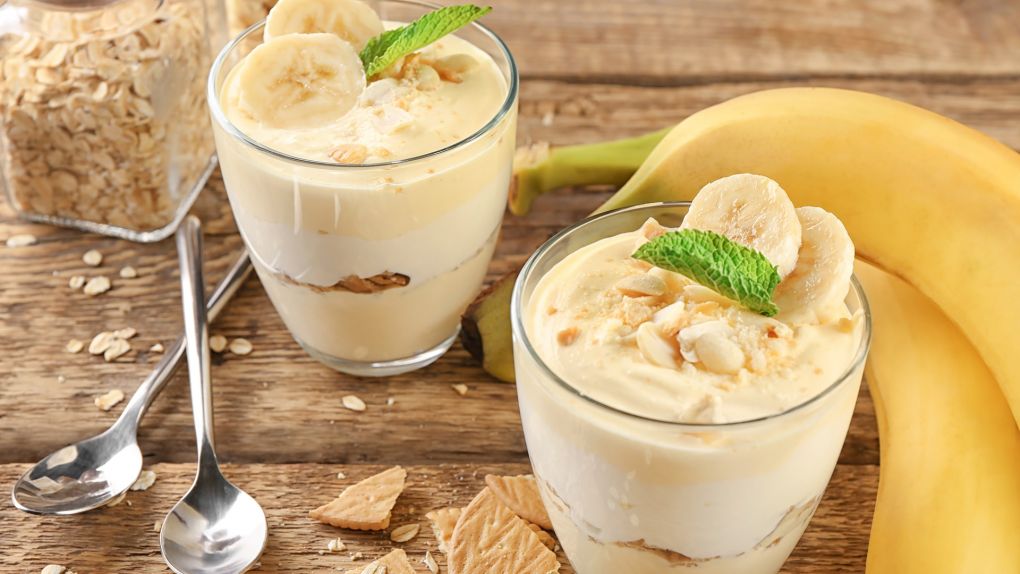 Recipe:
Cooking time 25 minutes
Preheat the oven to 392F. In a small bowl, mix 2 tablespoons of coconut sugar, oat flakes, and oat flour. Add 1 tablespoon of oil and mix until fine crumbs form. Place the mixture on a small baking sheet lined with parchment paper. And bake until golden brown for 5-8 minutes. Let cool completely.
Meanwhile, in a medium saucepan, mix ½ cup of coconut sugar, potato starch, and salt. Add 3 tablespoons of milk and stir until smooth consistency and sugar dissolves. Add the remaining milk and put it on medium heat. Cook, stirring with a spoon, until the mixture thickens, 4-5 minutes.
Then beat vigorously until large bubbles appear on the surface. Continue to cook for another 1 minute, whisking constantly. Remove from heat and add vanilla extract and 1 tablespoon of oil. Transfer to a bowl and cover with plastic wrap. Place in the refrigerator for 1 hour until solidified.
Cut the bananas into thin slices. In a medium shallow frying pan, heat the coconut oil for 1 minute. Add the remaining coconut sugar and stir until the sugar dissolves, 30-40 seconds. Add the banana slices and fry in the syrup until golden brown, turning over once. Remove from the heat.
Divide half of the pudding mixture into 6 portions, and spread on plates. Put half of the bananas and half of the oat mixture on top, dividing evenly. Repeat, forming a second layer.
#4.Risotto with broccoli and saffron
. Recipes for a cheerful and active morning .
A dish of rice cooked in fragrant vegetable broth! A healthy breakfast is not necessarily oatmeal porridge cooked in water without salt or sugar. Healthy food can and should be delicious, nutritious, and enjoyable.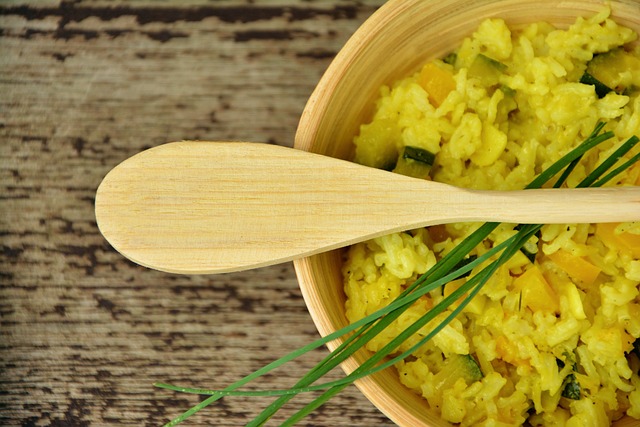 Ingredients for 4 servings:
Vegetable broth 3 cups
Small broccoli inflorescences 4 cups
Saffron 1/4 teaspoon
Olive oil 1 tablespoon
Risa  5.29oz
Instruction:
Cooking time 35 minutes
Bring the vegetable broth to a boil in a medium saucepan. Add the broccoli and cook until soft. With a slotted spoon, remove the broccoli from the broth and set aside. Add saffron to the hot broth, reduce the heat to low or turn it off, and cover and keep hot.
Meanwhile, heat the oil in a deep frying pan over medium heat. Add the rice and fry for 3 minutes or until the rice grains become opaque.
Add 1 cup of broth and reduce the heat. Cook the rice until most of the liquid is absorbed, stirring regularly. Continue adding the broth ½ cup at a time, stirring until the liquid is absorbed, about 10 minutes. Cook until most of the liquid is absorbed. Remove from heat and add broccoli. Cover and let stand for 5 minutes or until the broccoli is warmed up. Season with salt and pepper.
#5. Lentils with coconut and lime
Simple lentils turn into a wonderful dish with the sourness of lime, the tenderness of coconut milk, and fried vegetables! Breakfast is the first and main meal of the day, so it must be healthy and delicious.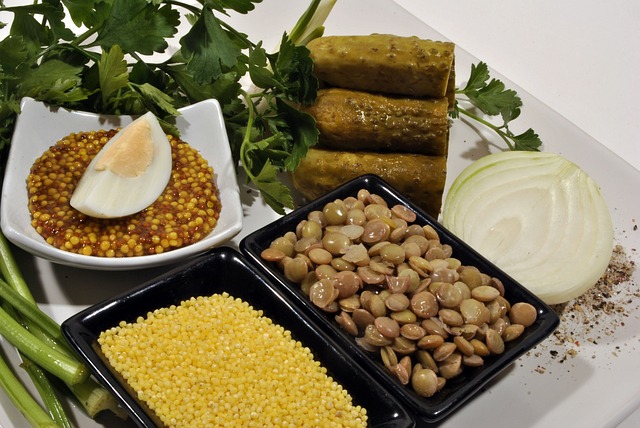 Ingredients 3 servings:
Coconut milk 1 jar
Water 1.5 cups
Salt ½ teaspoon
Red curry paste 2 tablespoons
Chopped fresh lemongrass 2 tablespoons
Red lentils 1 cup
Zest and juice of 2 large limes
Fried vegetables potatoes and cauliflower
Instruction:
Cooking time 30 minutes
In a small saucepan, bring coconut milk, water, and salt to a boil. If desired, add curry paste and lemongrass. Add the lentils, stir, cover, and reduce the heat.
Cook until the lentils are soft, about 17 minutes. Remove from heat and immediately add lime juice.
Put the lentils in a bowl, put the fried vegetables on top, and garnish with lime zest. Enjoy your meal!