The new season has added spicy flavors and bright colors to our diet. Cinnamon and ginger have become mandatory ingredients in tea and baking, and pumpkin has settled in almost every kitchen. Food to recharge your energy after a working day.
Yes, autumn pleases the sun less often, but you can also spend this time with pleasure. For example, go to the kitchen and cook something delicious.
During the day, many people periodically feel tired, and someone constantly feels tired. Lack of energy negatively affects life and overall productivity, which is why it is so important to raise its level in time.
The state of vivacity causes many factors, one of them is our food. Its quantity, type and even the method of preparation affect the functioning of the body, including daily activity.
Despite the fact that all food gives people energy to one degree or another, there is a separate list of products that have the highest percentage of nutrients, vitamins and trace elements. They allow you to maintain a charge of vivacity, good mood and high concentration of attention around the clock.
 (1) – "Nutritional psychiatry: What does it mean for you?
Start paying attention to how eating different foods makes you feel — not just in the moment, but the next day. Try eating a "clean" diet for two to three weeks — that means cutting out all processed foods and sugar. See how you feel. Then slowly introduce foods back into your diet, one by one, and see how you feel.
When some people "go clean," they cannot believe how much better they feel both physically and emotionally, and how much worse they then feel when they reintroduce the foods that are known to enhance inflammation."
#1.Frittata with salmon, sweet pepper and leek
Bulgarian pepper is another seasonal product. We suggest taking it for filling a lush omelet. First, the pepper is fried together with leeks, then supplemented with salmon and poured with a mixture of chicken eggs, cream and cheese. After 20 minutes in the oven, you will have a hearty and nutritious breakfast or lunch in front of you.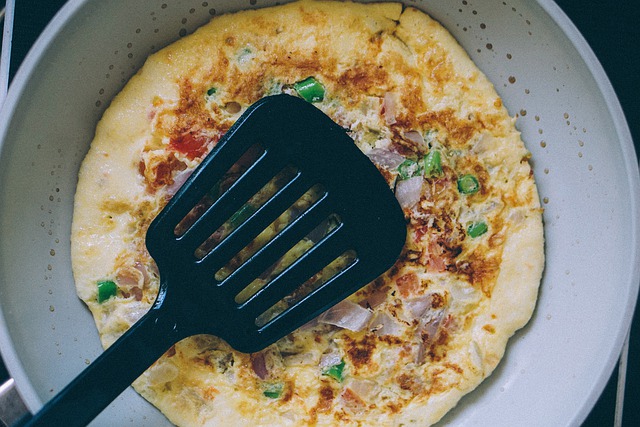 Ingredients for 2 servings
Lightly salted salmon 14.11oz
Bulgarian red pepper 2 pcs
Leek 1 piece
Parmesan cheese 3.53oz
Eggs 6 pcs
Cream (23%) 1/2 cup
Garlic 2 cloves
Vegetable oil 4 tablespoons
Salt, pepper to taste
Microgreen broccoli 2 tablespoons
Instruction:
Cooking time 25 minutes
In vegetable oil, fry the leek cut into rings with garlic. Add chopped red pepper, fry for another 3 minutes. Cut salmon into large cubes, mix with fried vegetables and put in a greased baking dish.
Beat eggs with cream, add grated parmesan, pepper, salt, mix. Pour the top into the mold. Bake in a preheated 392F oven for 20-25 minutes until golden brown. Enjoy your meal!
#2.Halibut in sesame breading with potato salad
. Food to recharge your energy after a working day.
Halibut is prepared in this way very simply and quickly, but thanks to the right spices, the fish turns out delicious and fragrant. In this recipe, the fish is not grilled, but baked in foil, which allows you to preserve its juiciness. And the sophistication and flavor of the fish are given by sesame seeds.
Ingredients for 4 servings:
Halibut fillet 35.24oz
Sesame 3 tablespoon
Vegetable oil 5 tablespoons
Salt, pepper to taste
Salad:
Large boiled potatoes 2 pcs
Mature avocado 1 pc
Radish 5.29oz
Boiled eggs 3 pieces
Green onion 2 tablespoons
Dill 1 tablespoon
Salt, pepper to taste
Asparagus 12 shoots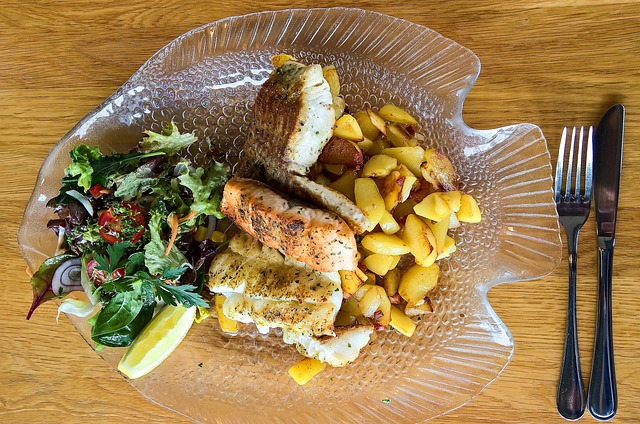 Instruction:
Cooking time 40 minutes
Cut the fish crosswise into pieces, add salt and pepper, roll in sesame seeds and fry in vegetable oil. Any breading option and method of cooking fish is possible.
For the salad, cut potatoes, avocado, radishes and greens. Cut the eggs into quarters. Boil the asparagus for 3-4 minutes in salted water. Put pieces of fish, potato salad, quarters of eggs, asparagus on a plate. Serve with rye bread. Enjoy your meal!
#3. Autumn caprese with sage chips
The caprese  ish is made from tender mozzarella, tomatoes and basil leaves. I propose an improvisation on the topic of this salad, which differs from the traditional caprese in composition and flavor shades, but makes it more interesting.
Ingredients for 4 servings:
Mozzarella cheese 7.0oz
Tomatoes 7.0oz
Pumpkin 10.58oz
Fresh sage 1 tablespoon
Olive oil 2 tablespoons
Balsamic cream 2 teaspoons
Garlic 1 clove
Bacon 3.53oz
Salt to taste
Ground black pepper to taste
Instruction:
Cooking time 30 minutes
Cut the nut pumpkin into thin slices, peel the garlic clove, and tear off the sage leaves. Pour oil into a frying pan, put a garlic clove and sage cuttings cut into plates, warm up and when the garlic begins to change color, remove all spices.
Put the sliced pumpkin in the fragrant oil and fry it on both sides, seasoning with salt and pepper. While the pumpkin is frying, chop the tomatoes and mozzarella. Also fry the bacon and sage leaves. Fry the sage on both sides so that the leaves become crispy.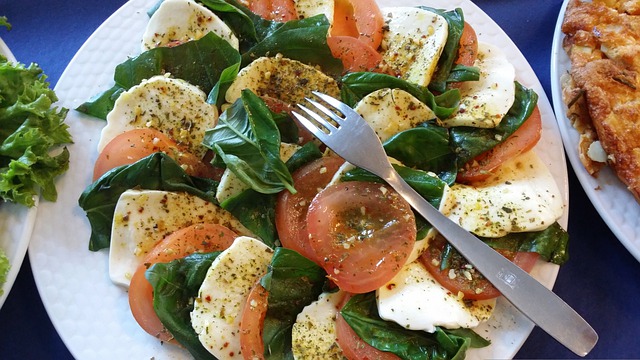 We collect the salad. On a platter, put alternating warm pumpkin, mozzarella, slices of tomatoes on the pumpkin, season with coarse sea salt and ground pepper. Roll the fried bacon into rosettes and spread between the rows, decorate the salad with sage leaf chips, pour balsamic cream and serve warm to the table. Enjoy your meal!
#4.Warm broccoli and bell pepper salad
. Food to recharge your energy after a working day.
An interesting salad with broccoli, bright and very tasty. It perfectly combines all the components. The taste of the salad is rich and multifaceted.
This recipe is just for those who want to have a snack in the evening, but their conscience or figure does not allow them to eat something substantial. A light but hearty salad to help those losing weight. So to speak, we lose weight with taste!
Ingredients for 2 servings:
Red bulgarian pepper 1 pc.
Frozen broccoli 7.0oz
Extra virgin olive oil 2 tablespoons
Water 2 tablespoons
Lemon juice 1 tablespoon
Roasted almonds 3 tablespoons
Salt to taste
Vegetable oil 2 tablespoons
Instruction:
Cooking time 15 minutes
Cut the pepper into strips and fry for 5 minutes in olive oil. Transfer to a plate. In the same pan, simmer the broccoli for 3 minutes, adding water.
After the liquid has evaporated, add vegetable oil and fry broccoli for 3-4 minutes until tender. In a salad bowl, put broccoli, pepper, sprinkle with chopped almonds, add lemon juice, salt. Mix everything together.
#5.Vegetable pie
. Food to recharge your energy after a working day.
This pie is beautiful, bright, delicious and healthy, and to find out what it's made of, come in, you won't regret it!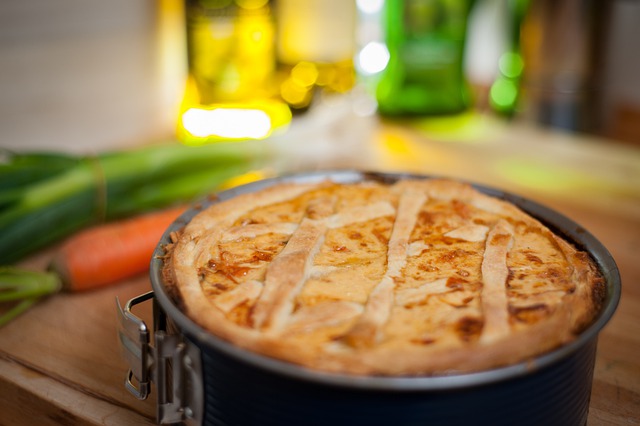 Ingredients for 8 servings:
Zucchini 2 pc.
Carrots 3 pcs.
Butter 5.29oz
Wheat flour 10.58oz
Cold water 7 tablespoons
Salt to taste
Chicken egg 4 pcs.
Hard cheese 5.29oz
Milk 1 cup
Garlic 2 cloves
Instruction:
Cooking time 1 hour 30 minutes
We begin the process with the preparation of the dough. Cut the cold butter into large chunks, pour the sifted flour on top, a pinch of salt and chop everything together with a knife until not very fine crumbs form. Then we quickly rub it with our hands and put the crumbs in a bowl, pour out very cold water and knead the dough with our hands.
We take the mold, cover the bottom with parchment, put the dough on top and distribute it along the bottom and sides of the mold, and then we send the mold with the dough to the refrigerator.
While the dough is cooling, we prepare the filling. Peel the carrots. Zucchini and zucchini are cut into thin strips with the peel, we do the same with carrots (so that the strips are very thin, you can use a vegetable cutter, and carrots can be cut with a vegetable peeler).
The strips of vegetables should be the same in width, so the strips of zucchini and zucchini should be cut in half, and the smaller ones should be trimmed.
And now we start laying out the vegetables. We take the dough out of the refrigerator and begin to spread the vegetables on top, starting from the edge of the mold, gradually moving to the center, alternating zucchini, zucchini and carrots.
That's the kind of beauty it turns out. The vegetables were laid on the dough and now it remains to prepare the filling. Lightly beat the eggs with a whisk, add milk and beat again, then put the crushed garlic, grated cheese on a fine grater, salt to taste, and mix everything thoroughly.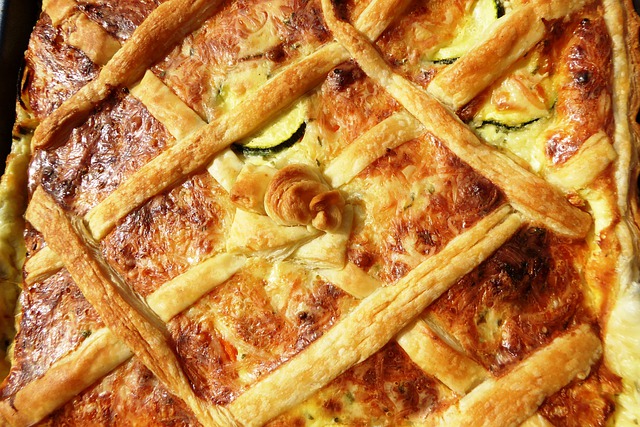 Pour the filling on top of the vegetables, distribute the cheese over the entire surface. Gently pat the mold on the surface of the table so that the filling is evenly distributed between the vegetables.
We send the pie to a preheated 356F oven and bake the pie for 60 minutes. That's it, it's time to enjoy! Enjoy your meal!
(2) – "The fact that dietary factors and other aspects of lifestyle have an effect on a long-term timescale contributes to an under-estimation of their importance for public health. Accordingly, the slow and imperceptible cognitive decay that characterizes normal aging is within the range-of-action of brain foods, such that successful aging is an achievable goal for dietary therapies. The capacity of diet to modulate cognitive abilities might have even longer-term implications in light of recent studies that imply that nutritional effects might be transmitted over generations by influencing epigenetic events."
Like what you're reading? You can sign up for Medium using my affiliate link. Just $5 a month to read an unlimited number of articles and help me create further. Together we will move mountains!
https://elenasunshinemagazine.medium.com/membership
(1) – Nutritional psychiatry: Your brain on food. By Eva Selhub MD, Contributing Editor
https://www.health.harvard.edu/blog/nutritional-psychiatry-your-brain-on-food-201511168626
(2) -Brain foods: the effects of nutrients on brain function. Fernando Gómez-Pinilla