The secret of a hearty breakfast is in the stabilization of blood sugar, in the abundance of fiber, and in the so-called "nutritional value". How to cook a delicious dish.
The nutritional value of a healthy breakfast is the richness of food for minerals, healthy fats, protein, and the right carbohydrates. All of them are components of the energy balance. Protein provides us with energy, stimulating the production of the right hormones that are responsible for a good mood. Fats stabilize blood sugar.
Why else is the nutritional value of breakfast important? The body needs not only fuel but also vitamins and minerals. Without them, a chemical chain of processes will not occur in the cell, when it is necessary to produce energy from the incoming glucose. B vitamins, magnesium, zinc, iron, chromium, selenium, and other substances are extremely important here.
Smoothies are no longer about taste, but for the good of the cause. No matter what the right porridge is – with seeds, berries, and other healthy ingredients, it will never compare with smoothies in terms of value for our livers and intestines. Especially if they are made according to the correct formula: "maximum 1 fruit + lots of greens and vegetables + healthy fats + vegetable superfoods like ginger, vegetable protein, and so on."
#1.Oat flakes with almonds, sesame seeds, and sunflower seeds
. How to cook a delicious dish.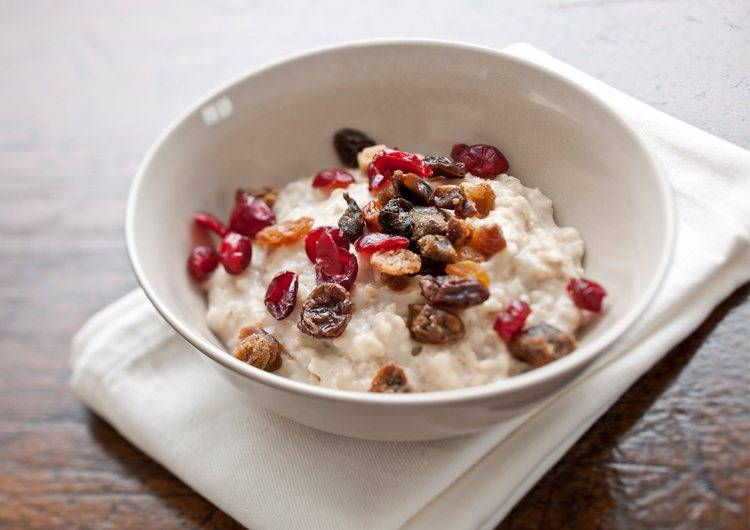 For 1 serving we take:
Ingredients:
Gluten-free oat flakes 5 tablespoons
Flax seeds 1 tablespoon
Chopped almonds 2 tablespoons
Peeled sunflower seeds 1 tablespoon
Sesame 1 tablespoon
Dried apricots 5 pieces
Any vegetable milk — to taste (except coconut – it's too fatty)
Mix all the ingredients and pour vegetable milk. You can eat right away!
Instruction:
Cooking time 10 minutes
The advantages of such a "porridge" compared to the usual one:
it has slower carbohydrates because we do not cook oatmeal, there is little sugar, and a lot of healthy vegetable fats.
Quite a lot of fiber in porridge — because of the seeds it takes longer to saturate because we added fats in the form of nuts and seeds.
In general, conclusions on the topic: smoothies/porridge/muesli: alternate!
#2. Salad with pomegranate and avocado
In general, I suggest once again making sure that the salad can be both healthy and tasty at the same time.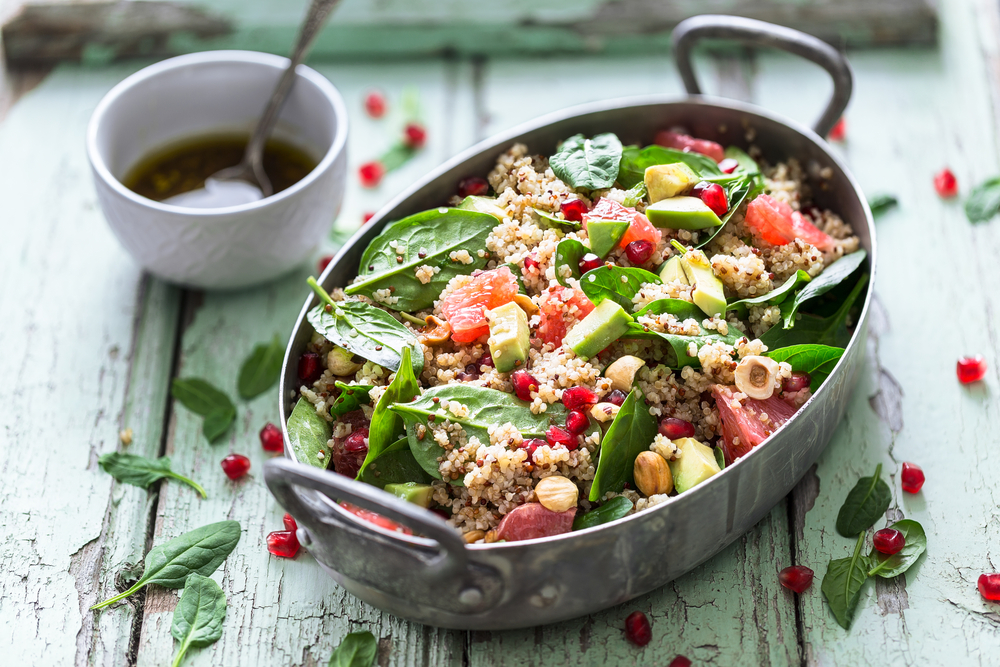 Ingredients (for 2 servings):
Young salad leaves
Avocado 1 piece
Fennel 1 piece
1/2 large pomegranate seeds
Sunflower seeds (peeled) 3 tablespoons
Olive oil 2 tablespoons
Salt and freshly ground pepper to taste
How to make a salad with pomegranate:
Cut the fennel and avocado (we use only the white part of the fennel).
Mix them with salad leaves.
Cut the pomegranate in half lengthwise, and carefully squeeze out the grains from it on top of the salad. So you can fill the salad with pomegranate juice at the same time. Mix all the ingredients. Season with oil. Season with salt and pepper. Sprinkle seeds on top. Bon Appetit!
#3. Gluten-free squash fritters
. How to cook a delicious dish.
With what and how can you eat zucchini pancakes:
Such pancakes with zucchini can be used instead of bread: as a side dish to a salad or for making sandwiches. For example, it turns out very tasty with lightly salted or smoked salmon. Hummus with parsley will also go well with them.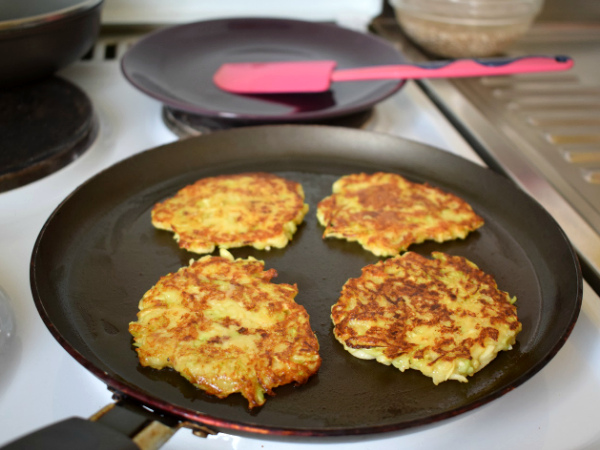 Ingredients for about 12 gluten-free squash fritters:
Zucchini 2 pcs
large eggs 2 pcs
Garlic 4 cloves
Dill 1 bunch
Buckwheat wholegrain flour 3 tablespoons
Corn flour 2 tablespoons
Salt and pepper to taste
Olive oil for frying (approximately 1.5 tablespoons per serving – depends, however, on the type and size of the pan)
Instruction:
Cooking time 18 minutes
Grate the zucchini on a coarse grater. Beat the eggs into them and mix.
Add flour, salt, pepper, and garlic squeezed out by a garlic press, and finely chopped dill without stalks. Mix everything well again.
Heat the oil in a frying pan and put the pancakes in a tablespoon, pressing them (they must be flat otherwise they will not bake and burn).
Bake for about 3-4 minutes on each side: pancakes are baked on the second side about 2 times faster than on the first. However, as well as cutlets with meatballs). That's it! Your healthy gluten-free squash fritters are ready!
#4. Quick and healthy breakfast: scrambled eggs with vegetables
There can be a great many options for this quick breakfast. It is also good because both frozen vegetables and fresh ones are suitable for their preparation. In addition, for such a breakfast, you can easily use the leftover vegetables in the refrigerator. Almost everything will do, except, perhaps, potatoes and other root crops.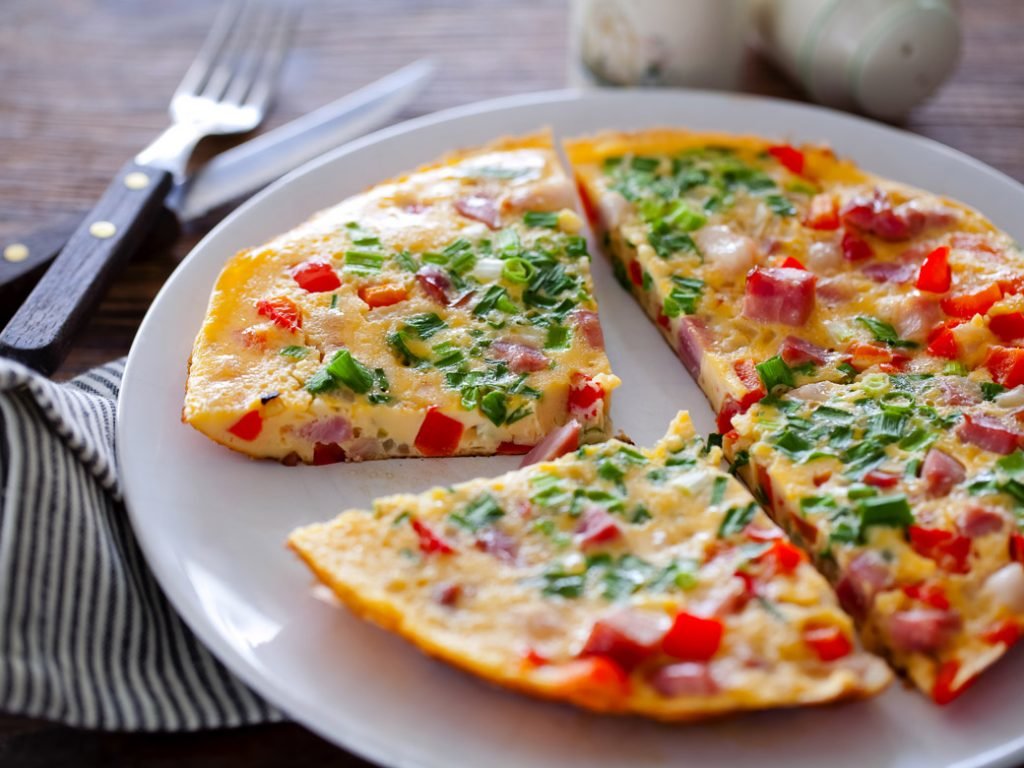 Ingredients per 1 serving:
Eggs 2 pcs
Soybeans (frozen) 3.53oz
1 large onion
Cilantro or parsley 1/2 bunch
Medium tomatoes 2 pcs
Turmeric 1 teaspoon
1/2 teaspoon chili pepper
Salt and pepper to taste
Olive oil for frying
Instruction:
Cooking time 15 minutes
Cut the onion into rings. Fry soybeans and onions in olive oil together with spices for about 3 minutes. Push them aside and put 2 eggs in a frying pan next to them, season everything with salt and pepper. Cover with a lid, turn down the heat, and fry until tender for about 3 more minutes. While everything is cooking, chop the tomatoes and coriander (parsley). Mix them, drizzle them with olive oil, and serve as in the photo.
From my point of view, eggs for breakfast are the best start to the day (along with smoothies), because we definitely need protein in the morning. To be brief, not only do we digest food best in the morning, but egg whites also allow us to stay awake all day.
#5. Quick banana mousse with cocoa
. How to cook a delicious dish.
If you have ten minutes at your disposal, then you can spend them cooking a delicious and tender banana mousse. To prepare such a breakfast, you will not need any special culinary skills.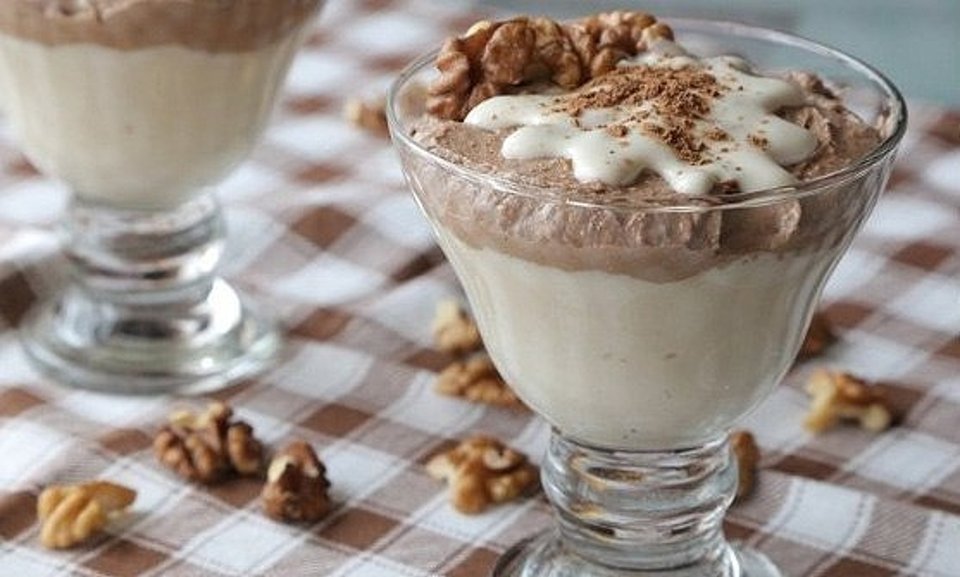 Ingredients per 1 serving:
Ripe banana 1 pc.
Fat sour cream 3 tablespoons
Cocoa 1 tablespoon
Sugar 1 teaspoon
For decoration:
Chocolate to taste
Mint fresh 1 sprig
Instruction:
Cooking time 10 minutes
For breakfast, you need to use a soft and fully ripened banana, since it is these bananas that have the most pronounced aroma.
Peel the banana and cut it into slices.
Add high-fat sour cream to the banana slices. (Instead of sour cream, you can use semi-liquid curd mass.)
Pour a banana-sour cream mass of cocoa. 1 tablespoon of cocoa or even less is enough so that the cocoa is not felt too strongly in the mousse.
Now you can add a little sugar to this mass if you like sweeter desserts. But you can not add sugar at all, because the banana itself is sweet enough.
Mix all the ingredients and puree them with a blender to get an absolutely homogeneous mass.
In a few minutes, a delicate banana dessert with a very pleasant taste turned out. All that remains is to put it in a bowl (creamer) and decorate it, for example, with chocolate chips and a sprig of mint.
If you used warm products for dessert preparation, then it is advisable to cool them before using them – so the dessert will be the most delicious. Bon Appetit!