The vegan diet is based on cereals, legumes, vegetables/fruits and nuts, and mushrooms. People follow its principles if they want not only to lose weight but also to improve their bodies. 6 vegetable recipes.
Fruits/vegetables, berries. Let's add a variety of greens to the fruit and vegetable component and a complete, balanced diet for the whole day is ready. There is no need to invent anything. You can eat them, both raw and heat-treated. What kind of dishes based on these products does not exist. Fantasy is not limited by anything.
Cereals. Buckwheat is especially appreciated, which can be eaten both in boiled form and in sprouted format. They also do not forget about oats, wheat, amaranth, couscous, etc. All types of cereals are nutritious and healthy.
Dried fruits. Dried apricots, prunes, dates, figs, apples – all this and much more can be eaten both independently and as additives in porridges and many other dishes.
Nuts/seeds. You can talk about the benefits and unique composition of nuts, grains, and seeds endlessly. You will not find such a quantity of nutrients, and amino acids in any other product. Modern manufacturers constantly delight followers with proper nutrition with original products based on nuts, seeds, and grains. For example, in stores, there is a huge selection of cereals and muesli bars.
Soy. Soy meat and milk greatly diversify the diet, making the absence of animal products on the menu almost invisible.
#1. Soft nut cheese with cranberries
. 6 vegetable recipes.
Fragrant nut cheese will decorate any sandwich!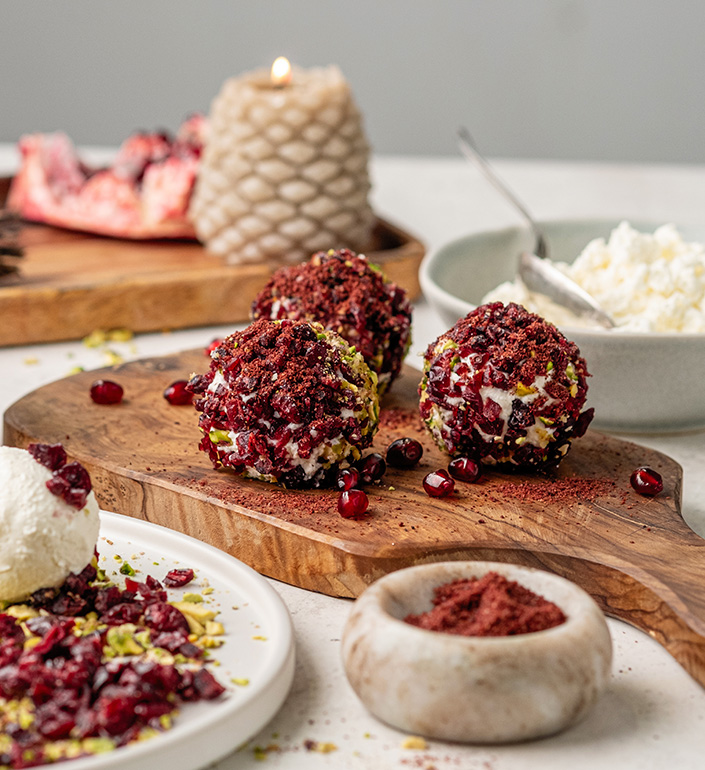 Ingredients:
Peeled raw unsalted pistachios (soaked in water for 45 minutes and dried) 2 cups
Raw unsalted cashew nuts ( soaked in water for 45 minutes and dried )2 cups
Chopped fresh parsley 1/2 cup
Unsweetened dried cranberries 4 tablespoons
Fresh lemon juice 3 tablespoons
Food yeast 2 tablespoons
Fresh thyme 1 tablespoon
Sea salt 2 teaspoons
Ground black pepper 1/2 teaspoon
For topping:
Chopped dried unsweetened cranberries 1 cup
Finely chopped fresh parsley 1 cup
Instruction:
Cooking time 30 minutes
Put pistachios, cashews, and 2 cups of water in a powerful blender; mix until smooth.
Cover a small colander with gauze and add the nut mixture. Place the colander on a plate or place it over the sink so that the moisture flows freely. Wrap the gauze around the nut mixture, twist on top and squeeze. Press down the nut mixture with a heavy object and leave for 1 hour in a warm place (for example, near the stove or on the refrigerator).
Transfer the nut mixture to a bowl and mix with the remaining ingredients. Form 2 beams from the mixture. Put the topping ingredients on a small plate and roll the cheese in them so that it is covered with cranberries and parsley. Store in the refrigerator for up to 1 week.
Cassava tortillas.
6 vegetable recipes.
Homemade gluten-free tortillas made from cassava flour.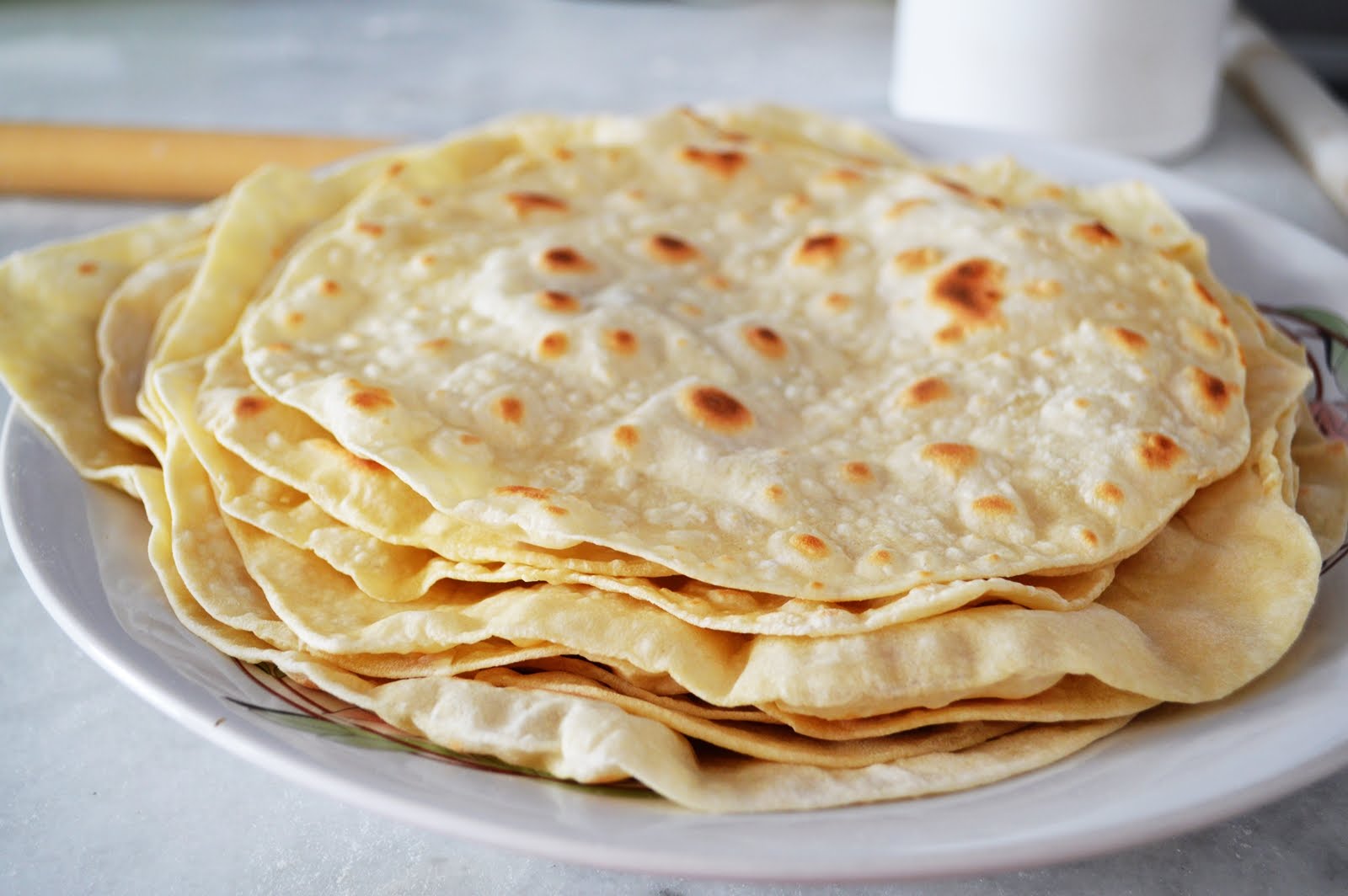 Ingredients:
Cassava flour (cassava) 1 cup
Sea salt 1/2 teaspoon
Hot water 1 cup
Olive oil 2 tablespoons
Maple syrup 3 tablespoons
Instruction:
Cooking time 20 minutes
In a table mixer with a paddle attachment, mix flour and salt. In a bowl, mix hot water, butter, and maple syrup. At a low speed, the mixer slowly pours the liquid into the flour mixture. Beat at medium speed for about 2 minutes or until the dough is smooth and warm (if necessary, add up to 1 tbsp flour). Divide into 12 balls of the same size and cover with a cloth.
Heat a cast iron skillet over medium heat. While the pan is heating up, roll out a ball of dough
into a flat cake, sprinkling the dough and the work surface with flour.
Place the tortilla in the pan and cook for about 30 seconds. Turn over and cook until brown spots appear on the bottom of the tortilla. Transfer to a plate and cover.
Repeat with the remaining tortillas. Tortillas are best served warm, and can also be prepared in advance and stored in an airtight container in the refrigerator or freezer.
#2. Baked sweet potato slices and broccoli with sesame seeds
A great dinner or side dish with noodles or rice!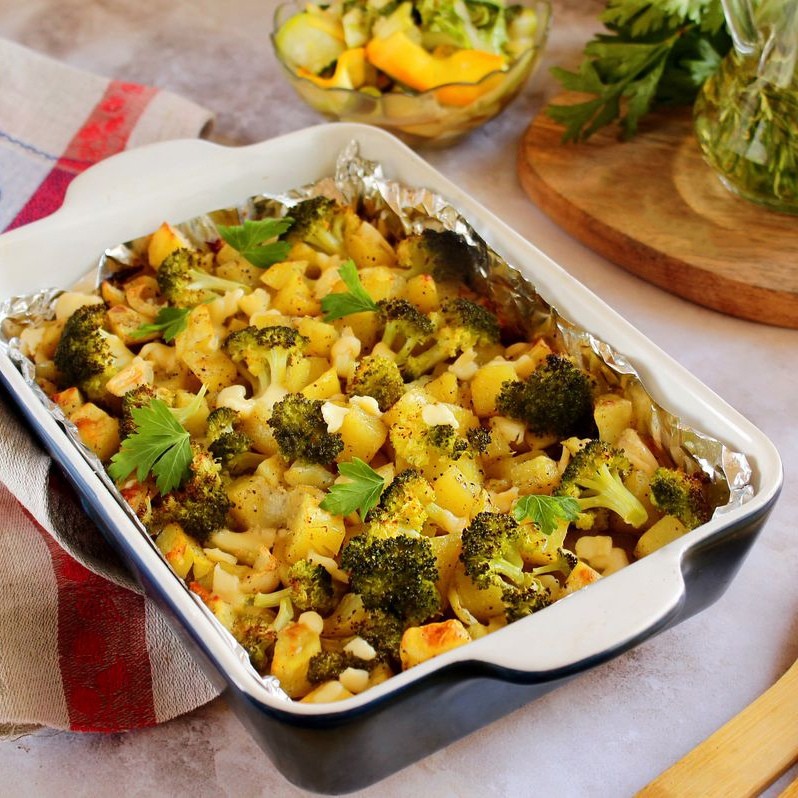 Ingredients:
Small broccoli inflorescences, cut in half 4 cups
Sweet potatoes, cut into 16 slices 2 pieces
Toasted sesame oil 3 tablespoons
Coarse salt to taste
Orange juice 2 tablespoons
Tamari sauce or soy sauce 2 tablespoons
Rice vinegar 1 tablespoon
Toasted sesame seeds 1 tablespoon
Grated fresh ginger 2 teaspoons
Young spinach 6 cups
Instruction:
Cooking time 30 minutes
Preheat the oven to 392F. Put the broccoli and sweet potato slices in a large bowl. Add 2 tbsp sesame oil and salt; mix well. Put the vegetables on a baking sheet and bake for 20 minutes, turning with a spatula 2-3 times. Bake the vegetables for another 10 minutes or until they are soft and browned.
Meanwhile, mix orange juice, tamari, rice vinegar, mirin, sesame seeds, ginger, and 1 tbsp sesame oil in a small bowl. Put the spinach in a large serving bowl, add the fried vegetables and sauce mixture and mix well.
Beet tartlets on an almond basis
. 6 vegetable recipes.
A tender, bright, healthy dinner. Don't forget to bookmark the recipe!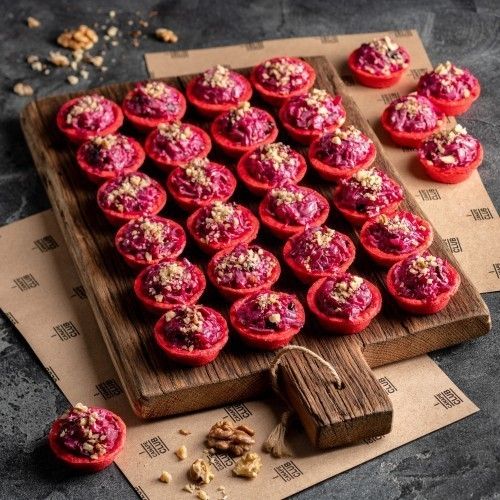 Ingredients for 3 large tartlets:
For the basics:
Dried figs 1 cup
Almond flour 1/2 cup
For the filling:
Cashews soaked for 3 hours 1 cup
Peeled and chopped beets 5 tablespoons
Coconut sugar (can be replaced with cane sugar) 2 tablespoons
Lemon juice 1 teaspoon
Peeled and sliced orange 1 piece
Peeled pistachios 3 tablespoons
Instruction:
Cooking time 30 minutes
For the base, grind the figs together with almond flour in a blender until a sticky, thick mass is obtained. Lay out on the bottom for tartlets.
To prepare the filling, whisk all the ingredients until smooth, like thick yogurt. Pour over the tartlets, and refrigerate overnight. Sprinkle with chopped pistachios. Enjoy it!
#3. Chickpea nuggets
. 6 vegetable recipes.
Here are bean nuggets made from delicious chickpeas! Serve with tomato or cheese sauce.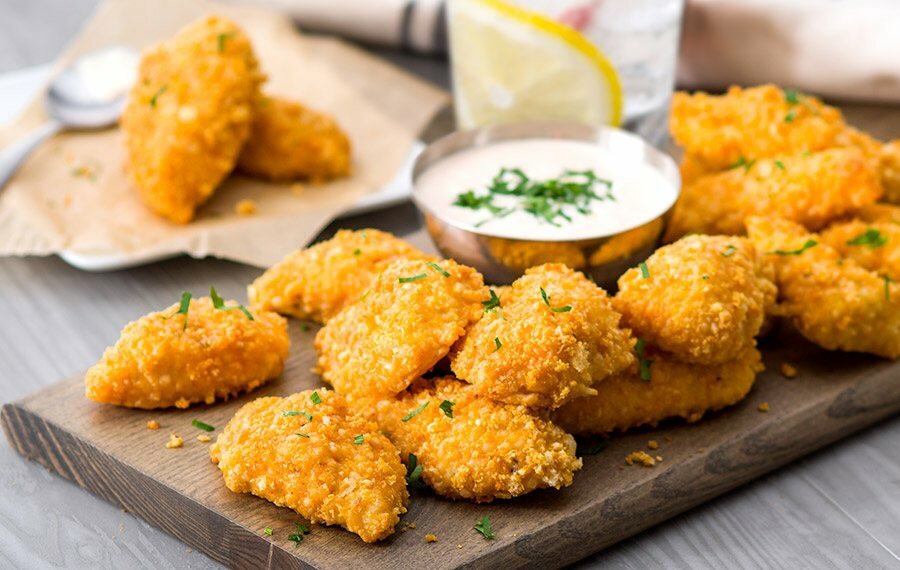 Ingredients for 4 servings:
Crackers 1/2 cup
Oat flakes 1/2 cup
Canned chickpeas 8.82oz
Salt 1 teaspoon
Garlic powder 1/2 teaspoon
Onion powder 1/2 teaspoon
Instruction:
Cooking time 40 minutes
Place the grill in the middle of the oven, and preheat to 356F.
Place the crackers on a baking sheet, and bake until golden brown for 5 minutes. Transfer to a bowl and set aside. Line a baking sheet with baking paper.
Place the oat flakes in a food processor, and grind to the consistency of flour. Transfer to a large bowl.
Rinse the chickpeas, and save 1 \ to 4 tablespoons of liquid from the jar. Place the chickpeas in a food processor. Add salt, garlic, and onion powder. Chop it up. Leave the mass in a food processor.
In a small bowl, whisk the liquid from under the chickpeas. Add this liquid and 1 \ 2 tbsp. oat flour to a food processor, whisk, and mix with chickpea mass.
From the chickpea mass, make 12 identical nuggets. Roll each nugget in chopped fried crackers, and spread to a baking sheet. Bake for 15-20 minutes. Serve warm with your favorite sauce.
Puff with radish and goat cheese
A wonderful dinner and a snack on a long journey. The recipe will not take much time!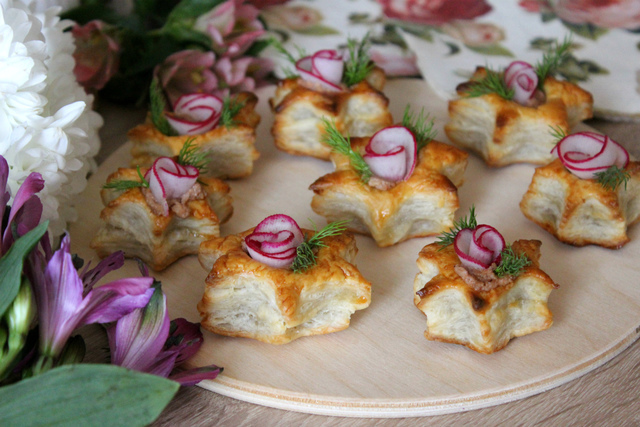 Ingredients for 12 pieces:
Puff pastry, cut into 12 rectangles
Substitute for 1 egg
Crumbled goat cheese 7.0oz
Thinly sliced radishes 12pcs
Sea salt 1 teaspoon
Greens to taste
Instruction:
Cooking time 20 minutes
Preheat the oven to 392F. Spread the puff pastry on a baking sheet. Brush with egg substitute. Bake for 8-10 minutes until browned. Spread the goat cheese evenly over the rectangles, and lay out the thinly sliced radishes. Bake for another 8-10 minutes. Serve with herbs, and sprinkle with salt to taste.