Microgreen gives color, improves flavor, and adds an interesting texture to any dish while enriching it with healthy substances. Vitamin and refreshing dishes with microgreen.
How to use it in cooking?
Here are some tips for using microgreens in cooking:
Use it as an addition to salads and soups.
Toss a small handful into a cocktail or juice before mixing in a blender.
Put it as a side dish with any main dish.
Sprinkle microgreens on a sandwich or pizza after cooking.
Add it to omelets or casseroles.
Replace the lettuce leaves in a hamburger or sandwich with microgreens.
What is the taste of microgreens?
Vitamin and refreshing dishes with microgreen.
The taste of microgreens depends on the plant from which it is grown. It can vary from slightly spicy to spicy or peppery.
Mustard has a mildly spicy aroma, and the seedlings themselves are dark purple in color.
Radish and daikon have a spicy taste, attractive pink stems, and green leaves. It adds mass and volume to the mix of micro-greens.
Beetroot and chard have a very mild flavor. The stems can be different in color: white, red, purple, orange, pink, light green, and gold.
Watercress has a mild, spicy aroma and dark purple stems.
Coriander has a clean, fresh smell. The taste is more subtle than that of mature cilantro.
Arugula (India) has a light nutty-mustard taste and a strong aroma.
Basil can be green or purple and has a pleasant aroma and a slight burning taste.
Cabbage (white and red cabbage) has a slightly sweet taste and nutty aroma.
Microgreen peas have a pronounced pleasant taste of pod peas
Corn has a very delicate, sweet taste
Kohlrabi has very appetizing green shoots with a piquant taste, very tender, juicy, and crispy. The aroma is similar to turnips but sweeter and softer.
Pak choi cabbage has a slightly piquant and sharper taste than adult Peking cabbage.
Broccoli and spinach, unlike other vegetables, do not have a pronounced taste, but they are not inferior to their neighbors in terms of the content of nutrients!
Turnips taste very similar to cabbage.
Rutabaga tastes like a combination of cabbage and turnips with a sweet taste and is a bit like radish but without the island notes.
Tender green young lettuce leaves have a sweeter and more pleasant taste, without bitterness, unlike an adult plant.
Young carrot seedlings have a sweet soft carrot taste and a piquant aroma.
Onions produce thin green shoots with a mild onion flavor and aroma.
The micro-green of nasturtium has a pleasant aroma and an island taste, somewhat reminiscent of mustard or watercress.
Mitsuda (Japanese mustard leaf) has light green sprouts with a spicy-peppery taste.
#1.Polenta with eggs and sunflower microgreen
. Vitamin and refreshing dishes with microgreen.
Polenta with eggs and sunflower microgreens is a great nutritious and healthy dinner for the whole family! If possible, use purified soft water.
Polenta thickens when it cools down. If you put the remaining polenta in a round or rectangular glass bowl, giving the desired shape, put it in the refrigerator, then the next day it can be cut into pieces of any thickness, fried with a little oil in a frying pan and served with any sauce, or you can eat it like chips, cut into thin slices, and dry them in a frying pan. For such a large number of dishes, you just need coarse corn flour and water!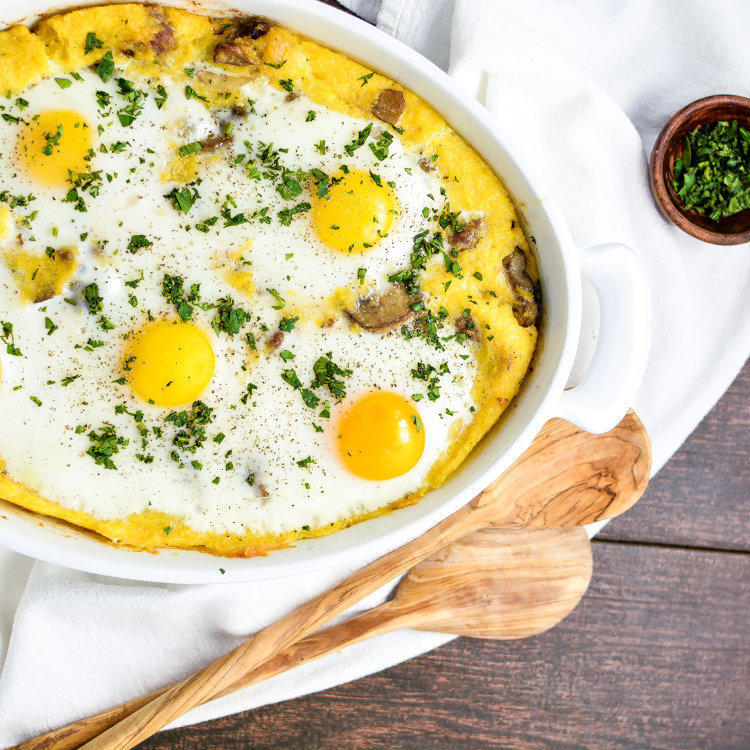 Ingredients:
Designed for 3 servings
For polenta:
Water 1 cup
Unsalted vegetable broth 1 cup
Flour (preferably corn) 1/2 cup
Base:
Sweet potatoes 17.64oz
Goat cheese 3.53oz
Milk 2 tablespoons
Salt to taste
Filling:
Eggs 2 pcs
Sunflower microgreen 2 tablespoons
Instruction:
Cooking time 40 minutes
1. For the polenta, bring the vegetable broth and water to a boil in a medium saucepan. Add the flour and whisk until the mixture begins to thicken. Turn down the heat, cover, and cook for 25-30 minutes, stirring occasionally.
2. Peel and dice the sweet potatoes. Cook it until it softens. Add goat cheese and milk, and make a puree.
3. When the potatoes and polenta are ready, mix them until they become homogeneous.
4. Fry the eggs. Spread the mixture on two plates, and put the egg and sprouts on top. Bon Appetit!
#2.Salad with green curry and noodles
. Vitamin and refreshing dishes with microgreen.
All types of cabbage are ideal for salad, especially cabbage pak choi, tat soy, and kale. Try it – only healthy ingredients and an unusual, but natural color.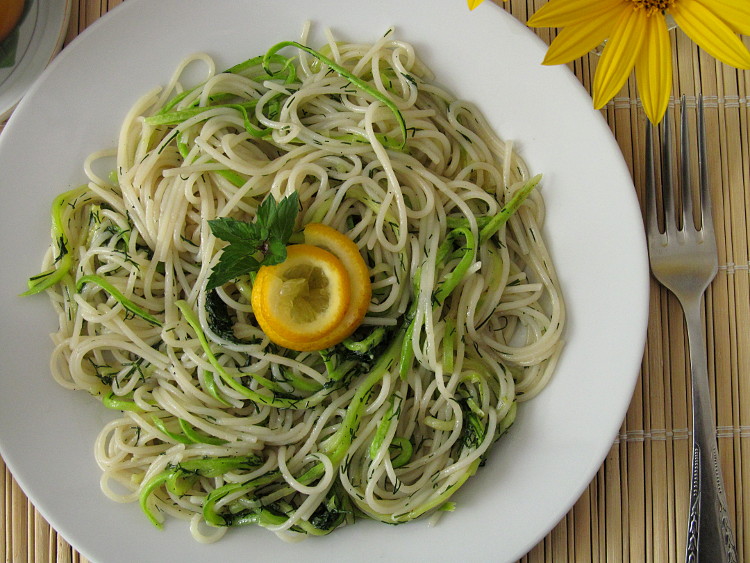 Ingredients:
Designed for 3 servings
For sauce:
Avocado 1 piece
Green curry paste 1/4 cup
Vegetable broth 3 tablespoons
Fish sauce 1 tablespoon
Sugar 1 teaspoon
Juice of half a lime
For noodles:
Brown rice noodles 5.29oz
Coconut oil 1 tablespoon
Yellow onion, thinly sliced 1/2 pc
Green pepper peeled and thinly sliced 1 pc
Medium zucchini, spirally sliced noodles 2 pcs
Microgreenery for decoration 3 tablespoons
Grated red pepper 1 pc
Lime slices for decoration
Instruction:
Cooking time 30 minutes
1. First make the avocado sauce. Mix all the sauce ingredients in a food processor until creamy, scraping along the sides as needed. Season with salt and pepper.
2. Cook the rice noodles.
3. Melt the coconut oil in a large frying pan over medium heat. Add onion and pepper and fry until soft, about 5-7 minutes. Add the zucchini and fry until they begin to crunch gently. Season with salt to taste.
4. Add the noodles to the pan with the vegetables. Add the sauce and shake the pan to mix the ingredients.
Serve as a side dish with micro greenery, sauce, red pepper, and lime. Bon Appetit!
#3. Green buckwheat tortillas
. Vitamin and refreshing dishes with microgreen.
Of course, live seedlings are much more healthy. But if you want to try to cook healthy pastries, then this is probably the best option. There will be no yeast, no flour, and no harmful additives, but a solid benefit. And it is prepared quickly and simply.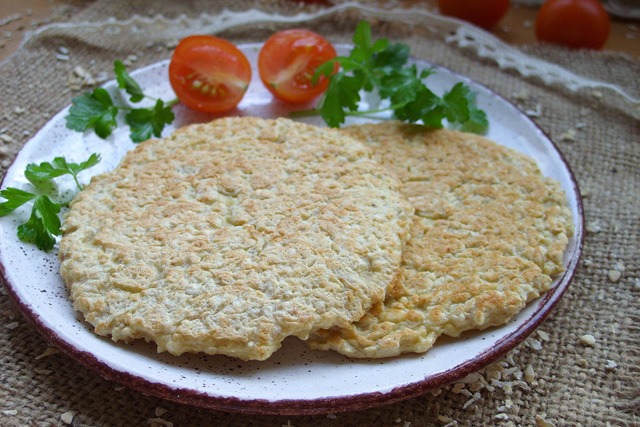 Ingredients:
Designed for 1 serving
Sprouted green buckwheat 1 cup
Sesame seeds 2 tablespoons
Flax seeds (or black cumin) 1 tablespoon
Sea salt to taste
Vegetable oil 1 tablespoon
Water 1/2 cup
Instruction:
Cooking time 20 minutes
Pass the sprouted buckwheat through a meat grinder.
Add the remaining ingredients. Mix it all up. If it turns out to be a little dry, add a little water.
Place on baking paper on a baking sheet and in the oven until flat cakes are obtained.
#4. Sunflower microgreen salad with spicy dressing
This salad combines the same products prepared in different ways. Soft, sweet, steamed carrot juice and crispy grated carrots, fresh sunflower micro-greens, and browned seeds shade and complement each other. Sweet pepper gives sweetness and juiciness, and radish adds piquancy.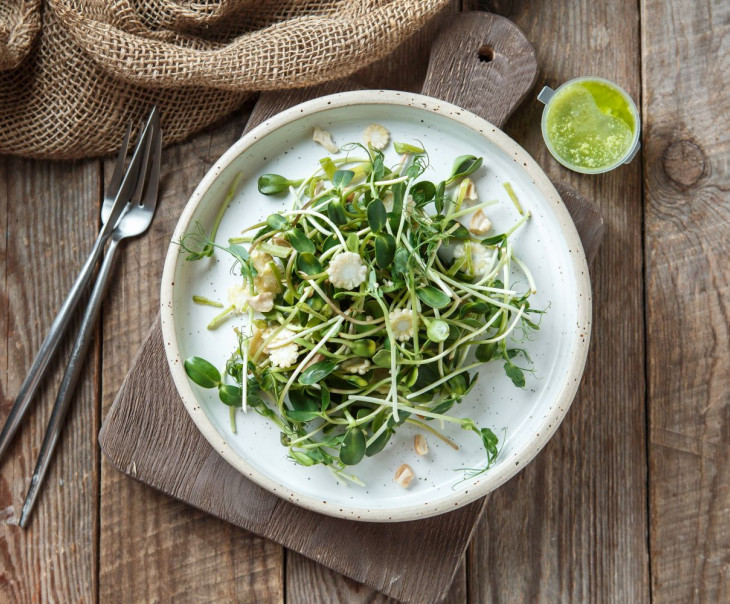 Ingredients:
Designed for 1 serving
Refill:
Carrot juice 1 cup
Freshly squeezed lime juice 2 tablespoons
Cayenne pepper to taste
Sesame oil 1 teaspoon
Coarse salt to taste
Salad:
Sunflower seeds 2 tablespoons
Orange or yellow bell pepper 1/2 piece
Sunflower microgreen 4 tablespoons
Pea sprouts 3 tablespoons
Spicy microgreen (clover or radish) 2 tablespoons
Medium carrot 1 piece
Instruction:
Cooking time 30 minutes
We make refueling. In a wide saucepan, evaporate the carrot juice at medium temperature, stirring frequently, until 1/5 of the original volume remains, this will take 12-15 minutes. Pour into a small bowl and cool. Add the remaining ingredients for the dressing and mix thoroughly.
Fry (pre-soaked and dried) sunflower seeds in a frying pan until golden brown.
Cut the bell pepper into thin strips.
Cut the carrots into thin strips with a vegetable peeler or on a grater for Korean carrots
In a large bowl, shaking, mix all the vegetables and microgreens evenly. Sprinkle with seeds, pour over the dressing, and mix lightly. Add salt to taste.
#5. Pate made from sprouted sunflower seeds and pumpkin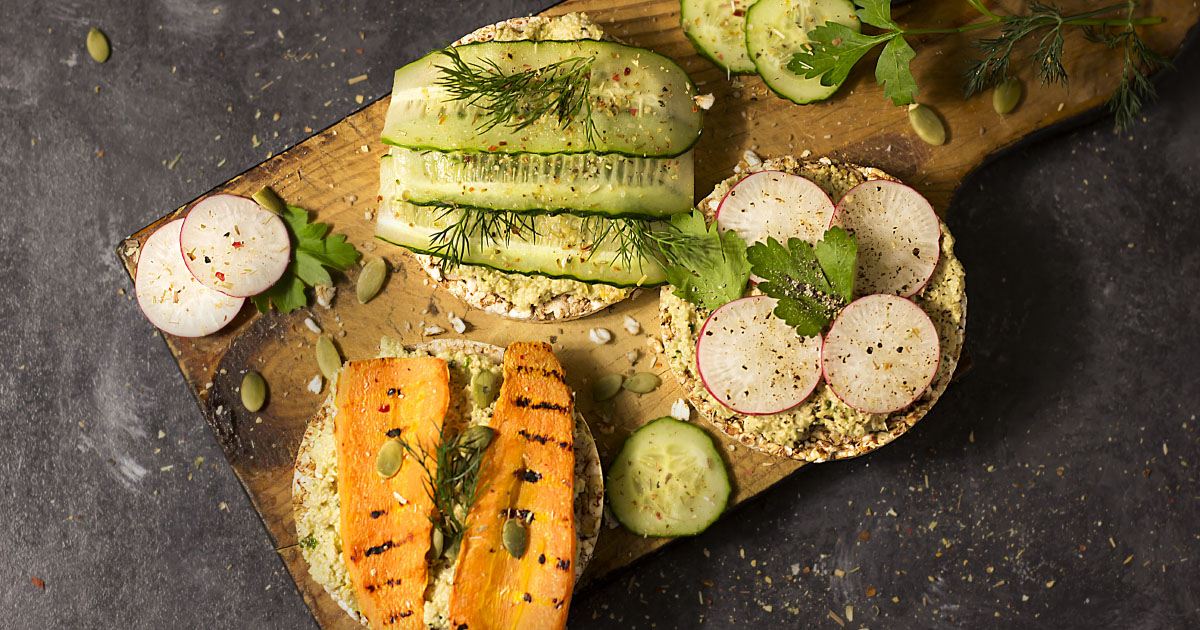 Ingredients:
Designed for 2 servings
Sprouted sunflower seeds 1/2 cup
Sprouted pumpkin seeds 1/2 cup
Garlic 1/2 cloves (clove)
of dried tomatoes 5 pcs
Seaweed (kelp, nori, wakame, etc. are suitable) 1 tablespoon
Soy sauce 1 tablespoon
Instruction:
Cooking time 20 minutes
Simply mix all the ingredients listed above in a blender until you get a lumpy consistency. The resulting dish can be stored in the refrigerator for 3-4 days.