We are preparing a wonderful autumn soup, which is not a shame to serve to guests. Soup with celery thyme and parsley root.
What is the use of parsley?
Parsley contains a lot of chlorophyll, which allows it to be called a real superfood. After all, chlorophyll removes toxins from the body and thus prolongs our life.
In addition, parsley removes excess fluid from the body and fights edema. It has long been used to treat kidney diseases, gallstones and various infectious diseases of the genitourinary system.
Parsley also helps with bags under the eyes and other eye swelling.
Chlorophyll and essential oils contained in parsley fight bad breath and body odor.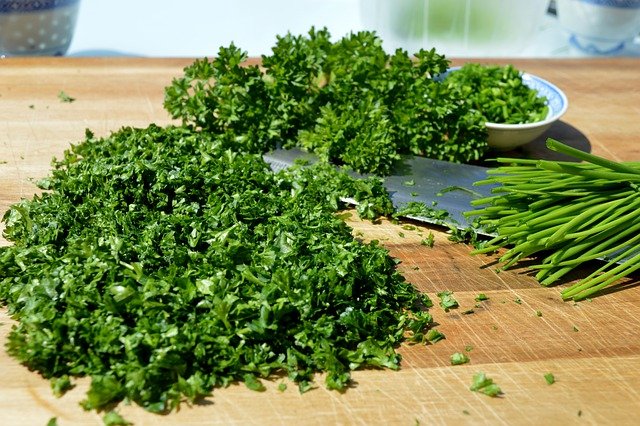 Is it possible to eat parsley stalks?
Parsley stalks are especially healthy: they contain much more fiber and nutrients. If you put it in a salad, then the stems, of course, will be too harsh for him. Therefore, it is recommended to use only leaves in salads. And do not throw away the stems, but leave them for soups, smoothies and all dishes that are prepared in a blender.
Soup with celery, thyme and parsley root
Soup with celery thyme and parsley root.
Parsley can be added everywhere: in smoothies, soups, hot dishes, pasta sauces and hummus! Parsley is good even in sweet smoothies with berries: blueberries, raspberries. It can also be added to classic basil pesto: an unusual and delicious combination.
Ingredients for 4 servings of soup:
Bulbs 2 pcs
Parsley Root 34.92 oz
Celery Root 5.29 oz
Large potato 1 piece
Vegetable or chicken broth (or water) 6 cups
Thyme leaves (or 1 tbsp dried) 3 tablespoons
Parsley 1 large bunch
Olive oil 3 tablespoons
Salt and pepper to taste
Optional:
3 slices of cured ham per 1 serving
The slices are baked in the oven at a temperature of 392 F. They are spread on top of the soup before serving — it's more beautiful, and there will be something crispy.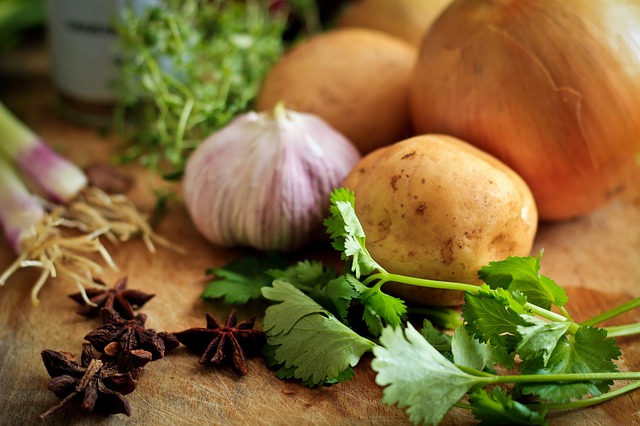 How to make soup
. Soup with celery thyme and parsley root.
Instruction:
Finely chop the peeled onion. Fry the onion in olive oil in a saucepan until transparent over medium heat. If you use dry thyme, then fry it together with onions.
Pour the onion with broth/water and bring to a boil.
When the broth boils, add the peeled and diced potatoes, parsley root and celery.
Let it boil again, turn down the heat and cook until tender.
Finely chop the parsley (along with the stems) and pour into the soup 3 minutes before cooking.
If you use fresh thyme, then we also put it at this stage.
Leave 1⁄3 part of the parsley to sprinkle over the soup when serving.
Grind the soup to a puree consistency with a hand blender. Season with salt and pepper.
When serving, sprinkle with parsley and, if desired, place the baked ham on top.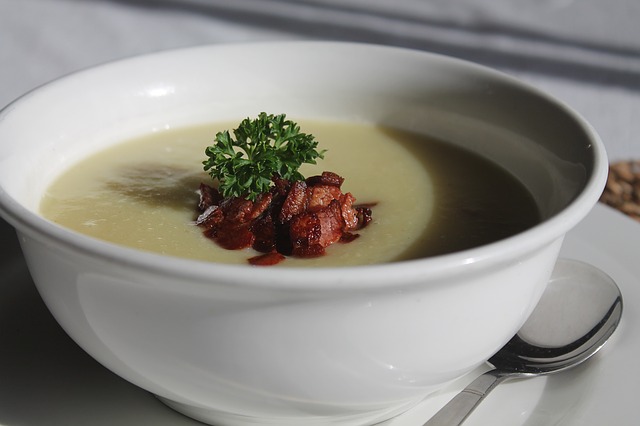 Advanced version of soup:
You can make a sauce from half of parsley and 3 tablespoons of olive oil with salt and pepper, whipping them in a blender to the consistency of liquid pesto, and when serving, pour this sauce over the soup figuratively.
It will turn out very nicely: white soup, green patterns and brown—orange ham on top. Bon Appetit!