It's probably hard to find a family that doesn't like eggs for breakfast. The usual scrambled eggs, omelet with various additives, soft-boiled eggs or coconut. How many original dishes can be cooked! Let your every morning begin delicious! The best recipes from egg.
Chicken eggs have become very popular in our lives when the time for cooking has been reduced to a minimum.There is nothing easier than an omelet or scrambled eggs, which can be cooked in a few minutes. Due to the beneficial properties of chicken eggs, such breakfasts are considered nutritious and very satisfying.
1.The perfect omelet for breakfast
. The best recipes from egg.
An omelet can be made from any number of eggs, depending on the number of eaters. The most important thing is to observe the proportion: for one egg you need to take 2 tablespoons of milk. And also, in order for the omelet to really turn out perfect, eggs with milk need to be mixed, but in no case whipped!
Ingredients:
Designed for 4 servings
Milk 1 cup
Frozen broccoli 3.53 oz
Butter 2 teaspoons
Salt to taste
Chicken eggs 7 pcs.
The nutritional value of a serving is 188 K cal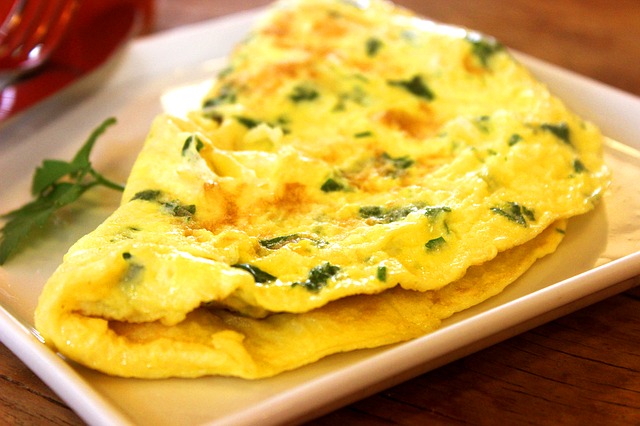 Instruction:
Cooking time 45 minutes
Boil the broccoli cabbage for 15 minutes. Heat the oven to 356F. Break eggs into a bowl, pour in milk, add salt. Stir until completely mixed. But don't whip!
Pour into a greased form with butter. Lay out the broccoli. Put in the oven for 30-40 minutes. When the omelet is browned, open the oven and touch it. If it's elastic, then it's ready! Cool the omelet a little in the form and turn it over on a platter. Cut into pieces and serve. Bon Appetit!
2. Eggs with salmon, baked in baskets
The flesh of the buns can be dried and homemade breadcrumbs can be prepared. If you are going to cook such a dish without salmon, lightly salt the cream or add a little grated cheese.
Ingredients:
Designed for 3 servings
Chicken eggs 3 pieces
Round white buns with sesame seeds 3 pcs.
Butter 4 tablespoons
Fresh dill 1 sprig
For the filling:
Lightly salted salmon 7.0 oz
Schnitt-onion 6 stalks
Cream 4 tablespoons
The nutritional value of a serving is 534 K cal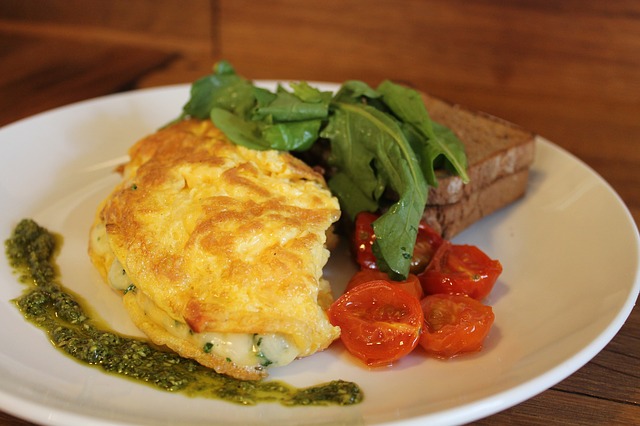 Instruction:
Cooking time 20 minutes
Preheat the oven to 392 F. Cut off the upper part of the buns-the lid and remove the crumb, so that baskets with thin walls turn out. Lightly lubricate the inner walls of the baskets with pre-softened butter.
Chop the chives finely. Cut the salmon into small pieces. Prepare the filling by mixing cream, chopped chives and chopped salmon. Place the baskets on a baking sheet and half fill with salmon filling, pour an egg on top.
Grease the top of the rolls with the remaining butter and place on a baking sheet next to the baskets. Bake in a preheated oven for 10-12 minutes. Chop the dill with your hands and sprinkle the finished baskets, cover them with lids before serving.
3. Snack egg muffins
. The best recipes from egg.
Ingredients:
Designed for 3 servings
Ham 7.0 oz
Egg 4 pcs.
Milk 2.5% 3 tablespoons
Sour cream 1 tablespoon
Green peas 3 tablespoons
Bulgarian pepper 1 pc.
Polenta 1 tablespoon
Parsley 5 sprigs
Cilantro 5 sprigs
Dill 5 sprigs
Lemon thyme 5 flower
Olive oil 1 tablespoon
Ground red paprika 1 teaspoon
The nutritional value of the dish is 885 K cal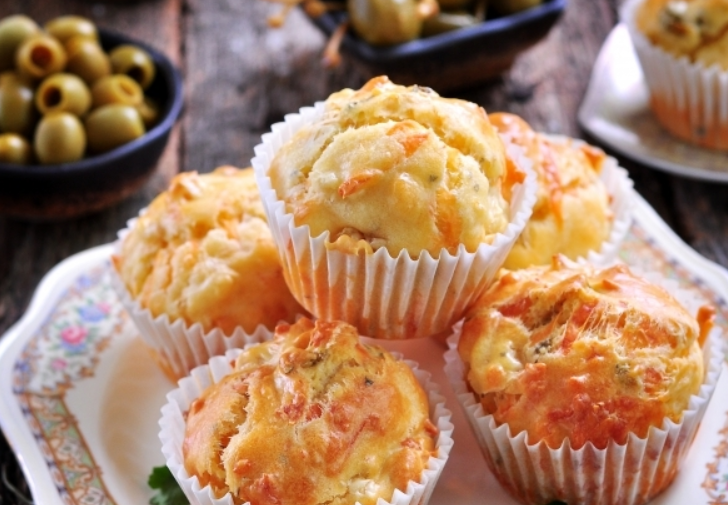 If you like articles subscribe to our newsletter and you will learn more. https://elenasunshinemagazine.substack.com/
Instruction:
Cooking time 40 minutes
Peel the pepper from the seeds and cut into small cubes. Fry in olive oil for 5 minutes. Add green peas – fresh or frozen. Not canned! Fry for another 2 minutes.
Cut the ham into small cubes. Beat the eggs lightly with milk. Combine vegetables, ham, egg-milk mixture, sour cream and paprika, add polenta (or flour), mix, season with salt and pepper.
Chop the greens and add to the main mass. Spread the finished mixture into molds. Sprinkle lemon thyme leaves on top. Bake for 20 minutes at 356 F. Cool a little and remove from the molds. Bon Appetit!
4. Omelet with mint and green peas
A great start to the day or a great option for a hearty snack – a bright omelet with green peas. To prepare such a breakfast is simple and will not take much time – a great addition to a morning cup of tea or coffee!
Ingredients:
Designed for 2 servings
Chicken eggs 3 pcs.
Frozen green peas 4 tablespoons
Hard cheese 3 tablespoons
Mint 3 sprigs
Olive oil 1 tablespoon
Sea salt to taste
Ground black pepper to taste
The nutritional value of the dish is 639 k Cal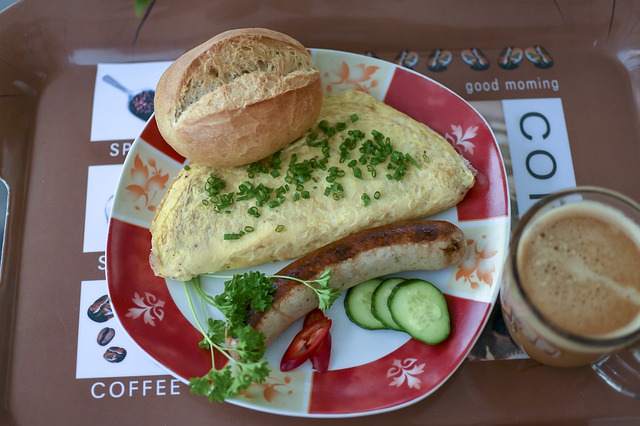 Instruction:
Cooking time 30 minutes
Defrost the peas. Wash the mint, dry it and chop it. Beat the eggs, season with salt and pepper. Add the green peas, mint and mix. Grate the cheese on a coarse grater.
Heat the olive oil in a frying pan, put the egg mass and distribute it evenly. Sprinkle with cheese. When the edges of the omelet are gripped, roll it in half and put it on a plate. Bon Appetit!
5. Apple omelet
. The best recipes from egg.
It is interesting to cook an omelet with sweet apples. A simple set of products, a minimum of effort — and a great breakfast for the whole family is ready.
Ingredients for 2 servings:
Chicken eggs 2 pcs.
Milk 1 cup
Flour 7.0 oz
Salt to taste
Apples 3 pcs.
Sugar to taste
Ground cinnamon to taste
Vegetable oil 2 tablespoons
The nutritional value of a serving is 748 K cal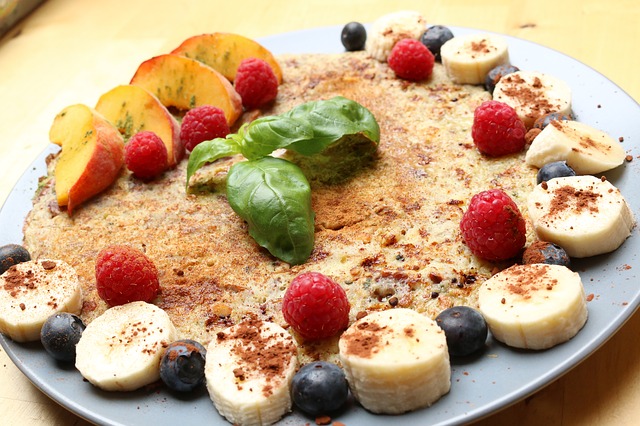 Instruction:
Cooking time 15 minutes
Separate the whites from the yolks. Beat the yolks with a fork, adding sugar, salt, milk. Then – flour. Cut the apples into thin slices, add to the yolk mixture. Separately, whisk the whites to stiff peaks. Mix the mass of yolks and apples with the whipped whites.
Heat the vegetable oil in a frying pan, pour out the prepared mass and fry over low heat for 3-4 minutes on each side. Sprinkle a mixture of sugar and cinnamon on top. Serve to the table. Bon Appetit!
Like what you're reading? You can sign up for Medium using my affiliate link. Just $5 a month to read an unlimited number of articles and help me create further. Together we will move mountains!
https://elenasunshinemagazine.medium.com/membership