If you decide to master the preparation of bread and other gluten-free pastries, you will have to remember some subtleties.Gluten-free and healthy baking recipes #1.
Instead of gluten, it is recommended to use a special baking powder, which is prepared from baking soda, starch and wine vinegar. In extreme cases, add soda, slaked with lemon juice, to the usual baking powder. However, many housewives do without baking powder at all.
Regular water or milk can be replaced with mineral water, gluten-free beer, soy or nut milk. The taste of baking will become much more interesting!
Before baking, put the dough in the refrigerator for a while so that the bread holds its shape better. Make shallow notches on the surface of the product formed from the dough, otherwise the baking will crack and look unaesthetic. While the bread is baking, do not open the oven door so that it does not sit down — it will be impossible to lift the baking. By the way, for a delicate texture of cupcakes and pies, you can put a small baking tray with water on the bottom of the oven.
Do not pull the finished bread out of the oven right away — first turn off the heat, slightly open the door and let it brew. In this case, it will not settle, it will remain lush and tender. In general, gluten-free pastries are better overexposed in the oven than underexposed — so their appearance and taste properties will improve. And don't be afraid to heat the oven — gluten-free products like hotter.
1.Gluten-free buckwheat pie with plums
Buckwheat flour has long been used in the kitchen for cooking various dishes – it makes very tasty pancakes, pies, pancakes, pies, buns. Rice flour is used in the preparation of canned vegetables and meat for children under one year old, which indicates its usefulness and dietary content.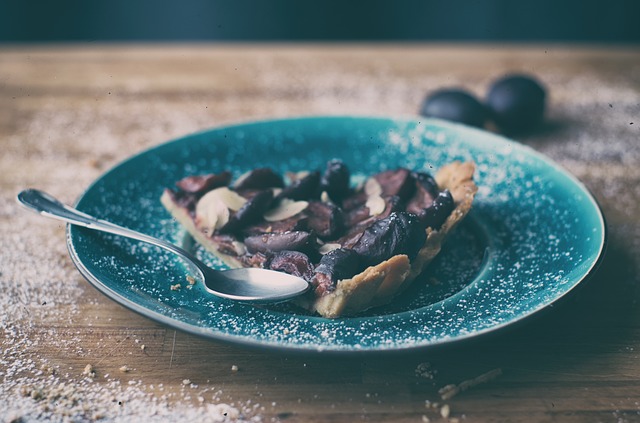 Ingredients for 6 servings:
Dough:
Rice flour 5 tablespoons
Buckwheat flour 3.53 oz
Corn starch 1 tablespoon
Sugar 2 tablespoons
Salt ½ teaspoon
Butter 4.23 oz
Water 1/2 cup
Filling:
Plums 17.64 oz
Sugar 5.29 oz
Corn starch 1 tablespoon
The nutritional value of a serving is 456 k Cal
Instruction:
Cooking time 1 hour
For the dough, mix rice, buckwheat flour and starch, salt and sugar. Add butter, grind into crumbs. Slowly add water to the crumbs until a homogeneous mass is obtained. You may need a little more liquid. Distribute the dough according to the shape. Leave the smaller part for the top. Put it in the refrigerator for 30 minutes.
Cut the plums, add sugar. Put it on fire. Boil for 10 minutes. Dilute starch in a small amount of water. Pour a thin stream into the plums. Bring to a thickening. Cool. Pierce the base of the pie with a fork and bake at 392 F for 15 minutes . Remove from the oven, distribute the filling. Cut circles from the leftover dough and decorate the pie. Bake for about 20 minutes, until golden.
2.Flaxseed cakes
. Gluten-free and healthy baking recipes #1.
Ground flax seeds, from which the oil was first squeezed out, are a valuable flaxseed flour in medicine and cooking, which retains all the valuable properties of flaxseed and at the same time has a low calorie content.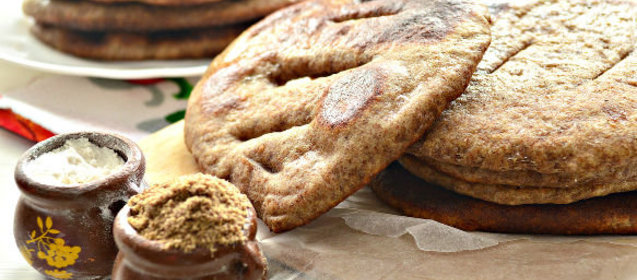 Ingredients for 5 servings:
Flaxseed flour 3.53 oz
Water 1/2 cup
Rosemary ½ tsp
Smoked paprika ½ tsp
Dried garlic ½ tsp
Salt to taste
The nutritional value of a portion is 57 k Cal
Instruction:
Cooking time 20 minutes
Mix all the dry ingredients. Add water. Mix with a spatula, then put the dough into a ball with your hands. We transfer it to a hot frying pan or to a saucepan. On medium heat, mix intensively to "steam the dough" a little (about 2 minutes).
Then we transfer it to baking paper. Divide into 4 parts. We take 1 part, cover it with baking paper on top and roll it out. We cut out a round-shaped cake using a plate or a sponge cake mold. We collect all the remains of the dough and form 5 tortillas.
Spread the tortillas on a dry frying pan and cook for 20-30 seconds on each side. We put it in a towel, and after cooling down, if you store it, then in a bag. We serve it to the table with our favorite fillings. Bon Appetit!
3.Chickpea and rice flour crackers
. Gluten-free and healthy baking recipes #1.
The taste of chickpeas is not felt at all, spices perfectly overlap it.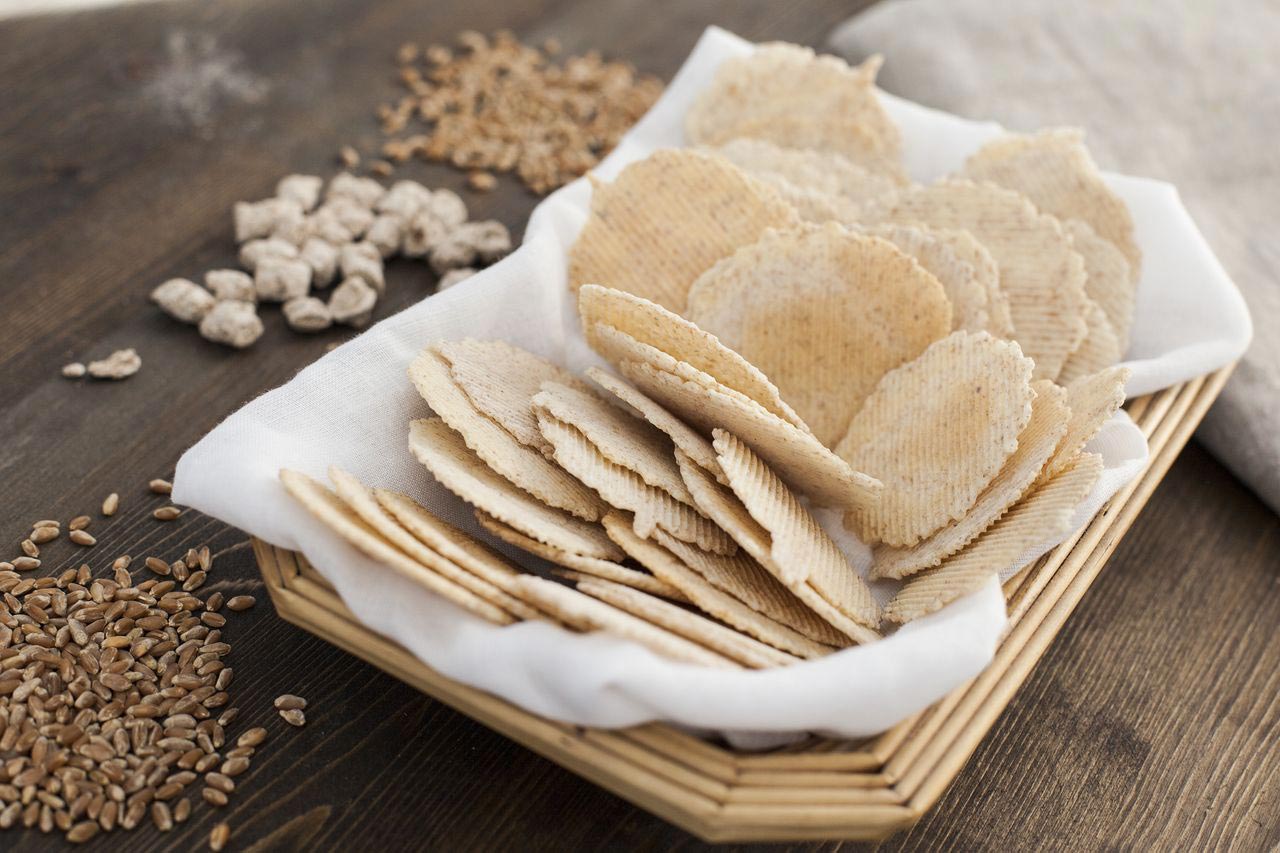 Ingredients for 6 servings:
Rice flour 3 tablespoons
Chickpea flour 4.41 oz
Olive oil 1 tablespoon
Water 3 tablespoons
Dried rosemary 1 teaspoon
Smoked paprika ½ tsp
Dried garlic 1/4 tsp
Salt to taste
The nutritional value of a serving is 130 k Cal
Instruction:
Cooking time 30 minutes
Mix chickpea and rice flour, add rosemary, paprika, dried garlic and mix. We dissolve salt in water and pour it into flour, add olive oil. Knead the dough, assemble it into a tight ball.
Spread on parchment and roll out the dough in a thin layer. Cut into pieces and pierce with a fork. Bake in a preheated 356 F oven for 12-15 minutes. Let the crackers cool down, and you can eat. Bon Appetit!
So, if you are determined to try gluten-free pastries, then:
Start with gluten-free baking mixes, they are usually already balanced and will be more convenient to work with.
Pay attention to the recipes originally designed for gluten-free flour. It can be difficult to adapt the usual recipe yourself without proper experience.
If you just want to reduce the amount of wheat flour in baking and certainly want to experiment on your own, then try it better on cupcakes, tarts or biscuits, where you can replace up to 30-40% of wheat flour with gluten-free alternatives.