Together with the warmth of the sun, the long-awaited vital energy returns to us. Immediately there are forces and a desire to set new goals, change something and try. What to add to your diet in the summer?
Let culinary inspiration into the kitchen, fill the salad bowl with emerald greens, and introduce the oven to strawberry pie. Start the morning with a glass of fruit water or yoga in the park, send everything you don't need to resale, and choose something new and special for the soul. What to try this summer and what not to miss.
Cooking at home
. What to add to your diet in the summer?
The usual comfortable food, familiar from childhood, is often associated with the former quiet life and helps to cope with difficulties and stress. And if the whole family participates in the preparation, it also unites.
As you can see, cozy dinners at home can turn into something more interesting than going to a restaurant.
#1. Chicken meatballs in onion sauce
Serve meatballs in sauce with your favorite side dish – mashed potatoes, boiled rice or pasta.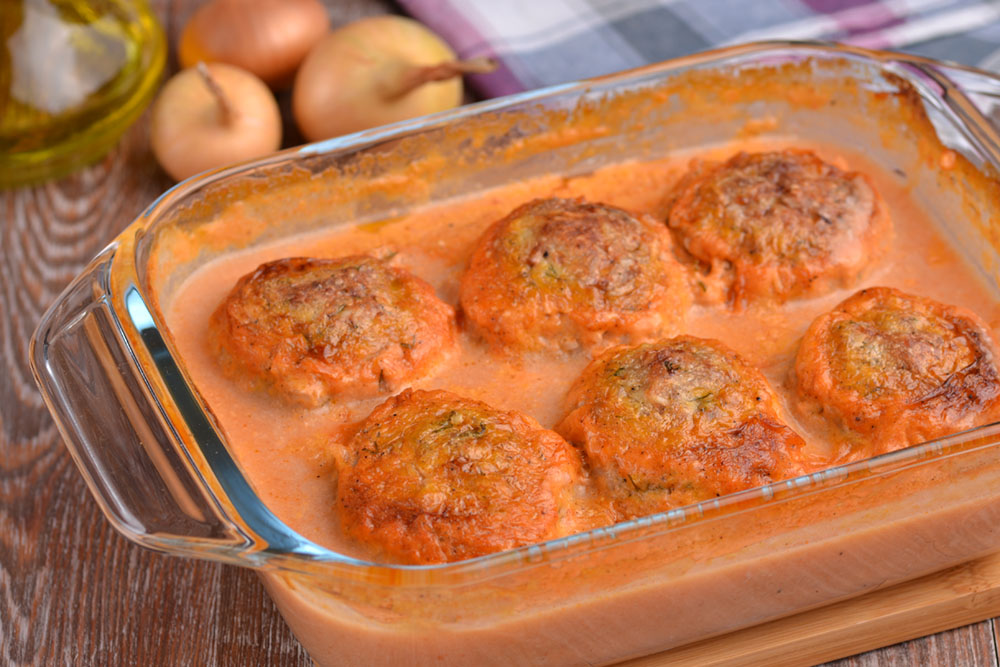 Ingredients for 4 servings:
for sauce:
Butter 3 tablespoons
Vegetable oil 1 tablespoon
Onion 2 pcs.
Garlic 2 cloves
Sugar 2 teaspoons
Soy sauce 2 teaspoons
Flour 2 tablespoons
Broth 1.5 cups
Hard cheese 7.0oz
Herb mixture 1 teaspoon
Salt 1 teaspoon
For meatballs:
Minced chicken 16.74oz
Breadcrumbs 1/2 cup
Eggs 1 pc.
Hard cheese 3.53oz
Parsley to taste
Ground dried garlic 1 teaspoon
Ground black pepper to taste
Salt to taste
Instructions:
Cooking time 50 minutes
Melt butter in a frying pan, add vegetable oil, and fry the chopped onion for 5 minutes. Add sugar, a mixture of herbs, and simmer, stirring, for 25 minutes, until the onion turns golden.
In a separate bowl, mix all the ingredients for the meatballs. Form balls from the mass, place on a parchment-lined baking sheet and bake in a preheated 392F oven for 20 minutes.
Pour soy sauce into a frying pan with onions, add chopped garlic, salt, and mix. Add the flour and, stirring, gradually pour in the broth. Bring the sauce to a boil and cook for 1-2 minutes.
Put the ready-made meatballs in the sauce, sprinkle with grated cheese, and turn off the heat. Cover the pan with a lid and let it stand until the cheese melts. Chicken meatballs in onion sauce are ready. Enjoy your meal!
#2.Rustic potato pie
. What to add to your diet in the summer?
When you have ready-made puff pastry at hand, you can simply and quickly prepare a real masterpiece. Add potato slices, fragrant brisket, a little onion, sour cream, and cheese, and call the household to the table.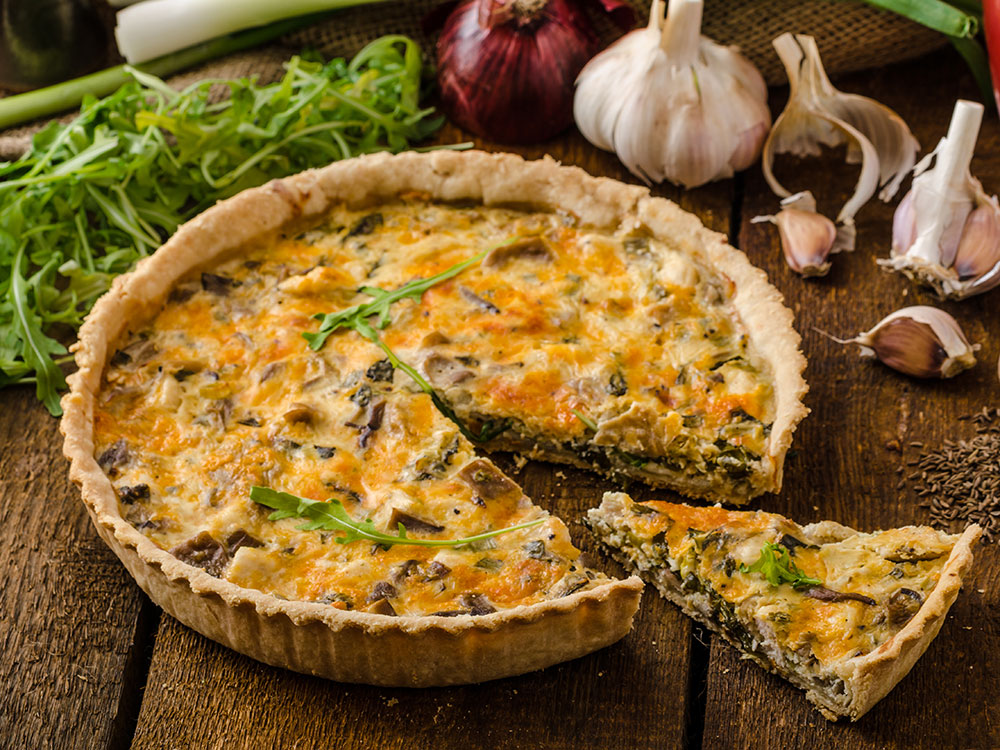 Ingredients for 4 servings:
Finished puff pastry 15.87oz
Potatoes 2-3 pcs.
Brisket 8.82oz
Red onion 1 pc.
Sour cream 5.29oz
Hard cheese 5.29oz
Ground black pepper to taste
Salt to taste
Instruction:
Cooking time 1 hour
Peel the potatoes and cut them into thin slices. Chop the brisket and onion into small cubes.
Roll out the dough and put it in a baking dish, prick with a fork. Spread the dough evenly with sour cream. Lay the potato slices on top of the overlap, season with salt and pepper. Put the chopped onion and brisket on the potatoes.
Bake the pie in a preheated 392F oven for 40 minutes. Then sprinkle the pie with grated cheese and bake for another 5 minutes.
#3. Eggplant and sausage omelet for dinner
Omelets can be prepared not only for breakfast. Adding some sausages, greens, and eggplant slices, you will get a hearty dish for dinner.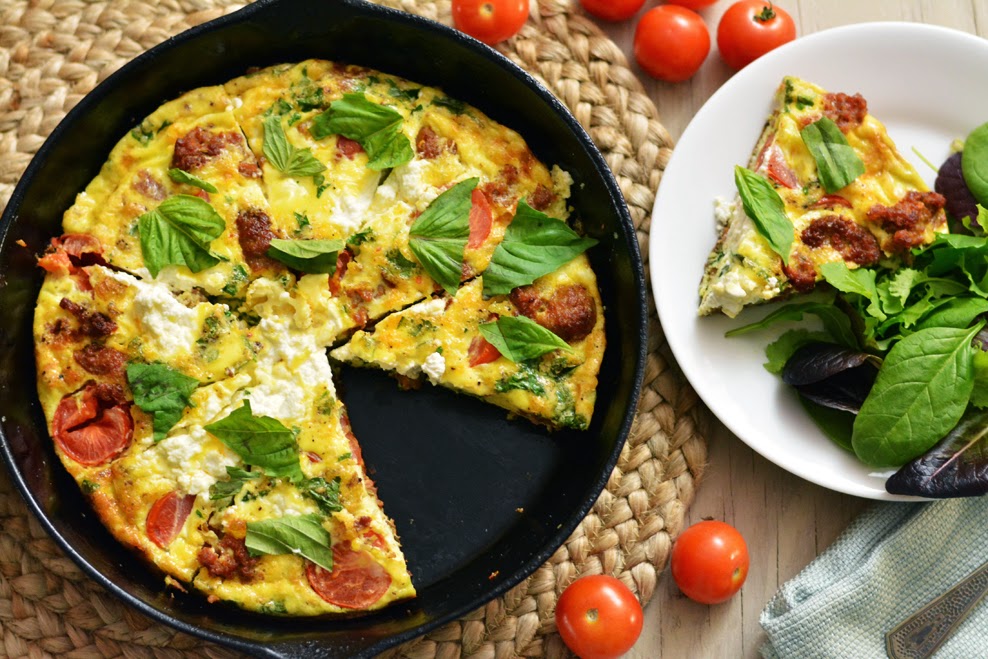 Ingredients for 4 servings:
Vegetable oil 2 tablespoons
Sausages (sausages or sausages) 4 pcs
Eggplant 1 piece
Onion 1 piece
Garlic 1 clove
Salt to taste
Eggs 8 pieces
Basil leaves 3 tablespoons
Feta cheese (crushed) 4 tablespoons
Instruction:
Cooking time 20 minutes
Fry the chopped sausages in preheated oil. Separately fry the diced onions and eggplants until they become soft. Add chopped garlic, fried sausages, and a pinch of salt to the vegetables and mix well, continue to fry over low heat.
Beat the eggs, add the chopped basil leaves, and pour the egg mass on the vegetables with sausages. You can sprinkle the omelet with feta cheese on top. Fry the egg mass for another 1-2 minutes, until it catches a little, and transfer the pan with the omelet to a preheated 392F oven. Bake for about 10-15 minutes. Cool the finished omelet a little and cut it into small pieces.
#4.Sandwich with beans and microgreens
. What to add to your diet in the summer?
A great option for sandwiches or a filling for tartlets is a pate made of canned beans, micro greens, and fried onions. Bean paste will be a wonderful hearty snack or snack for a festive table. The pate is delicious both freshly prepared and the next day.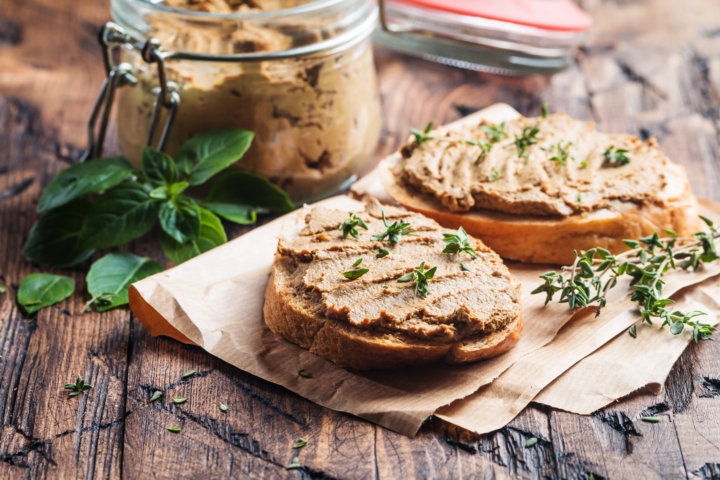 Ingredients for 4 servings:
Beans 7.0oz
Green onions 2 tablespoons
Micro-greens of parsley and dill 4 tablespoons
Cheese 3.53oz
Tomatoes (medium) 2 pcs
Salt to taste
Bread 4 pieces
Instruction:
Cooking time 20 minutes
Boil and then fry the beans. Pour boiling water over the tomatoes, remove the skin from them, cut them into cubes, and add to the beans in the pan. Chop the greens and after 5-7 minutes pour them out into the tomatoes and beans. After a minute, add the diced cheese to the mixture. Distribute the hot mass on slices of bread.
#5. Baked fish with vegetables
. What to add to your diet in the summer?
Recipes for baked fish are more useful than fried. Often baked fish is cooked immediately with some kind of side dish. This is, for example, fish baked with vegetables (baked fish with potatoes), and fish baked with mushrooms.
For taste and aroma, the fish is baked in the sauce: this is fish baked in sour cream or fish baked in sour cream sauce, fish baked in salt and tomato. Baked fish with cheese is prepared for the same purpose. The most delicious, of course, is baked redfish. Redfish baked in the oven is worthy of the title of delicacy. To preserve all the flavor and not let the fish burn, redfish baked in foil is prepared.
Now about where you can cook baked fish. The most traditional way is to bake fish in the oven in foil. In order for the baked fish to cook evenly, the fish baked in foil is prepared. The recipe is simple and such fish practically does not burn in the oven.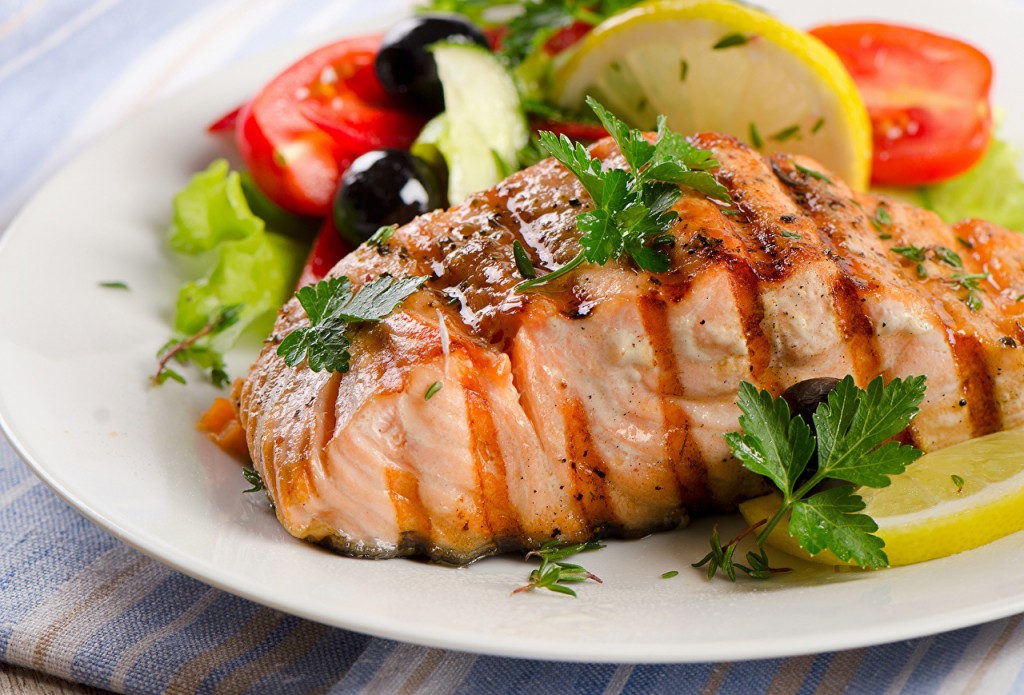 Ingredients for 4 servings:
Salmon fillet 28.22 oz
Onion 3 pieces
Bulgarian pepper 2 pcs
Tomatoes 4 pcs
Lemon juice 1 pc
Micro-greens of basil and parsley
Salt and spices to taste
Foil for baking.
Instruction:
Cooking time 45 minutes
Rinse and dry the fish fillets. Sprinkle with salt and spices. Peel the onion and cut it into rings. Wash the tomatoes and sweet peppers, peel them from the stalk (and the pepper from the seeds), and cut them into thin strips. Take a few small sheets of foil.
Place onions on each of them, and fish fillets on top. Season with salt and spices, and sprinkle with lemon juice. Put the rest of the chopped vegetables on top. Wrap each sheet of foil in an envelope, place on a baking sheet, and bake in a preheated 392F oven for 35 minutes. Enjoy your appetite!